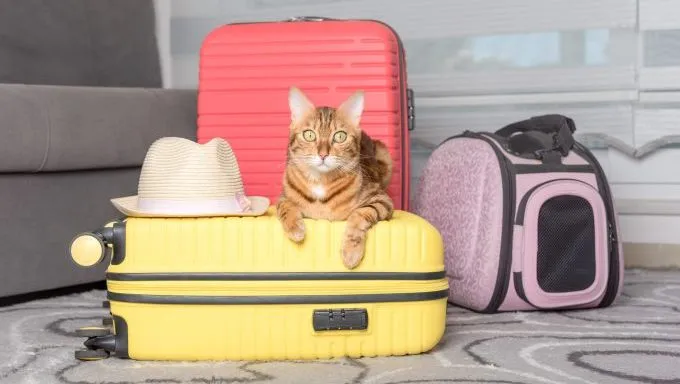 Choosing a cat name is an arduous task. Whether you're naming a new kitten or renaming an adopted adult cat, you want to ensure the moniker you pick will last for a lifetime. If you're a cat owner with wanderlust looking for a distinctive name for your fur baby, look no further. We've compiled a list of 50 travel-inspired cat names perfect for your adventurous feline friend. Whether you have a male or female cat, these names will evoke the wonder and excitement of worldwide adventure.
From the stunning views of Aspen to the bustling city of Cairo, these names evoke destinations all over the globe. Plus, they're perfect for any breed or color of cat, so you're sure to find a name that fits your feline friend's personality. So pack your bags and get ready for a journey of a lifetime with your new travel-inspired cat name!
Female travel-inspired cat names
Adelaide

Alaska

Alexandria

Aspen

Bali

Britain

Cali

Capri

Carmel

Carolina

Dakota

Dallas

Egypt

Florence

Guadalupe

Havana

India

Ireland

Italy

Journey

Kenya

Lourdes

Madrid

Mali

Maui

Memphis

Paris

Phoenix

Rio

Salem

Sydney

Tahoe

Trinidad

Valencia

Vienna

Winona

Zara
Male travel-inspired cat names
Austin

Cairo

Camden

Dallas

Denver

Devon

Dublin

Everest

Fiji

Hudson

Israel

Jackson

Jasper

Jordan

Kingston

London

Milan

Morocco

Orlando

Oslo

Phoenix

Preston

Rio

Rome

Salem

Santiago

Sydney

Tahoe

Zion
More cat name ideas
If you didn't find the right cat name on this list, don't fret! We have tons of other cat name suggestions. Check out the best cat names by breed, by theme, or by color. Or choose from popular cat names.
Traveling with your cat
Ready to hit the road with your fur baby? Read up on road trip tips and how to fly on an airline with your cat!
ChatGPT assisted in the creation of this article.