When U.S. tennis phenom and Olympian Venus Williams isn't busy winning titles on the court, she's hanging out at home with her dogs, including two Cavalier King Charles Spaniels and a Havanese named Harold. "You're out there on your own and you need a friend who's there for you — wins, losses — and who really cares for you," Williams told People Magazine when asked about her four-legged friends.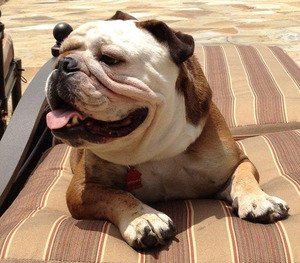 The second half of the Williams sisters, Serena, relies on her pups for support, too. Maltese Lorelai and Jack Russell Terrier Jackie, who Serena has had since she was in high school, sometimes join her at her matches. "I just love animals," Williams said in an Animal Fair interview. "I always think when I get older I'm going to live on a farm and have fifty dogs! I just love dogs!"
There's no word on whether Jackie and Lorelai accompanied Serena across the pond for the 2012 Olympic Games, but they were certainly cheering their mom on as the Williams sisters claimed Olympic gold in the Women's Doubles event Sunday, beating out a formidable duo from the Czech Republic.
U.S. Olympic Water Polo Team captain, Tony Azevedo, likes to hang out with his 180-pound Mastiff, Apollo, and Snow, a white cat the polo player adopted in Montenegro. Snow was a rescue kitty — Azevedo brought her home after he heard that kids had thrown the stray cat in the ocean and left her to drown. "We knew this cat was something special," Azevedo explained in a CatChannel.com interview, "and we decided to make her ours." The feisty cat loves scaling trees, watching the Olympian cook, and chewing on Azevedo's wet post-swim hair.
Tony Azevedo and the rest of the U.S. Water Polo team will face off against top-contender Croatia for the Men's Quarterfinal Round August 8.
After dominating the 2012 Games and becoming the most-decorated Olympian in world history, U.S. Olympic swimmer Michael Phelps is hanging up his swim cap for good. But though his professional swimming career has come to an end, Phelps plans on getting back in the pool to teach his dogs — Bulldog Herman and Catahoula Leopard Dog mix Stella — to doggy-paddle.
Phelps first met Stella when the swimming champ stepped up to help with a rescue dog segment on a November 2011 episode of The Today Show. Stella, then called Penelope, made such an impression on Phelps that he took the pup home to meet Herman. The rest is history. Phelps frequently posts pictures on his Twitter page of him having fun with his dogs, and it looks like the trio gets along rather swimmingly.
Sources: People.com, AnimalFair.com, CatChannel.com