According to the Halloween Spending Survey, an annual report released by the National Retail Federation (NRF). According to surveys 20 million pet owners are planning on spending about $350 million dollars on their pets this Halloween.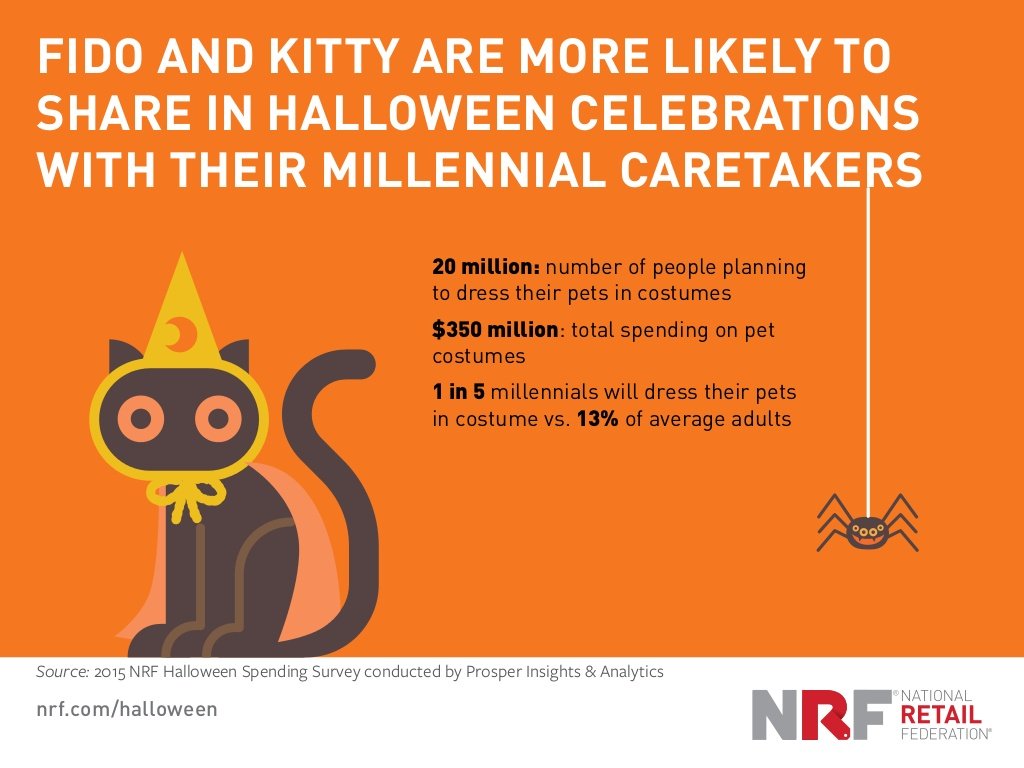 Pets will be
dressing up
in costumes for photos that will get shared on social media and entered into online photo contest. Popular pet ensembles every year include
Wonder Woman
, an
Ewok
, and the perennial favorite, a
Hot Dog
. But people will be looking for trending costumes like
Donald Trump
,
Ghostbusters,
and the ever popular
shark costume
!
Robb Horen, owner of Denver doggy boutique and spa Dog Savvy, tells the Denver Post that ever since he opened his store, his customers have had no problem dishing out the dough for their dogs. He isn't shocked at how pet costumes fly off the shelves during the Halloween season.
"Dogs are the new kids," Horen says. "In my experience, it's the little dogs who like dressing up best." 
It's not just dogs and cats that are dressing up now a days.
"Rats, rabbits, cats, anything that has four legs that's big enough to put a costume on, people will come and try to dress it up," explains on retailer.
Yep, you heard him correctly — dogs and cats aren't the only pets getting dolled up to celebrate the spookiest holiday of the year. If you're going trick-or-treating this year, chances are you might spot some sushi cats, ladybug ferrets, and even guinea pigs dressed as pint-sized witches and pumpkins.
"It's become a trend for people to dress the whole family in costumes," says Party City spokesperson, Julia Darrenkamp, "even the pets."