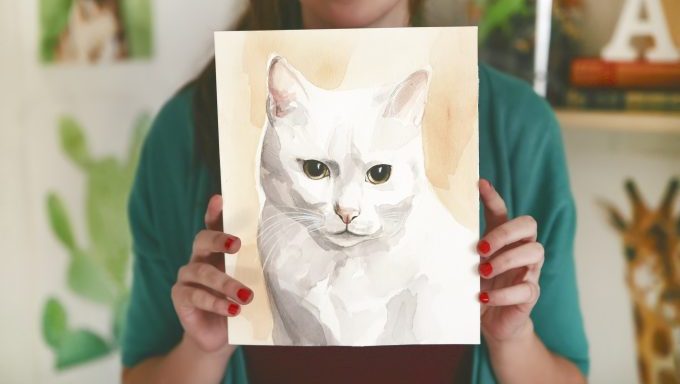 If you're a cat owner, chances are there's nothing you love more than your fur baby's face. So why not capture your feline friend's adorable mug in a beautiful and timeless way? One way to do just that is through a custom cat portrait.
Whether you're looking for a memorable Mother's Day gift, a special birthday surprise, or a heartfelt memorial for a departed fur baby, artwork featuring your cat is the perfect way to celebrate the bond with your pet.
We've discovered two companies that specialize in pet portraiture. One is called Paint Your Life, which features a more traditional style of painting. The other is Printed Pet Memories, which turns your cat into a playful cartoon character on canvas. Either option can help you capture your feline friend in a unique and eye-catching piece of artwork.
Paint Your Life
Paint Your Life recruits skilled artists to recreate your favorite photograph of your cat as an elegant painting according to your preferences. Also, the company offers various options for the medium as well as the framework for your custom cat portrait.
 

View this post on Instagram

 
Ordering Process: First, choose the painting technique and style of your portrait. Next, select an artist and upload your photo. If you'd like, you can upload multiple photos to be combined into one portrait. Finally, pick a size, put 20% down, and submit your order!
After you submit your order, Paint Your Life's graphic designers will create a digital mock-up of your portrait. Then, they'll send it to you for approval. You can ask for modifications and upload additional photos from your user-friendly dashboard.
The approved image is sent to a Paint Your Life artist who begins painting your portrait. The artist will take a picture of the portrait and send it to you for approval. You can ask for revisions if need be.
Once ready and approved, you'll be asked to choose a frame. Use the site's framing guide to help visualize how the completed painting will look.
Choose from various payment options, including Klarna and Paypal, to finalize your payment. That's it! Your portrait will be packaged and shipped to you.
For more information: Visit Paint Your Life's website. Also, check out this gallery of pet portraits.
Printed Pet Memories
Printed Pet Memories launched in Delaware in 2019. The company believes that custom feline artwork should be fun, distinctive, and full of creative flair. The artists at Printed Pet Memories will collaborate with you to bring your vision to life.
 

View this post on Instagram

 
Ordering Process: First, upload your cat's photo and share the traits that make your feline friend unique. Choose a size and framing preference. Then, the artists at Printed Pet Memories will create your custom, handmade artwork. Within 72 hours, you'll receive a digital preview. You make request unlimited revisions until you're happy with the project. After you approve the piece, your artwork is printed on quality canvas and shipped to your door.
For more information: Visit Printed Pet Memories' website. And check out these reviews with images of completed projects!