It was a tough week on my Brooklyn cat ranch. Whiskers had five teeth removed. Then Sister kept hissing at him because he smelled like yucky vet. AND we have to hide the dry food until his mouth heals up. My seven cats were so sad…
Until meowbox arrived, and everything turned around!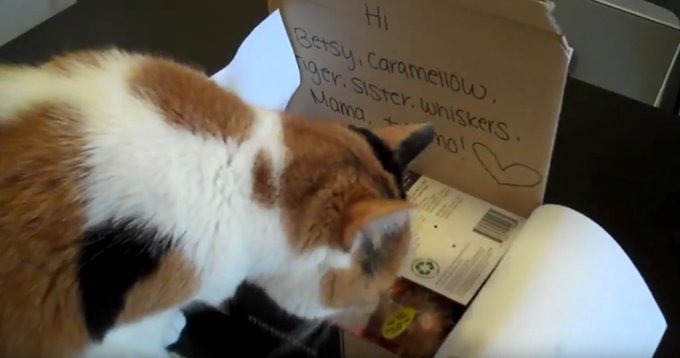 So, what is meowbox? It's a cat subscription box you can order either as a one-off or as a monthly subscription. Basically a box full of awesome for your cats to go totally crazy bananas! Watch my video as evidence!
I love getting good mail. And so do my cats, it turns out. They jumped all over the box. They played with the box. What's with the box?
The box was packed with toys and treats. The good people of meowbox choose the items carefully–I had never even seen these products in the stores, so that was cool. The treats are all made in the US or Canada. They support small businesses, and include special handcrafted items in the box.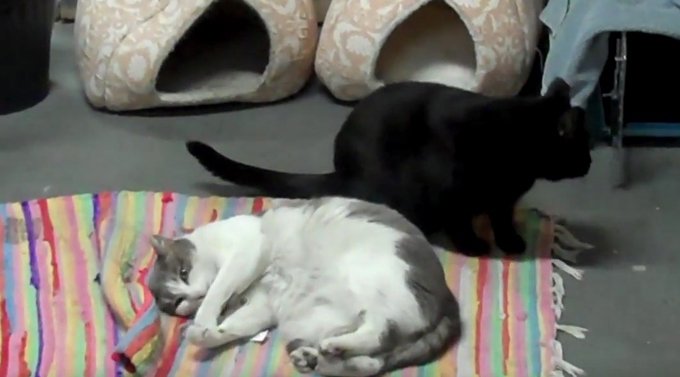 Also, all boxes are personalized. There was a big hello to all 7 of my cats on the lid. Cute!
In my box, there were four unique toys and a bag of treats.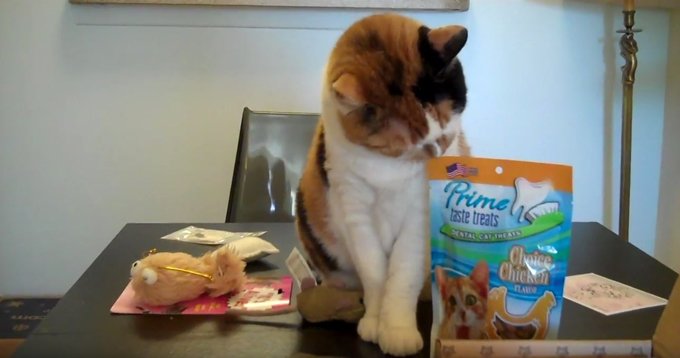 One was hand-made by Flour's Garden. It's a felt teabag filled with highly effective cat nip. Caramellow lost it! He rolled all over the table. Yeah, we let him on the table. They're still all taking turns being with it.
The Wiggle Worm claimed to be ALIVE! It's a pull-toy that shakes and wriggles. It has big googly eyes. Whiskers, the mouser, crushed the Wiggle Worm. Caramellow thought it was maybe his friend and cuddled it.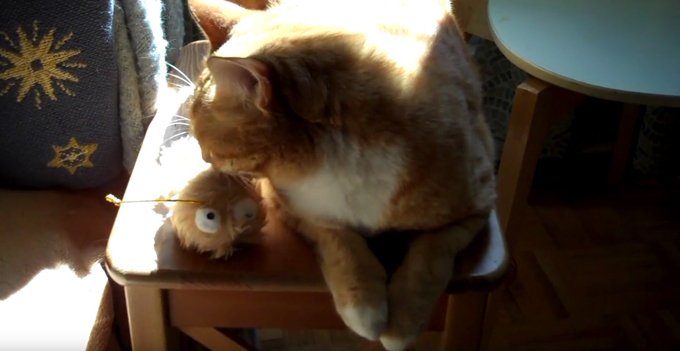 Wooly Fun is an eco-friendly, durable, chemical-free, catnip infused, wool toy. Whew! My cats thought it a fat fuzzy mouse that needed to be sniffed and pawed into submission.
The Rodentz mouse was made of this material my cats go crazy for. So I decided to give it to my poor sick rescue cat sweetie, Mama. She loves it so much! She rolled around and hugged it. Thank you Rodentz. You made an Felv cat very happy!
The treats were Prime Taste Treats. Sure enough, made in the USA. They are dental treats. And can I tell you, after we had Whiskers teeth out, I'm VERY invested in maintaining my cats teeth. Cat dentists are not cheap !!!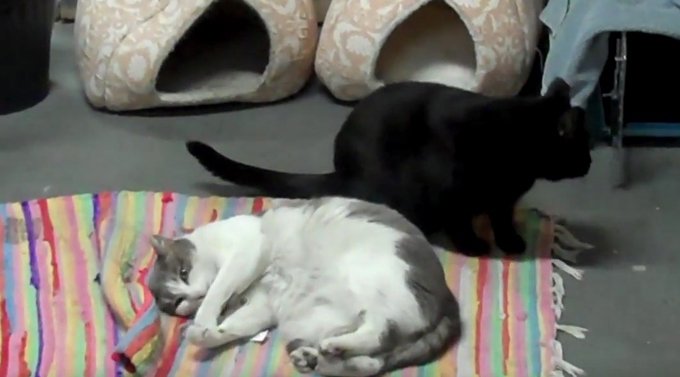 Of course, if you don't want any treats in your box–maybe your cat has dietary issues–You can changed your box to all toys! Fun!
The cost breakdown is this: $32.95 for 1 month, $27.95 for 3 months ($83.85 upfront), $22.95 for 6 months ($137.70 upfront). This is pretty competitive compared to other cat subscription boxes out there. It's free shipping too. You could not buy those products in the store for less than that.
I think it would make a really great gift too. Anyone cat-crazy in your life? I only have cat-crazy people in my life.
Every box purchased, a can of wet food goes to a shelter. You can even track where your can helped out!
The overall meowbox experience was super positive! My cats had a great time playing with new toys and getting treats. And I had so much fun too! They all gave me extra cuddles to tell me they had a great day playing. Whiskers felt a lot better. Somehow chasing toys reinvigorated him and reminded him he's our boss cat. And Sister gave him a big kiss on the head. My cat pack re-bonded over really cute mouse replications! Thanks, meowbox!
If you and your fur balls are interested, use the promo code: CATTIME10 for 10% off your purchase. Go to www.meowbox.com and check it out!
NOTE: Like with any cat toys you bring home for your cats be sure your cat doesn't get a hold of any loose strings or things that they might eat that could get stuck in their digestive systems. If part of a toy breaks off, you need to pick it up and throw it away so kitties don't choke or get injured. If your cat has food allergies, be sure to read all the ingredients in any treat before giving it to your cat.
Save