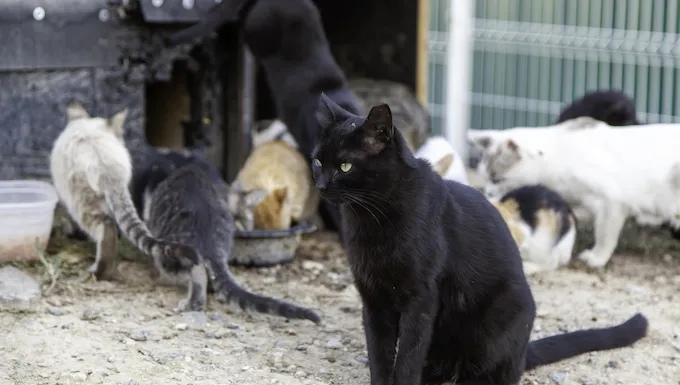 It's not too uncommon to find a stray cat or two out wandering the streets. While unfortunate, it's a part of life many of us are accustomed to. However, a large feral cat colony can often go unseen; they may be behind our workplaces or in our neighborhood, but these shy cats are rarely out and about. However, animal shelters and rescues nationwide are concerned about America's ever-climbing numbers of feral cats.
More than just a local issue
Diane King, chief humane officer of the Ohio Animal Welfare League, says there's a huge feral cat problem that hasn't been addressed. "Nobody wants to see these cats outside, cold, hungry — and then kittens are being born," King said. "It is not fair to them. It's devastating as a humane officer to walk onto these properties, and we don't have the resources to fix it. It's a huge issue. I mean, you know, cats will just reproduce like nobody's business."
Locals have been noticing the bubbling numbers of ferals on the streets. In a controversial proposition, one Licking County official even suggested, to public outcry, a feral cat hunting season. While the thought may be repulsive to cat lovers, the sad truth is that feral cats are hugely detrimental to wildlife, and can negatively impact the public health. One estimate says there's over 400,000 feral cats in Franklin County, Ohio alone.
Helping at a local level
Unfortunately, there's not much individuals can do about America's overall feral cat issue. Estimates range between 50 and 70 million unowned cats are in America. While that's a big number, there are things you can do on a local level to improve lives of your community's cats. Support TNR (trap-neuter-release) programs. While not 100 percent successful, these programs can reduce numbers of future ferals in need of care. Additionally, they provide much-needed medical care that can give cats healthier, happier lives, and curb outbreaks of disease that can spread to pets. And keep your own cats indoors. Indoor cats are not only detrimental to wildlife, they can breed with feral cats and create a bigger boom of kittens. Additionally, they may fight with ferals, which can not only make their lives harder but also risk the life of your beloved cat.