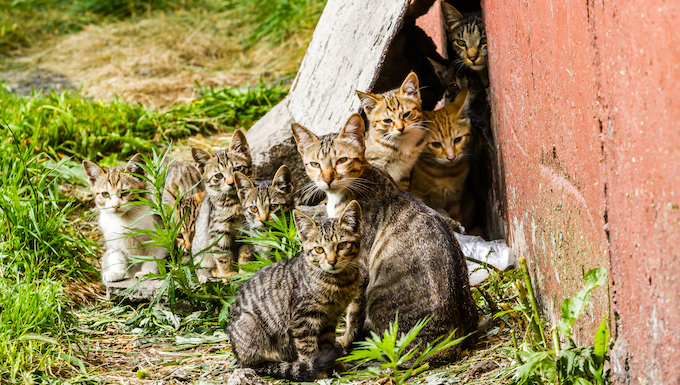 Sadly, it's not unusual for many to find a stray cat or two out wandering the streets. While unfortunate, it's a part of life many of us are accustomed to. However, a larger feral cat colony can often go unseen; they may be behind our workplaces or in our neighborhood, but these shy cats are rarely out and about. Animal shelters and rescues nationwide are concerned about America's ever-climbing numbers of feral cats, but they often escape the public eye. However, in the case of some Texan kitties, the feral cat problem is increasingly hard to ignore.
Cats overrun Orange Country
Bailey Rd., in Orange County, Texas, was once a peaceful place to enjoy wildlife. Common recreational activities on this road include fishing and birdwatching; many native waterbirds can be seen here. But in recent times, citizens are seeing another animal overwhelm the community: cats. Multiple "cat camps" have popped up through Orange County, with the Bailey Rd. cats surpassing 55 at last count. It's believed that these cats aren't truly feral, but have largely been dumped. Most seem to be friendly and responsive to humans.
It's likely the cats have survived for so long due to Texas's warm climate and the care of compassionate Texans. Many have made it routine to stop by with cat food. A growing stack of cat shelters decorates the road. However, this outdoor life isn't comparable to being adopted and truly cared for.
Helping stray cats
Situations like the one in Orange County are complicated for cat lovers. Many times, if you find a friendly stray, the best solution is to take them to a shelter. But most shelters in Texas are kill shelters, and bringing in such a large number of cats might be a death sentence.
In your community, you can support feral & stray cats by funding TNR programs. Trap-neuter-release programs take cats from the wild, give them basic medical care, and stop future generations from growing up wild. Want to do more? Consider volunteering to feed a local cat colony, or put up shelters for severe weather.