Acne in cats is very similar to acne in humans and presents itself as pimples and whiteheads. These usually appear around the cat's chin and lips.
In some cases, it may indicate that cats have other bacterial infections elsewhere too.
If you see signs of anything unusual about your cat's skin health, then get to a veterinarian for a proper diagnosis and treatment. Here's what you should know about the symptoms, causes, and treatments for acne in cats.
Symptoms Of Acne In Cats
The main signs of acne in cats are very similar to those that appear in humans.
Some of the most common symptoms include:
Blackheads
Crusty pustules
Boils
Swollen chin area
Redness of the skin
Causes Of Acne In Cats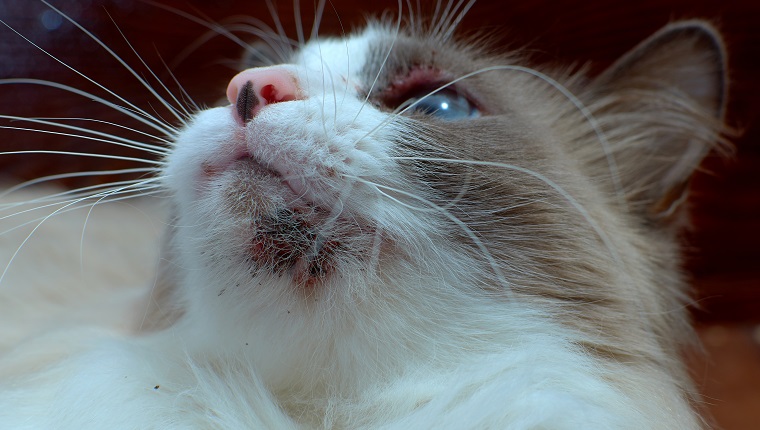 One of the main causes of acne in cats is hair follicles in the affected area becoming blocked with sebum, a yellowish, oily secretion. This causes pimples and whiteheads to appear.
In some cases, allergens in the air and environment have also been thought to be causes.
If a cat is eating out of food and water bowls that are inadvertently irritating their face during meal times, the friction could also wind up causing a breakout.
Treatments For Acne In Cats
Your vet will carry out a physical examination of any problem areas of your cat's skin to determine if they're actually suffering from acne. This is to also rule out other skin-based ailments and conditions.
Next, your vet will likely carry out a cleaning of the affected area using a pet-safe antiseptic cleanser. They might recommend a cleanser that you can also buy and continue to use safely at home.
Do not use human acne creams and ointments on a cat, and never be tempted to pop a pimple on a cat because this can cause greater damage.
Has your cat ever suffered from acne? How did you and your vet treat it? Let us know in the comments section below.