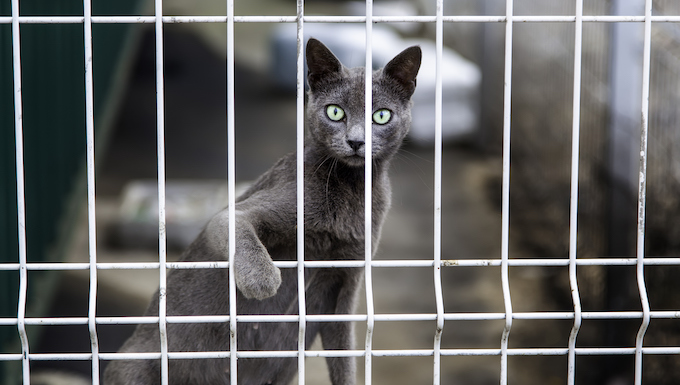 The holiday season is one where many of us are appreciating our pets. Sales for holiday-themed treats and toys skyrocket, and many people ensure their cat has a present waiting for them along with human family members. Just as common are gifts of holiday kittens or puppies. But tragically, many of these animals given as gifts don't stay for long in their new homes. Unprepared pet parents may feel overwhelmed, lose the novelty of a new animal, or they may have not wanted the animal in the first place. And many cats who weren't indoor pets to begin with are taken to the shelter out of fear for their health during the cold temperatures. Regardless, the sad truth is that shortly after the holiday boom of many animals leaving the shelter, the shelter is just as quickly overwhelmed again.
Family pets stuck in the shelter
Aberdeen Area Humane Society, a South Dakota animal shelter, says they've seen an increase in surrenders during the colder months of the year, particularly felines. "We see a different type of surrender," said Elaine Schaible, the Aberdeen Area Humane Society Shelter Manager. "We see more adult cats this time of year, you know, 'Oh I've been taking care of this cat all summer, and now it's getting cold so I'd really like to bring him in.'"
While some feral cats may be used to the temperatures, concerned cat lovers' fears are not unfounded. Cats are susceptible to frostbite and other winter dangers. Other summer comforts, like readily available food and unfrozen water sources, may be unavailable to outdoor cats.
Shelters often experience a boom of what were 'Christmas kittens' four to six months after the holidays. So for struggling shelters, the worst is unfortunately yet to come.
Helping cats through the winter
If you're concerned about rising numbers at your local animal shelter, the best way you can help is by adopting or fostering. If you know you can provide time and love, but you're not sure if your finances, fostering may be a good option. Many shelters provide food, toys, and vet care, leaving you only responsible for the cat's emotional and housing needs. Volunteering is a great option for those who can do neither. You can lighten the load on overworked shelter staff without bringing a new pet home.
Concerned about outdoor cats in your area? If you are unable to bring them to a shelter, consider providing an outdoor shelter. Even a large storage bin can be turned into a cozy house for a cat in need. Consider asking a local TNR or feral cat care chapter if you can help. If you find a cat who has suffered frostbite or other ailments from the cold, bring them to a vet.