Aspirin for cats is a Non-Steroidal Anti-Inflammatory drug (NSAID) that primarily helps with inflammation issues, including arthritis. It's the brand name of the drug acetylsalicylic acid, and it works by lowering the amount of certain enzymes produced in the body. The drug usually comes in the form of tablets.
A veterinarian may prescribe Aspirin for cats, but it's also available as an over-the-counter medicine. However, you must consult with your veterinarian before you administer the medicine to your cat. That's because it can cause serious side effects in felines, and cats can easily overdose.
Closely follow your vet's instructions for dosage and administering the medication. Here's what you should know about the uses, dosage, and side effects of Aspirin for cats.
Uses Of Aspirin For Cats
Aspirin for cats is most often used to help treat inflammation issues including arthritis. It can also help with blood clots and fevers.
The drug works by helping to lower the amount of the COX-1 and COX-2 enzymes produced by the body. This, in turn, reduces the amount of inflammation and pain that a cat is experiencing.
This medication usually comes in the form of tablets. It works best when administered alongside food, and it usually takes around one or two hours to start to work.
Dosage Of Aspirin For Cats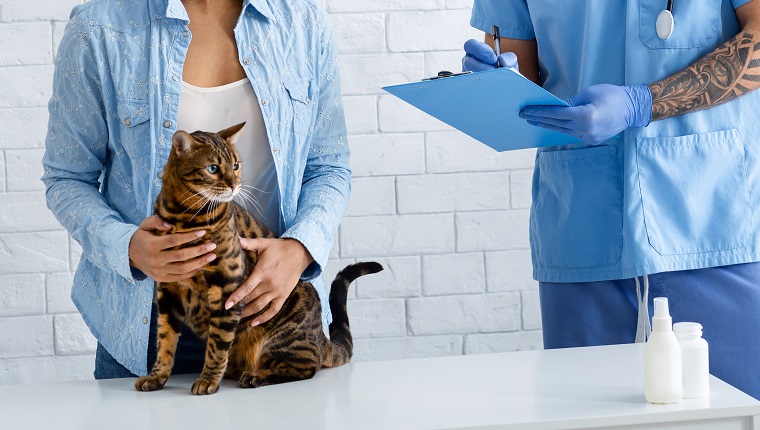 The dosage of Aspirin recommended for your cat must be determined by a veterinarian; although, it's important to note that, in general, cats are extremely sensitive to the drug, and any prescribed doses will be on the low side. This is because overdosing can result in a cat experiencing liver or kidney damage.
If a veterinarian has prescribed or recommended this medication, it's important to always follow the dosage and administration instructions exactly. This includes the length of time you should give the medicine to your cat.
Side Effects Of Aspirin For Cats
Aspirin for cats can produce a number of side effects. Some of the most common side effects of a cat taking Aspirin include the following:
Vomiting
Ulcers
Seizures
Loss of appetite
If your cat takes aspirin and shows some of these side effects, then you must monitor them and let your veterinarian know.
Beyond potential side effects, there are a range of drugs and other medicines that Aspirin might react with. Some of the most common include insulin, antidepressants, and other NSAIDs. Always let your veterinarian known if your cat is already taking any other medication before administering Aspirin.
Has your vet ever recommended Aspirin for your cat? Did it help, or did you notice concerning side effects? Let us know in the comments below!