Chondrosarcoma in cats is a type of bone cancer that develops in the cartilage. It can spread through the body and, many times, ends up targeting the ribs, limbs, and nasal cavity.
It can be a life-threatening condition, but it is also considered to be relatively rare for cats to develop it. In general, domestic shorthair cats of middle age have the highest risk of suffering from this type of cancer.
If you see signs that your cat might be suffering from bone cancer, then you must consult your veterinarian for a proper diagnosis and course of treatment. Here's what you should know about the symptoms, causes, and treatments of chondrosarcoma in cats.
Symptoms Of Chondrosarcoma In Cats
Chondrosarcoma in cats can result in a wide range of symptoms. Some of the most common symptoms include:
Swelling around the affected areas
Breathing difficulties and bouts of sneezing
Nosebleeds and nasal discharge
Bone fractures
Causes Of Chondrosarcoma In Cats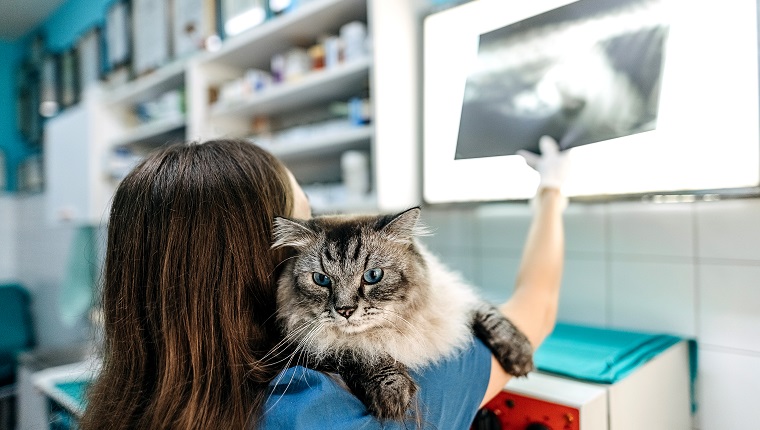 The exact underlying medical cause of chondrosarcoma in cats is unfortunately currently unknown.
In some cases, research has suggested that a mix of environmental and genetic factors can work together to bring on this type of bone cancer in cats.
Veterinary Treatments
If you worry that your cat is developing chondrosarcoma, your veterinarian will want to carry out a full physical examination. They'll order blood and urine tests, and they'll also examine your cat's lymph nodes and send tissue samples to a lab for analysis.
Vets often use X-rays and CT scans to investigate suspected cases of bone cancer, and they can also use biopsies to confirm a diagnosis.
When it comes to treatment, it is imperative to address the condition early and quickly. In some cases, cats may need amputation of an affected limb. Vets also often suggest radiation therapy to treat cases of bone cancer.
While your cat recovers at home, it is important that you provide them with a calm and relaxing environment. You will need to restrict their activity and adhere to any pain management procedures that your vet advises.
If your vet prescribes medication as part of your cat's recovery, it is vital that you follow the precise dosage and frequency instructions and complete the full course of medicine.
Have you ever cared for a kitty who developed chondrosarcoma? What kind of treatment did your vet recommend? Tell us all about it in the comments below.