Corneal degeneration in cats is a medical condition that impairs a cat's eyes. It happens when lipid deposits and calcium become present in the eye.
The condition can be brought about by a trauma or may be prompted by an eye disease.
If you see signs that your kitty might be suffering from any eye issues, then you must consult your veterinarian for a proper diagnosis and advice. Here's what you should know about the symptoms, causes, and treatments of corneal degeneration in cats.
Symptoms Of Corneal Degeneration In Cats
Corneal degeneration in cats can bring on a sizable range of symptoms. Some of the most common symptoms include:
Presence of dark areas on the cornea (brown or black)
Inflamed cornea
Producing more tears than usual
Eye pain
Squinting
Scars on the cornea
Being unable to judge distances properly
Causes Of Corneal Degeneration In Cats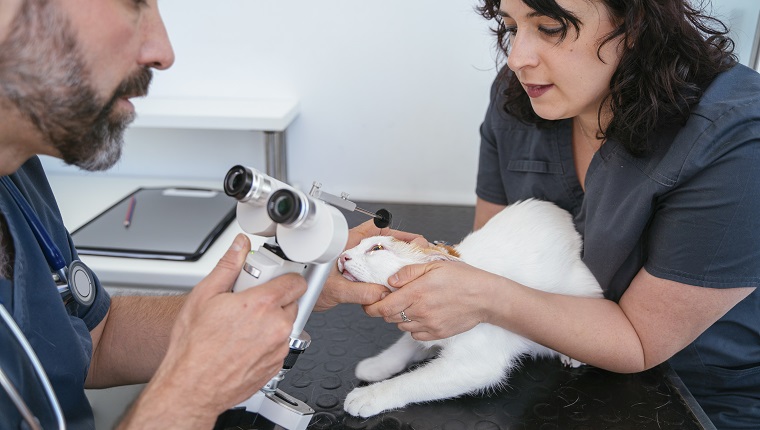 The main cause of corneal degeneration is lipid deposits being present in the cornea. Additionally, the following issues and factors can also bring about the condition:
Trauma
Metabolic disorders
Producing too much vitamin D
Upper respiratory infections
Toxoplasma
Taurine deficiency (often from a cat regularly consuming dog food)
Feline herpesvirus
Veterinary Treatments
If you worry that your cat is developing corneal degeneration, then your veterinarian will want to thoroughly examine your cat's eyes. Part of this examination will involve the use of fluorescein stain, which is a type of dye that can highlight problems and issues with the eye.
Additionally, in some cases, vets will want to use a process called cytology to examine some of the corneal cells.
When it comes to treatment, your vet will most likely want to start by removing any lipid deposits from your kitty's eyes via a technique called corneal scraping. In some cases, vets might also recommend a process called keratectomy in order to remove part of the affected cornea.
Cats who are diagnosed with this condition often benefit from dietary changes, including switching to low fat foods. Your vet can help advise on an appropriate diet that will meet your cat's specific nutritional needs.
Has your cat suffered from corneal degeneration? What dietary recommendations did your vet make to help your cat manage the condition? Tell us all about it in the comments below.