Felines with multi-colored coats, like Calico cats, are believed to bring good luck in many cultures. Finding the perfect name for your lucky, cat of many colors can be a challenge.
We've put together a list of Calico male and female cat names to aid you in your quest:
1. Aloisia
2. Edmond
3. Hardwin
4. Helaine
5. Izaan
6. Lancelot
7. Nadetta
8. Ralph Waldo Emerson
9. Sapphire
10. Setanta
11. Tatum
12. Tiladene
13. Uriel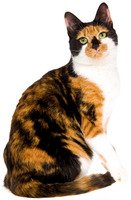 Do you have a favorite calico cat name? Post a comment and let us know about it.
More interesting and informative cat articles:
The color of your cat: Does it say anything about personality?
Cat training: Yes you can!
Cat food and nutrition
Cats
Indoor versus outdoor cats
Cat litter