As cat lovers, we aren't too surprised when we hear that up to 90 percent of pet parents include their animals in holiday celebrations, especially Valentine's Day.
Whether or not our kitties know it's a holiday, including them shows them that they're part of our family. They're our true loves, after all!
It's February, so Valentine's Day is on our minds. Are you wondering what to do for your favorite feline? You should be! But never fear. Here are some delightful ideas to celebrate with your furry family members!
1. Take A Nap With Your Cat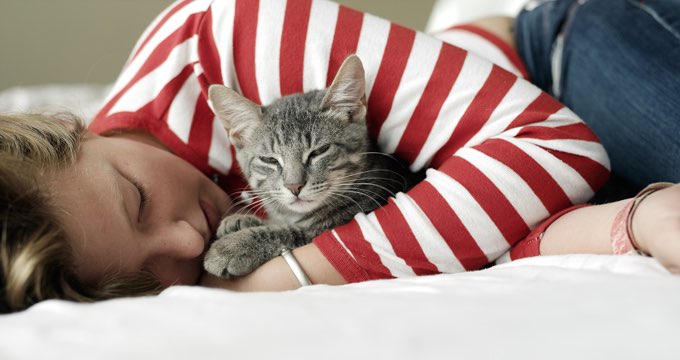 Most cats relish the opportunity to snuggle with us. Sadly, for many of us, the only time this happens is when we collapse into bed after a long day.
So, if your cat likes to snuggle, put on a movie or some music, lie down on the couch, and surprise them with a snuggle fest.
If your cat naps with you, it means they feel safe around you. So when you nap together, you're actually bonding!
2. Get Your Cat A New Toy & Play
Toys are fine, even though what your cat really wants is quality time with you! Still, it's nice to buy your cat something special to get the play session started.
Try a Valentine-themed cat toy to celebrate the holiday.
Also cats love tablets, and you can download a cat toy app and watch your kitty go to town! Just remember to protect your screen from claws.
Plus there are about a ton of ways to make your cat a toy for free out of items in your own home. You don't need to spend a lot to show your love.
3. Did Someone Say 'Treats?'
What's your kitty's favorite treat? Buy them a new bag of munch-ables and make a big deal of opening it for them.
Maybe try hiding a few around the house so they can really use their natural hunting skills and get some exercise. Or, pick up a new puzzle feeder and give them a little mental stimulation with their meal.
Temptations are a favorite among many cats, so give them a try! Just remember to serve in moderation.
4. Groom Your Kitty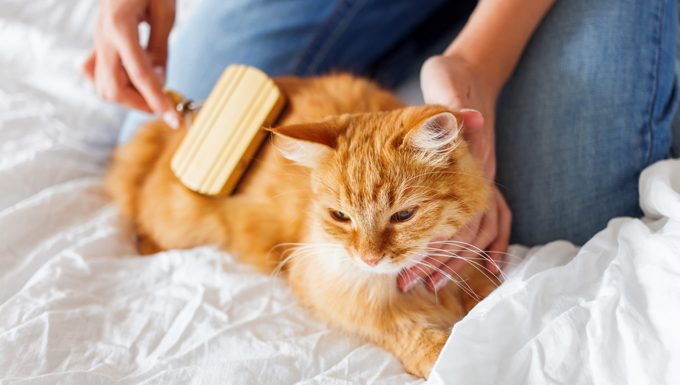 Some cats love to be brushed, others not so much. But whether it's two minutes or 20, this type of focused attention will be appreciated.
Be patient, and let them tell you how much they'll tolerate. Remember to use soft brushes on faces, legs, and feet.
One caveat: they may like it so much that they'll be after you for more!
5. Fashion & Accessories
Is your kitty getting chilly in these winter months? Why not get them a coat or sweater? Even if they're strictly an indoor cat, they may appreciate an extra layer, especially hairless kitties. February is a cold month in a lot of places.
How about a new bandanna or collar?
Make sure they've got a tag with your contact info on it, too, and make sure that your cat is wearing it anytime they go out of the house, even for trips to the vet or if you're moving to a new apartment or home.
6. Play Some Videos For Cats
Do you ever watch cat videos with your cat? You might be surprised to find out there are videos made specifically for a cat audience all over YouTube.
For some fun and sweet entertainment for yourself, sit with your kitty and watch the videos with them. Your cat wants nothing more than to cuddle up in your lap and spend time with you.
7. Get A New Scratching Post
If you'd like to go all out, consider picking up a new scratching post. There are some pretty cool designs online these days, from dog-shaped posts to tall towers that let kitty get a good stretch while they claw away.
You can always make one yourself, too. There are many tutorials online. Check out the video above!
8.Visit The Vet
Although your cat may not agree, a checkup at your vet is a way to say, "I love you."
An exam, some blood work perhaps, and a dental checkup can alert you to problems or changes that can be prevented or addressed before they become serious. That way, your cat will stick around for lots of Valentine's Days to come!
9. Make A Donation, Leave A Legacy
How about leaving a legacy? Consider making a donation in your cat's name to a local, state, or national animal shelter, rescue group, or foundation.
Do some research and find one that seems right for the two of you. You can even donate to the group who introduced you to your kitty in the first place!
Are you celebrating Valentine's Day with your cat? Are you planning anything special for them? Let us know in the comments below!