When two cats were dropped off at the Animal Haven shelter in lower Manhattan, the person who surrendered them said one was "a little large."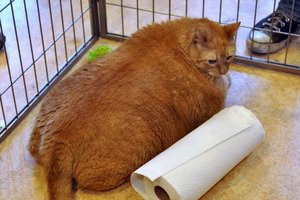 As in 33 pounds – that's how much Sponge Bob, a 9-year-old orange tabby cat, weighed when he entered the shelter. The feline's previous owner had to surrender the cat because he was moving to a nursing home.
"When we opened up the carrier, we had about 10 to 15 people who just stood around stating at him [Sponge Bob] for quite some time," Associate Director Kendra Mara says. "He's the largest cat we've ever had at Animal Haven."
With a waist size of 2 feet and 27 inches, Sponge Bob was immediately put on a special diet and exercise routine, as the older a cat is, the more difficult it is to shed unwanted pounds. Since entering the shelter, Sponge Bob has lost three pounds.
The average cat weighs between 7 and 12 pounds.
"We didn't put him in a regular crate because he needs to have as much physical activity as possible," Mara says. "So we gave him a much larger pen, which we'd normally use for a litter of puppies or a small dog, and then we also eliminated the dry food from his diet so that he wasn't getting unnecessary carbohydrates."
Sponge Bob's surrendered condition is reminiscent of Meow, a 5-year-old, 39-pound cat that arrived at a New Mexico shelter in April. Meow received a great deal of media attention to highlight the problem of pet obesity before he died or pulmonary failure in early May.
According to an article on The Sun, Sponge Bob is the world's fattest cat. Another feline, Tiny Tim, once weighed 36 pounds; that cat, however, is on a diet and now weighs approximately 29 pounds. Guinness World Records no longer keeps data on heavy cats to discourage owners from deliberately fattening up their animals for the notoriety.
Sponge Bob is available for adoption now at the Animal Haven shelter.