On April 20, CatTime.com reported on Corky, a cat that suffers from Bilateral Arthrogryposis, or condition that has left the feline's rear legs crisscrossed and backwards — not unlike a corkscrew.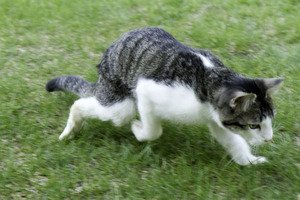 The cat was mobile, but not without dragging his hind legs on the floor when he moved.
A surgeon performed an innovative surgical procedure on the cat, using pins to uncurl and straighten out the feline's deformed legs.
Unfortunately, Corky's rear left leg developed some swelling, which caused nerve damage to the limb, and doctors had no choice but to amputate on April 26. The good news is Corky's right leg is recovering nicely. According to Gail Adams-Ventzke, co-founder of Cat's Cradle Shelter and one of Corky's rescuers, "[Corky's] walking better with three legs than he ever did with four."
So what's next for Corky? Probably not adoption, as Adams-Ventzke hopes the feline may become a therapy pet.
"[We'd like to] take [Corky] up to the hospitals and visit children who may be recovering from orthopedic surgeries or maybe have some type of disability they're struggling with and let them know that Corky had a tough time, too," Adams-Ventzke says. "And if he can do it, they can do it."
All of Corky's surgeries are paid for through donations. For more on the cat, take a look at his Facebook page.