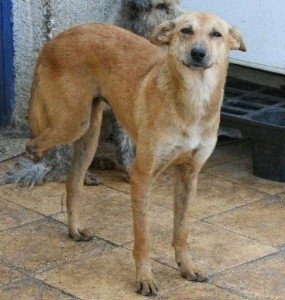 Along with the rest of the world, I've been watching with fascination the uprising in Egypt. As brave humans rally against an autocratic regime, some giving their lives to bring freedom for all, animals are caught in the crossfire.
One organization is taking notice: ESMA (Egyptian Society for Mercy to Animals), was born out of a government-sponsored 2007 dog slaughter and has been working to promote animal welfare ever since. These days, however, the group is overwhelmed with simply trying to care for animals who have been injured, neglected or abandoned during the weeks of unrest.
According to an article on Petside.com, ESMA founder Mona Khalil is struggling to keep up with the influx of cats and dogs arriving at her shelter:
"They were out of breath," she says. "Their eyes were all bleary and teary, and extremely red, to the point where you'd think they were bleeding. Some were already dead, with their mouths open like they were gasping for air."
With banks closed, supplies scarce, and a country in chaos, Khalil's work is far from over. Simply getting water to animals locked up in closed pet stores is an immense challenge. If you're interested in helping, know that the dollar can go a long way toward obtaining the resources ESMA desperately needs to alleviate the suffering of Cairo's animals.
For more information, visit ESMA's donation page.