Thirteen years ago, Lesley Brog rescued her first Pit Bull. She was living on her own in New York City and wanted a tough-looking dog at her side — a sort of protection against unsavory urban dwellers and other potential threats. "But it turned out," she says, "that Duncan walked up to everyone he saw and kissed them to death."
A classic Pit Bull experience ("the dog's a lover not a fighter!") and one that eventually led Brog down a very specific path: In 2010, she founded Wags and Walks, a rescue organization dedicated to saving and promoting "shelter dogs and preventing cruelty to animals through education, awareness, and advocacy programs."
Brog has, as they say, her work cut out for her. Now living in Southern California, she rescues dogs from the area's most overcrowded and under-resourced shelters. Many of the animals surrendered or brought in as strays to the Baldwin Park animal control facility, where the DogTime crew met Brog, never leave. So Brog searches out the adoptable dogs most likely to face euthanasia, and she takes with her as many as she can.
Indeed, the animals Brog gravitates to are often Pit Bulls; she admits a lingering soft spot for the breed and feels an almost "motherly protection" in response to the public's widespread misperception of them. But she intentionally pulls a variety of breed types — and ages — in a conscious effort to raise awareness that purebreds of almost every variety can be found at a shelter or rescue group, including puppies and young dogs.
Once in her custody, these rescues receive a veterinary exam and any medical care needed. When healthy — whether right away or after significant treatment — they're placed in foster homes, or with Brog herself, until a permanent family can be found. Emotionally, physically, and even administratively, this is not easy work. From building a reliable foster network to actively fundraising, it takes a unique strength to, day after day, advocate for those animals most in need.
Like Hooch. Brog spotted the shelter's listing for the 120-pound French Mastiff online. She knew a dog that large — with cropped ears and unknown history — might be hard to place, but something in his eyes told her she needed to meet him in person. As suspected, his intimidating looks proved only skin deep. The big goofy dog greeted Brog with soft manners and an affectionate nuzzle. He sat, gave paw, and even rolled over on cue.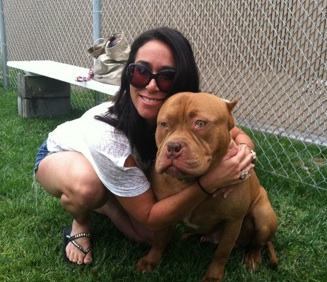 Brog did what she needed to do, pulling Hooch from the shelter immediately and posting his photo across various social media sites. She soon got a call from Rick, a truck driver in another state who noticed the posting and saw the same soulfulness in Hooch's eyes that had captivated Brog. Rick asked her to hold Hooch for him, promising he'd be there in 24 hours.
When he arrived, Brog said, it was almost as if she was reuniting long lost brothers. "Here's this big tough-looking truck driver and here's this giant, abandoned dog. You see either one of them in a dark alley and you'd cross to the other side of the street. But both were lonely, both big softies despite their exteriors. Hooch hopped into the cab of the truck as if he'd been meant to be there all along." Brog, who keeps in touch with Rick, says, "The two are still inseparable."
Brog cites her two daughters, ages three and six, as part of the reason she left a career in pharmaceutical sales to pursue rescue full time. "I'm proud to teach my girls compassion and kindness to animals first hand," she says. In fact, Wags and Walks partners with The Sol Foundation, an organization that provides schools with humane-education curricula for kids of all ages. Founder Ashley Oelsen believes, like Brog, that front-line rescue must be accompanied by early education in order to create a new, more compassionate attitude toward animals in our society.
Some of Brog's success stems directly from her go-getter approach. She has proven herself committed and organized — and that efficiency and reliability is just as crucial to this work as her deep sense of compassion. In the rescue world, empathy is terrific, but only action will alleviate suffering.
And some of Wags and Walks' success is simply Brog herself. With disarming warmth and energy, she points out her current resident favorites (the Airedale here, the Boxer there on the left…). It's impossible not to like her as a person, and it's those personal relationships and perceptions that ultimately affect the lives of shelter animals. People are the ones making decisions, introducing legislation, effecting change.
Before we leave the shelter, Brog's daughters help coax the latest batch of rescues into her car. As I witness the foundation being laid for the next generation of animal welfare advocates, it occurs to me: I didn't choose Wags and Walks to receive this grant — the organization was selected via a random drawing. But I can't think of any rescue more worthy or more deserving. Lesley Brog has not only our hearty congratulations, but the sincere admiration and unfailing confidence of the entire DogTime team.