It's been almost seven years since Batgirl was plucked, scared and alone, from the floodwaters of Hurricane Katrina. Since that time, she's been living at the Best Friends Animal Society location in Kanab, Utah. She's playful, clearly adorable, and gets along well with other dogs. But for some reason, she seemed destined to be overlooked by potential adopters. Staff wondered if she'd ever find a family of her own.
Michelle, an Indiana resident, happened to be visiting Best Friends several months ago, and she met and fell in love with the spunky Pittie with the crazy ears. However, a human of two dogs already, she wasn't prepared to adopt. She returned to her home state alone, but she never stopped thinking about Batgirl.
The month-long Back in Black program, now in its second year, was created by Best Friends to showcase black dogs and cats in shelters around the country. Typically the most difficult to place, these animals often wait for homes much longer than their lighter-colored counterparts. This year, 129 shelters nationwide are participating in Back in Black, and Best Friends' goal is to see 1,000 animals find homes through the program.
When Michelle saw Batgirl as one of the Back in Black featured animals, she decided this dog had waited long enough. She began the adoption process, and last Friday, the puppy abandoned in the storms of Hurricane Katrina, finally went home.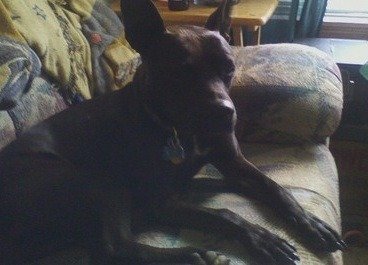 We're thrilled to report that Batgirl has settled in beautifully. She's made herself quite comfortable with her family, even taking to the resident cat.
Looking to adopt? Check out the list of participating shelters; most have waived or reduced adoption fees for the duration of the program. But hurry! Back in Black concludes on May 31.
Adopt a dog or cat through the Back in Black program? We want to hear from you. Email your story to [email protected].