With upwards of 15% of the population living in poverty, over the last few years shelters nation wide have seen a huge influx of owner-surrendered dogs and cats. For the most part, these animals are not unwanted. It's simply that the cost of keeping them happy, healthy, and well fed is more than many families can afford.
HSUS's PFL program was created not only to let people know that help is available, but to show exactly how to get it — warmly, easily, and without judgment. Whether it's purchasing food, managing behavior issues, providing medical care, or getting animals spayed and neutered, there are solutions.
What it is
Pets for Life is a community outreach program, now in operation in four cities around the U.S.: Atlanta, Chicago, Los Angeles, and Philadelphia. The goal is to boost pet retention, improve the lives of companion animals and their humans, and provide services in areas of the country where convenient and low-cost care is lacking. Although it operates under the auspices of HSUS, Pets for Life is not a clinic or a storefront. "Our office is the streets," says the program's director, Amanda Arrington.
She means exactly that. Staff and volunteers use hands-on techniques to reach anyone who might be interested or in need, from literally knocking on doors to holding public training sessions to delivering extra pet food to those who could just use a little help. Arrington shares the story of Mark, a recently unemployed Philadelphia man who attended a community outreach event. When Pets for Life staff learned that Mark was struggling to make ends meet, they offered to load up his car with dog food. Mark explained that he'd walked to the event.
"So we got his address," Arrington said, "We told him we'd bring the food to his house when the event was over." Little did they know, Mark had walked three miles — one way —just to attend the event. "What a testimony to how much he cared and how far he was willing to go, both figuratively and literally, to get care for his pets," she said.
Since the event, Mark's dogs have each put on several pounds and are maintaining a healthy weight. And Mark still walks to PFL-sponsored training classes once a week.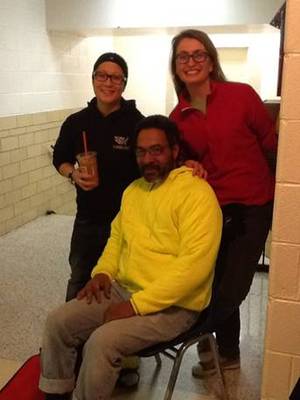 Why we chose it
Whether you're an individual looking to make a difference in your neighborhood or you're part of a shelter administration hoping to increase pet retention in your area, the Pets for Life program can be replicated in pieces or as a whole. Check out their comprehensive toolkit, downloadable free of charge. Chapter titles include Community Assessment, How to Talk to People, and Coalition Building.
What else
Currently live in one of the Pets for Life locations (Los Angeles, Philadelphia, Atlanta, or Chicago)? It's even easier to get involved. Learn more about open volunteer positions and sign up online as soon as right now.