After four Shrek movies, DreamWorks Animation returned to the well yet again, this time to tell the back-story of Puss, the suave Spanish cat swordsman (voiced by Antonio Banderas), who burst on the scene in Shrek 2. This computer-animated feature has the sharp dialogue one would expect from a Shrek spin-off, as it cleverly skewers several sacred-cow beloved children stories such as Mother Goose and Jack and the Beanstalk.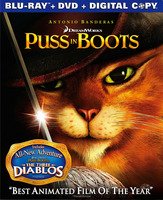 Puss in Bootsputs the suave titular Spaniard hot on the trail of magic beans stolen by partners in crime, Jack and Jill (yes, that Jack and Jill), but he meets his match in Kitty Softpaws (Salma Hayek). Younger viewers are sure to be entranced by the sharp, detailed visuals (especially in high definition) and adults will appreciate the movie's biting satire. Puss in Boots is based on a fairy tale written by Charles Perrault in 1697.
Nominated for a Best Animated Feature Academy Award (along with another cat-centric movie, A Cat in Paris), Puss in Boots is available on DVD, Two-Disc Double DVD Pack, Blu-ray, and 3D for $29.99, $34.98, $39.99, and $54.99, respectively, but you can probably find it for less online or at a big-box retailer.