Russell is a Cat that is currently a patient at the Animal Emergency Hospital and Urgent Care Clinic in Raleigh, North Carolina. He was found in the rubble of his house after it was burned to the ground in early 2014. They didn't know if he'd survive but he did survive and is doing well despite the fact that his face and entire body were badly burned and he still requires treatment for those injuries.
Despite his own discomfort and ongoing treatment, he appears to have a pretty good outlook and strong spirit.
Russell is curious and interested in all the animals that come into the clinic. He greets them as they come in and tries to comfort them and show them that everything is going to be okay.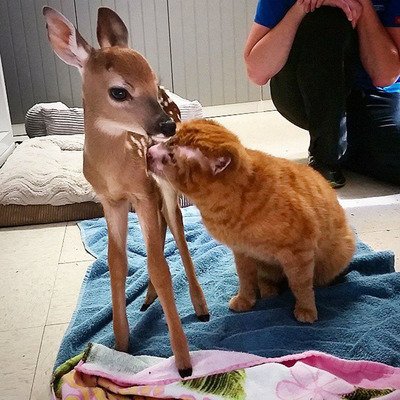 Russell is said to have a gift for making a connection with all the animals, no matter how unlikely. He spends his days, going room-to-room, visiting patients. He seems to be on a mission and his own health is simply not a concern. Sometimes the therapy-providing cat has to be forced to slow down to get much needed rest.
The staff believes Russell provides a nice peaceful environment in the office. And he does not discriminate against dogs or any other animal. If he feels someone is sad or down, Russell is there to offer comfort. He seems to get comfort in giving it to others.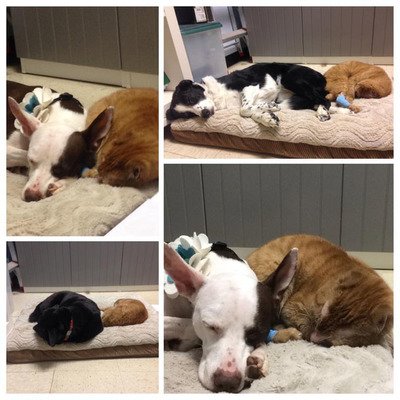 Nobody knows if he will ever be well enough to go home but Russell is adored by the staff and it's just fine with Urgent Care staff if he remains the clinic mascot indefinitely.
Wag of the tail to TheDoDo for sharing!