The bond between a human and a pet is often unparalleled by anything we experience in our human-to-human relationships. So, too, can be the pain we feel when that animal is gone.
If you have lost your cat, or any animal friend, know first that your grief is real and valid, and that you are entitled to feel what you are feeling. Know also that it is important to connect with those who will understand and support you.
Sometimes people just don't understand, or simply cannot bear to comprehend this type of loss. So if you hear things like, "Well, it must have been his time," or "Maybe you should just get another cat," try not to take these things to heart. Sometimes people say these things because they don't know what else to do.
Either way, now is not the time to try to convince them of the depth of your pain. You need all your energy right now to heal.
Again, align yourself with those who will support you. Sometimes a pet loss support group can help. Check your local paper, veterinary clinics, libraries or your local humane society for suggestions.
Just being with kindred spirits, sharing stories of love, laughter, and loss, can be very healing.
A Ceremony To Honor Your Pet
The use of ceremony is also healing. Ceremonies give us something to do, an outlet for our pain, and a way to honor a life.
You can create your own ceremony by first becoming aware of what you are feeling. Anger, guilt, sadness, and loneliness are all normal feelings to have during this time.
Once you know what you are feeling, set an intention to release some of that pain. You might take a walk and sprinkle sugar on all the wildflowers you see, each time saying, "I love you, and I am releasing some of my pain now."
What did your cat teach you? Set an intention to honor that quality. If it's playfulness, spend an afternoon playing in the park. If it's kindness, perform a random act of kindness for someone.
Write your funniest memory of your cat and post it on the internet. Others may benefit from what you've shared.
These are just a few suggestions to inspire you. Your own ceremony should be deeply personal to you and the friend you've laid to rest. It can be as unique as you need it to be.
Healing & Remembering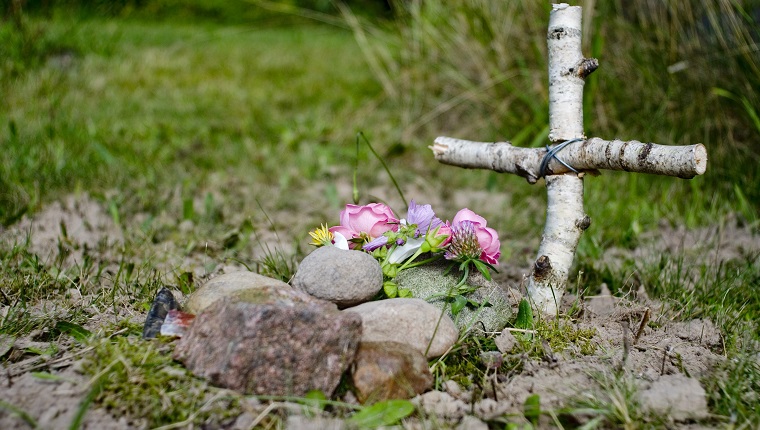 Some find healing in creating an altar in honor of their pet. A picture on the fridge, a collection of memorabilia in a special place in the house, or a tree or shrub planted in the yard will do.
You might consider giving some time or financial support to animal welfare organizations — local or national. Donations of any kind, along with your story, will be welcomed by all.
There are many possibilities for memorializing your cat and helping you to heal. Be creative, and choose the things that feel right for you.
Above all, be gentle with yourself. If there are children involved, include and support them through this process. In time, it will be easier to remember your loved one with smiles instead of tears, and the loss you feel will be outweighed by the love you shared.
Have you ever dealt with the loss of a beloved cat? Are their any ceremonies or memorials you held that helped you heal? Let us know in the comments below.