The Best Fish Oil For Cats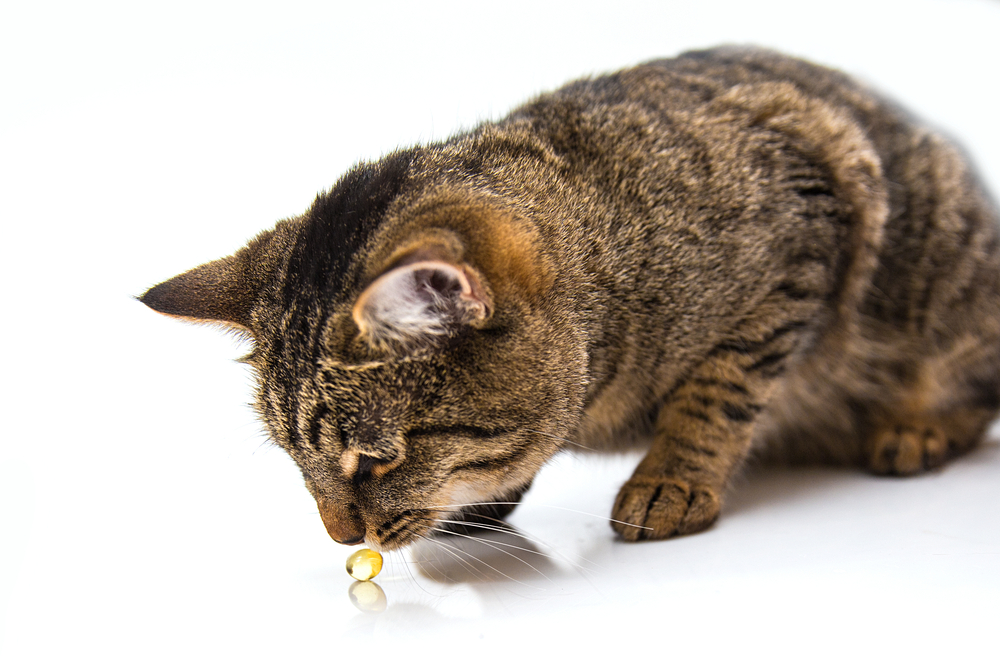 Giving your cat a daily dose of salmon oil can get expensive, especially if you have more than one cat at home. Thankfully, Vital Pet Life's bottle of salmon oil is affordable and will last for months. Sourced from wild Alaskan salmon, this high-quality oil is full of omega fatty acids and other vitamins that will benefit your cat's skin and coat. Plus, this bottle comes with flip cap and pump options, so you can easily add this nutritious oil to your cat's daily meals.
Pros:
Decreases shedding

Helps with dry, itchy skin

Helpful serving guide based on your pet's weight
Cons:
Your cat may have slightly fishy breath after ingesting
Nordic Naturals Omega-3 Pet Supplement
This concentrated fish oil from Nordic Naturals is formulated to support your cat's joints, heart, skin, and immune health. Made with anchovy and sardine oil, this fish oil is easy to absorb and, surprisingly, has no strong flavor. The small glass bottle comes with a dropper to help you portion out the oil to each of your pets. You can add it directly to your cat's wet or dry food for a nutritional boost, and we doubt they'll even notice it's there.
Pros:
Sustainable product

Multiple bottle sizes are available

Free from gluten, dairy, preservatives, and artificial flavors
Cons:
It needs to be refrigerated to stay fresh
Essential Pet Products Alaska Wild Salmon Oil Chews
If you love to treat your cat, you need to check out these salmon oil soft chews from Essential Pet Products. Each container is tightly sealed for freshness and holds 100 chews that will last a while, no matter your cat's size. There is a helpful feeding guide on the container, and they are safe for daily consumption. These affordable chews are designed to support your cat's overall skin and coat health. And your pet will love the delicious flavor and soft texture of these nutritious treats.
Pros:
The small treats are easy to chew

Sourced from wild Alaskan salmon

Ideal for cats who refuse to eat straight salmon oil
Cons:
These treats often leave behind messy crumbs
Kodiak Naturals Wild Alaskan Salmon Oil
Fish oil can get messy quickly if you don't have a convenient way to serve it. With this salmon oil from Kodiak Naturals, you can make use of the leakproof squeeze bottle to add a little or a lot to your cat's meals. Full of omega fatty acids, DHA, and EPA from sustainably-sourced wild salmon, this fish oil is about as pure as it gets. The drip-free cap keeps the bottle clean and prevents fishy odors from seeping into your pantry or wherever you keep your pet's food.
Pros:
Processed at a low temperature for maximum health benefits

Easy to mix with wet or dry cat food

Affordable option
Cons:
It can be challenging to dispense an exact amount of oil with this bottle
Iceland Pure Unscented Pharmaceutical Grade Fish Oil
If your cat is picky when it comes to food, it can be challenging to get them to eat smelly fish oil. Iceland Pure's fish oil for cats is completely scent-free, making it the perfect option for your picky pet. The high-quality oil is sourced from sardines and anchovies. And the bottle features a convenient pump to dispense it directly into your cat's food bowl. Whether your cat has stiff joints or itchy skin, this fish oil will work hard to help them feel better.
Pros:
It is also safe to feed to dogs

Free from toxins, heavy metals, and impurities

Doesn't spoil quickly, especially when stored in the fridge
Cons:
Not as affordable as other options
Frequently Asked Questions
What are the benefits of feeding my cat fish oil?
Fish oil for cats is generally sourced from salmon, pollock, sardines, and anchovies, all high-fat fish. The oil from these fish is high in beneficial vitamins, including omega fatty acids, DHA, and EPA. It has been known to help with skin conditions, such as dry skin, dandruff, and skin allergies, and can help soften your cat's fur. But on a deeper level, when taken regularly, fish oil can help with joint pain, heart conditions, and overall immune health.
How do I feed fish oil to my cat?
In most cases, fish oil is a literal oil you can pour over your cat's wet or dry food. If your pet is picky, you can mix the oil into their food to disguise it or pick an unscented option. Most cats love the rich flavor of fish oil, which often encourages them to anticipate their next meal. But if your cat refuses fish oil in their daily meals, there are also chewy treat options that you can give them instead.
About the Author
Why Trust Us
Since 2008, CatTime has provided millions of cat owners with all the information they need to keep their pets happy and healthy. Our experts know exactly what it takes to raise our furry friends and our goal is to help all owners, new or experienced, care for their cats with all the right food, toys, equipment, and accessories.