If your feline loves to explore the great outdoors, chances are you worry about their safety from time to time. This is especially true if you live near a busy road. Thankfully, snapping up a good-quality reflective cat collar will make your kitty far more visible at nighttime, alerting cars to their presence and keeping them safer when they're out and about. Not only this, but popping a reflective collar on your kitty will help you spot them in the dark, too.
Reflective cat collars should be comfortable, adjustable, and feature reflective strips. You can usually attach a collar bell (great for alerting wildlife to your cat's presence, thus saving lives!) or an ID tag to one of these collars, too. So, if you're seeking the best reflective cat collar for your cherished kitty cat, we've got just what you need. Our guide will walk you through the top picks so you can get it right the first time—read on and check them out now.
Top Pick Taglory Reflective Cat Collar
Taglory Reflective Cat Collars Breakaway with Bell, 2-Pack Girl Boy Pet Kitten Collar Adjustable 7.5-12.5 Inch, Green
Best Reflective Cat Collar to Consider
Reflective Qualities
Naturally, the most important part of a reflective cat collar is its ability to reflect light—alongside comfort, this should be a top priority when you're shopping. Find a collar with bright, fluorescent reflective strips, as these will glow brightly in the dark and help you locate your kitty in no time.
Size
Your cat's collar should be snug-fitting but also loose enough to allow them to breathe effortlessly. The rule of thumb is that you should be able to slide two fingers between your cat's collar and their neck; this means the collar is tight enough not to catch on anything but not so tight that it restricts breathing or causes discomfort.
Breakaway Feature
Most cat collars nowadays offer a breakaway feature. What is this? In short, a breakaway cat collar will come open when subject to force; this means if your cat gets stuck on a twig or branch, they'll be able to pull themselves free quickly and easily. That said, if you're concerned about your cat's safety while they're out and about, a cat GPS tracker can help give you peace of mind, too.
Bells and Other Attachments
If you want to prevent your kitty from savaging local wildlife, it's a good idea to add a bell to their collar. This will make your kitty's presence known to nearby birds and small mammals, giving them a headstart to get away. If you'd like to add a bell, make sure your cat collar comes with a D-ring at the front. This can also be used to add an ID tag, which is super helpful if your cat is something of an adventurer.
Taglory Reflective Cat Collar
This set of two bright green beauties are a great choice if you're seeking a high-quality but affordable reflective cat collar. Don't worry, though, if green is not for you, you can snap this set in a number of other bright, eye-catching colors. Made with reflective pawprints and strips, you'll be able to easily spot your cat even in the darkest depths of night, while the breakaway feature means your cat can easily escape if they get tangled up.
We like the bell, helping to alert potential prey animals to your cat's presence and giving them time to run away before your cat clocks them. Adjustable between 7.5 and 12.5 inches, you can tinker with the fit until you get it right, too.
Top Pick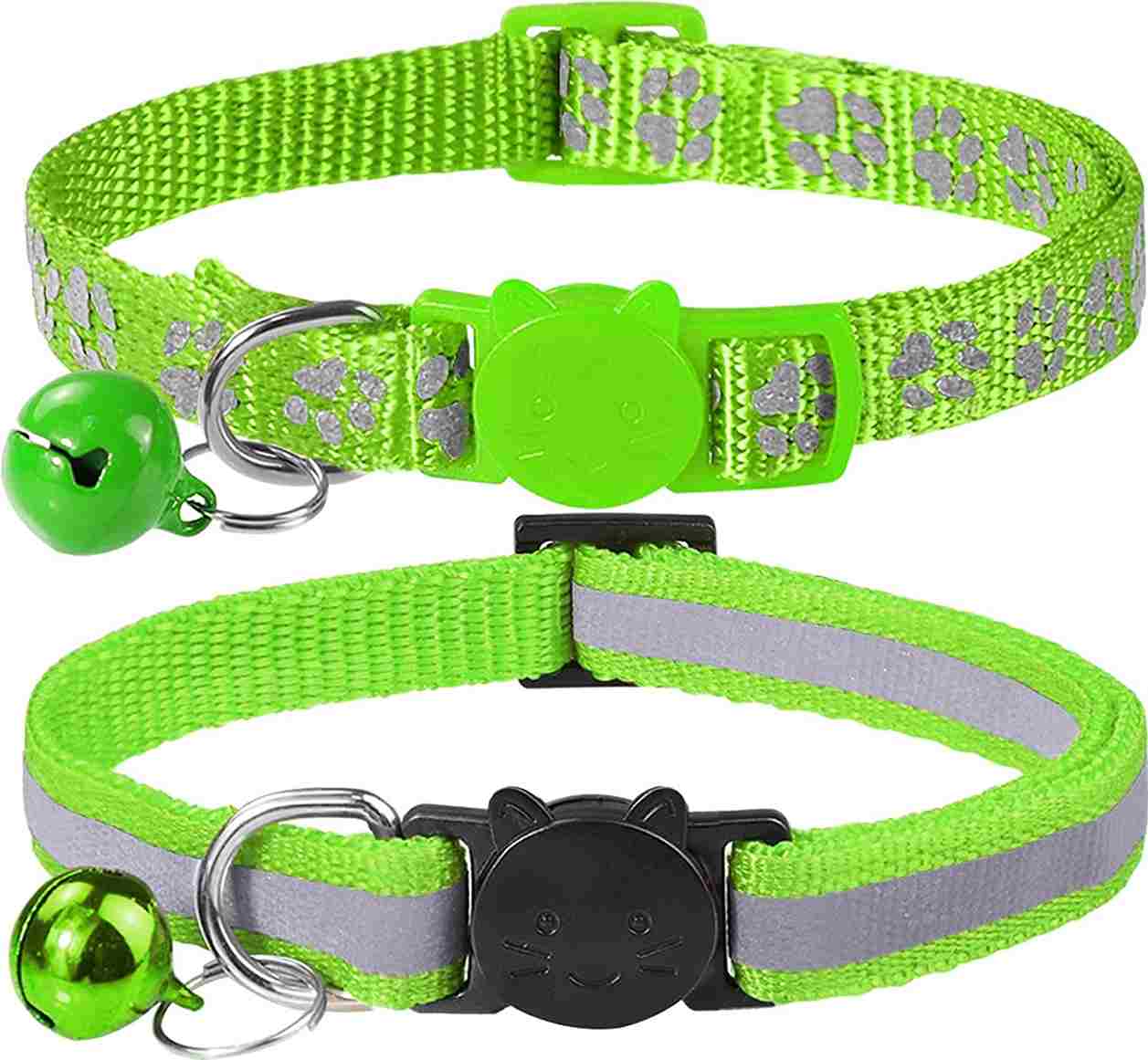 Taglory Reflective Cat Collars Breakaway with Bell, 2-Pack Girl Boy Pet Kitten Collar Adjustable 7.5-12.5 Inch, Green
$6.99
Pros:
Bright reflective strips
Bell included
Breakaway design
Adjustable fit
Cons:
Nylon can fray a little overe time
Reflective Cat Collar with Bell
Coming in a set of six, you'll have enough collars for an army of cats with this great-value pack. They come in an assortment of colors, and each collar is made with a handy breakaway buckle to help them escape if they become entangled. Of course, they also feature reflective strips for after-dark cat-spotting.
Boasting a durable, high-quality feel, these cat collars are wooden from tough nylon, which is sturdy and long-lasting, while still being super comfortable for your kitty. We like the brand offers a free replacement if you're not satisfied with your cat collar, too.
Runner Up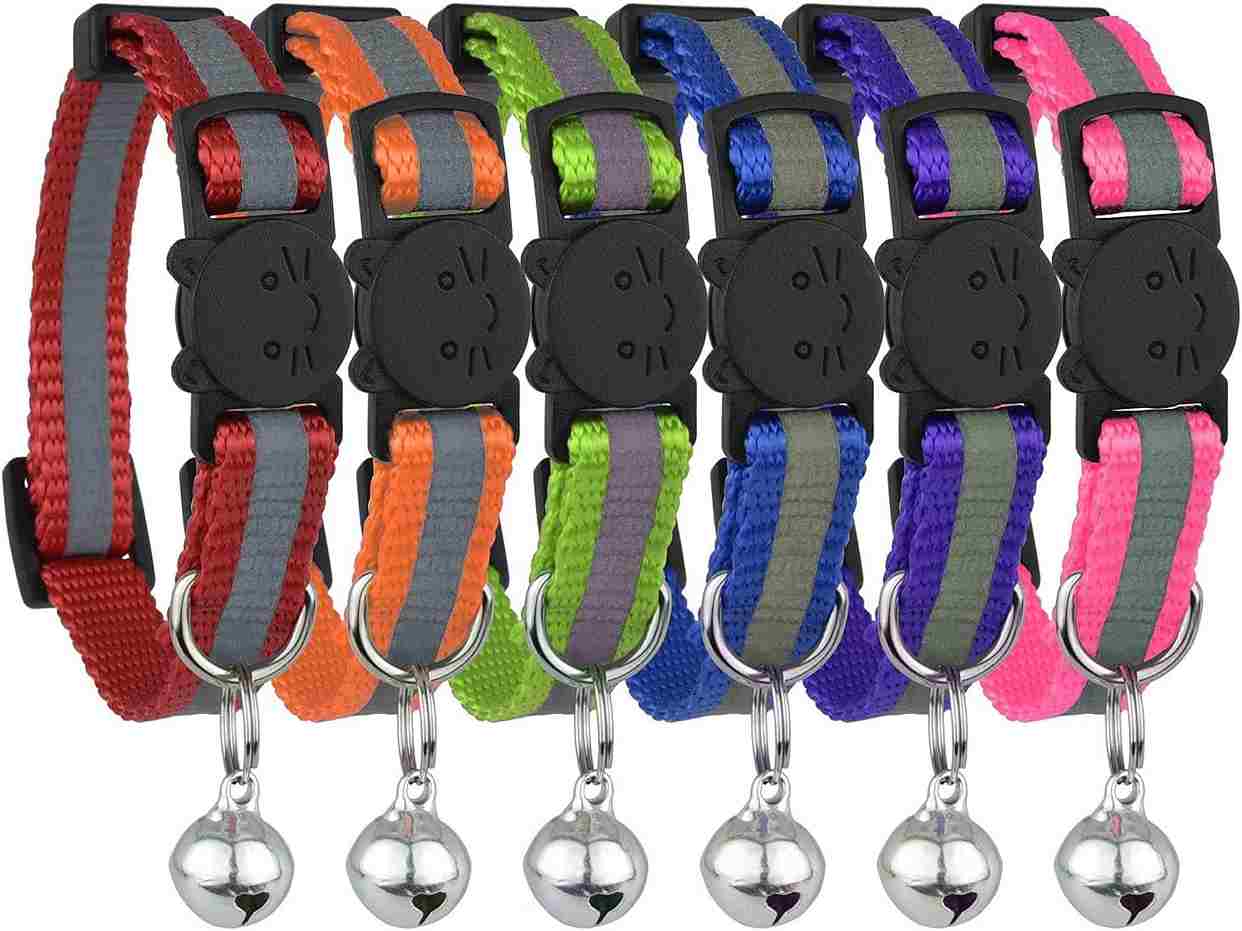 Upgraded Version - Reflective Cat Collar with Bell, Set of 6, Solid & Safe Collars for Cats, Nylon, Mixed Colors, Pet Collar, Breakaway Cat Collar, Free Replacement (6-Pack)
$12.94
Pros:
Sturdy design
Bell included
6-pack
Great value
Cons:
Best for older kittens or adult cats
Glow-in-the-Dark Reflective Cat Collars
Definitely a stand-out pick in terms of style, these cat collars perform beautifully when it comes to their glow-in-the-dark functions, too. The set of two is ideal for kitting out a duo of kitties, or you can simply have one spare. Coming in a set of light blue and pink styles, these are great for brother and sister cats, too.
The adjustable size is paired with a breakaway buckle to create a comfortable, safe fit for your feline, while the front charm adds to the cutesie style. We like the included bell, helping you hear your kitty before you spot them. However, the bell is easy to remove if you (or your cat!) prefer to go without.
Most Pretty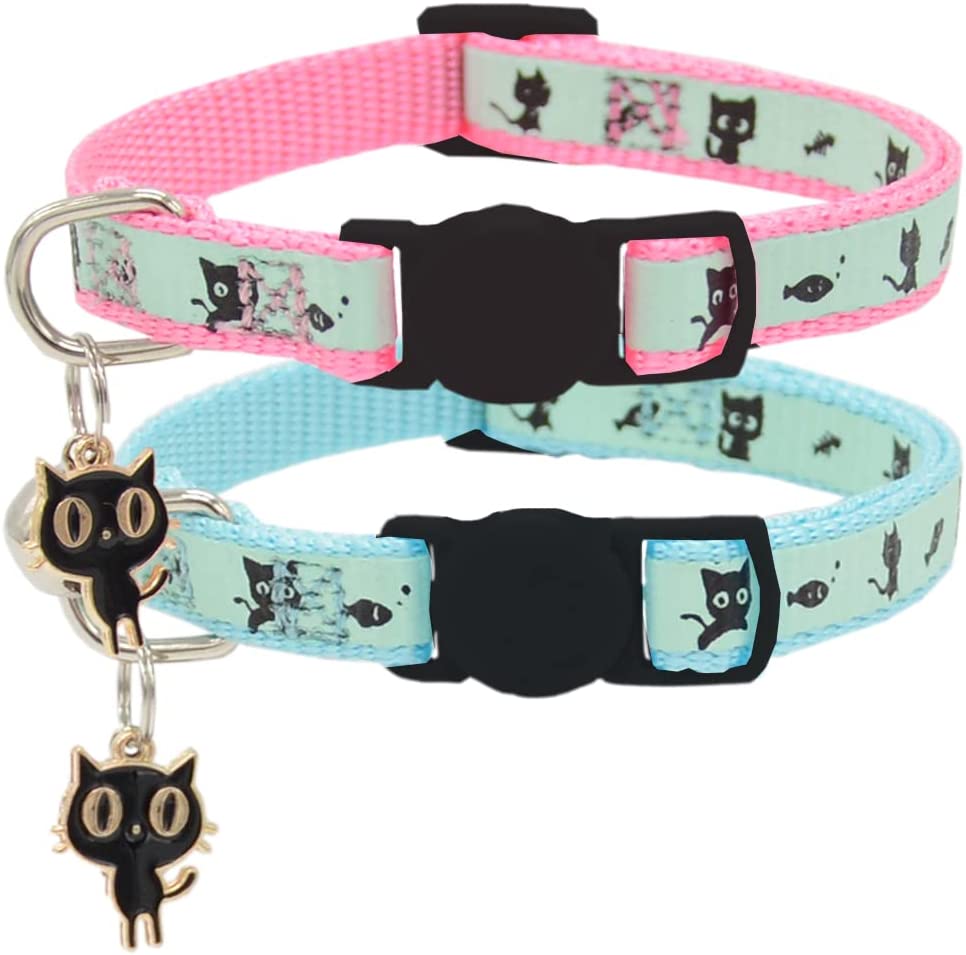 2 Pack Glow in The Dark Cat Collar with Bell Breakaway Safety Cat Puppy Collars with Pendant Light Blue and Pink
$9.99
Pros:
Stylish design
Charm and bell included
Breakaway feature
2-pack
Cons:
Pendant can get caught quite easily, so you may consider removing it
Lupine Reflective Cat Collar
OK, this one's a little steeper than the rest, but it's still very affordable and worth it if you're worried about finding your feline after the sun's gone down. The wide strap blends with an adjustable fit to offer super comfortable, stress-free wear for your cat, while the bright reflective threads offer super bright visibility, so you should be able to spot your kitty from a way off. Finished with a bell and a breakaway function, you'll be upping your cat's safety considerably when you pop them in this reflective collar.
Best Quality
Pros:
Super bright reflective threads
Comfy and safe
Wide strap
Breakaway function
Cons:
A bit steeper than the rest
Elasta Cat Reflective Safety Collar
You can feel the quality of this reflective cat collar as soon as you pick it up—and your feline is sure to welcome the comfy and ergonomic fit. Featuring an elasticized breakaway function, your cat will quickly be able to break free if they become entangled, and the highly reflective weave will help you spot them easily, too. You can adjust the size to fit, and pick the best color to suit your feline's swagger and style, too. While this one doesn't feature a bell, you'll get a cute tag adorned with "meow" on the front to add a bit more character.
Also Consider
Pros:
Elasticized breakaway feature
Safe and secure
Adjustable fit
Different colors available
Cons:
Frequently Asked Questions
Are reflective collars good for cats?
Reflective collars are a great accessory for outdoorsy cats. Why? Because the built-in reflective strips will reflect surrounding light (be it from a car's headlights, streetlights, or your porch lights), helping you to spot them in the dark. This is great news if you're forever finding yourself scouting out your cat in the garden, calling them from down the street, or you're concerned about traffic.
What are the disadvantages of cat collars?
There are very few disadvantages to popping a cat collar on your feline. However, make sure your chosen collar has a breakaway feature (super important if your cat loves to explore local nature), as this allows them to free themselves from any tangles without causing further distress or injury. Also, it may take a day or two for your cat to become accustomed to their new collar, especially if they're rocking one for the first time.
Do you leave cat collar on all the time?
It's totally safe to leave your cat's collar on all the time. Just make sure it fits well, isn't too tight, and is made from soft materials that won't cause any discomfort for your kitty. We've crafted a number of guides to the best cat collars, including options to tackle fleas and ticks, as well as kitten collars, to help you shop.
What information should be on a cat collar?
While putting your cat's name on their collar seems like the obvious choice when it comes to choosing which information to include, this is actually not necessary. It's far more important for whoever finds your cat to be able to contact you, their owner. So, it's best to put your name plus a contact number or two; ideally, this should be your mobile number and your home or work phone.
WHY TRUST US
Since 2008, Cattime has served as a leading resource for millions of cat owners and pet lovers alike. Our goal is to give every cat and pet a happy, healthy home by providing owners with all information they need to be the best pet parents possible. Our experts share their insights and recommendations to make caring for your beloved pet a breeze.