The only thing cuter than a cat is one in a basket. Whether for carrying, playtime, naptime, or any other feline fun, a good cat basket makes for happy cats and owners. That's why we're so excited to share with you these top picks for kitty baskets.
If you're not sure where to start, we have you covered. Below, we'll discuss what to look out for when selecting the right pet basket for you and your babies. Each product will be discussed in detail, so you'll know exactly what to expect. Curious to learn more? Keep reading and we'll fill you in.
Top Pick MewMewLand Natural Cat Wicker Bed Basket
MewMewLand Natural Cat Wicker Bed Basket, Handmade Braided Cattail Leaf Kitten Bed with Soft Cushion Small
Best Cat Baskets To Consider
First, you'll want to consider what you plan to use the basket for. Is it for storing toys, keeping empty for cats to play or nap in, or for carrying your cat? A good toy storage basket, for instance, will have high walls to keep everything contained. It also might have handles. These also work well for playful cats as they can hop in with curiosity and plan sneaky pounces. For a cat-carrying basket, you'll want a lightweight one with handles. Sometimes they'll include a cushion, which cats love for napping in.
A good aspect to keep in mind is the material of the basket. Do you want wicker, cloth, or something else? You'll want to make sure the material can withstand cats clawing at it since they'll probably be interested in what's inside (whether full of toys or completely). We suggest wicker baskets for the best durability. They can withstand the sharpening of claws from cats, as well as other daily wear and tear. Another good material for durability is woven cotton rope. This is a dense, fibrous material that's also strong against cat claws. Plastic baskets are okay, but if they're too flimsy they can get chewed up.
MewMewLand Natural Cat Wicker Bed Basket
Imagine carrying your precious kitten on this beautiful wicker basket. They'll feel like royalty and you can parade your baby all through the house. It can quickly become your cat's new favorite spot to nap in — especially since you can take it with you from room to room. The soft cushion invites sleepy kitties to curl up and take a nap. It's perfect for picturesque moments at home and soft pets and scritches.
If you have particularly rowdy cats that like to use their claws, this wicker basket was made for them. It uses a type of wicker that cats love to claw at, withstanding the constant barrage of sharp talons.
Top Pick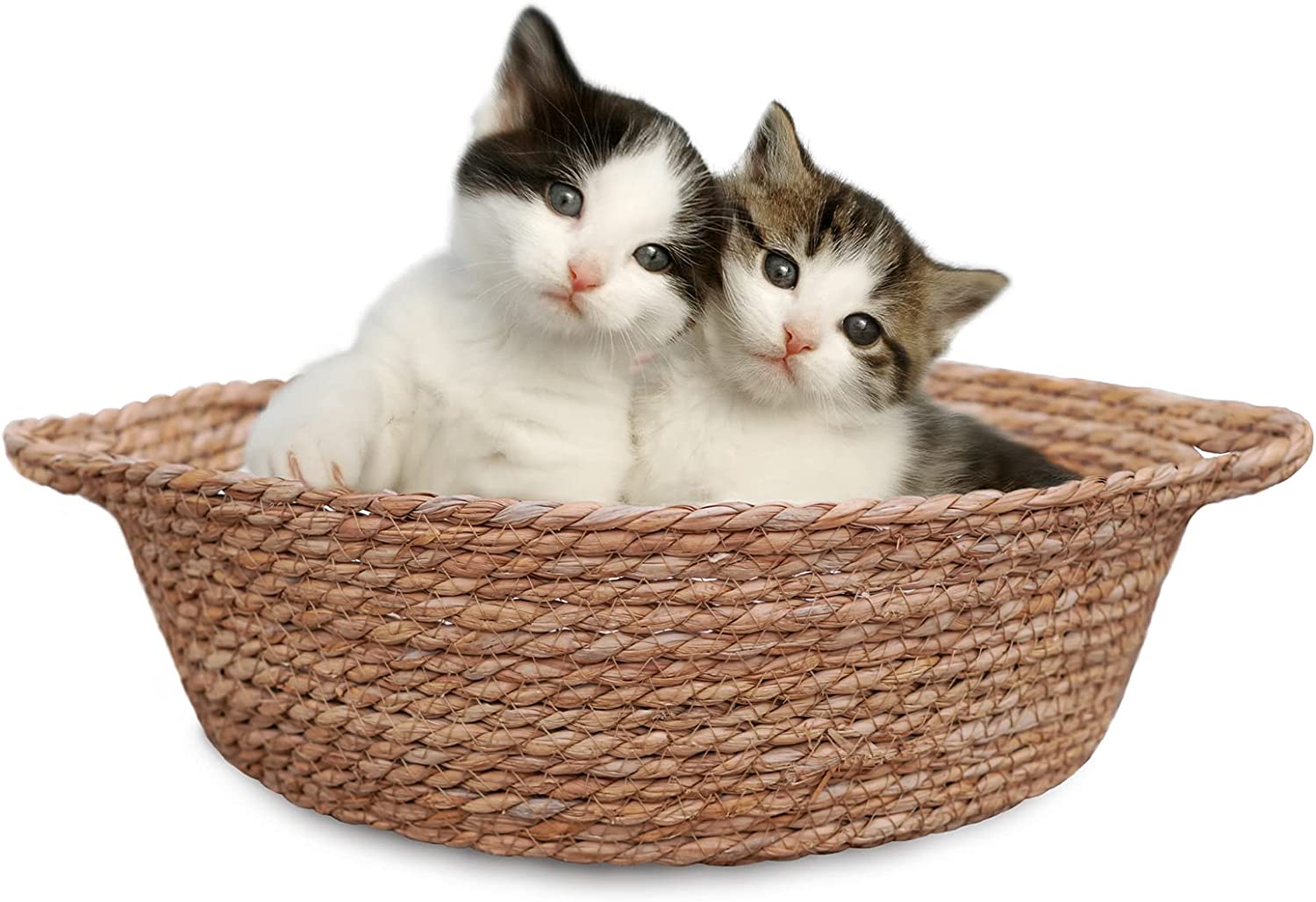 MewMewLand Natural Cat Wicker Bed Basket, Handmade Braided Cattail Leaf Kitten Bed with Soft Cushion Small
$18.53
Pros:
Super durable

Lightweight 

All-natural material
Cons:
D+GARDEN Fun Stackable Cat Condo for Indoor Cats
This is one special wicker cat basket that cats absolutely adore. It's the perfect hiding spot for playful kittens. It's also a great place to curl up and take a nap. Made with a strong wicker weave surrounding a supporting metal frame, this basket can support a great deal of weight. So feel free to stack more beds on top of it, a tabletop, or whatever you fancy. You could turn it into a stand for a coffee table and have your cats play inside it while you use the table for human things like coffee, magazines, etc. Meanwhile, the cats will be in heaven frolicking in this spacious cat basket.
Best Enclosed
D+GARDEN Fun Stackable Cat Condo for Indoor Cats - Interactive Play Rattan Cat House for Indoor Cats Kitty, Pet Friendly Top/Side House Entry, Cat Bed Enclosed
$99.99
Pros:
Strongly woven

Works upright or on its side

Won't deform
Cons:
Geyecete Cat Bin with Wooden Handle
If you're interested in a cat basket primarily for storage, this is the one for you. It has plenty of volume for cat toys, treats, you name it. And with sturdy wooden handles, you can carry it around no matter what kind of objects you store in it. Of course, that could end up just being your cats since they might love playing in this cat bin.
This bin looks beautiful and works like a champ. It's made with multilayered cloth that's soft to the touch yet tough and durable against rowdy kittens. If you're tired of seeing toys strewn about the floor, this bin is the perfect way to keep them all together — unless it's playtime, of course.
Best Wooden
Pros:
Can work for pet food or supplies as well

Cats love the high walls

Holds a ton of toys

Affordable pricing
Cons:
Might come with some creases from the packaging
Kitty City Cat Bed
Cats love to take naps throughout the day, and they're absolutely precious when they do. Now they can have a new favorite bed to curl up and nap in: the Kitty City cat bed. This cozy basket features woven cotton fibers and a super soft cushion for your kitty's comfort. The cushion is machine washable, so it'll always stay nice and clean for your sleepy baby. And the basket is well-sized for most cats to comfortably fit into. They deserve the best, most comfortable places to sleep. And with this cat bed, they'll have one more prime spot in the house for a catnap.
Best For Naps
Pros:
Super plush cushion

Machine-washable

Removable pillow

Can fit two smaller cats
Cons:
This basket doesn't have handles
STOBSK Small Woven Basket
Tightly woven, thick rope material

Can hold a decent amount of weight

Can be washed in a machine and air dried
Best Cotton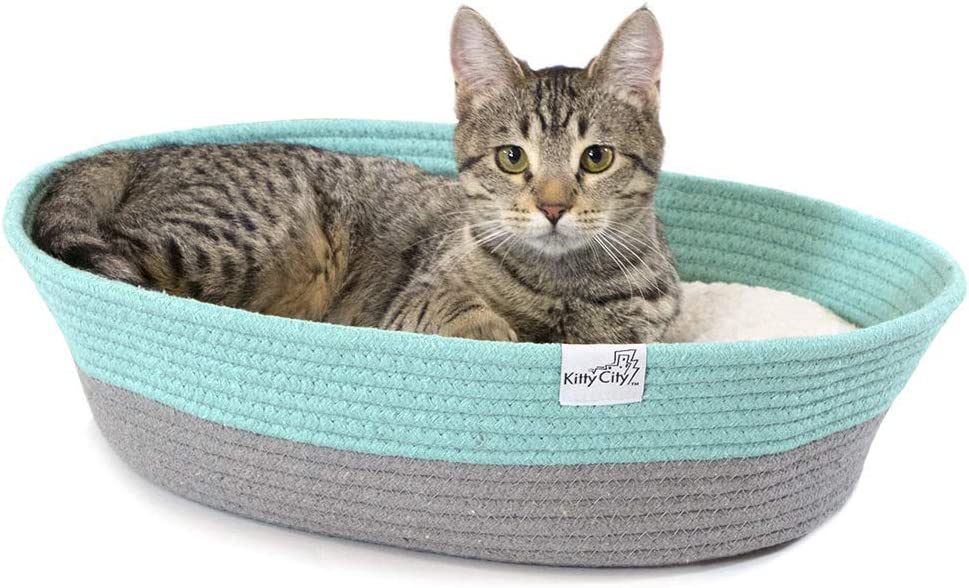 STOBSK Small Woven Baskets for Organizing Rope Storage Basket with Handle Cute Cotton Basket for Nursery Gift Dog Toy Storage Bins for Toy Organizer
$14.99
Pros:
Tightly woven, thick rope material

Can hold a decent amount of weight

Can be washed in a machine and air dried
Cons:
Might be slightly deformed and require ironing to reshape

Tightly woven, thick rope material

Can hold a decent amount of weight

Can be washed in a machine and air dried
Frequently asked Questions
What is a cat basket?
You might be wondering how exactly how one would use a basket for cats. Well, firstly you can use them to carry pets. Let's say you have a particularly sleepy cat, one that's disabled, or a litter of small kittens. You could use a cat basket to shepherd them to new locations. Some cats simply enjoy being carried like a royal family member. And to be honest, we do see them as royalty so it makes sense to carry them as such.
Another use for cat baskets is to store cat toys. They're great for keeping all of them neatly in one spot. And when it's time to play, you or your cat can always know where to find the toys.
What are the best materials for pet baskets?
There are a couple of commonly used materials for baskets. Generally speaking, the best ones are made from wicker or cotton rope. These are thick and fibrous, perfect for withstanding cats scratching and clawing. Wicker is nice and light for its strength and generally makes a top choice for a basket. The cotton rope feels a bit thicker and hardier, although a bit denser and heavier.
Another possible material for a cat basket is thick felt cloth. It feels-semi rigid and is great for bins with taller walls. It makes for excellent storage bins, as they can be taller without needing thicker walls or a rounded shape.
Do baskets need a cushion for cats to be comfortable?
While cats certainly appreciate a soft cushion, they're also known to enjoy hard flat surfaces and other less padded surfaces. So a cotton rope or wicker basket might be just the thing they're looking for. Since all cats are different, it can be hard to know for sure if they'll like a basket before buying it. So the best way to know is to try out the basket, and if they don't like it, then add a cushion. If they still don't like it, it's time to return the basket.
WHY TRUST US
Since 2008, Cattime has served as a leading resource for millions of cat owners and pet lovers alike. Our goal is to give every cat and pet a happy, healthy home by providing owners with all information they need to be the best pet parents possible. Our experts share their insights and recommendations to make caring for your beloved pet a breeze.