Many cat foods include grains to supplement their diet in a cost-efficient way, however if your cat is experiencing skin or digestive issues or perhaps has a sensitive stomach they may have a sensitivity to these grains. Luckily, there are many grain free cat foods on the market that can help you bring your cat a robust diet that allows them to eat in peace and enjoy a sensitivity-free lifestyle. Whether this is your first time shopping grain free, or you're on the hunt for a new one, we've got you covered with this comprehensive guide to the best grain free cat foods on Amazon:
Best Overall Purina Beyond Cat Food
Purina Beyond Grain Free, Natural Dry Cat Food, Grain Free White Meat Chicken & Egg Recipe - 16 Lb. Bag
Best Grain Free Cat Foods to Consider
When grains are added into cat food, they are placed to serve as a digestible and low-cost way of providing your pet with vitamins and energy. Despite being digestible for most cats, some will have sensitivities to grains and need other foods to provide the same nutrients.
If you are checking out grain free cat food, it is important to find one that does not include meat by-product or fillers, as these will not provide your cat with necessary multivitamins and nutrients they need to have a healthy diet. Instead, look for a food that is packed with nutrients, antioxidants, omega fatty acids, probiotics, and includes high-quality animal proteins. These ingredients will supplement your cat's diet in a way that benefits their health and energy.
With a sensitive cat, it is important to know exactly what is causing their sensitivities so that you can enjoy it and give them a more pleasurable life. If grain is their only sensitivity, any grain free food should improve their digestion and skin issues. However, if they are sensitive to other ingredients typically found in cat food, it is crucial that you check before buying a new food to ensure you are not replacing one issue with another.
One more thing to look for to prevent stressing your cat out while switching foods is to pick a food similar to what they are already eating. Grain free cat foods are available in both wet and dry forms, and even treats. Giving them a food with a similar texture can help make the switch easier than ever.
Purina Beyond Cat Food
If you're ready to delight in the sound of your cat chowing down on their next meal with no worries about a sensitivity flare-up, Purina has the solution for you. This grain free cat food includes natural probiotics, chicken, and egg to ensure your cat is getting the nutrients they need without the grains that cause them harm.
The formula does not include any corn, wheat, soy, poultry by-product, artificial colors, flavors, or preservatives. This brings your cat a more natural diet that will keep them healthy and energized all day long.
Best Overall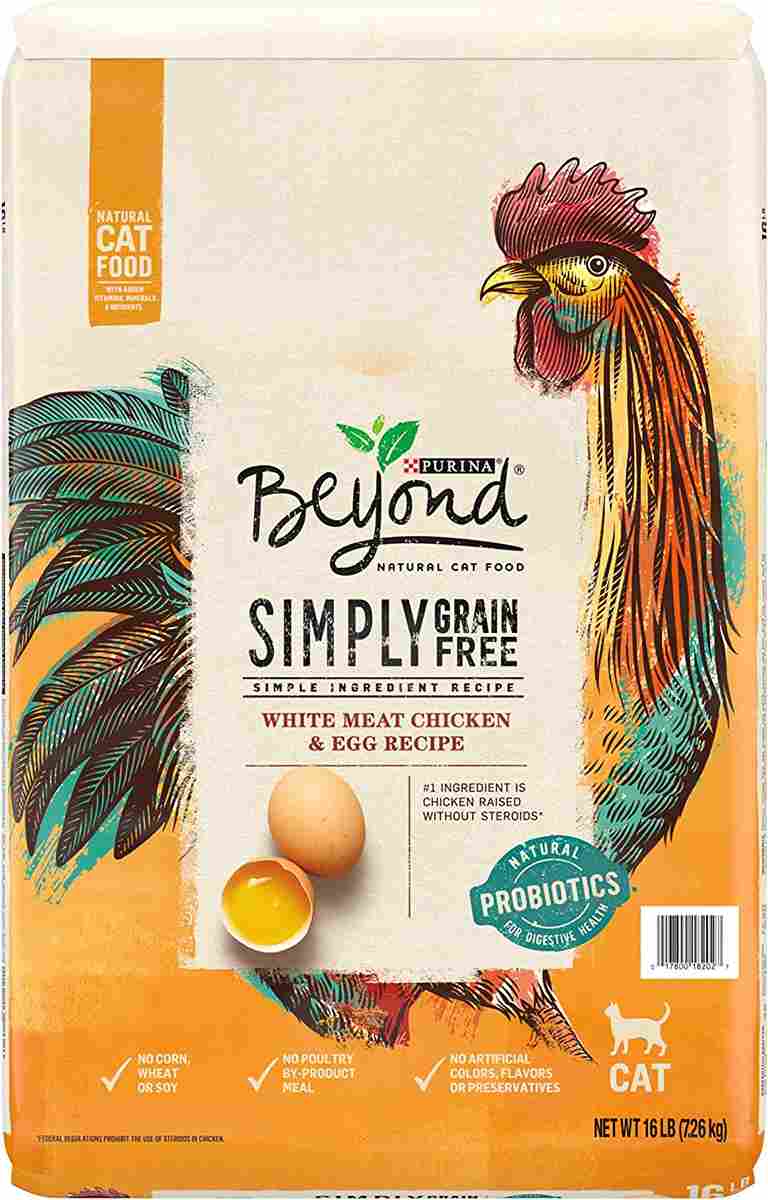 Purina Beyond Grain Free, Natural Dry Cat Food, Grain Free White Meat Chicken & Egg Recipe - 16 Lb. Bag
$57.86
Pros:
16-pound bag
Formulated by a pet nutritionist
Can be mixed with wet food and toppers
Cons:
Rachel Ray Nutrish Cat Food
You may have delighted yourself in a few of Rachel Ray's recipes, now it's time to bring that same joy and deliciousness to your beloved pet with her line of cat food. This recipe is free of grains and uses natural ingredients to bring your pet a lively meal.
We love that this food is also free of fillers and meat by-products, ensuring every ingredient is added to benefit your cat. It also features added vitamins, minerals, and taurine to keep them at the top of their health.
The box includes 12 cups of wet food with three great flavors that give your pet a new taste and meal each day, like they deserve. You can shop this food in three variety packs or find out their favorite flavor and buy packs of it specifically.
Runner Up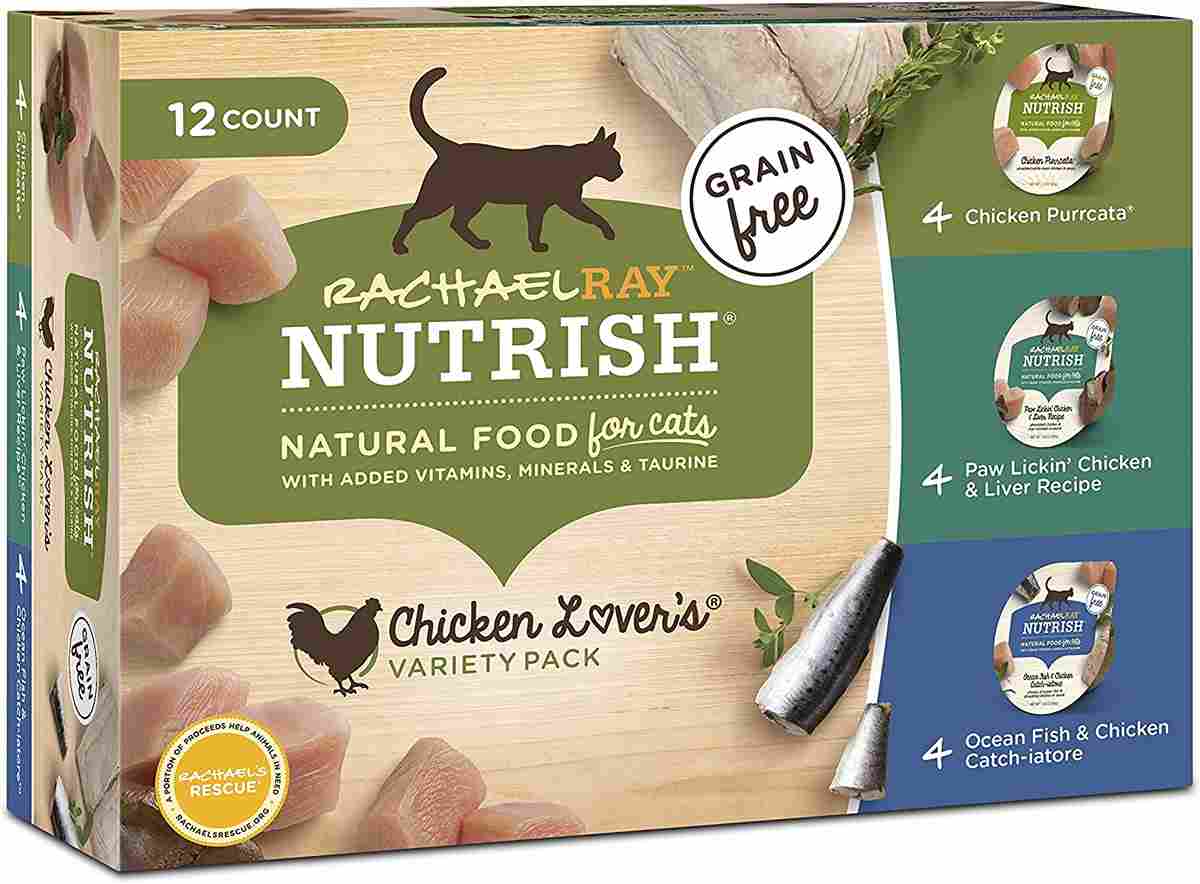 Rachael Ray Nutrish Natural Wet Cat Food, Chicken Lovers Variety Pack, 2.8 Ounce Cup (Pack of 12), Grain Free
$12.98
Pros:
No artificial flavors, colors, or preservatives
Real meat is the first ingredient
2.8-ounce cups
Cons:
Plastic cup is hard to open
Tiki Cat Cat Food
We know that many sensitive cats may have issues going beyond grains, and that's why we love this Tiki Cat food. It is grain free, low-carb, non-GMO, and free of potatoes and gums, making it a great choice for cats with strict dietary needs.
Not only is this cat food rich with nutrients and proteins, it also has a high-moisture formula that keeps your cat hydrated and happy. Each can features real meat and pumpkin to serve as a gentle fiber source.
You can shop this cat food in six flavor options.
Also Consider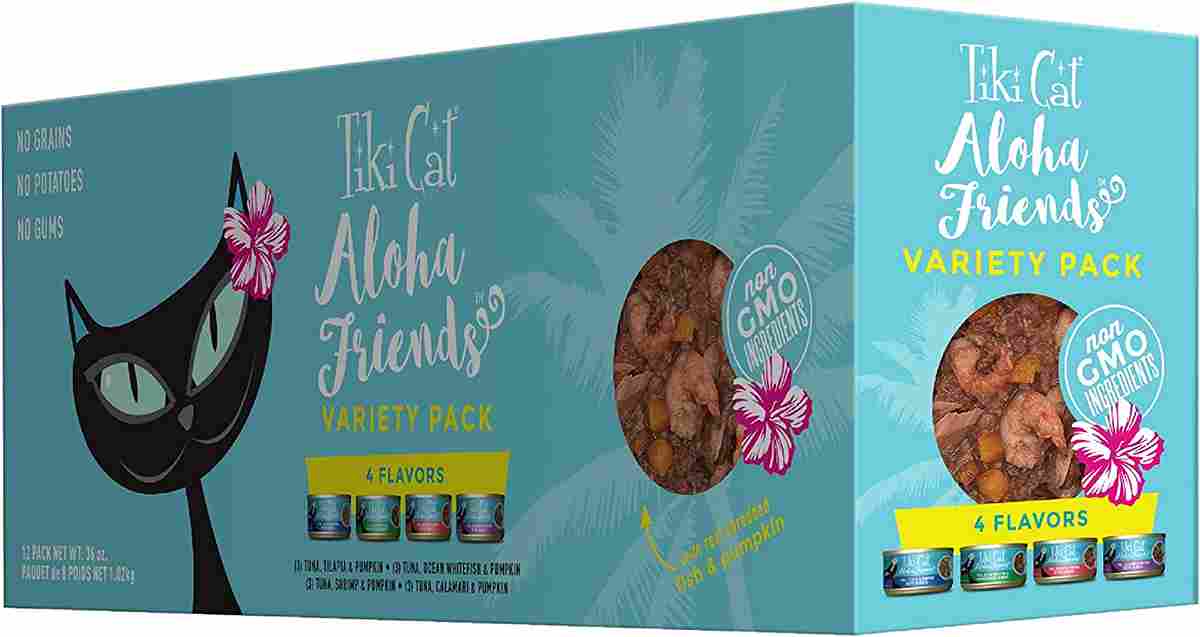 TIKI PETS Cat Aloha Friends Grain-Free, Low-Carbohydrate Wet Food with Flaked Tuna for Adult Cats & Kittens, Variety Pack 3 oz. (12 cans)
$17.88
Pros:
Real meat as the first ingredient
12 cans and four flavors
Highly digestible
Cons:
Naked Essentials Cat Food
When it comes to grain free cat food, it's important to know exactly what is replacing these grains. In the Naked Essentials cat food what you will find are lentils, chickpeas, sweet potatoes, and of course real salmon and trout.
To support your cat's digestion, the recipe includes prebiotics and probiotics that are gentle on your cat and promote gastrointestinal health. It also includes flaxseed and fish oil to support a soft coat and glowing skin, making your cat more than ready for their next photo-op.
Budget-Friendly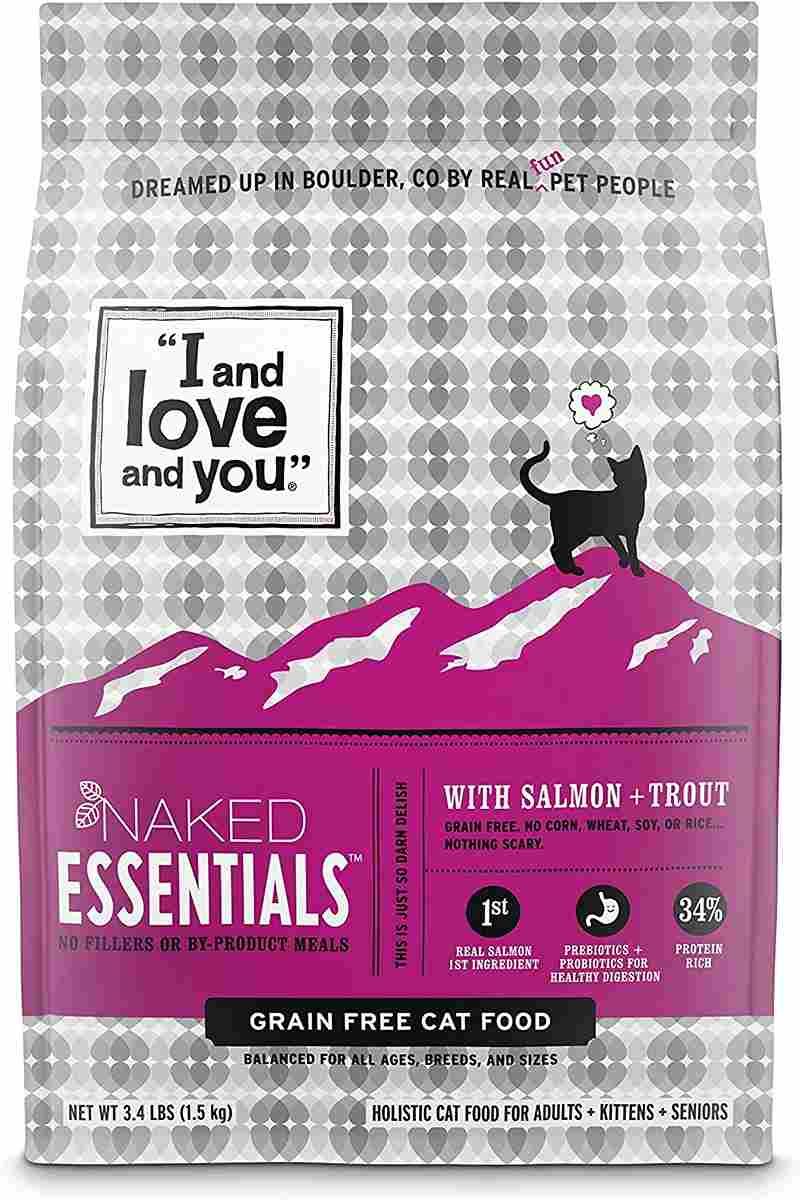 I AND LOVE AND YOU Naked Essentials Dry Cat Food - Grain Free Kibble (Variety of Flavors), Salmon + Trout, 3.4 Lb
$15.99
Pros:
No fillers or by-product meals
Includes 34 percent protein
3.4-pound bag
Cons:
Lack of smell may make some cats less enthusiastic
Blue Buffalo Cat Food
When it comes to your cat, we understand you may be picky with who you trust, and has a well known and loved cat food brand, Blue Buffalo is a great choice. This grain free cat food promotes healthy digestion and supports your pets immune system while protecting them from unwanted ingredients.
The recipe proudly has whitefish as their first ingredient, bringing your cat protein and the carnivorous diet they were made to eat. It also includes Blue Buffalo's signature LifeSource Bits which are a blend of antioxidants, vitamins, and minerals that benefit your cat's health.
Reliable Brand
Pros:
Five-pound bag
Includes real fruits and vegetables
Cold-formed
Cons:
Frequently asked Questions
How do I know if my cat needs grain free food?
If your cat is experiencing skin issues or indigestion while eating food with grains, that may be a sign that it's time to switch to a grain free food. However if you are hesitant to switch it's always best to check with your vet to find out exactly what is causing their sensitivities so that you can support their needs without making unnecessary changes.
Are grain free foods more expensive?
Like all cat foods, the choice is ultimately up to you. There are plenty of wet grain free options in similar price ranges to traditional cat foods, and there are high-end food options that you could spend more money on if you so choose. Ultimately, you should pick a food that works for your cat's needs and your budget.
Is dry or wet cat food better?
Since many cats are known to not drink enough water, wet food is important to ensure they get the hydration they need. This doesn't mean you have to cut dry food entirely as it also provides your cat with nutrients and energy. You can always mix in wet food with their dry food, or find other ways to hydrate their dry food like broth if it is their preferred option.
WHY TRUST US
Since 2008, Cattime has served as a leading resource for millions of cat owners and pet lovers alike. Our goal is to give every cat and pet a happy, healthy home by providing owners with all information they need to be the best pet parents possible. Our experts share their insights and recommendations to make caring for your beloved pet a breeze.