An integral part of your pet's oral care routine, cat dental treats offer up plenty of benefits and come disguised as a well-deserved reward. While they shouldn't replace cat toothpaste, dental treats certainly support healthy mouth and gums, working alongside a proper dental care routine to avoid health issues in future.
Many cat treats feature hero ingredients like chlorophyll (to freshen breath) and enzymes (to fight bacteria and tackle plaque). Indeed, they're not simply delicious snacks. Yes, there's a whole world of tasty—and healthy—cat treats out there that your kitty can get their teeth stuck into—literally. Read on for our top picks.
Top Pick Feline Greenies Dental Treats for Cats
FELINE GREENIES Natural Dental Care Cat Treats Oven Roasted Chicken Flavor, 21 oz. Tub
Best Cat Dental Treats To Consider
When you're looking for the best cat dental treats, there are a few factors to consider:
Firstly, note whether your cat has any allergies. If they're allergic to soy or wheat, for example, you must ensure that your chosen treats are free of these. The same goes for cats on a grain-free diet.
It's best to avoid anything artificial; look for treats that contain zero artificial colors or preservatives. Don't worry, there are plenty of choices in our guide that are free of nasties.
Look for cat treats with added vitamins and minerals; this will give your cat's immune system a boost, while keeping their teeth and gums in check at the same time.
Consider whether your cat would benefit from low-calorie treats. For example, indoor cats tend to be less active than outdoor cats, so you're best off keeping the calories low in this case.
Feline Greenies Dental Treats for Cats
The Feline Greenies Cat Dental Treats are just the ticket to help your cat on their way to healthier gums and teeth. This mammoth box weighs up at 1.3lb, so you'll be set for a while with this one.
Boasting a tasty roast chicken flavor, these treats are packed with added vitamins and minerals to support your cat's overall health, as well as their dental health. And, at just 2 calories per treat, your kitty can munch on a few at a time, guilt-free. With no artificial flavors or preservatives, these nutritionally-complete dental treats are full of the good stuff, with none of the nasties. Recommended by vets, these dental treats are a nutritious, healthy addition to your cat's dental routine—and one that they're sure to enjoy.
Top Pick
Pros:
Freshens breath and cleans teeth
No artificial flavors or preservatives
2 calories per treat
Roast chicken flavor
Great value tub
Vet-recommended
Cons:
Con:
Breath-freshening effects could be improved
Purina Dentalife Dental Treats for Cats
We've all suffered the perils of our cat giving us those gorgeous kitty kisses, only to have to hold our breath due to that all-too-familiar stench. Thankfully, you can sort out your cat's bad breath in one fell swoop thanks to the Dentalife Purina Cat Dental Treats, which work to eliminate stinky breath and leave it fresh as a daisy.
They're scientifically-tested to remove tartar build-up, and your kitty will benefit from added vitamins, probiotics, and calcium for a healthy gut and strong teeth, too. The salmon flavor makes them a bit moreish, so you may find your cat gets a little hooked on these dental treats. Be strong.
Runner Up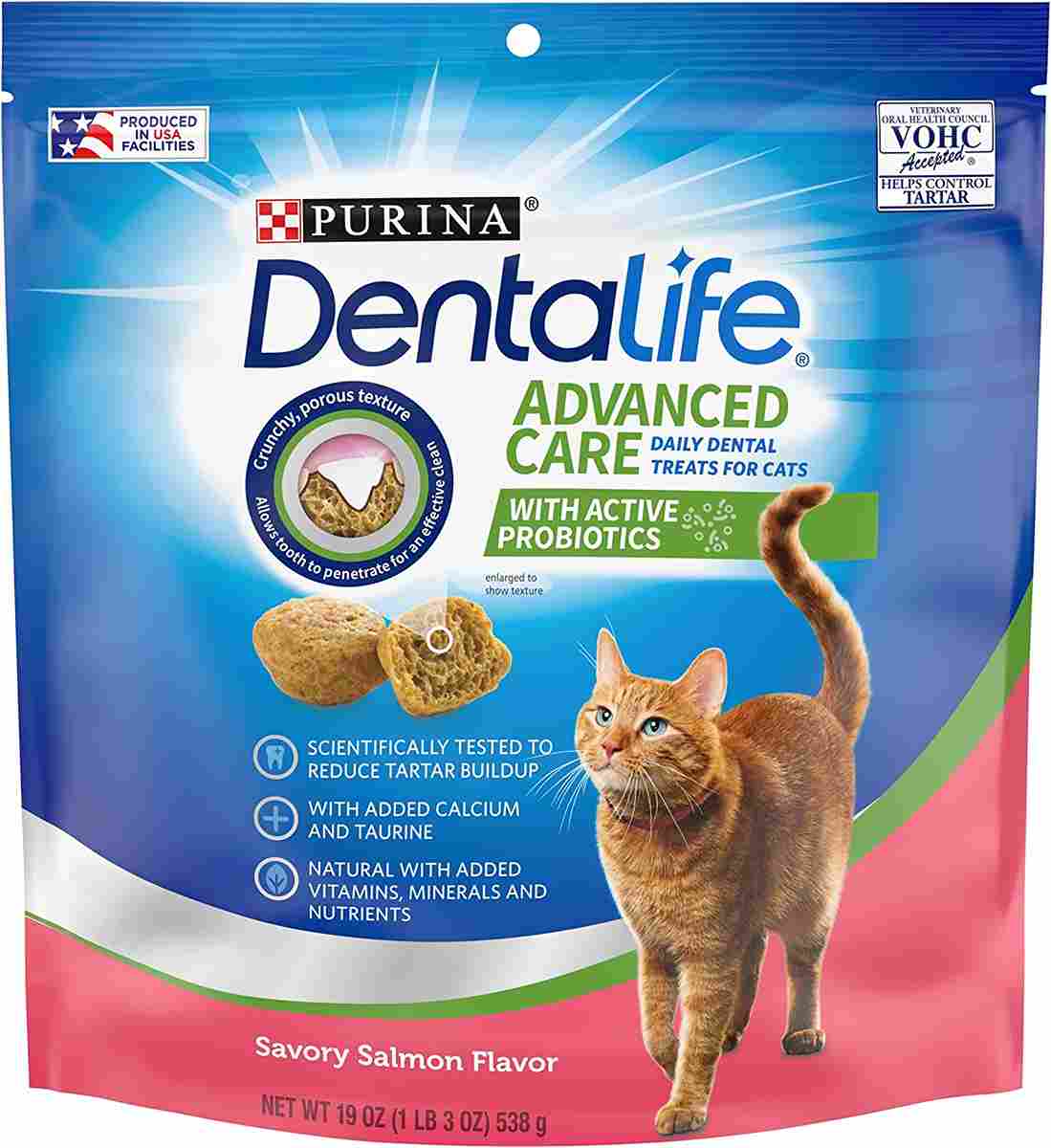 Purina DentaLife Made in USA Facilities Cat Dental Treats, Savory Salmon Flavor - (4) 19 oz. Bags
$15.19
Pros:
Tasty salmon flavor
Great breath-freshening effects
Scientifically-tested
Added nutrients, probiotics, vitamins, and calcium
Reasonable price tag
Cons:
Cats can get a bit addicted
Greenies Feline Shrimp Cat Dental Treats
Another winner by Greenies, these flavored cat dental treats come with a delicious shrimp flavor, sure to get your cat's tastebuds tingling. Formulated with no artificial flavors or preservatives, these kitty treats are packed with vitamins, minerals, and nutrients to support your cat's dental health and immune system.
Thanks to the crunchy texture, your cat's teeth and gums will get a thorough clean with these treats, while they also work to freshen the breath and reduce tartar build-up. You'll get 10 x 2.1oz pouches in this pack, making it great value for money, too.
Best Flavor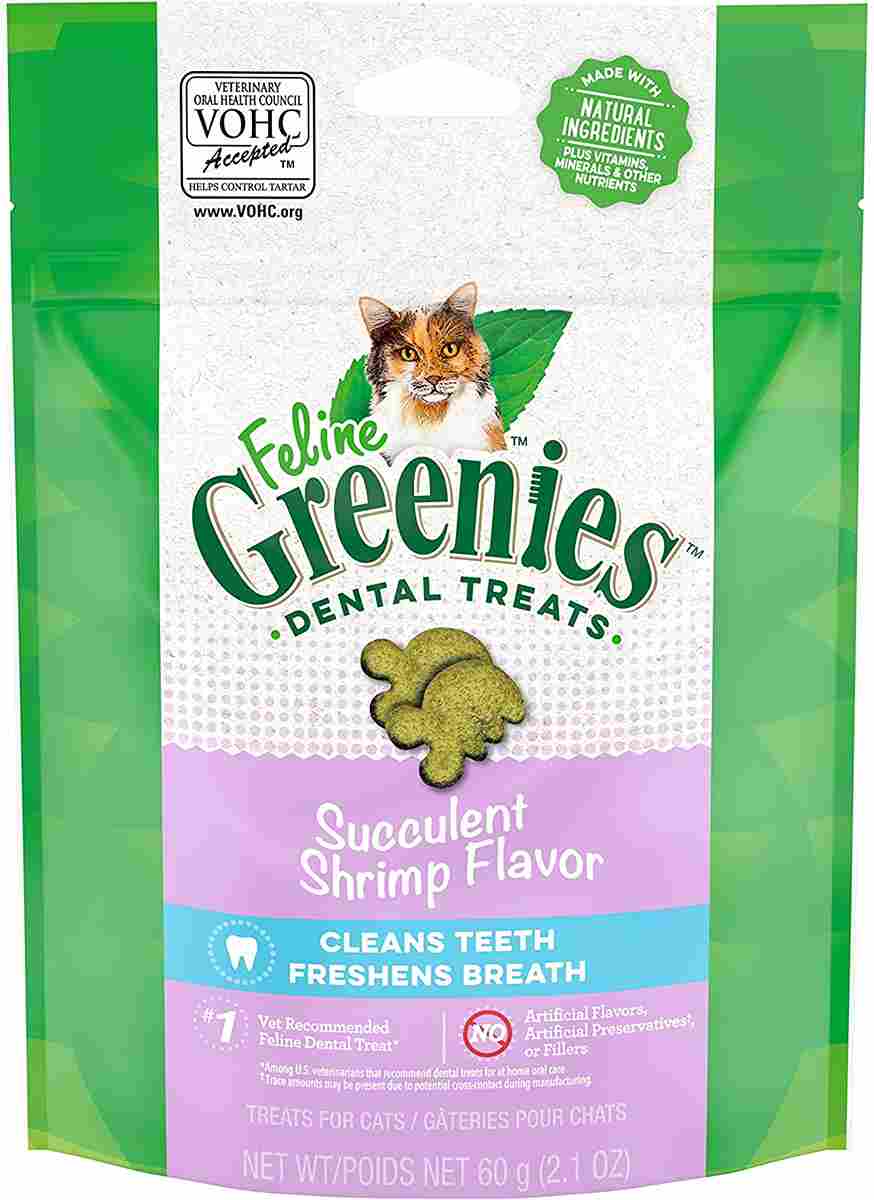 Greenies Feline Adult Natural Dental Care Cat Treats, Succulent Shrimp Flavor, (10) 2.1 oz. Pouches
$32.90
Pros:
Excellent value for money
Packed in handy pouches
Freshens breath and cleans teeth
Added vitamins and minerals
No artificial flavors or preservatives
Yummy shrimp flavor
Cons:
Lid closures aren't very secure; best to decant these into an airtight container
Tuna Cat Dental Treats
Formulated with indoor cats in mind, the Greenies Smartbites serve up a crunchy outer and soft filling that your cats will adore. At just 2 calories per treat, you can safely feed your kitty up to 18 treats per day while still keeping them nourished and healthy; however, bear in mind that the brand recommends a maximum of 18 treats per 10lb of cat weight, so do grab the scales first.
Nutritionally complete and made with extra vitamins and minerals to support a healthy system, these dental cat treats pretty much do it all. There's even extra protein thrown in to support strong muscles, which is essential if your cat spends more time on their window perch than running about outside.
Best Natural
Pros:
Designed for indoor cats
Includes added protein for strong muscles
Nutritionally complete
Extra vitamins and minerals
Crunchy and soft
Cons:
Crunchy Cat Dental Treats
If your cat prefers a chewy treat, snap up this pack of cat dental treats by VETRISCIENCE. Suitable for cats of all ages, these chewy dental treats are designed to promote dental health alongside a healthy brushing routine.
Crunchy on the outside and chewy on the inside, these treats are super satisfying for your kitty to munch on, giving them a nutritional boost in the process. Helping to support strong gums and teeth as well as fresher breath, these dental treats are a winner for us. You'll get 60 bites per pack, with each one coming in at 7 calories. The calorie content is a little higher than other options, so be careful how many you give your cat.
Best Crunchy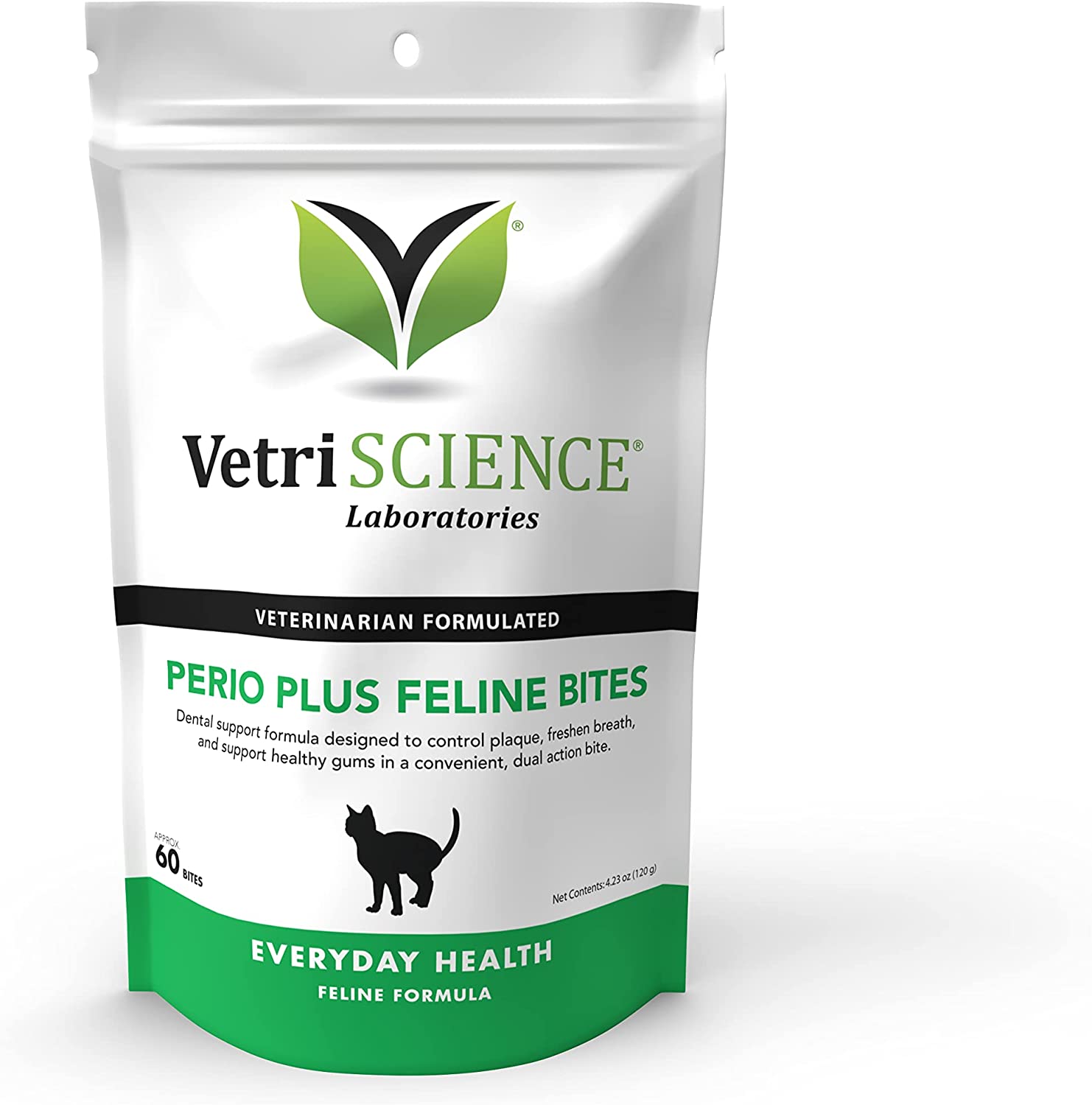 VETRISCIENCE Perio Plus Crunchy Teeth Cleaning Treats for Cats - Fresh Breath and Gums - Plaque Control - Vet Recommended, Green, 60 Chews (090041B.060)
$15.00
Pros:
Crunchy and chewy texture
Nutritious formula
Great for fresh breath, healthy gums, and strong teeth
Can be used in place of brushing
Cons:
A little expensive
7 calories per bite is more than others
PetIQ Cat Dental Treats
If your cat is allergic to wheat, you'll need to pick up some quality wheat-free dental treats. This pouch by VetIQ is a great choice, made with a wheat, soy, and corn-free recipe. Made in the US, these little pouches of joy are packed with healthy dental treats for your feline, working to support strong teeth, healthy gums, and fresh breath.
We like that you can pick these up in small, individual pouches, so you can test them out to see if your cat likes them, before investing in a larger pack. Available in chicken or salmon flavors, you can experiment to find your cat's favorite, too.
Best Budget
Pros:
Small, individual pouches
2 flavor options: chicken and salmon
Wheat, soy, and corn-free
Supports healthy dental health
Affordable price tag
Cons:
Very crunchy, which may take some getting used to
Natural Dental Cat Treats
Got a cat who enjoys a snack a little too much? Pick up these low-calorie cat dental treats by Greenies, coming in at less than 2 calories per treat. But no fear, your cat won't know they're munching on a healthy treat thanks to the tasty tuna flavoring.
Helping to reduce tartar build-up, freshen breath, and give those fangs a proper clean, these healthy dental treats for cats deserve a spot in your kitty cupboard. They're even made with a special shape that works to clean teeth with every bite; yep, these guys have thought of everything. However, please bear in mind that these are formulated for adult cats, not kittens.
Also Consider
Pros:
Specifically-shaped to clean teeth with every bite
Tasty tuna flavoring
Less than 2 calories per bite
Freshens breath and reduces tartar build-up
Vet-recommended
Cons:
Only suitable for adult cats
Frequently Asked Questions
How often should you give your cat dental treats?
Always check the specific guidelines on your chosen brand, as the instructions will vary. For example, Greenies advise feeding your cat dental treats no more than twice a day. But do bear in mind that cat dental treats are not intended to replace their regular healthy cat food—they're designed to support a full, healthy, and nutritious diet.
Do dental treats actually help cats?
Dental treats for cats work to support a healthy oral care routine, working hand in hand with toothbrushing to ensure your cat's mouth, teeth, and gums stay strong and disease-free. So, ensure you pair your dental treats with a nutritious diet and proper dental routine to make sure your cat stays in tip-top health.
How many dental treats can a cat have?
Since cat dental treats vary in nutritional content, fat, and calories, it's best to check your chosen brand's guidelines. Remember, they're treats, and, thus do not replace a healthy meal.
Can dental treats replace brushing?
Ideally, you should pair your cat's dental treats with a proper brushing routine and good cat toothpaste. While dental treats will support healthy gums and teeth, brushing is the best way to tackle plaque, tartar, and bad breath head-on.
Are dental treats worth it?
While you should certainly prioritize your cat's healthy diet and proper toothbrushing routine, dental treats are a great support method to keep their oral health in great shape.
WHY TRUST US
Since 2008, Cattime has served as a leading resource for millions of cat owners and pet lovers alike. Our goal is to give every cat and pet a happy, healthy home by providing owners with all information they need to be the best pet parents possible. Our experts share their insights and recommendations to make caring for your beloved pet a breeze.