Treats for kittens are not only a great way to reward your furry friends, but they also promote healthy habits and can help keep them active and happy. With so many options available in the market, it can be hard to choose the best kitten treats.
With treats, you can reward good behavior, which is positive reinforcement for your pet and helps to foster better behaviors in future.
So, whether you're looking for something delicious and yummy or something natural and nutritious (or both!), there are plenty of cat treats out there that will make both you and your kitty purr with joy.
Top Pick Temptations Kitten Treats
Temptations Kitten Treats, Chicken & Dairy and Salmon & Dairy, Crunchy and Soft Treat, 4-Pack Multipack (6.3 Ounce Per Pack)
Best Kitten Treats to Consider
When you're shopping for kitten treats, you'll want to make sure that you're doing your best to ensure the health and well-being of your growing cat.
Healthy kitten treats are a great way to show your love and care for your furry friend while also being a fantastic tool to reward good behavior (just ask any pet psychologist!). When they go for the cat tree over your couch, you can reward them with a tasty treat.
It is, however, important to pay attention to the nutritional value of the treats and look for products that provide essential nutrients like vitamins, minerals, and proteins.
You can also opt for dental cat treats, which serve to clean your feline's gnashers and support their overall oral health.
You should also consider the size of the treats; smaller treats are ideal for young kittens and senior cats as they can easily digest them. With these tips in mind, you can be confident that you are getting treats that are both tasty and healthy for your beloved kitten.
Temptations Kitten Treats
Cats are just like people. They need nutritious meals that are both delicious and keep them healthy, as well as treats to mix up their usual routine and keep their diets spicy. That's why Temptations Kitten Treats come in—to provide cats with a tasty and nutritious treat designed specifically for growing youngsters.
These Temptations Kitten Treats have a satisfying texture and flavor, providing your kitten with an irresistible treat that they'll love to devour.
Formulated with wholesome ingredients, these treats for kittens offer the vitamins and minerals your kitten needs to stay healthy, strong, and active. Plus, with a wide variety of flavors, you can find the perfect one for your furry friend.
Top Pick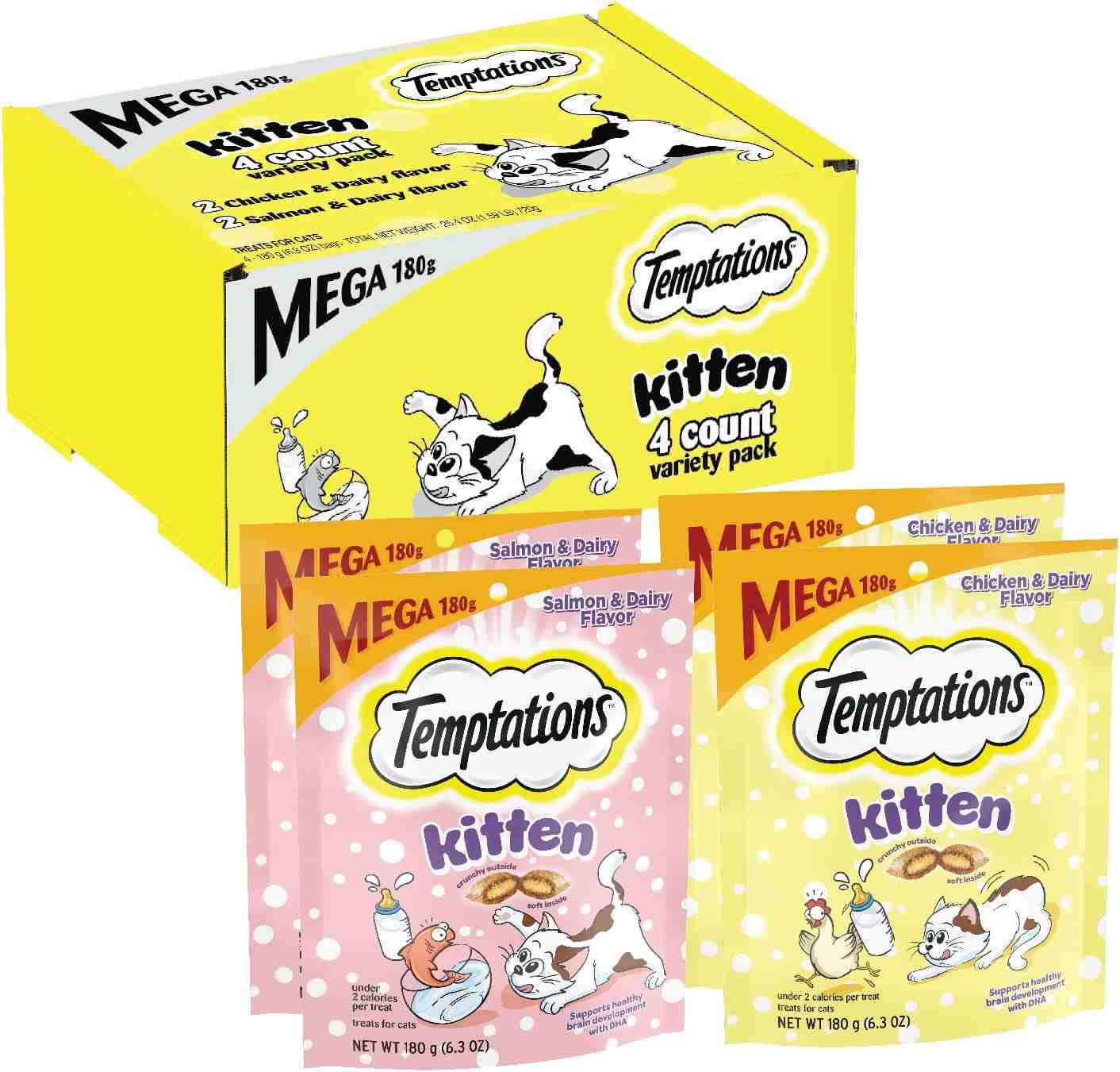 Temptations Kitten Treats, Chicken & Dairy and Salmon & Dairy, Crunchy and Soft Treat, 4-Pack Multipack (6.3 Ounce Per Pack)
$15.96
Pros:
Variety of flavors on offer
Made with added vitamins and minerals
4-pack makes for great value
Crunchy and soft texture
Label advises how much to give your kitten or cat
Cons:
Quite a lot of excess packaging
Blue Buffalo Kitten Treats
Blue Buffalo Kitten Crunchies is a nutritious and delicious way to provide your kitten with the best nutrition. The main ingredient is real salmon, which provides high-quality protein as well as essential vitamins and minerals.
The crunchy treats are also great for grain-free diets while serving up just the right amount of crunch for your kitten's teeth
At only 2 calories per treat, you can give them a few at a time guilt-free, too. Additionally, these treats contain probiotics that help support good digestive in cute baby cats.
With Blue Buffalo Kitten Crunchies, you can give your little one the nutrition they need to grow into a healthy and well-behaved cat.
Runner Up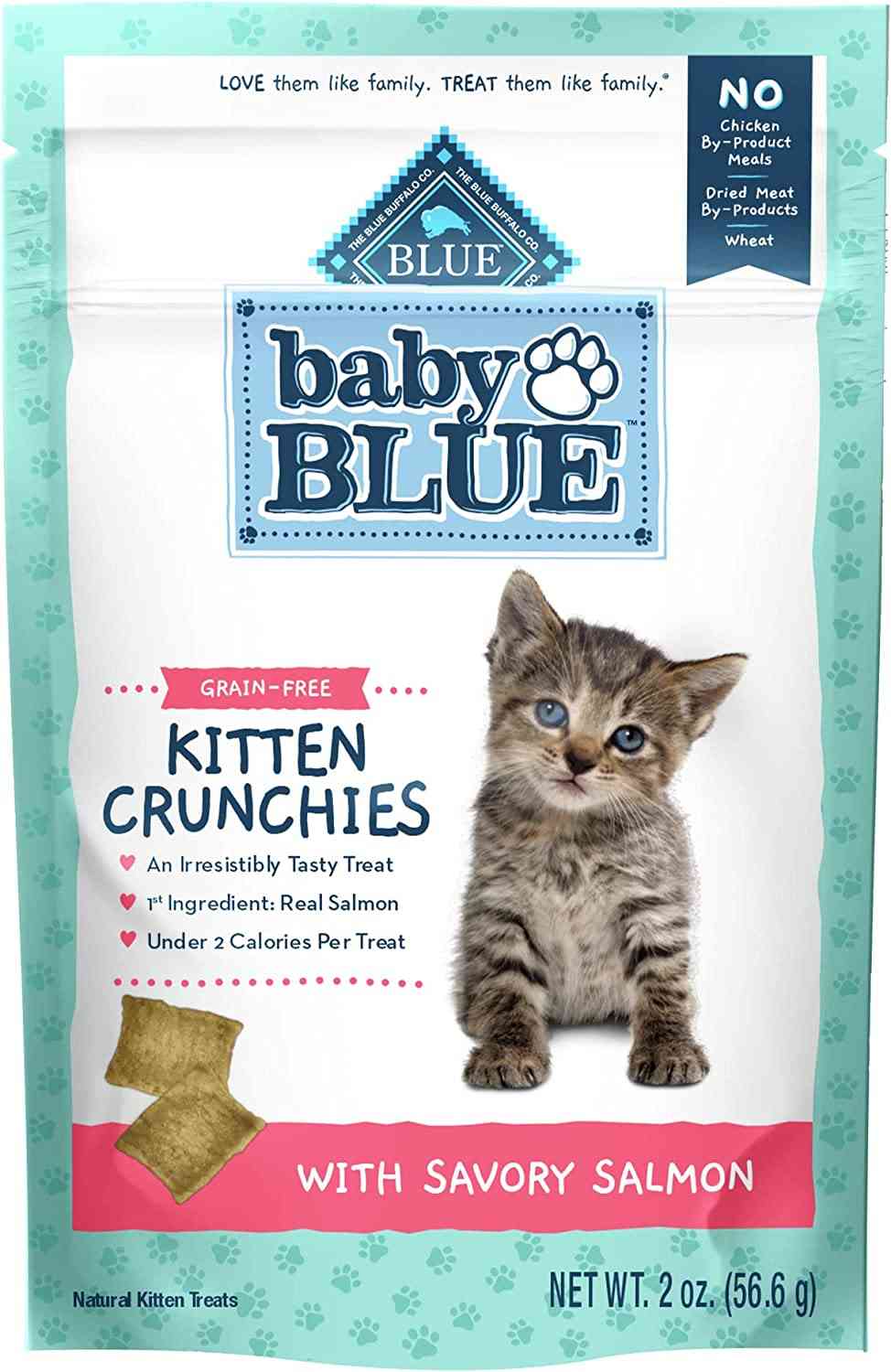 Blue Buffalo Baby BLUE Kitten Crunchies Grain Free, Natural Kitten Treats, Savory Salmon 2-oz Bag
$2.09
Pros:
Grain-free recipe
Just 2 calories per treat
Contain added probiotics
Nutritious and tasty
Made with real salmon
Cons:
Delectables Kitten Treats
These Lickable Treats by Delectables are a delicious take on healthy cat treats that combine tender chicken or succulent fish with a smooth and satisfying sauce.
Different from your typical crunchy cat treats, these are great for mixing up your kitten's routine and getting them used to new textures.
Indeed, these lickable treats make for an indulgent snack for cats of all ages and sizes, including young kittens, providing a delicious balance of protein and flavor. And, with their tastebud-tantalizing aroma, these treats are sure to prove irresistible to any feline.
We're sure you'll enjoy watching your cat lick the bowl clean as he savors every last morsel.
Great Choice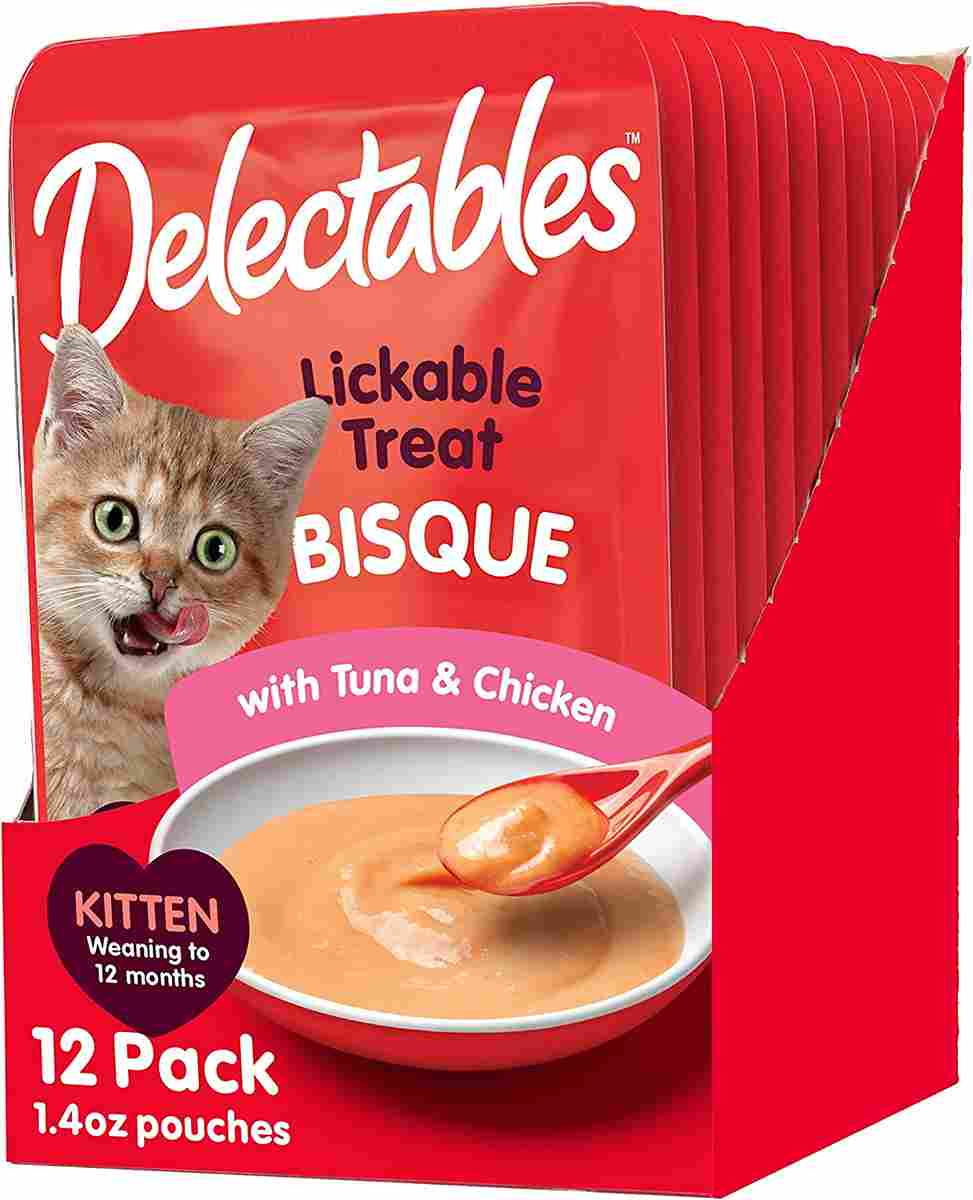 Delectables Bisque Kitten Lickable Wet Cat Treats - Tuna & Chicken (pack of 12) ( Packaging May Vary )
$15.48
Pros:
Great for mixing up your usual crunchy treats
Use as a treat or as a cat food topper
Made with real tuna and chicken
Helps to support healthy growth
Cons:
Not as supportive for dental health as crunchy treats
Freeze-Dried Cat and Kitten Treats
Vital Essentials Freeze Dried Cat Treats are an excellent choice for cat mamas and papas. These treats are made from single-sourced, whole minnows, which provide a high-quality protein source that supports muscle development and overall growth in kittens. And what's the deal with freeze-drying? Freeze-dried treats basically retain much of their nutritional value, so your kitty can get the most out of that natural goodness.
Additionally, Vital Essentials Freeze Dried Cat Treats can be used in a host of situations, such as for training rewards, or simply as a delicious snack between meal. As a cat owner, you'll be satisfied knowing that you're supporting your kitten's health with nutritious and enjoyable tasty treats that support their wellbeing. Oh, and they're grain and gluten-free, too!
Most Tasty
Pros:
Made with whole minnows
Natural flavors shine through
Freeze-dried to retain nutritional value
Gluten and grain-free
Great for cats and kittens
Cons:
Get Naked Kitten Treats
Get Naked Kitten Treats are the perfect way to show your feline friend some love while giving them a healthy boost in the process. That's definitely a win-win if we ever saw one.
These cat treats are made with great-quality ingredients, are fortified with DHA omega-3, and contain only 3 calories per treat. Not to mention they're grain-free, wheat-free, corn-free and soy-free, and great for supporting healthy skin.
Get Naked Kitten treats will not only make your pet purr like a locomotive but also provide them with the essential nutrients they need to stay healthy. Use these soft kitten treats to reward good behavior, or simply to perk up a woeful kitty after a trip to the vet.
Also Consider
Pros:
Healthy options
Fortified with omega-3
Contain essential nutrients
Nice and soft for their growing teeth
Grain, soy, corn, and wheat-free
Cons:
Individual treats are quite large; you may want to break them in 2
Ingredients to Look for in Treats for Kittens
When you're in the market for the purr-fect kitten treats, there are several key ingredients to look for:
High-quality protein: Kittens need protein to support their growth and muscle development. Look for treats containing real meat, such as chicken, turkey, or fish, as the primary ingredient.
Essential vitamins and minerals: Ensure the treats are fortified with essential nutrients like calcium, phosphorus, and taurine. Calcium and phosphorus promote strong bones and teeth, while taurine is vital for vision, heart function, and overall development.
Healthy fats: Omega-3 and omega-6 fatty acids support a healthy coat, immune system, and brain development. Ingredients like fish oil or flaxseed are excellent sources of these fats.
Easily digestible carbohydrates: While young cats primarily need protein, small amounts of easily digestible carbs like rice or oats in a kitten treat can provide energy and fiber.
Natural ingredients: Opt for a formula with minimal additives, like colors, flavors, or artificial preservatives. Natural ingredients are easier on your kitten's digestive system and promote overall health.
Frequently Asked Questions
How often should I give treats to my kitten?
Treats are an important part of any kitten's diet, but how often should they be given? The answer to this question depends on the age and size of your kitten, as well as their activity level.
Generally speaking, kittens should be given treats no more than once or twice a day. Smaller treats are preferable to larger ones, and it is important to monitor your kitten's calorie intake so that they don't become overweight.
What should I look for when choosing treats for my kitten?
Treats are a great way to show your kitten love and affection, but it's important to make sure you're giving them treats that are healthy and nutritious. When choosing treats for your kitten, look for ones that contain natural ingredients like fish, poultry, or vegetables.
Avoid artificial flavors or preservatives, as these can be unhealthy for your pet. Additionally, make sure the treats are not overly large, so they don't pose a choking hazard.
Are there any health benefits to giving my kitten treats every day?
Treats are a great way to reward your kitten for good behavior and show them how much you care, and to give them a tasty change from their usual kitten food. But, in fact, giving your kitten treats every day can also have health benefits:
Yep, from strengthening their immune system to improving their dental hygiene, there are heaps of advantages to giving your furry friend some extra love in the form of yummy cat treats.
On the behavioral front, you can use treats to reward them, for example if they've gone for their scratching post rather than your couch.
When can kittens have kitten treats?
The general rule of thumb is that kittens can start enjoying kitten treats when they are around 8 to 10 weeks old, as this is typically when they transition to solid food. Treats should be specifically formulated for kittens, as they have different nutritional needs than adult cats. That said, you may find some exceptions! Always check the information on your chosen cat treats kist to be sure. And, do remember to offer treats in moderation and use them as a supplement to a balanced diet, rather than a primary food source.
Is it okay to give kittens treats every day?
It's totally fine to give kittens treats every day, but moderation is key. Treats should make up no more than 10% of your kitten's daily caloric intake. This ensures they're still getting proper nutrition from their main food source.
Remember to choose kitten-specific treats, as these are formulated to meet their nutritional needs. Also, try to use treats as a reward during training or as a means of positive reinforcement, rather than just at random.
Why are some treats not suitable for kittens?
Though you may be tempted to grab some cat treats off the shelves, this might not be the best idea. Kitten treats are formulated specifically to be safe for young cats. After all, kittens have specific nutritional requirements that differ from adult cats.
They need a higher protein content, as well as essential vitamins and minerals to support their rapid growth and development. Some treats designed for adult cats may not meet these requirements, making them unsuitable for kittens.
Plus, kittens have smaller mouths and teeth compared to adult cats. So, some treats may be too large or too hard for them to chew and swallow safely, posing a choking hazard or causing dental issues. Kitten-specific treats are usually smaller and softer, making them easier for your little feline to enjoy.
WHY TRUST US
Since 2008, Cattime has served as a leading resource for millions of cat owners and pet lovers alike. Our goal is to give every cat and pet a happy, healthy home by providing owners with all information they need to be the best pet parents possible. Our experts share their insights and recommendations to make caring for your beloved pet a breeze.