Wall-mounted cat furniture provides countless benefits for you and your feline. You'll get to save precious floor space while still offering your cat ample scope to jump, play, and perch. And your cat? They get the freedom to explore multiple levels and can enjoy observing their world from different heights. One step above a cat tree, this wall furniture is the bee's knees.
Maybe you've seen a #catlovers Instagram reel and got all inspired, or you simply think it's time to level up (literally) your cat's play area. Either way, we've found the best wall-mounted cat furniture to transform your home into the most feline-friendly space. We've taken into consideration ease of installation, durability, aesthetic, and price to bring you our ultimate guide here. Read on and check out our favorites.
Best Wall-Mounted Cat Furniture to Consider
Material
Ideally, you want good, strong wood for your cat furniture. Most sturdy cat shelves and wall-mounted hammocks and platforms will be primarily made of wood—usually pine, oak, or maple. However, you can also pick up MDF as a cheaper option, though this won't be quite as stylish or long-lasting (though it's certainly easier on your purse strings).
Type of Furniture
Consider whether you'd like more of a play area or a resting spot for your cat—or both. Installing several smaller shelves with reasonable distance between them will encourage your kitty to play and jump around, while larger, more spacious shelves can be used as beds and snoozing spots. Hammocks serve as a spot to observe, as do enclosed wall-mounted cat beds. So, think about what you want to offer your kitty, how active they are, and how much wall space you have available.
Maximum Weight Capacity
Generally speaking, a good wall-mounted cat tree or shelf should be able to take up to 35lb. This will cater to even the tubbiest of kitties, and will stay sturdy even when they're jumped on with a fair amount of force. However, it's important to always check your chosen products' individual guidelines to be sure of the exact maximum weight capacity to avoid any nasty accidents.
Price
In short, you can make your wall-mounted cat furniture about as expensive or budget-friendly as you wish. Elaborate, multi-level play area installations will cost you more, while installing a simple cat shelf can be cheap as chips. Our favorite picks are priced between $20 and go up to $170, so you're sure to find something within your budget.
5-Piece Wall-Mounted Cat Furniture
This set of wall-mounted cat furniture includes a five-piece ensemble—you'll get two cozy condos plus three sturdy steps to help your cat access their new condos (and give them something extra to play on!). The main event—the hammocks—are padded with plush cushioning, making this a one-and-done sleep solution; you won't need to shell out for any extra pillows or cushions with this one. We particularly like how easy it is to remove the covers, making it easy to give them a quick refresher.
The hammock and steps will hold a grand total of 15lb (which is plenty for your average house cat), ensuring it doesn't topple off if your feline lands a little heavy. Finally, we love the sisal rope covering the steps; this gives your kitty the opportunity to scratch their talons while venturing up to their condo. In short, this wall-mounted cat furniture set pretty much has it all, and it won't cost the Earth, either.
Top Pick
Pros:
Strong MDF wood design
Includes 2 x condos and 3 x sisal-covered steps
Machine-washable condo padding
Great price tag
Cons:
A bit time-consuming to install
Wall-Mounted Floating Shelves for Cats
Serving up both an adventure playground plus a comfy spot to perch and observe their surroundings, this wall-mounted cat furniture set has it all. Including three wall shelves and a corner shelf, your cat will have endless scope to play and explore from up high with this set.
Each piece is made from strong, eco-board recycled paperboard, which offers the added bonus of being non-toxic, thus safe for your feline and the environment. Win-win.
Runner Up
Pros:
High-quality eco-friendly materials
4 x shelves
Lots of room to play and snooze
Holds up to 20lb
Cons:
Wall-Mounted Cat Perches
With this pack, you get steps and scratching posts all-in-one. Made from safe materials and covered in strong sisal rope to get those talons filed, your kitty is sure to make a beeline for these wall-mounted cat steps. If you're not hot on DIY, these cat steps are incredibly easy to install; simply grab a drill and use the screws and wall anchors included with the set. We'd say you'll be done and dusted in around 15 minutes, so your cat can get exploring in no time.
Saving floor space while giving your cat a whole new world to explore, these cat steps are great on their own or as part of a more elaborate cat wall.
Best for Scratching
Pros:
Strong and sturdy
Covered with sisal rope for scratching
All necessary installation kit included
Super cheap price tag
Cons:
Best for smaller, lighter cats
Wall-Mounted Furniture Set for Cats
If you're seeking something a little more budget-friendly, this wall-mounted furniture lounge set is the way to go. Featuring a mini condo, a shelf, plus a scratching station, this is the makings of a brilliant cat wall.
Offering your cat a place to snooze in peace, observe the world around them, and stretch their legs on the climb up there, this set addresses their need to adventure while serving up a restful spot to snooze after the effort. We like the privacy of the condo, adding to the comfort and coziness, while the scratch pad is a godsend for your couch and upholstery!
Great Choice
Pros:
3-piece set
Super stylish
Great as a starter cat wall
Scratch pad included
Cons:
Lotus Leaf Wall-Mounted Cat Perch
If your cat is yearning (or appears to be) for a high-up bed from which they can gaze at their surroundings, this cat perch is going to hit the spot. Crafted from premium plywood and oak veneer, this wall-mounted cat bed is super sturdy, easily holding up to 50lb. And, since the average weight of a house cat is around 11lb, we think you'll be set.
We love the versatility, not to mention the pared-back, sleek aesthetic. The perch itself is covered with Berber carpet, which not only makes it more comfy (but feel free to add a cushion or two!) but also gives your kitty some grip when clambering on. You'll get all the necessary hardware and a set of instructions with this kit, making setup a breeze.
Also Consider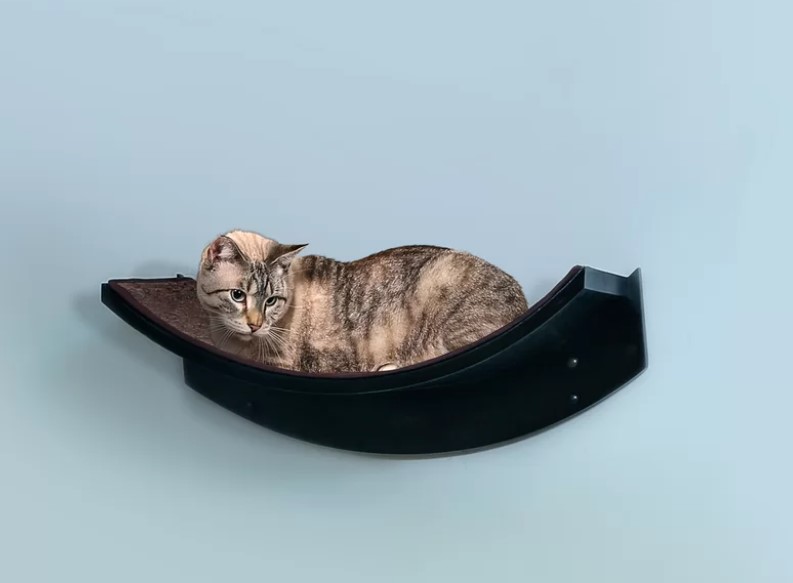 Lotus Leaf Cat Shelf - Wall-Mounted Wood Cat Furniture with Replaceable Carpet, Holds Up to 50 Lbs
$82.49
Pros:
Ultra-modern design
Strong and sturdy materials
Great for naps and observation
Hardware included
Cons:
Best as part of a larger cat wall
Frequently Asked Questions
How do you space a cat wall?
If you're installing multiple cat shelves for your feline to play on, we advise spacing them around 12 to 16 inches apart horizontally and roughly 12 to 18 inches apart on the vertical front. This should give your cat room to safely maneuver between shelves without forcing them to stretch too much. However, you're best placed to gauge the abilities of your feline, so consider their physical prowess when spacing your cat wall, too.
What is the purpose of a cat tower?
Cat towers offer your kitty a personal space to climb, relax, and snooze. Your cat will love having an area that's just for them, where they can climb up and view their territory in peace, especially if you add their favorite comfy blanket into the mix. Of course, many cat towers and cat furniture pieces come with sisal scratching posts, which encourages them to skip the furniture when sharpening their claws. If you find your cat isn't taking to their cat tower, try spritzing a little catnip spray on the base and platforms to tempt your kitty over.
Are cat wall shelves safe?
As long as you take care to properly mount your cat wall shelves, they should be perfectly safe. Specifically-designed cat wall shelves are crafted to bear lots of weight (usually around 30lb to 35lb), which means your cat can jump, sit, and relax on their shelf without it wobbling or coming unstuck from the wall.
Are floating shelves strong enough for cats?
Not all floating shelves are strong enough for cats. That's why you should pick up especially-designed cat shelves which are tailored to bear the weight of your feline. Always check the maximum load capacity of your chosen shelves before hitting the checkout, so you can be sure they're sturdy enough to support your cat's weight.
WHY TRUST US
Since 2008, Cattime has served as a leading resource for millions of cat owners and pet lovers alike. Our goal is to give every cat and pet a happy, healthy home by providing owners with all information they need to be the best pet parents possible. Our experts share their insights and recommendations to make caring for your beloved pet a breeze.