Catnip spray is an integral tool in any cat owner's repertoire. A few spritzes in the right places, and you can encourage your kitty to use their new toy, scratch their cat tree (instead of the couch), and sleep in their designated cat bed. In short, catnip spray will attract your cat wherever you've spritzed it, while also inspiring a good mood, playfulness, and relaxation. We prefer sprays over edible catnip, since the latter can cause an upset stomach in your kitties if they gorge on too much—which is a very real risk given how much they enjoy it.
This miracle spray is a game-changer—not to mention it challenges the consensus that cats can't be trained. Indeed, spraying your cat's new toy or window perch with catnip will have them hurtling over to it before you can say "meow", and cat-scratching trees spritzed with the formula ensures they bypass your furniture.
So, whether you're already converted, or you want to try out catnip spray for the first time, our guide shines a light on the top picks. Read on to find out more:
Top Pick Pet Craft Supply All-Natural Catnip Spray
Pet Craft Supply Premium Maximum Potent All Natural Catnip for Cats USA Grown & Harvested Large 3 oz Resealable Canister or 8 oz Value Spray Bottle Great for Training Redirecting Bad Behaviors
Best Catnip Spray to Consider
Choosing a spray rather than edibles can be far more convenient when it comes to giving your cats catnip. While edibles are tasty and will undoubtedly provide those uplifting effects for your kitty, a spray can be used in several ways around your home. For example, since cats are naturally drawn to catnip, spritzing a little on your cat tree can encourage your kitties to head over there for scratches rather than beelining straight for your couch. You can also familiarize your cat with a new toy by adding a few catnip sprays to it, which will show your cat that it's theirs to play with.
Why Opt for Catnip Spray
Catnip spray stays fresher for longer when compared with dried options, which will lose their potency over time
It's far less messy than dried catnip, which can be a nightmare to clean from your carpets
Edible catnip is more likely to cause stomach upsets, while a spray simply exposes your cats to the scent
You can spray it on vertical surfaces with no fuss (this is great news if you have a cat scratching post)
Pet Craft Supply All-Natural Catnip Spray
Made from catnip grown here in the US, this catnip spray boasts an all-natural formula that's nothing but good for your kitty-cats. The catnip plants are harvested during peak season, so the essential oils produced are of the highest quality and offer potent effects. Use this catnip spray on that new cat tree to transform your cat from uninterested to can't-get-enough (your couch will thank you!), or encourage them to use their new toy by giving it a quick spritz. 100% safe and non-toxic for both you and your felines, this catnip spray is categorically the best in the market at the moment.
Top Pick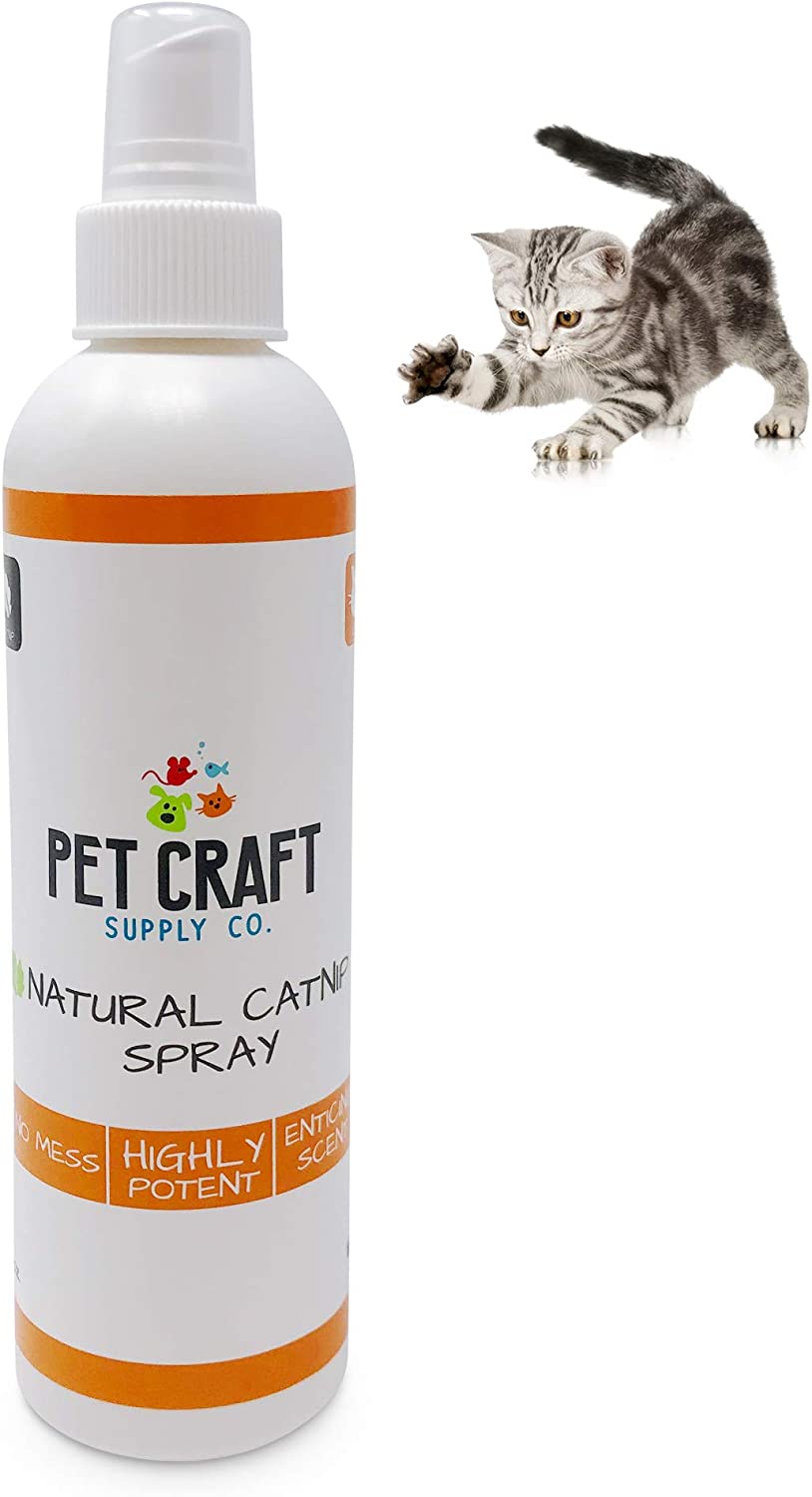 Pet Craft Supply Premium Maximum Potent All Natural Catnip for Cats USA Grown & Harvested Large 3 oz Resealable Canister or 8 oz Value Spray Bottle Great for Training Redirecting Bad Behaviors
$11.52
Pros:
100% natural catnip
Grown and harvested in the US
Potent formula
Safe and non-toxic
Good value
Cons:
Fine print states it works best for younger cats
Smokey's Stash Organic Catnip Spray
If you're an eco-conscious household, you may want to consider going organic with your cantip, too. This catnip spray by Smokey's Stash is 100% organic, meaning it's free of pesticides and nasty chemicals, making it a great choice for a healthier home. Ideal for cats and kittens alike, this catnip spray is effective for all age groups, so you can get started with it no matter where your feline's at in her 9 lives.
Use it for training purposes, to encourage use of a new toy, or to tempt them over to their scratching post to keep your furniture snag-free. Sure, it's a bit pricier than our other favorites, but one use of this catnip spray and the results speak for themselves.
Best Organic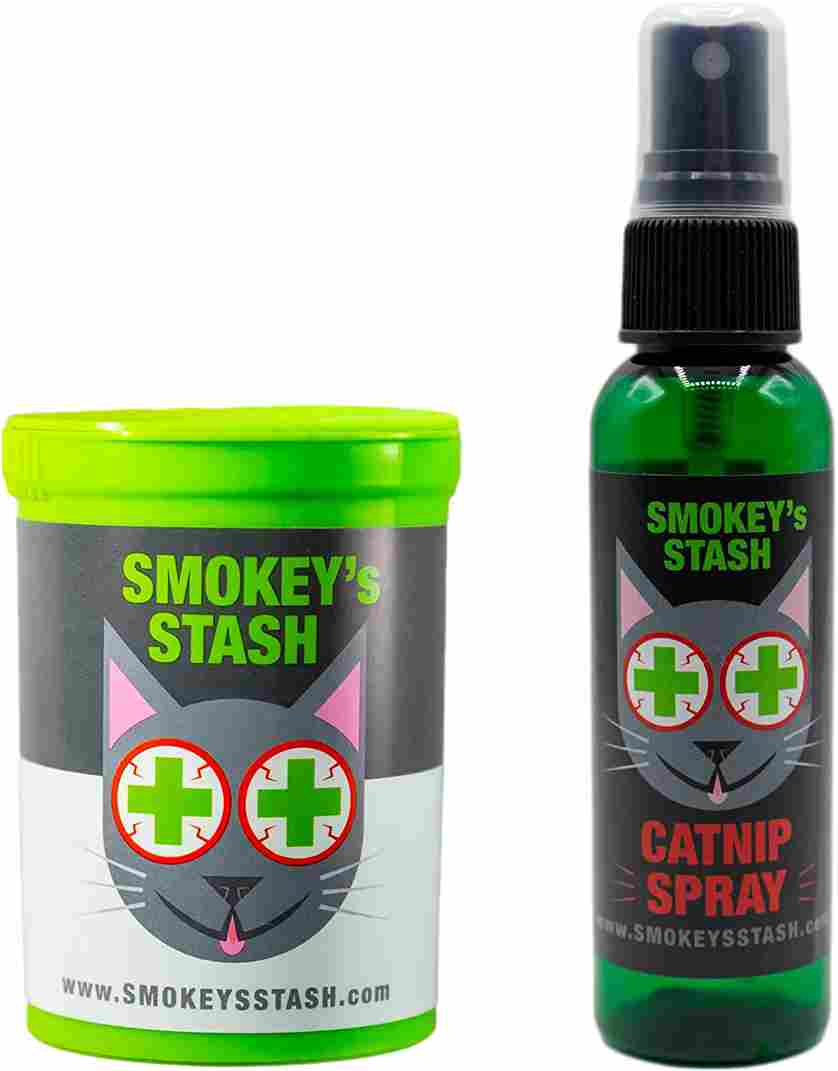 Smokey's Stash Cat Catnip Spray and Dried Organic Catnip Combo Maximum Potency cat nip Bundle
$17.99
Pros:
Organic catnip essential oil
Simple recipe with just distilled water and catnip oil
Great for cats and kittens of all ages
2oz bottle should last a while
Cons:
As usual, you pay a bit more for organic
Petlinks Bliss Mist Catnip Spray
By Petlinks, this catnip spray is pure, simple, and super affordable. Made with chemical-free catnip oil, you won't find any unnecessary ingredients in this formula, with no pesticides in sight. So, it's a great choice to complement your natural cat food and organic cat treats. Give your kitty a burst of energy for playtime, and watch as the effects wear off and they settle into a state of blissful relaxation. Whether they're night owls that need to settle down or you want to encourage playtime with a new set of cat toys, this catnip spray is a great feline essential to give your kitty a boost.
Best Value
Pros:
Affordable price tag
No chemicals or pesticides
Great for play and relaxation
Easy-to-use spray bottle
Cons:
Kong Natural Catnip Spray (3-Pack)
Whether your felines are catnip-happy or you'd just like to stock up, this 3-pack of catnip spray by Kong is an excellent choice. Easy on your wallet and fantastic for your kitty-cats, this catnip spray is fresh, potent, and provides those starry-eyed playful results you're looking for. Use it for training your cat to use their new toys, get them accustomed to their cat tree, or use it as a way to encourage positive playtime at home.
Best Multipack
Pros:
Convenient spray bottles
Excellent value
Effective formula
Great for stocking up
Cons:
Lids can be a bit loose so be careful
Catnip Spray Rejuvenator
Made with a straightforward formula of just water and catnip essential oil, From the Field catnip spray is healthy for your cat and super effective when it comes to training. If your cat is getting lazy and you'd like to see them playing more, simply spray a little on their toys to give them a new lease of life. If that scratching post hasn't seen a claw for years, not to worry: a few spritzes of this catnip spray and your kitty will be all over it like rash. Made in the USA, this one is great-quality and even better value for money.
Also Consider
Pros:
Made in the USA
Just water and catnip essential oil
Good value
Rejuvenates old toys
Minty scent
Cons:
Can lose potency if not stored correctly
Frequently Asked Questions
How long does catnip spray last?
The effects of catnip spray usually last around 15 minutes. However, this can vary from cat to cat—for example, kittens and older cats are less receptive to the effects, so you may not see much change in behavior in these age groups.
What happens if I spray too much catnip?
It's highly unlikely that your cat will overdose on catnip. That said, too much exposure to either catnip spray or edible catnip can cause stomach upsets and adverse mood effects, so be sure not to overdo it.
What precautions does catnip have?
While generally considered very safe and risk-free for cats, too much catnip can cause nausea, mood changes, and headaches in your feline. Furthermore, exposing your kitty to catnip too often can result in habituation. It's best to use it sparingly—once every two to three weeks should be sufficient.
How often should I give my cat catnip spray?
It's best to limit your catnip spray use to roughly every two weeks. More frequent use can cause dependence while also reducing the potency and effects. Having said that, feel free to experiment with a frequency that works for you and your cat.
Can you give your cat too much catnip spray?
Giving your cat too much catnip spray can have negative health and mood effects. While each cat responds differently to catnip, overdoing it can cause sickness, diarrhea, difficulty walking, and negative mood changes in your feline. It's best to limit catnip use to every few weeks, or when you need to introduce a new toy, scratching post, or cat bed.
When should you give your cat catnip?
If you're giving your cat edible catnip, always do so after they've eaten a meal. This will help the catnip digest properly, and limit the risk of stomach upsets.
WHY TRUST US
Since 2008, Cattime has served as a leading resource for millions of cat owners and pet lovers alike. Our goal is to give every cat and pet a happy, healthy home by providing owners with all information they need to be the best pet parents possible. Our experts share their insights and recommendations to make caring for your beloved pet a breeze.