Whether you've witnessed the magic of birth alongside an older cat couple or you've just got your hands on your very first kitten, young cats are a joy to be around. Few things are cuter than the lively characters and downsized dimensions of kittens, so why not add to the playfulness with a little game of fancy dress? With plenty of hilarious designs to choose between, you could have your little one looking like a cute bundle of joy or a cool Aristocat in no time. Kitten clothes aren't just for fun, either. Younger felines, particularly short-haired breeds, can sometimes use a little helping hand in the cold. To help you find the perfect costume for your furry friend, we've rounded up a few of our favorites below.
Best Kitten Clothes to Consider
First things first, to find the perfect fit for your four-legged friend you'll need to measure them up. Kittens are quick to grow, of course, so you might consider sizing up for posterity, too. Make sure that you opt for soft materials with easy openings so that your youngster won't feel constricted or claustrophobic while they play. If they tend to love to wear a collar, you'll also want to ensure that the clothing you choose doesn't have a tight neck closure that could rub against it, causing irritation.
If you're looking for a snug fit for kittens of all shapes and sizes, the versatile fleece sweatshirt from Dociote is sure to please. This practical piece is warm and lightweight, and with three large and flexible entryways, it won't chafe against the fur beneath. There are a ton of bold color designs to choose between, too, so you're sure to find a look to suit your kitty's coat. It won't keep exposed ears from a chill, though. For that, consider the unbearably cute bunny onesie from Aniac, complete with a hood and adorable rabbit ears to match.
Dociote Soft Fleece Sweatshirt
One of the main reasons that pet owners might decide to dress up their young cats is to stave off the cold. Whether your kitten is already flaunting a thick coat of fur, they might need a helping hand to stay warm in the coolest climates. This delicate fleece sweatshirt from Dociote effortlessly fuses style and practicality, earning it the top spot on our list. With three soft and generously sized openings, this garment is easy to get on and off, and won't constrict the motion of growing limbs as they play. The fleece material is highly stretchy too, offering extra flexibility, and is breathable to keep them feeling fresh inside.
Top Pick
Pros:
Seven bold color styles
Four size options are available for a range of breeds and life stages
Machine washable
Cons:
Soft neck lining can rub against collars
Aniac Rabbit Outfit
As if kittens weren't cute enough as it is, this adorable disguise from Aniac lets you dress your furry friend up as another miniature mammal. Equipped with a hood and snug bunny ears to match, it's also a great way to keep growing heads snug in the cold. The one-piece costume is made from super soft knitting wool, keeping your pet warm and snug while also remaining breathable and lightweight. The entire suit has a slight elasticity, making it all the easier to put on and take off.
Runner Up
Pros:
Individual front arm openings for a snug fit
Six sizes are available
Choose between a fluffy insulated design or a lightweight wool design
Cons:
Not as insulating as fleece material
Bolbove Bro'Bear Cable Knit Turtleneck
Whether you've got a crochet expert in the family or not, most of us have a few thick knitwear garments tucked away in our wardrobes for fall and winter. Their woven patterns aren't just elegant, they offer the wearer a comfortable medium between warmth and breathability. This adorable kitten onesie from Bolbove could see your four-legged friend enjoying the same snugness in no time. Instead of classic wool, these cat sweaters are made from acrylic fabric for extra insulation. And thanks to the thick arm-holes and rolled turtleneck, it's sure to keep them extra warm when temperatures drop.
Best Knitted
Pros:
Giftbag and silver keychain included
Four sizes to choose from
Insulating acrylic fabric
Cons:
We wish there were more than two color styles
Joicee Cute Bear Hat
Playing dress up with your kitten doesn't just have to be for the purposes of warmth. After all, they won't be young forever, so you might as well enjoy sharing your home with a cute little bundle of joy while it lasts. This adorable cat hat from Joicee is sure to give any growing kitten the upper hand when it comes to eliciting hugs and attention from any onlooker. With a simple velcro attachment on the headband, you'll have no trouble dressing your kitten up in this funky headpiece. It's thick and fluffy, too, offering tiny ears a little protection from cold snaps.
Best Cat Hat
Pros:
Five color styles to choose from
Soft plush fabric
Adjustable closure
Cons:
Might be too large for the smallest kittens
Impoosy Hawaiian Cat Costume
Do your feline companions strut around the house as if they own the place? If they tend to act like the coolest cat on the block, this super suave costume set from Impoosy is sure to make them look the part. Once you buckle up this dazzling gold chain on their neck, the neighborhood cats will know who's boss once and for all. Throw in a pair of hilarious cat sunglasses and a straw hat to match, and your kitty will be ready to sweat it out in the midday sun like a boss. With an extra-short cut on this t-shirt, they won't even have to dress down when nature calls.
Best Novelty Outfit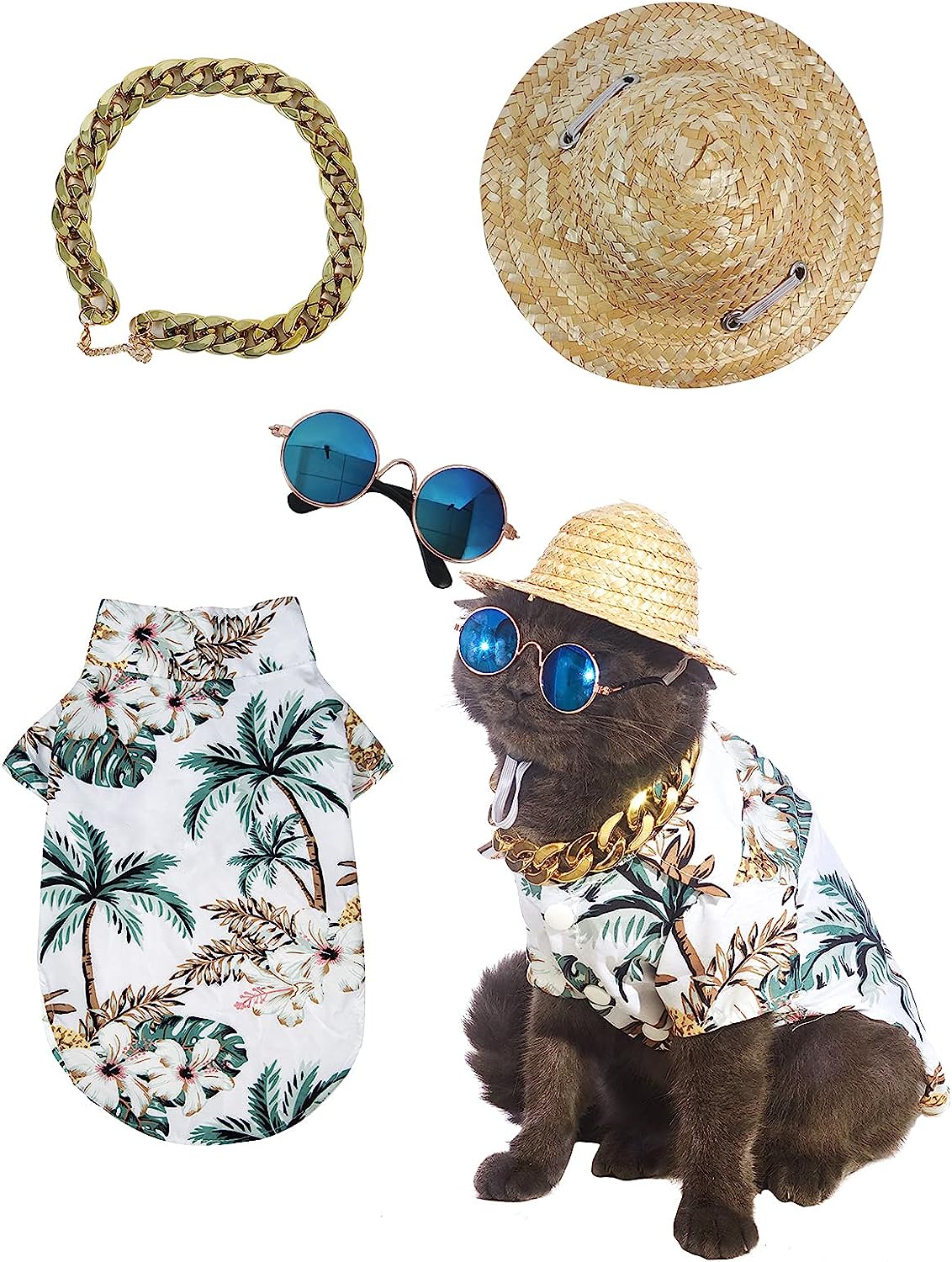 Impoosy Hawaiian Dog T Shirts Pet Summer Clothes Cat Sunglasses Funny Straw Hat Kitten Costumes with Gold Chain Collar
$13.99
Pros:
Detailed sizing chart with three size options
Adjustable elastic neckband on the hat
Easy button opening on the top
Cons:
Won't insulate your kitten against the cold
Frequently asked Questions
What is the best type of clothing for kittens?
Soft, lightweight material that allows air to circulate freely is usually best for kittens and their delicate fur. Look out for materials like cotton or an acrylic blend with no tight elastics or strings.
Are clothes necessary for keeping a kitten warm?
No, most cats have developed thick fur coats which are more than capable of keeping them warm in most climates and situations. If you live in an area where temperatures vary drastically, it may be beneficial to dress your cat up in warmer attire such as snuggly sweaters or hooded jumpers when heading outdoors or taking a car ride.
Can I put sunscreen on my kitten if they go outside?
Yes! In fact, wearing this is highly recommended since young cats' skin can be very sensitive to exposure to direct sunlight and can quickly become sunburned without protection. Specifically formulated feline sunscreens exist but if those are not available any zinc-based variety should suffice (ensure it is fragrance-free).
How often do I need to change my cat's clothing?
It depends largely on the fabric chosen. Some materials may require regular washing after each use while others may last considerably longer. Generally speaking, it's important to keep garments clean by spot cleaning at least once per week for hygiene purposes regardless of usage frequency.
Are there special safety considerations that pet owners should consider when dressing their cats?
Absolutely! When being dressed up make sure nothing constricts the movement of muscle groups such as the neck, abdomen, chest, and tail area allowing your pet freedom of movement at all times. Also check regularly that items such as cat collars or leashes haven't slipped off due to excessive activity, scratching or playtime fun.
WHY TRUST US
Since 2008, Cattime has served as a leading resource for millions of cat owners and pet lovers alike. Our goal is to give every cat and pet a happy, healthy home by providing owners with all information they need to be the best pet parents possible. Our experts share their insights and recommendations to make caring for your beloved pet a breeze.