Now, we're sure as soon as we say "cat backpacks", some of you conjure up images of Paris Hilton-esque tiny handbags stuffed with a purebred—and very squashed—kitty cat. Well, no; that's frankly inhumane. On the contrary, a great cat backpack can actually be a spacious, comfortable, and highly-effective way of toting your cat about, whether you travel with your pet or you need to take her to the vet.
Doing just what they say on the tin, these cat carriers are worn on your back, distributing the weight afr more evenly and making carrying your kitty much, much easier. So, save the hefty lugging (and accompanying hand-ache!) and pick up one of the best cat backpacks from our guide, here:
Best Cat Backpacks to Consider
Take a look at our quick tips on features to look for when shopping, so you can get it right first time and save on hassle and returns:
Size: Don't stuff your cat in a backpack that's too small or let them flop around in a giant one. Get the size that's just right for your kitty.
Ventilation: Keep your cat feeling fresh (and breathing easily!) with plenty of mesh windows and air vents. No one likes a sweaty cat.
Security: Make sure your cat can't make a run for it by choosing a backpack with secure zippers and locking mechanisms.
Comfort: Keep your cat's comfort in mind with a padded interior and plenty of windows, so they feel safe and contained while also being able to gaze at the outside world.
Durability: Choose a backpack that can withstand your cat's wild side and last you for a long time; materials like polyester and Oxford fabric make great choices.
Style: Show off your cat's unique personality with a backpack that speaks to their style. Just because a cat backpack is primarily a functional bit of kit, it doesn't mean you can't be bold and make a fashion statement with your cat.
Storage: Don't forget about essentials like cat treats, kitty toys, and water. Choose a backpack with enough storage to make sure your kitty has everything they need.
Ease of cleaning: Accidents happen, so look for a backpack that's easy to clean and maintain. Keep it fresh for your cat's next adventure.
Tucker Murphy Pet Cojo Car Cat Backpack
Remember when we said you could make a style statement with your cat backpack? Well, this option by Tucker Murphy Pet is a statement and a half. We love the soft faux leather cover, ensuring you're Vogue cover-ready when you step outside with your kitty in tow. The ventilation holes have been beautifully integrated into the style, too, with contrasting metal rings and big mesh openings ensuring your kitty can breathe easy. Finished with a viewing panel for them and comfy straps for you, this cat backpack takes the gold from us.
Top Pick
Pros:
High-style design
Faux leather outer shell
Comfy straps
Lots of ventilation
Good size
Cons:
Can smell a bit chemically at first, but this wears off
Duffel Backpack Cat Carrier
Made in a sturdy, outdoorsy style, this duffel-bag backpack for cats is just the vessel in which to carry your furry one. Whether you bring them on mountain hikes or you're simply walking to the vet, this cat backpack will keep your kitty comfy and secure on the journey.
This bag is airline-approved, so you can hit the skies without worrying about TSA problems. And, design-wise, it's packed with great features to make your journey more seamless, from the no-slip straps to the washable faux lam skin fur lining and big mesh windows.
Runner Up
Pros:
No-slip shoulder straps
Large mesh windows for ventilation
Airline-approved
Side pockets
Cons:
May be to small for larger cats
Tucker Murphy Bubble Bag Cat Backpack
If your cat is on the curious side, make sure they've got a great view of the passing world with this bubble bag by Tucker Murphy Pet. Boasting a huge transparent window on the front, your kitty can scope out the view from the comfort and safety of their cozy little spot. This one has a whopping nine ventilation holes, so you know your kitty will be breathing just fine when you're both out on your travels. Made from a sturdy mix of polyester and Oxford fabric, you should get many years of use out of this one before it starts to show signs of wear, with the scratch-resistant finish doing you heaps of favors, too.
Bets for Visibility
Pros:
Oxford fabric and polyester
Scratch-resistant
9 ventilation holes
Cute bubble style
Great viewing window
Cons:
We'd love a few more colors
Ibiyaya Adventure Cat Backpack
One of the most spacious on our guide, the Ibiyaya Adventure Cat Backpack does just what it says on the tin: keeps your cat comfy and secure while you both go off on your travels. We particularly like the roll-up fabric "curtains" on this one, which you can roll up to give your cat better visibility. There's also a hole into which you can feed your kitty treats, without going through the effort of getting them out every time. With thick padded straps, you should be comfy toting your cat on your back with this nifty backpack, while giving your alfresco fit a bit of a lift thanks to the stylish design, too.
Great Choice
Pros:
Roll-up windows for better visibility
Great ventilation
Super-cool design
Hole for treat-feeding
Thick padded straps
Cons:
Tucker Murphy Pet Large Cat Backpack
By far the cutest option on our guide, the Tucker Murphy Pet cat backpack hits the spot with its sweet appeal and large, spacious design. Whether you're taking your kitty for an alfresco jaunt or you've got a less-than-pleasant vet visit to attend, this bag is a great accessory. Pick it up in your favorite color (there's a great range available), and pop your kitty inside knowing they'll be able to breathe naturally thanks to the large ventilation holes. And, while no cat carrier is ieally intended for super long journeys, your cat should have enough space in this one to keep them comfortable if the voyage is on the longer side. Made with comfy straps and a handy front pocket to stash treats and other bits, this cat backpack pretty much has it all.
Also Consider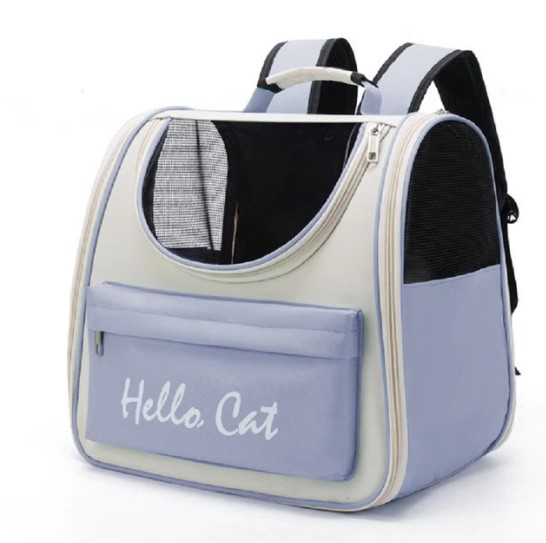 New Outdoor Portable Cat Bag Pet Backpack Cat Outdoor Portable Breathable Large Capacity Pet Backpack(13.39*14.56*9.84 Inches)
$38.99
Pros:
Cutesie design
Large straps
Good ventilation
Lots of colors available
Front pocket
Great price
Cons:
Frequently Asked Questions
Is it OK to carry a cat about in a backpack?
Great question. The safety and comfort of your cat should always come first when considering carrying them in a backpack. Choose a backpack designed for cats with proper ventilation, secure zippers, and adjustable straps. Monitor your cat's behavior to ensure they're comfortable during the trip (especially the first outing!), and consider the duration of the journey. Short trips may be fine, but longer trips can cause stress and discomfort.
How do I introduce my cat to my cat backpack?
As with all new things, it's best not to rush into it. Start by placing the backpack in an area where your cat can explore it and get used to the scent. Then, place yummy treats or cat toys inside the cat carrier to encourage your cat to go inside. Once your cat is comfortable in there, try picking up the backpack gently and rewarding your cat with another tasty treat. Remember to always go at your cat's pace and make the experience positive and stress-free.
Should I walk my cat in a backpack?
It truly depends on the personality and temperament of your cat. If they generally like small, cozy spaces, you might be OK. On the other hand, if your cat is more content running free in the wild and just dropping home to check in, confining them to a backpack might be a bad idea. Just remember to always prioritize your cat's safety and comfort, and maybe pack some catnip spray for the road.
WHY TRUST US
Since 2008, Cattime has served as a leading resource for millions of cat owners and pet lovers alike. Our goal is to give every cat and pet a happy, healthy home by providing owners with all information they need to be the best pet parents possible. Our experts share their insights and recommendations to make caring for your beloved pet a breeze.