There's a treasure chest of cat toys on the market for you to snap up for your kitty-cat. Play is super important in any cat's life, especially if they spend much of their time indoors. From classic mouse toys to catnip toys to wands, feather and ball toys, you can create quite a toy box for your feline to delve into whenever they're feeling playful.
Not only are toys super fun, but they also help you bond with your cat, sharpen their motor skills, and tap into their natural hunting instincts. So, whether you've got a brand new kitten or a wise, elderly cat, they'll all benefit from having a few of the best toys for cats kicking about at home to pass those hours between breakfast and dinner. Read on for our ultimate guide; we've got great options to suit all budgets.
Best Cat Toys to Consider
The last thing you want when you've splashed out on a host of new cat toys is for your cat to take one look and turn their little nose up. Cats can be notoriously fussy creatures, so it's important you hit the right notes when presenting them with new toys. And, of course, safety is of paramount importance; you don't want little pieces falling off those toys and becoming a choking hazard. So, let's take a look at the top factors to consider when buying new cat toys:
Safety
Safety, first. If you're out and about all day, you don't want to be worried that your cat is going to choke on a toy, or perhaps get tangled up in a cord or string. Having said that, many cat toys feature attached pieces and strings, so just be sure to put them away in a safe place when you head out to avoid any nasty accidents. Also, ensure that extra pieces like bells, cords, and bows are sewn on securely, as this will significantly reduce the risk of choking. It goes without saying (we hope) that your chosen cat toy should have no sharp elements, as this can harm your cat when they're chewing and biting.
Interactive/Solo Toys
While cats can definitely entertain themselves, playing along with them can be a lovely bonding experience. So, make sure you've got a few solo cat toys like balls and food-dispensing toys (fun and food all-in-one!), as well as some interactive toys that you can get involved with yourself.
Size Matters
Ideally, you want your chosen cat toys to be about the size of a cat's natural prey. So yes, we mean mouse-sized. Anything too large could be threatening to your cat, and they may see it as an opponent rather than something to chase. They'll need to be able to get their paws around it easily, bite if they wish, and trap their toy between their legs to give them a satisfying play experience.
Tower Cat Toy
Every cat owner knows how much their kitties love playing with toy balls. They're small, easy to chase, bring tons of excitement, and are easy to lose. With this tower toy you can say goodbye to the days of a ball rolling behind your fridge leaving your cat desperate to get it back.
The tower has three tracks with balls on each level, giving them the ability to swat the ball without ever losing it. It also features vibrant colors that bring even more excitement to the game.
Best Overall
Pros:
safe for outdoor use
easy to clean
lightweight
Cons:
cats may need time to warm up to it
Smartykat Skitter Critters Cat Toys
Coming in at great value and with 10 toys packed in, this set will provide months of entertainment for your feline. Filled with non-toxic, chemical-free materials to keep your kitty safe, these toys are also finished with a spritz of catnip to get them all the more excited. They're ideal for solo play or interactive play, whether with you or their furry feline friends. We particularly like the wholesome, rustic look of these cat toys, finished with twisted cord tails and cutesie little eyes.
Runner Up
Pros:
10-pack is excellent value
Non-toxic and chemical-free
Made with catnip
Great for solo and interactive play
Cons:
Catnip effects are best for cats over 9 months
MeoHui Interactive Feather Cat Toys
Presenting endless play opportunities for your kitty, this set of cat toys is ideal for getting some quality one-on-one time with them. You'll get 2 retractable cat wands plus a host of replacement feather attachments, so you'll always have a few spare.
The wand and string combined make a super long toy, so you can have heaps of fun getting your cat to chase, pounce, and stalk with this one. It's lightweight, too, so you'll exert very little effort while giving your cat the time of their life. Encourage their hunting instincts and refine their motor skills with this cat toy set, coming in at a great price tag.
Best Interactive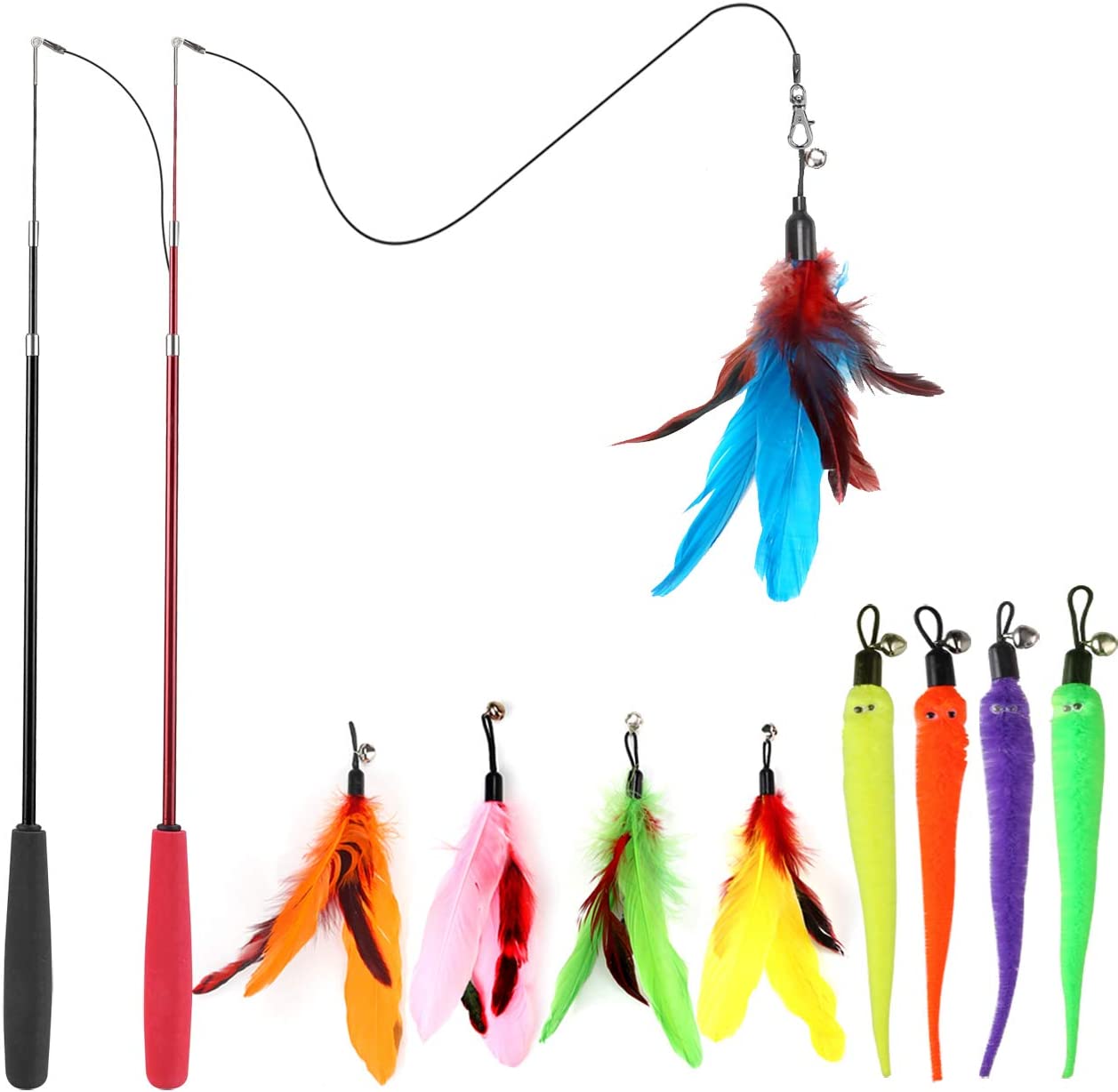 MeoHui Cat Toys for Indoor Cats, Interactive Cat Toy 2PCS Retractable Cat Wand Toy and 9PCS Cat Feather Toys Refills, Funny Kitten Toys Cat Fishing Pole Toy for Bored Indoor Cats Chase and Exercise
$11.55
Pros:
Long wand and string
Replacement feather attachments
Colorful designs
Cons:
Due to the bell attachments it's best to pop these away when not in use
Dorakitten Catnip Chew Toys
A beautifully cuddly choice for indoor cats, this cat toy set comes infused with catnip to appeal to your cats even more. Made with cotton linen, these toys are great for playing catch, cozy cuddles, or simply keeping your cat company in their bed.
Your cats can chew these toys in absolute safety, which actually helps to keep their teeth clean and healthy; so, it's a win-win. They're excellent for kittens, too, since the soft chewy feel can help with teething pains. Coming in a range of cute designs (think frogs and pandas!), this set of cat toys is one for your feline's collection.
Best Chew Toy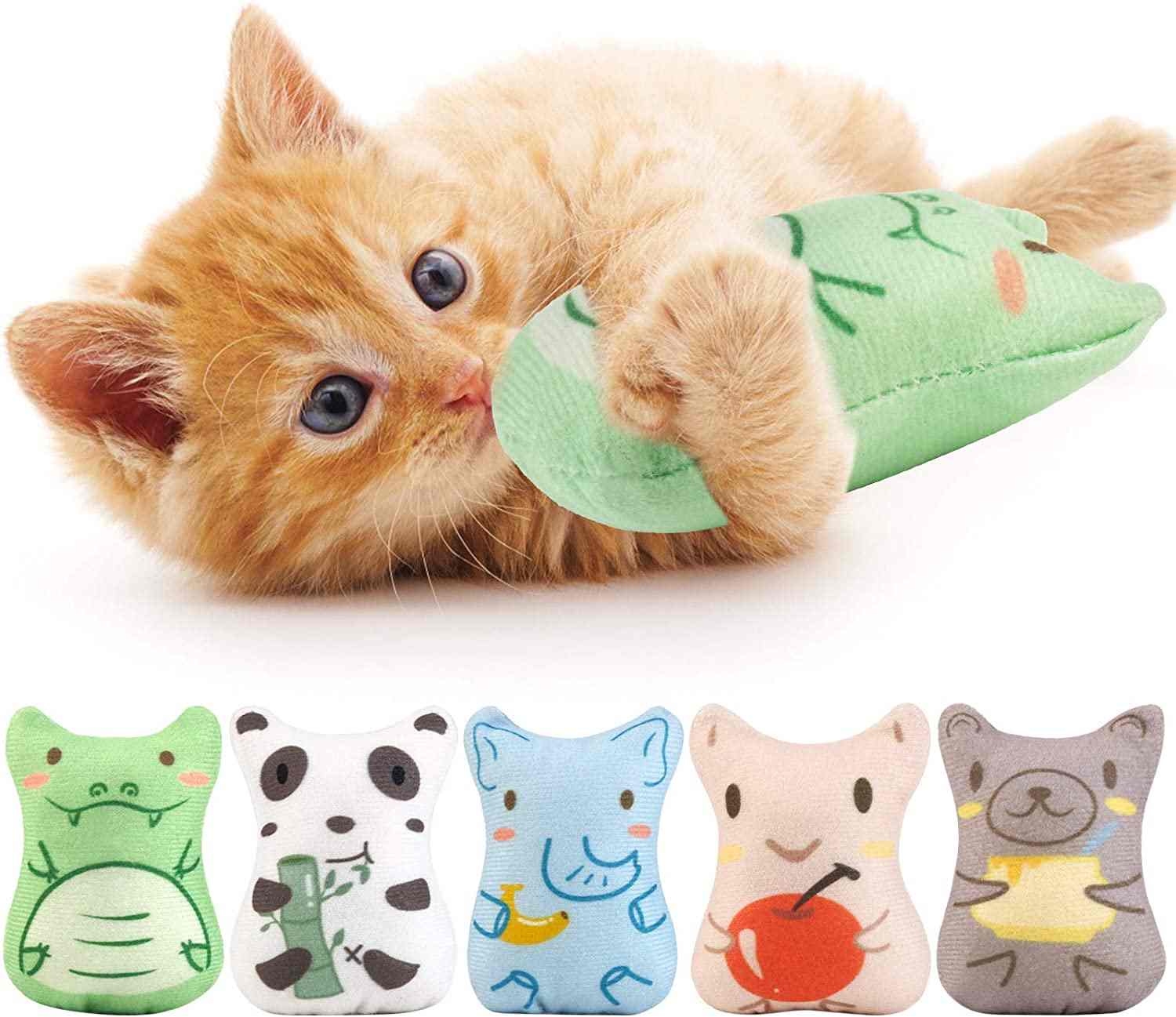 Dorakitten Catnip Toys for Indoor Cats - 5PCS Plush Cat Chew Toys Teething Interactive Catnip Filled Kitten Toy Soft Pet Toy (Animal Shapes)
$9.99
Pros:
Safe for chewing
Great for teething kittens
Soft cotton linen
Filled with catnip
Cons:
If you go for the bird set, be aware the feathers can come off
Rainbow Cat Charmer Toy
Crafted from cat-safe, non-toxic materials, this rainbow chaser toy is an excellent addition to your cat's toy box. Build your bond by playing with your kitty cat, encouraging them to chase, pounce, and stalk their brand-new toy.
We love this toy for solo cats since the playful interactions will give them a healthy, happy boost and a burst of energy—before tiring them out for a good nap, of course. Helping to keep indoor cats active and energized, this cat toy is effective, affordable, and, most importantly, super fun.
Best for Chasing
Pros:
Ideal for bonding with your feline
Great for solo cats
Excellent quality
Fun design
Cons:
They won't be able to play with this one on its own
Potaroma Chirping Cat Toy Balls
We love these cat toy balls, finished with chirpy sound effects to engage your kitty even more. Each ball comes with either a frog, cricket, or chirpy bird sound, which is sure to delight and captivate your kitty-cat. They've got built-in batteries that should last up to 10,000 individual sounds before running out of juice, so you'll get a long life from these cat toys, too.
Highly durable and able to hold their own against boisterous play, these cat balls are great for the more raucous of cats and kittens. That said, they're soft-as-a-cloud, so they're totally safe for your cats to play with on their own without risk of injury. Complete with a pouch of catnip to make these toys even more tempting, we rate these balls as a great buy.
Also Consider
Pros:
Built-in batteries for 10,000 sound plays
Durable materials
Soft yet robust
Catnip included
Cons:
Frequently Asked Questions
Should you leave cat toys out all the time?
As long as your cat toys have no attachments that may come off, you can leave them out. Simple toys like squeaky balls can be left out when you're at work or away, since they'll offer your cat safe entertainment until you get home. However, toys with strings, bells, and other attachments are best kept in a safe space when you're not at home, since these little bits can come off and create a choking hazard for your feline.
How often do you change a cat's toys?
Feline experts recommend changing up (or rotating) your cat's toys every week or so. Different toys offer different entertainment and learning opportunities, so they should be switched up to keep your cat's skills sharpened.
How important are toys for cats?
Cat toys are super important to give your feline the opportunity to play, hone their hunting skills, and keep them entertained and active. You can make your own DIY toys at home, or you can save time and check out our guide for the top cat toys on the market at the moment.
How long do cat toys last?
A good cat toy should last a good few months or even a year with regular use. Of course, the better quality and more durable the toy, the longer lifespan you'll get from it. Toys with catnip, on the other hand, will need to be sprayed with a proper catnip spray every few weeks to keep the effects potent.
Do cats appreciate toys?
Your cat will absolutely love it if you treat them to a new toy. It'll give them something to play with, chase, and pounce on. Not only that, but it'll help to wear them out so they can get a good snooze in, too.
WHY TRUST US
Since 2008, Cattime has served as a leading resource for millions of cat owners and pet lovers alike. Our goal is to give every cat and pet a happy, healthy home by providing owners with all information they need to be the best pet parents possible. Our experts share their insights and recommendations to make caring for your beloved pet a breeze.