Thinking of updating your cat's toy box? Consider picking up one of the best crinkle cat toys from our guide. These simple yet clever toys provide endless entertainment for your feline, helping to sharpen their instincts, keep them occupied while you're out, and can even help with stress relief if your kitty is bored or frustrated.
Crinkles toys are exceptionally beneficial for indoor cats, since they allow your comfort-loving kitty to flex their hunting instincts as they would in the wild. This is fantastic if they don't usually get a chance to chase birds or mice in the garden. The crinkle effect imitates the sound of crunching leaves, which would, in the wild, alert your kitty to the presence of some potential prey. See? There's a whole world of benefits that crinkle cat toys offer, so don't let your kitty miss out. Pick up one of the best crinkle cat toys from our guide today and refresh their zest for play. Read on and browse our favorites.
Top Pick SmartyKat Crinkle Catnip Toys
SmartyKat (9 Count Fish Flop Crinkle Catnip Cat Toys - Multi Color, 9 Count
Best Crinkle Cat Toy to Consider
When it comes to choosing the best crinkle cat toys, there are a few factors to take into consideration:
Wand/No Wand
Do you want more of an interactive play experience with your feline? If so, consider snapping up a crinkle cat toy attached to a wand. That way, you can get involved with your cat's playtime, build your bond, and be more of an active part of their development. On the other hand, a no-wand crinkle toy is a great way for your cat to entertain themselves when you're not home.
Sound
Your cat toy should be filled with foil; this is what makes that satisfying crunch sound that'll get your cat excited to play. However, you don't want it to be so loud that it startles or confuses your cat, so make sure the sound is on the gentler side.
Size
Your crinkle cat toy should measure roughly 1.5 to 2 inches, as this is about the same size as your kitty's natural prey: the mouse. If it's too large, it might scare or intimidate your cat, resulting in them viewing their new toy as an opponent rather than a target. Too small, and it could become a choking hazard.
SmartyKat Crinkle Catnip Toys
Crinkle and catnip? We must be dreaming. Yep, this set of cat toys is made with that aromatic herb our cats adore, as well as offering up a satisfying crinkle sound when batted. Coming in a set of 9 and with cute fish shapes, your kitty will love chasing, batting, and pouncing on this set of crinkle cat toys. Indeed, they'll come for the catnip, and stay for the captivating crinkle sounds; a true sensory delight, this set of toys is a must-have for your kitty's repertoire. It's a great choice if you've got multiple cats at home, too, since there's enough to go around.
Top Pick
Pros:
Pack of 9
Infused with catnip
Crinkle sounds
Ideal for solo or interactive play
Cons:
Refresh with catnip spray every few weeks to keep the effects fresh
Jackson Galaxy Crinkle Flies-Butterfly for Cats
These crinkle cat toys are cute-as-a-button, and we're sure your felines will adore them as much as we do. Great for indoor cats, these butterfly-themed toys bring the great outdoors right into your home. Plus, they're covered with ultra-realistic butterfly prints to make them super convincing for your cats. Making a crinkling noise when played with and stuffed with catnip to encourage your cat's interest, these crinkly cat toys will also hold their own against lots of batting, playing, and pouncing. Totally worth the spend, we highly recommend these cat toys for cats and kittens alike.
Runner Up
Pros:
Realistic butterfly design
2-pack
Crinkle sound
Filled with catnip
Cons:
Crinkle Toys for Cats
Whether you've got a troupe of kitties at home or just one who needs some extra entertainment, this pack of 15 catnip-stuffed crinkle toys is an excellent addition to their toy collection. Filled to the brim with organic catnip, these toys also make that all-important crinkling sound to engage and delight your cats. We love that these toys offer different textures, which your cat will love exploring. Plus, they come with cute little tails; use them to play cat-and-mouse or simply let your kitty run wild for a solo play session.
Best Large Pack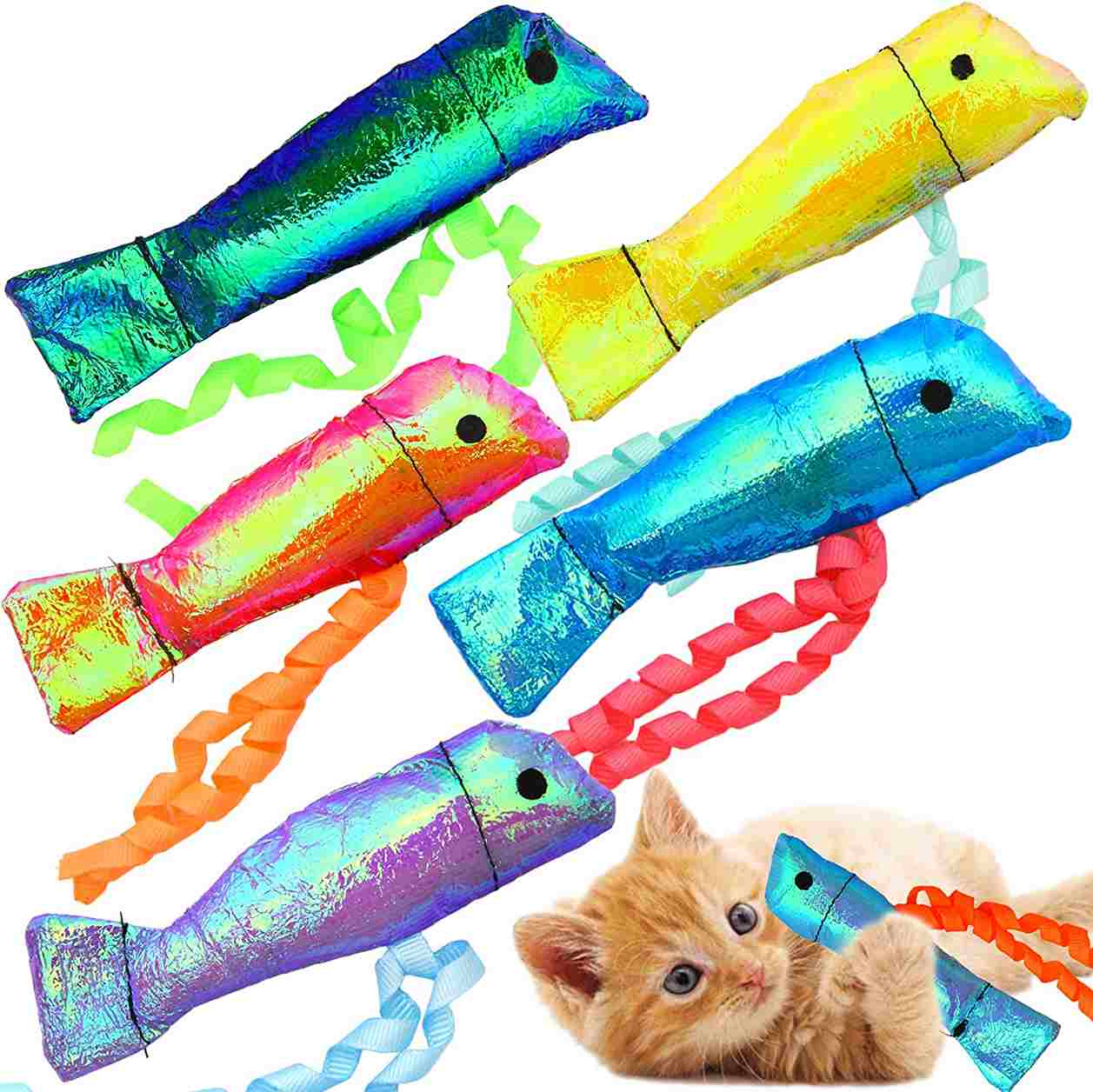 Youngever 15 Pack Crinkle Catnip Cat Toys, Cat Interactive Toys, Catnip Kitten Toys, Crinkle Catnip Fish for Cat, Puppy, Kitty, Kitten, 15 Assorted Colors
$13.99
Pros:
15-pack is great for multiple-cat households
Filled with catnip
Satsifying crinkle sound
Ideal for solo or interactive play
Cons:
Be careful when vacuuming as the ribbons can get caught
PETFAVORITES Mylar Crinkle Cat Toys
Available in packs of 6, 12, or 24, these Mylar Crinkle Cat Toys are simple, straight-to-the-point, and highly effective when it comes to engaging your feline in play. They'll adore the crunchy crinkling sound coming from their new toy as they chase them around, pounce on them, and grab them with their soft little paws, while the glitzy colors will catch their eye, too. Each ball measures around 1.5 inches, which is the perfect size as it's similar to your cat's natural prey—the mouse.
Great Choice
Pros:
Available in 6, 12, or 24-packs
Mylar materials for a proper crinkling sound
1.5-inch balls; great size
Good value
Cons:
No catnip with these ones
Petlinks Batty Beta Crinkle Cat Toy Fish
Mimicking the rustling sound of mice and birds in the undergrowth, this fish-themed crinkle toy for cats will have your cats hightailing over for playtime just as soon as you whip it out. Of course, we love the cute design, featuring shimmery fins, a durable burlap body, and an iridescent shimmer, but it's the sounds that really steal the show with this crinkle toy.
Throw it around for your cat to jump and catch, drag it around the floor for a fun game of chase, or leave it out for your cat to rough-and-tumble as they wish. And, coming in at a super bargain price tag, this one's great for budget-conscious shoppers, too.
Also Consider
Pros:
Cheap price tag
Multiple textures
Iridescent finish
Sets of 1, 2, or 3 available
Cons:
Again, no catnip with these ones
Frequently Asked Questions
What makes a cat toy crinkle?
Crinkle cat toys are usually filled with foil or plastic to create that satisfying crinkling noise. While it may seem weird if you've never come across it before, the noise is super important for piquing your cat's interest.
Why do cats like crinkly plastic?
It may seem odd to you that your cat perks up at the sound of crinkly plastic. Alas, this crunching, crinkling sound is very similar to the noise your kitty's prey would make when scurrying through leaves or undergrowth. So, upon hearing those crinkles, your cat's natural instincts kick in, and they often go into full hunting mode. This makes crinkle cat toys a super effective way to hone those predatory instincts, and gives indoor cats the opportunity to exercise their hunting skills.
Should you leave cat toys out all the time?
While it's generally safe to leave cat toys out all the time, it's best to check if they have any detachable pieces or long string or cord. The former can detach (especially with rougher play) and become a choking risk for your kitty, while any cat toys with a long string (like cat wand toys, for example) can pose an asphyxiation risk. So, it's best to only leave out simple, soft fabric toys with no bells or buttons, and leave the more elaborate toys in the toy box for use under supervision.
How long should I let my cat play with toys?
Experts generally recommend scheduling a 20 to 60-minute playtime session with your cat, once or twice per day. This should be enough to keep them active and energized, while also tiring them out enough to get a proper nap in their cozy cat bed later on.
WHY TRUST US
Since 2008, Cattime has served as a leading resource for millions of cat owners and pet lovers alike. Our goal is to give every cat and pet a happy, healthy home by providing owners with all information they need to be the best pet parents possible. Our experts share their insights and recommendations to make caring for your beloved pet a breeze.