Cat wand toys are a tried-and-true way of entertaining your feline. Not only will the interactive play help to nurture your cat-human bond, but the chase-and-catch game also sharpens your kitty's instincts, keeps them active, and refines their motor skills. Super simple in concept, this toy is typically a long string attached to a handle, with a tempting mouse toy or feather dangling at the end for your cat to chase, pounce, and stalk. We've put together a comprehensive guide to the best cat wand toys to help you update your feline's toy box here; read on and check it out.
Top Pick FAT CAT Interactive Cat Wand Toy
FAT CAT Interactive Cat Toys - Tadpole Cat Wand Stuffed with 100% Organic Catnip
Best Cat Wand Toy to Consider
You want the best for your cat, right? So, make sure you're clued up on what to look for with the best cat wand toys. We've put together some quick tips to help you shop, as well as some of the benefits a cat wand toy can offer:
What to Look For
A lightweight design; your cat wand toy should mimic the movement of a mouse, so it needs to move fast
Rustling or crinkle toys; this emulates the sound of rustling leaves, which, in the wild, would alert your cat to potential prey in the undergrowth
Prey-sized toy; cat wand toys are always finished with a toy at the end of the string. Make sure it's sized similarly to your cat's natural prey, being no larger than a small bird or a mouse
Benefits of a Cat Wand Toy
Helps to build your cat-human relationship; interactive cat toys are brilliant for connecting with your feline on a playful level, rather than solely being the food and shelter provider
Sharpens your cat's natural hunting instincts. While they may not need them so much now their dinner is served at home, it's still important that your cat taps into their wild side every now and then
Encourages healthy activity. Cats can get lazy, so encouraging them to be a little energetic now and then is a great way of keeping them fit and healthy
FAT CAT Interactive Cat Wand Toy
Designed with a funny tadpole theme, this cat wand toy is a joy. Made with shimmering streamers, super bright engaging colors, and a lightweight design that's easy to flip and drag around, this cat toy has everything we're looking for:
It's around 25 inches in length (including the wand), which gives you plenty of scope to play drag-and-chase games across the floor. Great for encouraging energetic playtime while building a bond between you and your feline, this cat wand toy is a worthy addition to their toy collection.
Top Pick
Pros:
25-inch length
Super fun tadpole-themed design
Bright colors to engage your kitty
Great price tag
Cons:
Make sure you pop it away when not in use as your cat could chew off the plastic
11-Piece Cat Wand Toy Set
Complete with 2 wands and 9 fun and feathery end pieces, you'll be set for time to come with this kit. The two wands are telescopic, so you can change the length to mix things up, and you can pick from the included 9 attachments to keep playtime fresh, too.
The string measures up at a lengthy 23.6 inches, which is plenty for you to have your cat pouncing, playing, and chasing across the floor. In fact, this cat wand toy is a fantastic way of improving your cat's cardio fitness, as well as honing those hunting skills and predatory instincts.
Runner Up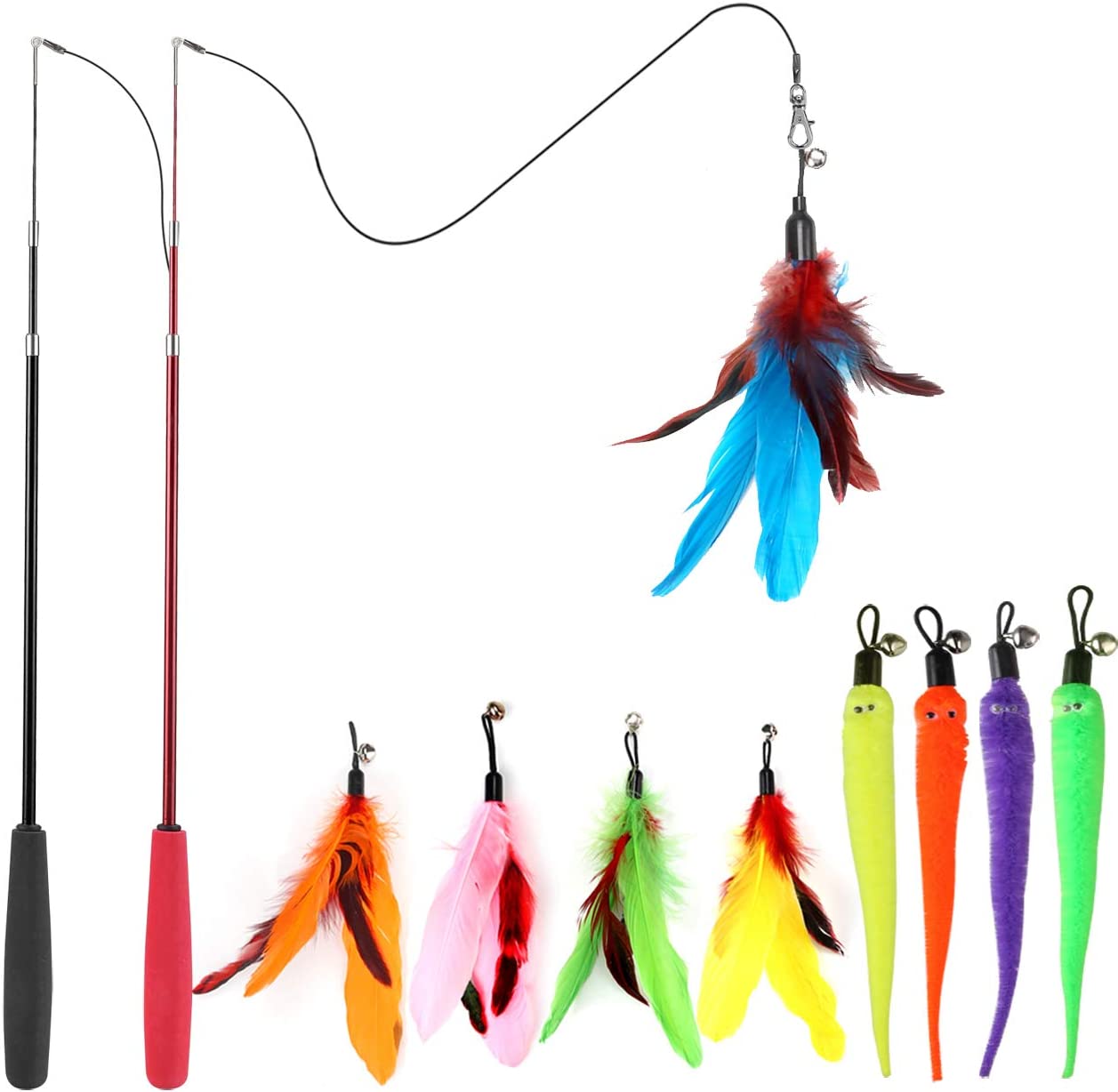 MeoHui Cat Toys for Indoor Cats, Interactive Cat Toy 2PCS Retractable Cat Wand Toy and 9PCS Cat Feather Toys Refills, Funny Kitten Toys Cat Fishing Pole Toy for Bored Indoor Cats Chase and Exercise
$11.98
Pros:
2 wands and 9 end attachments included
Telescopic wands
23.6-inch string
Great for keeping playtime fresh
Cons:
Best to store away when not in use to be on the safe side
TTcat Cat Wand Toy
Made with natural feathers to emulate the appearance of your cat's real-life prey, this cat wand toy is ideal if you don't mind spending a little more on quality. Designed with a 35-inch flexible wire and 4 refill attachments, you'll have endless fun teasing and playing with your feline thanks to this great buy. Simply open the easy-to-use clasps to replace the feathers when they get a bit straggly and pop on a fresh attachment to give your toy a new lease of life.
The whole wand toy is incredibly lightweight, so you can control it with an effortless flick of your wrist; this is excellent news if your cat has boundless energy and loves to play for hours on end. All in all, we love this more natural cat toy, helping to refine their hunting skills and keep indoor cats entertained.
Best Luxury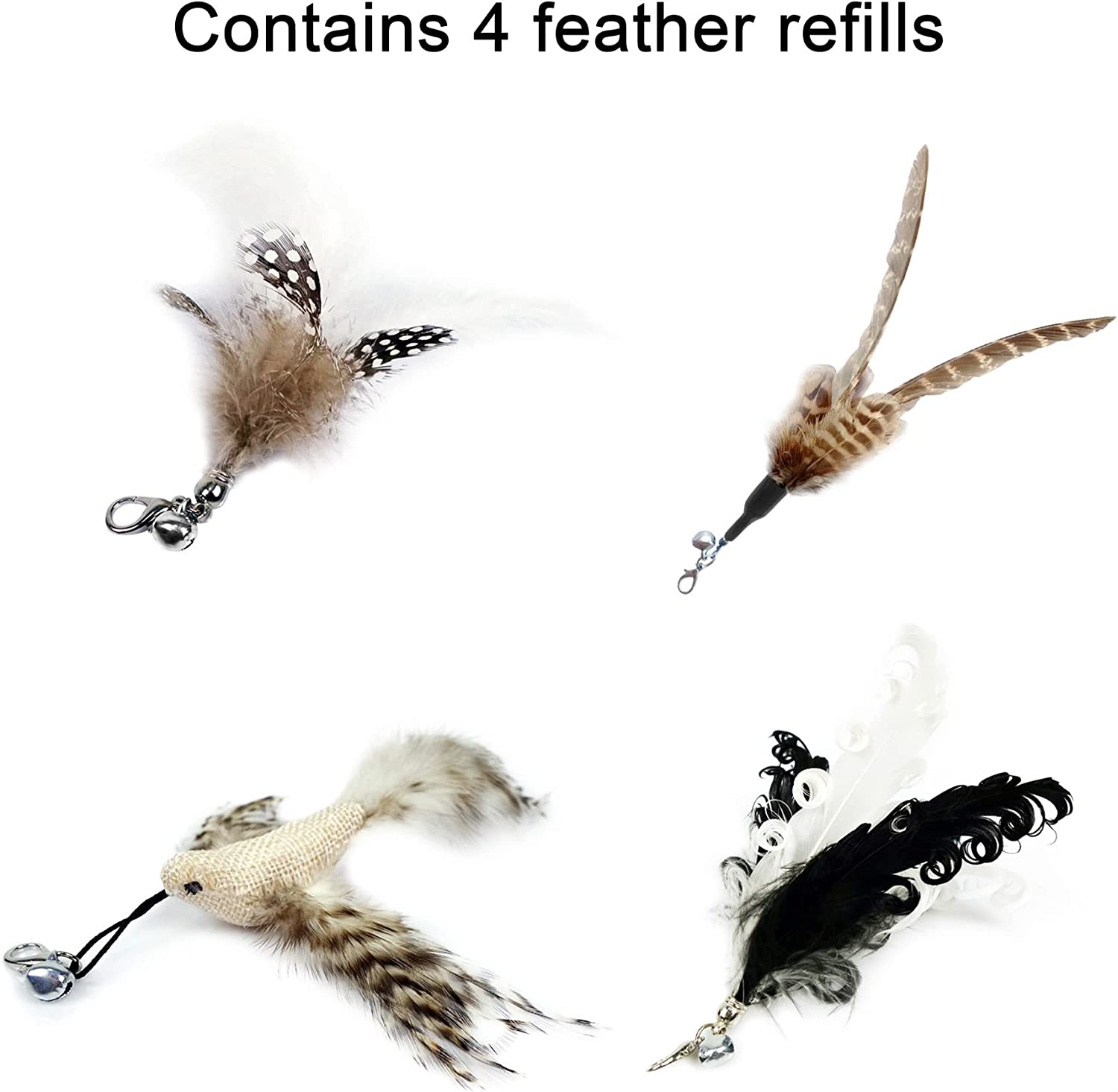 TTcat Cat Wand Toys, 35'' Flexible Steel Wire and 4PCS Cat Feather Toys Cat Teaser Toy Refills, Interactive Cat Toy Wand Kitten Toys for Indoor Cats to Play Chase Exercise…
$9.99
Pros:
Natural feather design
35-inch wire for lots of chasing
4 refill attachment feathers included
Overall good quality
Cons:
Feathers will get a bit straggly over time
Tethered and Feathered Cat Wand Toy
Another more natural option, the Tethered and Feathered Cat Wand Toy is worth spending that bit extra. Why? Well, for starters, this cat wand toy features a realistic bird chipping sound when your cat bats it, which is sure to entice (and excite!) them even more. Plus, the end is filled with potent catnip, which, when pinched, releases its potent aroma, which will inspire your kitty to get playful even more. So, add this toy to your collection and enjoy the multi-fold benefits: a more active kitty, refined hunting skills, and a fab opportunity for a cardio workout (this is a major plus for the lazier of cats!).
Great Choice
Pros:
Natural look to imitate real prey
Electronic chirping sound when batted
Made with catnip
Cons:
Cat Dancer Rainbow Cat Charmer
Go razzle-dazzle with this rainbow-hued cat wand toy. A delight for both your and your kitty-cat, this cat wand will charm the socks off your cat. Swirl it around to captivate your kitty, have them chase it along the floor, or invent your own new games to keep your cat entertained.
We love that this one is made from durable non-toxic materials, which are super soft and safe for your feline. Whether you wish to wear them out for bedtime, engage them in interactive fun, or encourage them to be more active, this cat wand toy is the best toy at your disposal, so pick it up while the going's good.
Also Consider
Pros:
Use it in multiple ways for different games
Captivating rainbow theme
Great price tag
Cons:
Not so great for catch games as there's no end attachment
Frequently Asked Questions
How do you play with a wand toy with a cat?
There's an art to effectively using a cat wand toy with your pet. The idea is to emulate a real-life hunting scenario, so you'll want to flick the wand across the floor to imitate the movement of prey. Let your cat spot the toy, then slowly drag it across the floor; your cat will probably stalk the toy for a moment before they pounce. You can also have your cat chase the toy across the floor for a more energetic game. If they need a little tempting, spray a few spritzes of catnip to entice them to play.
Why are wand toys good for cats?
Wand toys are great for cats because they encourage them to use their natural hunting instincts. Using an interactive toy such as a cat wand also helps you to nurture the bond between your both. The lightweight design and fast movement of these toys are ideal for getting your kitty in predator mode, which sharpens their instincts and keeps their brains in tip-top condition, too.
Are wand toys safe for cats?
When used correctly, cat wand toys are totally safe for cats. However, you should always store it away out of your cat's reach when playtime is over, as the long string can be a choking hazard, especially if they're left unattended with their toy.
Should you leave cat toys out all the time?
Soft cat toys with no attached pieces are safe to leave out all the time. Other toys with long strings (like cat wands, for example) or mice with attached bells or tails should always be kept safely away from your kitty when you're not present, as lengths of string and detached pieces can quickly become choking hazards if your cat gets tangled up or ingests something small.
WHY TRUST US
Since 2008, Cattime has served as a leading resource for millions of cat owners and pet lovers alike. Our goal is to give every cat and pet a happy, healthy home by providing owners with all information they need to be the best pet parents possible. Our experts share their insights and recommendations to make caring for your beloved pet a breeze.