If you've ever had your cat chew up your flowers, you might be interested in getting them some cat grass. Cats like to eat plants to help with their digestion, so we want them to be eating the right grass for them. The best cat grass can be yours with a simple growing kit and a week of time.
To get you started on the right foot, we've curated a list of the best cat grasses on the market. Here, you'll find the right plants to satisfy your cat's need for grazing. Interested in learning more? Then simply keep reading below.
Top Pick Pet Greens Organic Fresh Cat Grass 3-Pack
Pet Greens 100% Certified Organic Fresh Cat Grass 3-Pack. Natural Cat Treat
Best Cat Grasses to Consider
First, there's the type of grass to choose from. The most common one is wheatgrass, but there are also flax, rye, barley, and oat grasses. They each have slightly different flavors and textures. It's hard to know which type your cat will prefer until they've tried it. But once you know they love a certain grass, you can stick with that one.
Another step to consider is how you'll grow it. While you can purchase pre-grown grass in person at a store, generally when buying online it'll come in a kit with seeds. Don't worry, though, because growing them couldn't be easier. Some kits include small pucks that just require some water to germinate. Others will only include the seeds; you must provide the soil and planter. If you're new to growing cat grass, we recommend finding a kit that includes everything ready to go. If you're already into gardening and have the supplies, a bag of seeds may be all you need.
Before you can start growing your cat's leafy treats, you'll want to check the nutritional value. One of the best types of grass for cats is wheatgrass, which is why it's generally the most commonly available. Other kits include a blend of different grasses, which can be beneficial for a greater variety of nutrients.
Pet Greens Organic Fresh Cat Grass 3-Pack
This three-pack of cat grass lets your cats get to grazing right away. They come pre-grown and ready to eat, so you just have to give them some water and sunlight to keep them growing. This is perfect for testing out how your cat likes wheatgrass. If they take to it, you can continue growing these for two or three more weeks before you have to get new ones.
Of course, none of this matters if the quality of the grass isn't up to par — which thankfully, it is. Pet Green's cat grass uses only the best organic, non-GMO seeds and soil. You can trust that this pack of leafy treats is packed with nutrition.
Top Pick
Pros:
Soft texture easy on the digestive system

Lasts longer than store-pregrown grass

Goes great with cat food

Easily trimmable
Cons:
Initially not as long as pregrown grocery cat grass

Doesn't include extra growing supplies
Miracle Care Cat-A'bout Multi-Cat CatGrass
Gardening for your kitties just got a whole lot easier. This tub of pre-treated soil contains everything you need to get lusciously grown cat grass in merely a week. All you have to do is water it once, then leave it inside out of direct sunlight. It should last a couple of weeks — just make sure your cats aren't eating it too quickly. 
With a wide base, this tub grows a nice volume of grass. So if you have multiple cats, this makes a great choice. We like that it uses barley, oat, and wheat grasses along with vermiculite for a fully balanced nutritional spectrum.
Easiest Setup
Pros:
Highly nutritional with the mix of various types of grass

Can grow as fast as four days

Can be stored before starting to grow

Super affordable
Cons:
May develop some mold if left too damp

Doesn't last as long as some other cat grass brands
The Cat Ladies Organic Cat Grass Growing Kit
Who says cat grass has to be all about the kitties? This kit from The Cat Ladies gives us owners a little treat as well. They include an adorable little ceramic planter to grow your cat grass in, along with a soil puck and a collection of seeds. It looks like a little black cat mug, warming our hearts at the sight.
As for the quality of the grass itself: absolutely top-tier. Instead of just using wheatgrass, this kit also includes oat, barley, and rye grass — all organically grown, non-GMO, and locally sourced. Now that's giving your cats the good fiber they deserve.
Cutest Container
The Cat Ladies Organic Cat Grass Growing kit with Seed Mix, Soil and Black Cat Planter. Natural Hairball Control and Digestion Remedy for Cats
$19.90
Pros:
Deters cats from eating your houseplants

Heavier ceramic is harder for cats to knock down

Highly appetizing to cats

Reusable planter
Cons:
No drainage holes

Breakable container
The Cat Ladies Cat Grass Kit
Growing cat grass in a plastic container is fine, but what about your home decor aesthetic? This wooden planter cat grass kit solves that issue. It looks great next to other houseplants and pots with a rustic wooden texture. And with multiple soil pucks and plenty of seeds, your cats will have a feast of grass to enjoy.
There's plenty of space to grow a small thicket of grass. With proper treatment and care, it can easily last for weeks. And since the planter is reusable, all you have to do is get more seeds, maybe some soil, and repeat the simple growing process.
Best Wooden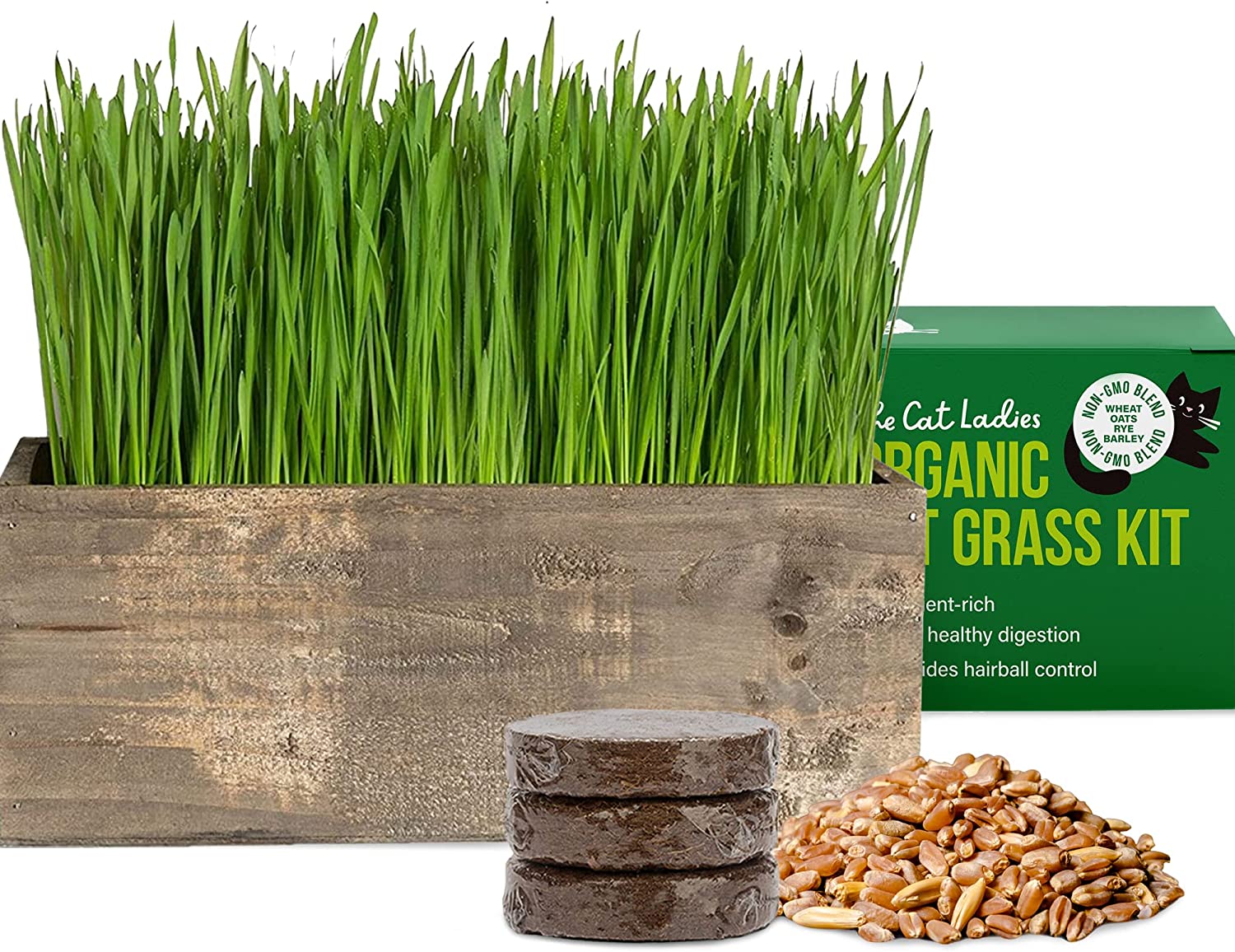 The Cat Ladies Cat Grass Kit Complete with Rustic Wood Planter, Organic Seed and Soil. Easy to Grow - Great for Indoor or Outdoor Cat, Dogs and Other Pets. Prevent Hairballs and Aid Digestion
$28.90
Pros:
Large planting area

High-quality seeds and soil

Grows tall to about six inches

Great for beginners

Works with your own soil
Cons:
Some pickier cats might not find this grass appetizing
Easy Peasy Catgrass Seeds
Are you a  natural gardener at heart? If you've already got the supplies, this bag of cat grass seeds could be all you need. With the proper soil, these seeds grow quickly, easily, and densely. In this bag, you get plenty of cat grass seeds, all organic and non-GMO so you know they're safe and healthy.
Since you can choose the soil and pot yourself, there's no end to the options for growing. Once you find the best combination of soil, seeds, and pot, you can keep cat grass available for a long while. Try keeping it in the fridge when not in use, as this will increase its longevity.
Best Farmgrown Seeds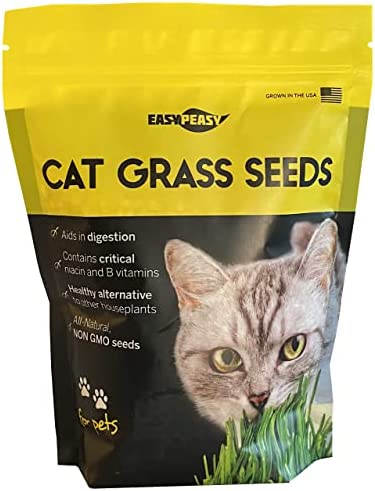 Easy Peasy CATGRASS Seeds | Non GMO | Grown in USA | from Our Farm to Your Home (1POUND(16oz))
$11.50
Pros:
Several months' worth of seeds

Incredibly lush growth, full and soft

Grows quickly
Cons:
Not as easy to grow for beginners
Frequently asked Questions
How much cat grass can I give my cats?
Generally speaking, you shouldn't let your cats eat grass every day since it can give them upset stomachs. And since some cats just don't know when to stop themselves, we must moderate their intake. Restricting access to cat grass by keeping it stored in a cold, dry location is easy and keeps cats from overindulging. We recommend storing the grass in the fridge when not in use or getting some indirect sunlight. This will help to keep it fresher longer, so you can stretch out the purchase better.
How much should I water cat grass?
Proper watering is important in growing healthy cat grass, and finding the right watering routine can be tricky. In general, it's recommended to water cat grass once or twice a week, allowing the soil to dry out slightly between watering sessions. We recommend dipping the soil in water and draining However, factors such as soil type, humidity levels, and container size can affect the ideal watering frequency. To avoid issues like root rot or dehydration, it's important to monitor the soil moisture level regularly and adjust your watering routine accordingly. Finding the right balance can help your cat grass thrive and keep your feline friend happy and healthy.
How long does cat grass last?
As with anything gardening-related, results can vary quite a bit. Generally speaking, you can expect cat grass to last from one to three weeks. You might be able to get up to four weeks if you're lucky and the conditions are right. 
To really increase the longevity of your grass grows, keep them in the refrigerator when not in use. This helps keep them fresh for longer. Another way you can keep them healthy for longer is by trimming the ends to feed your cats, instead of letting them nibble away at their leisure.
WHY TRUST US
Since 2008, Cattime has served as a leading resource for millions of cat owners and pet lovers alike. Our goal is to give every cat and pet a happy, healthy home by providing owners with all information they need to be the best pet parents possible. Our experts share their insights and recommendations to make caring for your beloved pet a breeze.