As a kitten owner, keeping your feline friend healthy is your top priority. You buy them cat toys to keep them entertained and ensure they have the right food to help them grow big and strong. You should also pick up items for their health like the best dewormers for kittens and dental treats.
Unfortunately, everything doesn't always go smoothly along the way. Health issues like worms are a common problem for kittens, and left untreated; they can cause various health problems, including weight loss, diarrhea, and anemia.
That's where dewormers come in; they can help eliminate harmful parasites and keep them from returning. Plus, they're safe, affordable, effective, and easy to use.
With so many dewormers on the market, finding the right one can feel like an overwhelming task. To help you with your search, we've rounded up some of the best dewormers for kittens on the market.
Best Overall Dewormer for Kittens
Elanco Tapeworm Dewormer (praziquantel tablets) for Cats and Kittens 6 Weeks and Older, 3-count
Best Dewormers for Kittens to Consider
There are several factors you should consider when shopping for a dewormer for your kitten. Roundworms, tapeworms, hookworms, and heartworms are among the most common parasites that infect cats.  Since each type of worm requires a different kind of dewormer, you'll want to be sure you choose one designed to treat the type of worm your kitty has or is at risk of getting. You can also consider a broad-spectrum dewormer if your feline friend is infected with more than one type of parasite.
Whenever you're shopping for supplements for your kitty, their safety is paramount. To ensure your kitty's well-being, it's best to choose a dewormer medicine that doesn't use harsh ingredients. Several natural ingredients are effective at getting rid of worms, including papaya, coconut oil, and pumpkin seeds.
Dosage is also an important consideration when shopping for a dewormer because kittens are more sensitive to medications than adult cats. You'll want to choose a product that's appropriate for your kitten's age and weight.
Also, keep in mind your kitty's temperament when choosing a dewormer. If your furry friend is generally calm, administering a dewormer by mouth shouldn't be difficult. However, topically administered dewormers may be a better option if you have a rambunctious kitten.
By taking these factors into consideration when choosing a dewormer, you can help ensure the treatment your kitten receives is safe and effective. Before beginning treatment, we recommend you consult your veterinarian.
Dewormer for Kittens
When your kitty is suffering from tapeworms, you want a  safe and reliable way to treat them fast, and this dewormer from Elanco is ready to help. The formula goes to work quickly to eliminate tapeworms and keep them from recurring. It comes in an easy-to-administer tablet form, helping to ensure a stress-free treatment process.
Crushing the tablet and mixing it in your kitten's food to ensure they take it is one option for administering the medication, or you can put it in a pill pocket to give it to them directly in the mouth. Whatever method you choose, rest assured that the medication will start working immediately. This medication can be used as a one-time treatment, or you can give it to your kitty periodically to keep parasites at bay.
Best Overall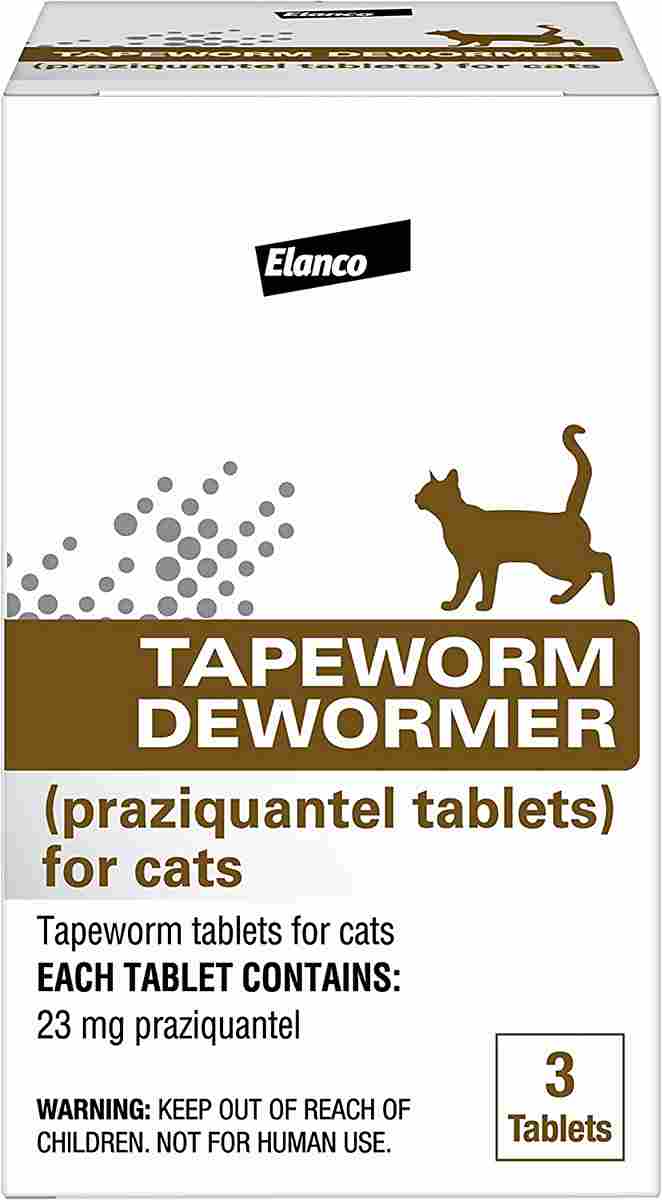 Elanco Tapeworm Dewormer (praziquantel tablets) for Cats and Kittens 6 Weeks and Older, 3-count
$19.18
Pros:
Improvement in condition after a few days of use
The tablet can be mixed in food or given to kittens directly
Effectively removes the most common tapeworms
Safe for kittens when given at the correct dosage
Cons:
Only effective against tapeworms
Hartz UltraGuard Dewormer for Kittens
This budget-friendly dewormer from Hartz uses powerful medication to eliminate roundworm infections in kittens. It comes in a liquid form that you can mix with your kitten's treats, food or apply directly in their mouth. The dosage is one teaspoon per five pounds, and the medication is safe for eight weeks or older kittens.
It works by paralyzing roundworms, which allows your cat to pass them in their stool. Since this product can cause unpleasant side effects if given in an incorrect dosage, it's important to weigh your cat before administering it to ensure the proper dose.
Two doses of the medication are required to eliminate roundworms from your cat's system. You can give them the second dose two weeks after the initial treatment.
Runner Up
Pros:
Active ingredient has been proven safe and effective
Comes in a liquid form, making it easy to give kittens the right dose
More affordable than many other options and just as effective
Can be added to your kitten's food or given directly by mouth
Cons:
It is only effective against roundworms
HomeoPet Broad Spectrum Dewormer for Cats
This broad-spectrum dewormer from HomeoPet does it all, combatting tapeworm, whipworm, roundworm, and hookworm infestations in kittens without using any harsh chemicals. The gentle yet effective formula is made with natural ingredients that are safe for kittens of all ages and sizes, so you won't have to worry about any of the ingredients harming your feline friend.
Not only is this dewormer a safe option, but it's also incredibly easy to use. Simply add the recommended dose to your cat's food or water, and let the medicine do the rest! No more struggling to get your cat to swallow pills or applying messy topical treatments.
In addition to its powerful anti-parasitic properties, it can also help improve your cat's overall health and well-being. Its natural ingredients work to support healthy digestion and immune function.
Best Broad Spectrum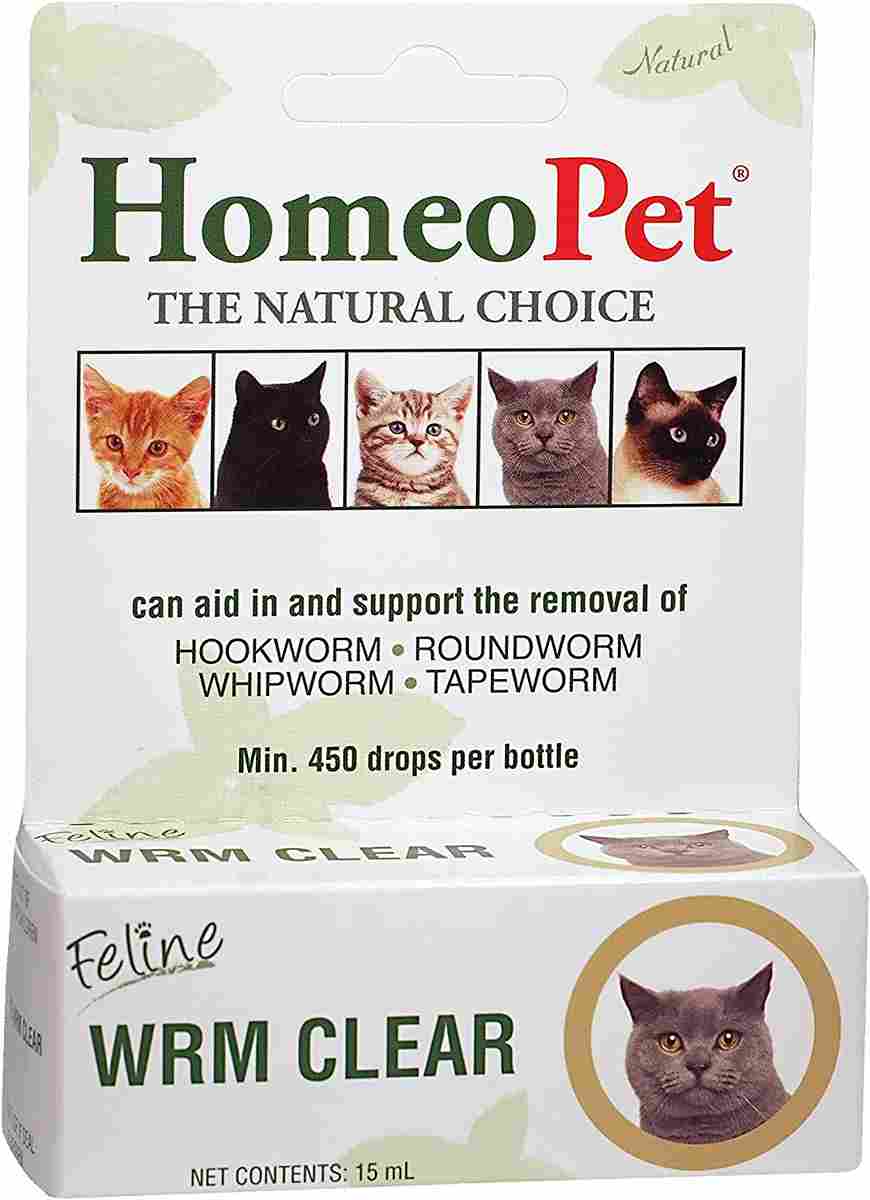 HomeoPet Feline WRM Clear, Natural Tapeworm, Whipworm, Roundworm, and Hookworm Medicine for Cats, 15 Milliliters
$19.99
Pros:
Made with natural ingredients that are safe for cats of all ages and sizes
Works against a range of common worms
Easy to administer by adding recommended dose to cat's food or water
Supports healthy digestion and immune function
Cons:
May not be effective against rare or severe worm infestations
Herbal Dewormer for Kittens
If your kitty is sensitive to the medications used in other dewormers, this all-natural formula from FurFinds could be the solution. The powerful supplement is designed to rid your kitten of parasites and toxins, keeping them healthy and happy.
The formula is made from a blend of natural ingredients, including wormwood, black walnut, and clove. They work together to protect your pet from worms and help keep them from coming back. It doesn't end there; the remedy also helps strengthen their immune system by promoting healthy digestion and flushing unwanted toxins from your furry friend's body.
It doesn't use any harsh ingredients and is safe for kittens of all ages and sizes. All you have to do is add the recommended dose to your kitten's food or water and watch as they enjoy improved energy, a healthier coat, and better overall health.
Best Natural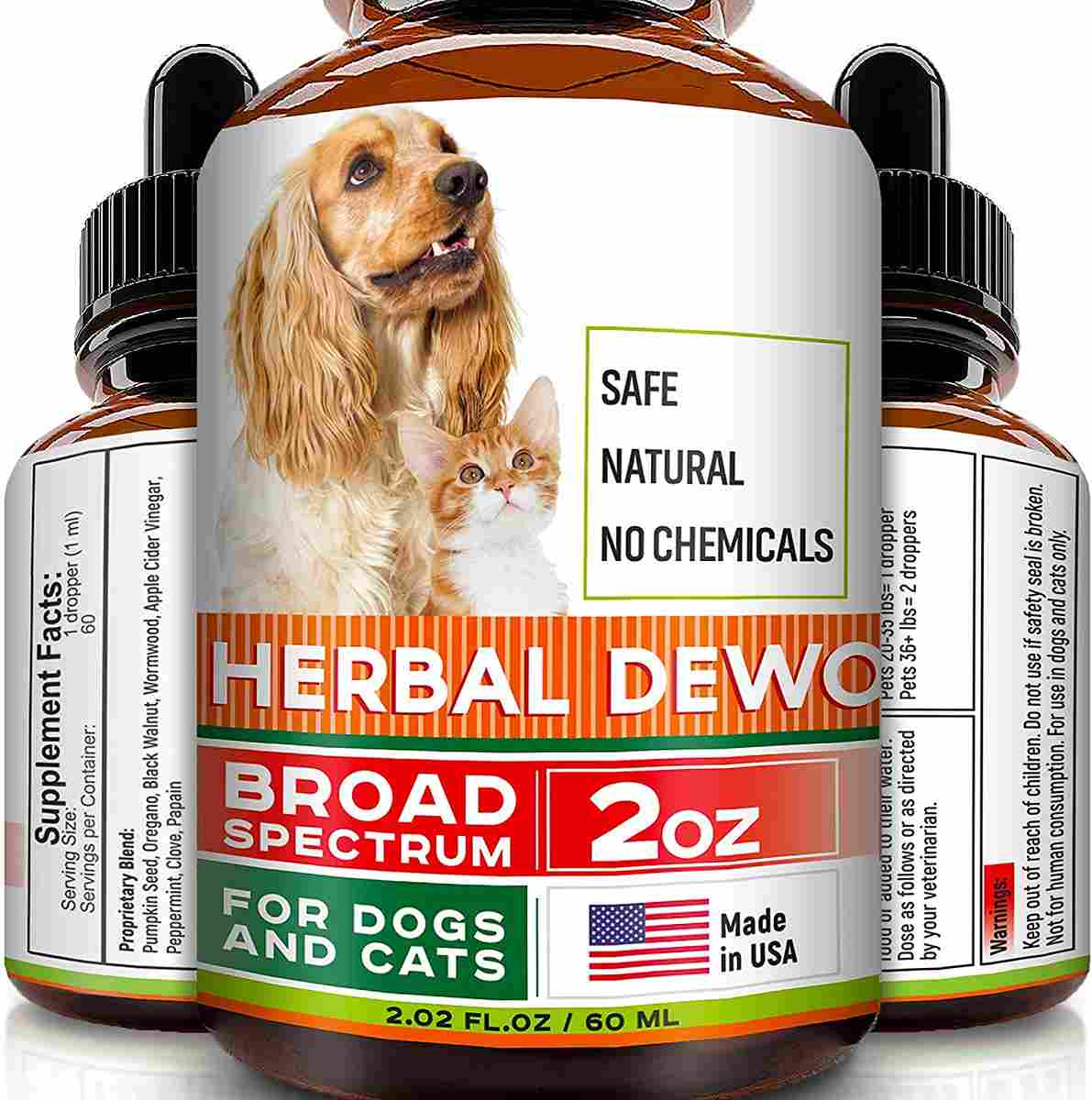 Herbal Cleanse fot Cats and Dogs - Homeopathics Parasites and Toxins for Dogs and Cats - All Breeds and Size - Puppy & Kitten - 2oz
$19.91
Pros:
Formulated with all-natural ingredients, making it safe for cats of any age or size
Promotes healthy digestion and immune function
Gently rids cats of harmful parasites and toxins
Quick and easy to use by adding to kitten's food or water
Cons:
Some cats may not like the taste
Wormeze Gel Dewormer for Kittens
If you're looking for an easy and effective way to rid your feline friend of pesky worms, look no further than this dewormer from WormEze. The product works quickly to treat large roundworms, the most common intestinal parasite found in cats of all ages. Depending on the severity of the infestation, you may note significant improvements in your kitten's energy levels and general health.
Since it can also be used to treat dogs, it's a versatile option for pet wonders with multiple furry friends in their household. The tasty gel is easy to administer directly in your kitten's mouth or by mixing it with their food and will please even the most finicky eaters.
Best Gel
Pros:
In addition to kittens, this formula can treat dogs, making it great for multi-pet households
Works quickly to get worm infestations under control
The gel can be administered by mouth or by mixing it with food
Improves energy levels and overall health
Cons:
Frequently asked Questions
When should I start deworming my kitten?
A good rule of thumb is to begin deworming your kitten at six weeks of age. You can continue to use deworming treatments on your kitten every two to three weeks until they reach 16 years of age. After that, they should be dewormed every three to four months.
Can I use a dewormer meant for adult cats on my kitten?
All of the dewormers on our list are safe for kittens and adult cats. However, we don't recommend using a dewormer designed specifically for adult cats on kittens because they may require a different dosage or type of medication.
Are there any side effects of deworming my kitten?
Side effects are generally rare when using dewormers on kittens. However, some kittens may experience mild side effects such as diarrhea, vomiting, or lethargy. Contact your veterinarian immediately if you notice any severe or persistent side effects.
Can I prevent my kitten from getting worms?
You can do several things to help prevent your kitten from getting worms, such as cleaning their living area regularly, keeping them away from other animals that may have worms, and practicing good hygiene when playing with your kitty. Also, feeding them with great-quality cat food and extra vitamins can help their immune systems.
WHY TRUST US
Since 2008, Cattime has served as a leading resource for millions of cat owners and pet lovers alike. Our goal is to give every cat and pet a happy, healthy home by providing owners with all information they need to be the best pet parents possible. Our experts share their insights and recommendations to make caring for your beloved pet a breeze.