Like us, after a nourishing meal or refreshing sip, it isn't long until nature calls for our cats. If your cats spend most of their time inside, or if you live in an apartment or building without outdoor access, you won't want them improvising a toilet wherever they see fit. Litter boxes are a valuable tool for indoor cats. But, as anyone with experience will know, even the best-kept litter trays can smell foul from time to time. You don't have to be resigned to living alongside the smell of cat nastiness, though. Take a look at some of these odor-control litter boxes and you could get the smell under control once and for all.
Best Odor Control Litter Boxes to Consider
Odor control litter boxes come equipped with various technologies to keep nasty smells at bay. What makes them different from standard litter boxes is the addition of an air purifier, a filter, or some other odor-neutralizing technology. The simplest solution for keeping litter box odors at bay is by enclosing the scene of the crime, so there are also several sealed designs. Depending on your budget, you might also consider options with additional features like intelligent sensors and automatic cleaning.
Our favorite litter box for odor control comes from Amazon Basics. This straightforward solution is effective and affordable, with a concealed design that offers your kitty a bit more privacy as they attend to business while also containing the smell of their mess inside. To reduce odor even further, this option comes equipped with a replaceable carbon filter.
The smell of a litter box isn't just about what's left inside. If your cat is prone to tracking litter all around the house, you might be looking for a design that captures loose particles inside. For this, the top-opening design from Iris USA can't be beaten.
Hooded Cat Litter Box
If there's one thing that contributes to litter box smell, it's the mess. This hooded design from Richell helps to capture odor at the source, with an enclosed design that works to keep loose litter inside the box, as well as those pesky scents. The removable hood also gives your kitty a little extra privacy as they attend to their business, and can be easily opened up for cleaning. We like that you get a handy scoop with this one, which you can easily store in the upper part of the hood ready for when you need it.
Top Pick
Pros:
Made from durable hard plastic
Easy to clean
Removable hood traps smells inside
2 colors available
Cons:
No door or filter with this one
Tucker Murphy Top Entry Cat Litter Box
Open litter boxes can reek to the high heavens, even after just a few toilet visits from your furry friend. However, this top-entry design from Tucker Murphy keeps things a little more contained, with a walled enclosure and a semi-sealed top to capture most of those unpleasant smells inside. Entry from above also means that your cat is less likely to shed loose litter on the floor around the litter box, which is great news for your carpets! The lid itself also features a grooved pattern to capture loose litter, helping to keep the surrounding area clean and tidy.
Runner Up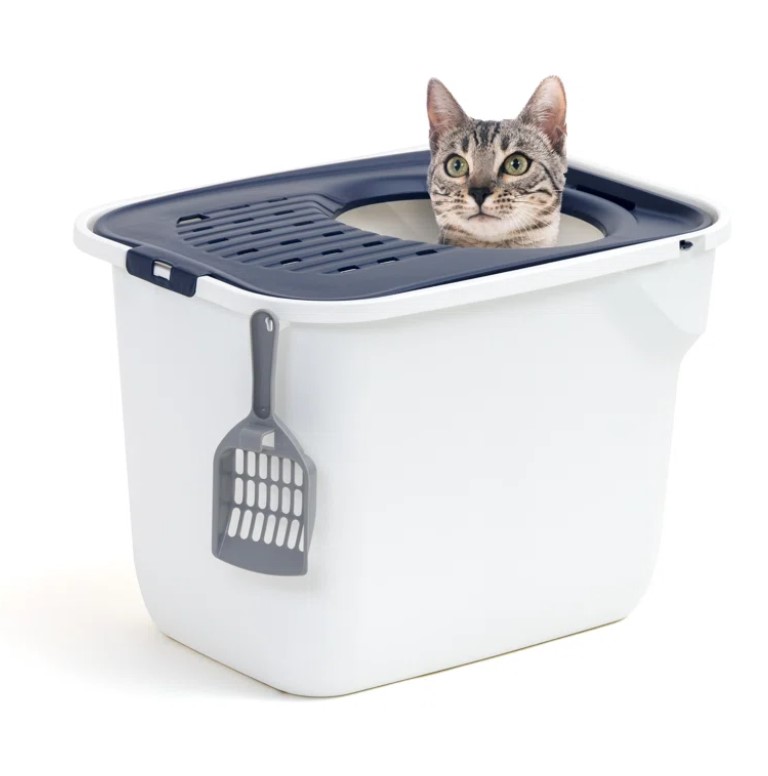 Top Entry Cat Litter Square Box With Scoop, White/Navy Blue/Gray Alloy Top Entry Cat Litter Square Box With Scoop, White/Navy Blue/Gray Alloy Top Entry Cat Litter Square Box With Scoop, White/Navy Blue/Gray Alloy Top Entry Cat Litter Square Box With Scoop, White/Navy Blue/Gray Alloy Top Entry Cat Litter Square Box With Scoop, White/Navy Blue/Gray Alloy Top Entry Cat Litter Square Box With Scoop, White/Navy Blue/Gray Alloy Top Entry Cat Litter Square Box With Scoop, White/Navy Blue/Gray Alloy
$27.99
Pros:
Litter scoop included
The large opening will fit most cats
Sleek, unobtrusive design
Great value
Cons:
It can be tricky to train your cat to use this litter box
Wide-Entry Jumbo Foldable Cat Litter Box
If you're in the market for a cat litter box that's both safe and functional, look no further than this gem by… you guessed it: Tucker Murphy. Made from durable plastic, this litter box should last and last, even with your kitty troupe padding in and out all day.
With its lower entry, it's perfect for older cats who may have trouble jumping, as well as small kittens who haven't quite found their feet yet. And, one of the best parts: cleanup is a breeze thanks to the pull-out tray and included litter scoop. But besides all of this, possibly the most stand-out feature is the large hollowed-out area on the ceiling, which may not look like much, but in fact, helps filter any lingering litter back into the box when your cat jumps out.
Best for Multiple Cats
Pros:
Excellent value
Jumbo size for multiple cats
Pull-out drawer for easy cleaning
Scoop included
Cons:
Top entry may take some getting used
PetMate Arm & Hammer Cat Litter Box
Keeping your home free from the pungent whiff of cat poo doesn't have to cost an arm and a leg. This versatile litter box from Petmate utilizes smart materials to keep odor to a minimum. The plastic tray is treated with Arm & Hammer Microban to inhibit the build-up of bacteria and other nasty microorganisms that contribute to strong smells. And thanks to the sifting pan above, there's no need to use a scoop when it's time to remove their business.
Best On A Budget
Pros:
Made from recycled plastic
Works with pellet litter, silica litter, crystal litter, clumping litter, and more
Made in the USA
Cons:
Some might miss the lack of a cover
Foldable Cat Litter Box
It can be a little trickier to train your cat to enter an enclosed litter box when nature calls, but if you can muster the patience to do so, these shielded boxes are much better at controlling odor. This clever design features a nifty one-way transit system, with a side door for entry and a top opening for them to exit. As they clamber out of the top, they'll be naturally brushed free from excess litter particles, keeping the mess at the scene of the crime. Plus, we can't ignore that cute kitty face door detail, elevating this one to adorable heights.
Also Consider
Pros:
Foldable for easy storage
Pull-out litter tray for easy waste disposal and cleaning
Litter scoop included
Strong plastic design
Cons:
Older cats might struggle with the top exit
Frequently Asked Questions
How often should I empty my litter box to avoid odor build-up?
It depends on the number of cats you have and their bathroom habits. Generally, it's best to scoop cat litter and dispose of solids at least once a day and thoroughly clean out the entire box with a pet-safe cleaner and water every 1 – 2 weeks.
Is an odor-control litter box better than regular litter boxes?
An odor control litter box usually has an advanced odor neutralizer system that can help eliminate cat urine and feces smells more efficiently compared to traditional boxes. Normally, these odor eliminators are either in a top filter or in replaceable cartridges located inside the lid.
What type of litter is best for odor-control litter boxes?
Typically clumping clay litters work best as they form solid clumps when liquid comes into contact with them, trapping odors in the process while also making waste easy to remove from the bottom of the pan. Furthermore, if your specific model contains carbon charcoals as part of its filtration system then look for litters made without intense dusting agents since these particles can sometimes block up filters over time.
Do I still need to add baking soda when using an Odor Control Litter Box?
No! Most modern models contain features such as a built-in air freshener or materials like activated carbon that won't require you to add supplementary substances into your cat's potty space environment.
Are there any special tips when cleaning my cat's odor-control litterbox?
Besides just dumping out soiled contents, it is essential to scrub any caked-on messes after each use. Also, make sure that you completely dry off all surfaces (especially porous plastic) before refilling them with fresh litter.
WHY TRUST US
Since 2008, Cattime has served as a leading resource for millions of cat owners and pet lovers alike. Our goal is to give every cat and pet a happy, healthy home by providing owners with all information they need to be the best pet parents possible. Our experts share their insights and recommendations to make caring for your beloved pet a breeze.