Cats are known to be clumsy, messy, and a bit moody which can result in occasional accidents in your home. Whether you're litter training a new kitten or caring for an elderly cat that has trouble making it to the box, it's important to have a cat urine remover on hand to promptly clean up any stains and smells so that your home stays fresh. To make these accidents less stressful, we've done the work of finding the best cat urine removers on Amazon that you can add to your cart right now.
Best Cat Urine Removers to Consider
When picking a kitty urine remover, you want to make sure you are finding a product that can efficiently rid your home of stains and smells without causing more damage. There are many types of stain removers, including sprays, foams, and scrubs that can be used on different surfaces without harming them. If carpet is your main problem, picking a scrub is a great option for cat urine stains; however, you wouldn't want to use a scrub on a blanket or other soft fabric.
It is also important to find a formula that won't harm your cat or dries quickly so that you can keep your pet in a separate room while the formula is wet and filling the air with its fragrance, deftly getting gone of any cat urine odor and eliminating fresh stains. You should also keep in mind your own preferences for cleaning supplies, such as being eco-friendly, avoiding ingredients you are sensitive to, and more.
Woolite Insta Clean
For a durable clean that works every time, you can rely on Woolite to rid your home of cat stains and odors. Whether your pet has an accident on your furniture, their cat condo or the carpet, you can use this spot treatment to quickly bring that area back to life. The product features a great scent that will immediately relieve you of pet odors, and best of all, the spray is known to work out stains in just 30 seconds.
Top Pick
Pros:
quick stain removal
great scent
works on multiple types of stains
Cons:
Roxie & Rocco Cat Urine
This strong spray from Rocco & Roxie is exactly what you need to maintain a fresh home despite your pet's accidents. We love that it works for dog and cat stains, making it a great option for multi-pet households.
The formula is also safe for pets and children, so you don't have to worry about keeping a tight eye on the area while the ingredients go to work on those pet stains and eventually dry. The spray includes natural enzymes that don't just cover up the cat urine odor, but permanently remove it and any stain the accident left behind.
Runner Up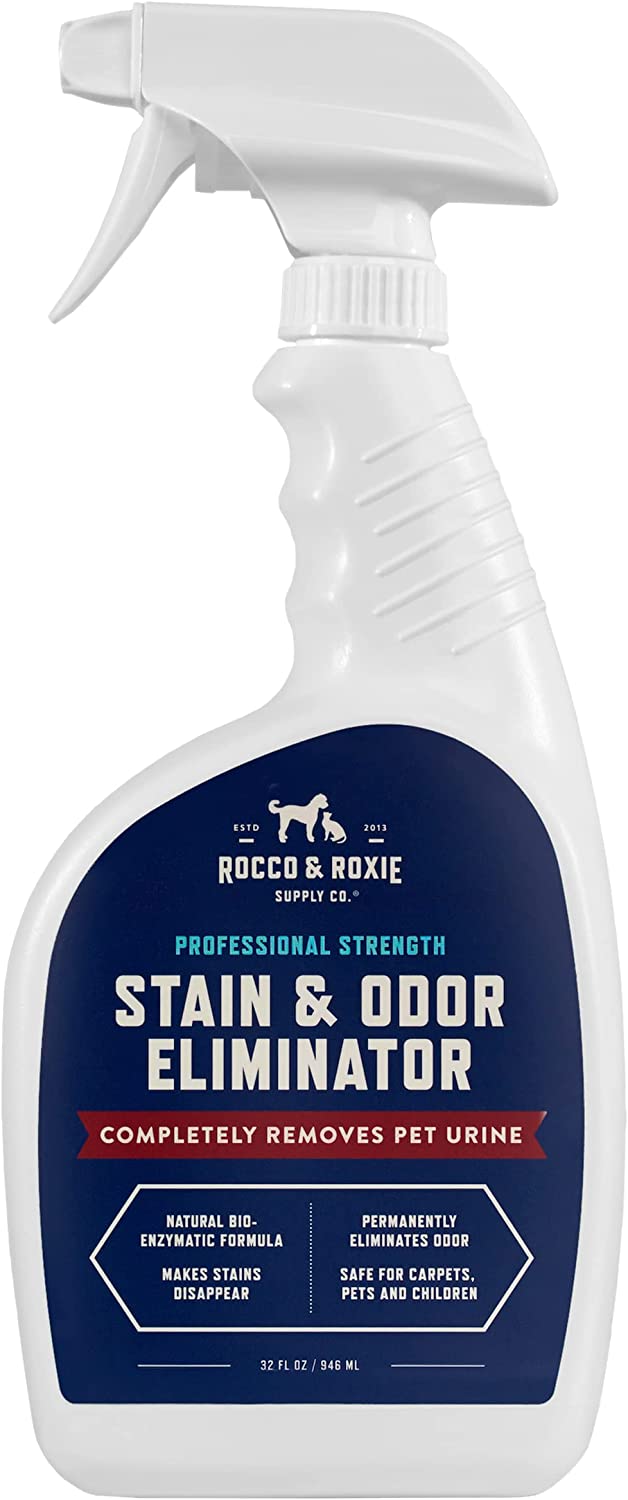 Rocco & Roxie Stain & Odor Eliminator for Strong Odor - Enzyme Pet Odor Eliminator for Home - Carpet Stain Remover for Cats and Dog Pee - Enzymatic Cat Urine Destroyer - Carpet Cleaner Spray
$19.97
Pros:
32-ounce bottle
Safe for carpet
Chlorine-free
Cons:
Nature's Miracle Cat Urine Remover
If you need a strong formula that is able to tackle deep and old stains, look no further than Nature's Miracle cat urine remover. This foam formula goes deep into any surface to clear out stains and cat urine odors and fully eliminates them once it has dried.
The formula is safe for your home and pets as long as you follow the simple instructions for use. Use the handy spray bottle to spritz the area where the accident occurred, allow the formula to sit for 15 minutes, then blot the stain with a cloth and allow it to continue working for 24 hours. If the scent isn't disappearing right away, don't worry, the odor will only be gone once the formula has had time to set in and fully dry.
Quick Fix
Pros:
Disinfects bacteria and viruses
Dual-action oxy formula
Includes enzymes
Cons:
Carbona Oxy-Powered Pet Stain Remover
For stains that have set into carpet and furniture, you may benefit from using this urine remover and scrubber duo. It features a strong oxy foam formula that penetrates even the deepest stains to remove their appearance and odor, and a strong scrubber that helps you remove any sticky residue, allowing the formula to sink in faster.
We love that this formula is suitable for cat and dog mess, as well as particularly stubborn pet stains, allowing you to clean up any mess without cluttering your cleaning supply closet. It is also safe for use around children, keeping your home functioning while you tidy up.
Also Consider
Pros:
22-ounce bottle
Sponge and bristle head
Permanently neutralizes odor
Cons:
Cannot be used on delicate surfaces
Bissell Pet Pro Urine Remover
Whether your pet has made a large mess, or continues to go in the same unwanted spot, Bissell Pet Pro can help. This cat pee-removing formula works in upright carpet cleaners to penetrate deeply into large stains and deter your pet from peeing there again.
We love that this stain remover is hard on stains but gentle on your home. It is safe for use around children and pets when used properly, and includes biodegradable detergents to keep your home more eco-friendly.
Best Prevention
Pros:
safe choice
helps prevent future accidents
great for large areas
Cons:
works best with a carpet cleaner
Angry Orange Pet Odor Eliminator Urine Remover
If you're looking for a more eco-friendly and space saving alternative to traditional pet sprays, Angry Orange is your new best friend. This cat pee-removing concentrate features enough product for four 32-ounce bottles, allowing you to reuse a glass spray bottle and bring less plastic into your home.
The formula includes odor-eliminator enzymes and natural orange oil to reach and remove any cat pee smells your pet has left behind. We love that it can be used on any household surfaces you need including carpet, grass, tile, and furniture, as well as your cat's litter box.
Best Space-Saving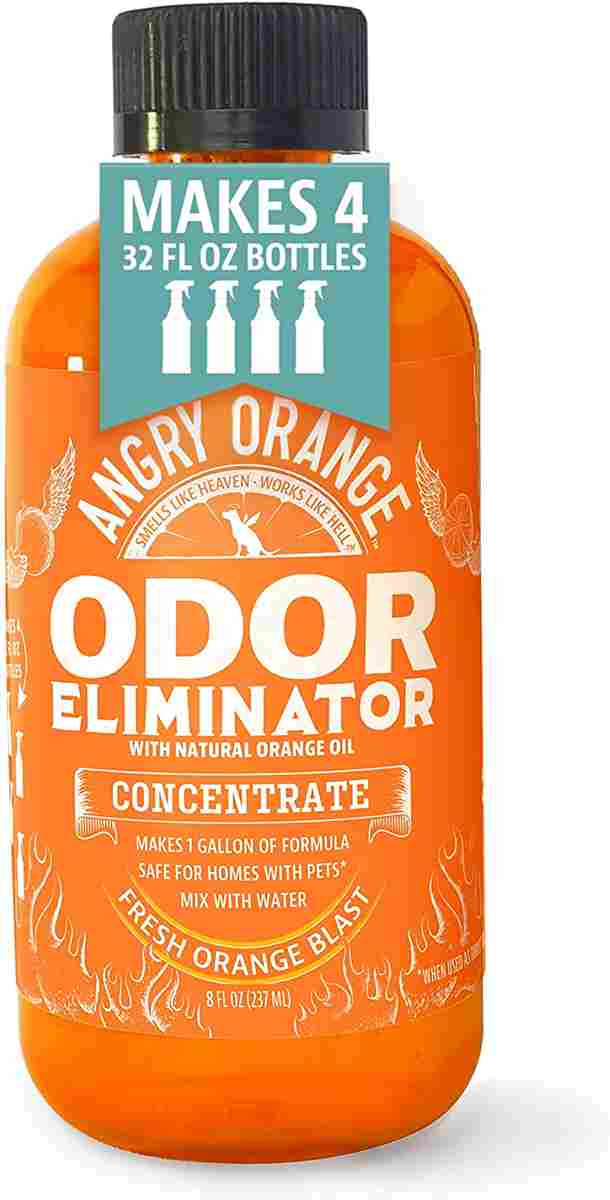 Angry Orange Pet Odor Eliminator for Home - 8oz Dog and Cat Pee Smell Remover for Carpet, Grass, Tile and Furniture - Citrus Concentrate, Makes 128oz of Liquid
$25.97
Pros:
Eight-ounce bottle
Pet-friendly
Pleasant orange scent
Cons:
Cannot be used on leather
Kids 'n' Pets Odor and Urine Remover
If you're looking for a do-it-all odor and stain remover that can clean up clothes, blankets, and other washable items, look no further than this urine remover from Kids 'N' Pets. The formula can be used with your laundry detergent, or applied directly to the urine stain before washing, to get your favorite items back in use as soon as possible.
If items that can't be washed have fallen victim to your pet's mess, don't worry. You can use this as a traditional urine remover by saturating the area, allowing it to sit for 10 minutes, then blotting the stain and allowing the formula to dry. It'll remove cat urine odor, too, so you'll beat the problem in one fell swoop.
Best Non-Toxic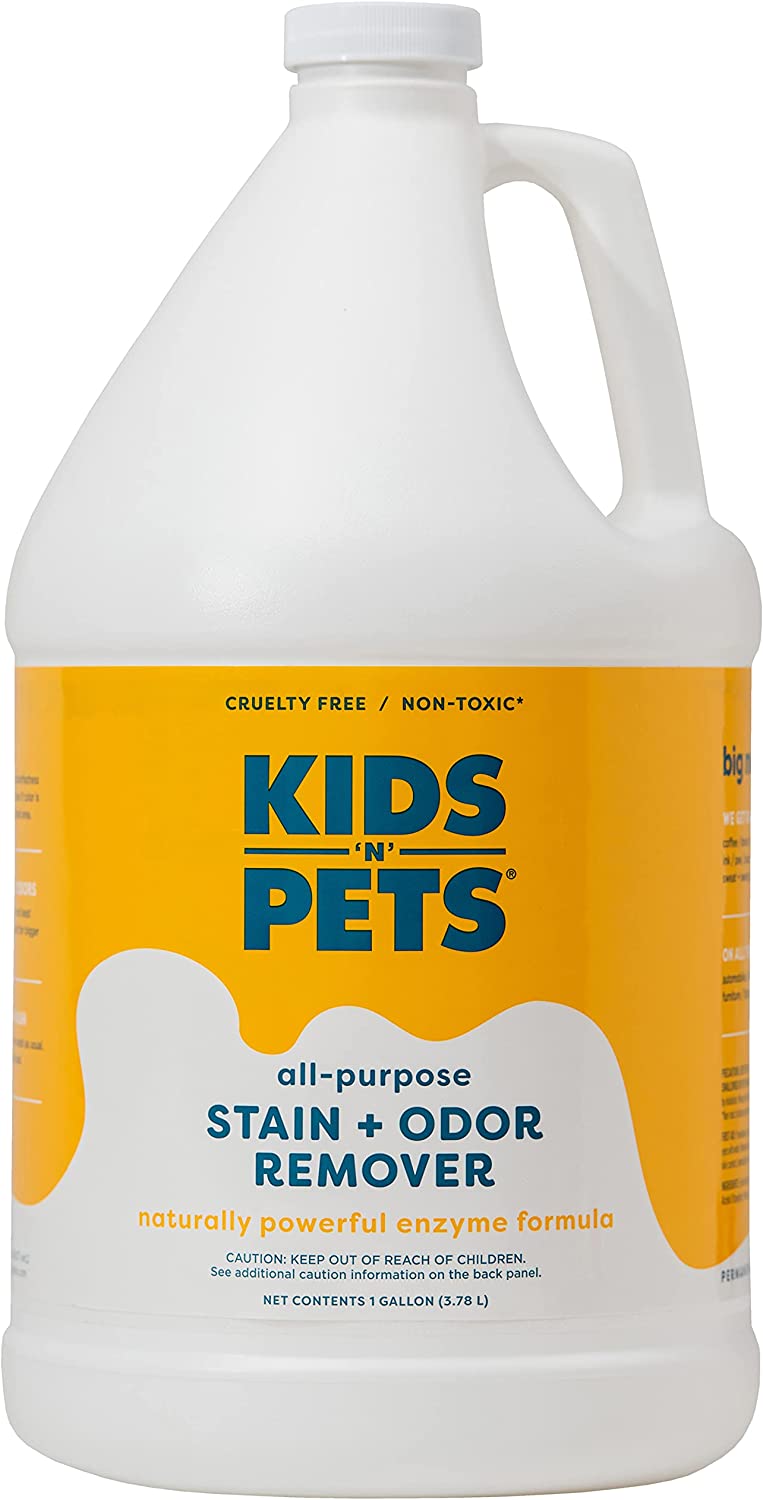 Roll over image to zoom in 4 VIDEOS KIDS 'N' PETS - Instant All-Purpose Stain & Odor Remover – 128 fl oz (Packaging May Vary) - Permanently Eliminates Tough Stains & Odors – Even Urine Odors - No Harsh Chemicals, Non-Toxic & Child Safe
$20.99
Pros:
Biodegradable
Non-toxic
Natural enzyme formula
Cons:
Essential Information on Cat Urine Remover
The world of kitty urine-cleaning products can seem overwhelming if you don't know what to look out for, so we've compiled a quick guide to help demystify the subject:
Active ingredients
Basically, cat urine removers usually contain enzymes that break down the proteins in cat urine and neutralize the odor. The enzymes used in these products are typically proteases, which are enzymes that break down proteins into smaller peptides and amino acids. Some cat urine removers also contain other ingredients such as surfactants, which help to remove the urine from surfaces, and odor-neutralizing agents, which help to mask any remaining odors. But don't get too bogged down with the details: in short, it's most important to choose a cat urine remover that contains enzymes to ensure that the odor is eliminated at its source. Thankfully, this will normally be advertized on the packaging.
What Else You Can Clean With Enzyme Cleaners
Enzyme cleaners are not just for cat pee. Oh, no. These powerful cleaners can tackle a wide range of stains and odors caused by organic matter. They work by breaking down the proteins and other organic compounds that cause stains and odors, leaving your surfaces clean and fresh-smelling. Enzyme cleaners can be used to clean up after pets, remove food stains, and even tackle tough laundry stains. They can also be used to clean carpets, upholstery, and other fabrics, as well as hard surfaces like floors and countertops. So, the next time you have a stubborn stain or odor that just won't go away, try an enzyme cleaner and let the power of enzymes do the work for you.
Know What You're Buying
When it comes to enzymatic cleaners for cat pee (and other stubborn stains), there are a few different types to choose from, each with its own benefits. Concentrated cat pee removers are highly potent and are designed to be diluted with water before use. These urine removers are best for large or stubborn stains and can be used to clean carpets, upholstery, and other surfaces.
Spray formulas, on the other hand, are ready to use right out of the bottle and are perfect for smaller stains or for treating specific areas. They can be used on carpets, furniture, and even clothing.
Other types of enzymatic cleaners, such as laundry detergents and dishwashing liquids, are designed for specific applications and can be used to remove tough stains and odors from clothing, dishes, and other surfaces.
No matter which type of enzymatic cleaner you choose, be sure to read the instructions carefully and follow the recommended dilution ratios for best results. With the power of enzymes on your side, tough stains and odors don't stand a chance.
Frequently Asked Questions
Are cat urine removers safe to use around pets?
Yes, most formulas are safe to use while your pet is in the home. However, you should try to keep your pet away from the area to ensure that they are not bothered by the smell and do not try to lick any of the product while it is still wet. Once fully dry, your pet can explore the area safely.
Do cat urine removers work for old stains?
Sometimes. It is always best to treat a stain as soon as possible to prevent the smell and appearance from setting in place. If you have forgotten about a pet urine stain, or didn't have access to a cleaner, most removers will still work. They may require multiple rounds of cleaning, extra time to soak, or added scrubbing to fully remove the stain.
Why is my cat going outside of the litter box?
There are many reasons why your cat may be urinating outside of their box. If this is a frequent issue, it is best to check with your vet to see if anything specific is causing the behavior and how you may be able to fix it.
Some reasons cats go outside of their litter boxes include: young kittens who are not litter box trained, a dirty litter box, switching to a new litter, stress and anxiety, arthritis, and trouble getting in and out of the litter box.
What enzyme breaks down cat pee?
The enzyme that breaks down cat pee is called urease. This powerful enzyme is produced by bacteria found in cat urine, and it is responsible for breaking down the urea in the urine into ammonia. Unfortunately, this process can create a pungent smell that can be difficult to remove from carpets and other surfaces. To combat this odor, it's important to use cleaning products that contain enzymes that can break down the urease and neutralize the odor; if you're not sure where to start, don't worry, our guide has heaps of options.
What is the best way to get rid of cat urine smell?
The best way to get rid of cat urine smell is to clean the affected area thoroughly with an enzymatic cleaner designed specifically for removing pet odors (our guide has a bunch of great options, FYI!). These cleaners contain enzymes that break down the proteins in cat urine, eliminating the odor at its source.
It's important to follow the instructions on the cleaner carefully and repeat the cleaning process as needed until the odor is completely gone. Also, proper ventilation and air circulation can help to reduce the odor and prevent it from lingering in your home.
WHY TRUST US
Since 2008, Cattime has served as a leading resource for millions of cat owners and pet lovers alike. Our goal is to give every cat and pet a happy, healthy home by providing owners with all information they need to be the best pet parents possible. Our experts share their insights and recommendations to make caring for your beloved pet a breeze.