Natural cat litter is the most eco-friendly choice for your feline, being safer for them, for you, and for the environment. Indeed, these litters offer numerous benefits to both cats and their owners:
For starters, these litters are made up of natural materials like wood, wheat, corn, and other plant-based materials. This means that it is free of chemicals and toxins, making it safer for cats and their owners. Natural litter also does not contain any artificial fragrances or dyes that can be harmful to cats.
Another huge benefit? The cat litter is far more absorbent than traditional cat litter. In short, that means that it's fantastic at trapping odors and helps keep your home smelling fresh and clean—which cat owners know, isn't the easiest task when you've got kitties running around. Converted? We thought so. Read on for our guide to the best natural cat litter.
Top Pick Naturally Fresh Cat Litter
Naturally Fresh Cat Litter - Walnut-Based Quick-Clumping Kitty Litter, Unscented , 26 lb (23001)
What to Consider When Buying Natural Cat Litter
Cost
When you're on a budget, cheap cat litter may seem like a tempting option, but spending a bit more for natural alternatives tends to be worth it. Natural cat litter is usually more expensive than traditional clay-based or crystal-based options, but trust us: it's worth spending that little bit extra to keep your home clean and your pet healthy.
Materials
Keep an eye out for natural cat litter made from corn, wheat, walnut shells, recycled newspaper, and pine pellets, as these are the healthiest and most effective options. Not to mention, the new kid on the block: tofu cat litter, which is a great choice, too.
Naturally Fresh Cat Litter
Walnut-based kitty litter might sound weird, but it's actually an excellent material to soak up your cat's poops and wees. Completely dust-free, this cat litter doesn't cause a cloud when you fill up or empty the litter tray, making the entire experience much more pleasant. Formulated to avoid sticking to your cat's paws, you won't find trails of pawprints all over your floor, either. That said, having a quality cat litter mat works wonders in reducing mess, too.
This cat litter is designed to be more absorbent than traditional clay litter, so you'll likely find the bag lasts you longer, too. You can pick up this natural cat litter in a range of sizes, but we advise going for the bulk-buy 40lb option, so you're set for a while.
Top Pick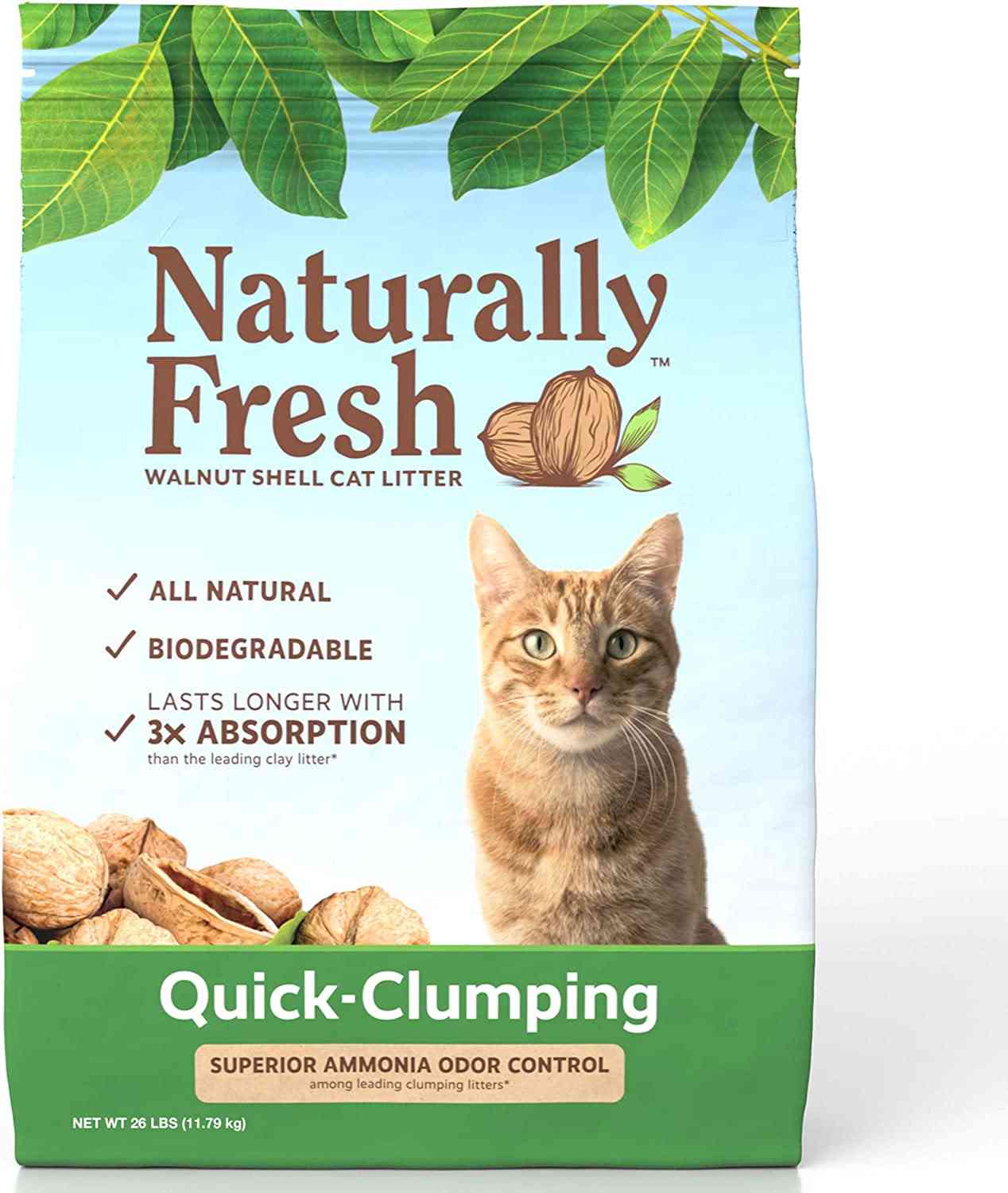 Naturally Fresh Cat Litter - Walnut-Based Quick-Clumping Kitty Litter, Unscented , 26 lb (23001)
$28.94
Pros:
All-natural walnut-based cat litter
Unscented
Fast-clumping
Dust-free formula
Great value
Cons:
For best clumping results, fill your litter tray quite deeply
Arm & Hammer Natural Cat Litter
Arm & Hammer might be best known for their toothpaste and baking soda, but they're a dab hand at making great-quality cat litter, too. Yep, this natural cat litter by one of our favorite brands uses (you guessed it) baking soda mixed with corn and plant extracts to create a highly absorbent litter for your kitty.
Easy to scoop, offering fabulous odor-control, and featuring a little extra fragrance to mask any unpleasant smells, this natural cat litter has everything we're looking for. On the flipside, it's not the best low-tracking, so you might find a few pawprints dotting about.
Runner Up
Pros:
Easy to scoop and great clumping qualities
Made from baking soda, plant extract, and corn
Excellent odor-control
Added fragrance
Cons:
Purina Natural Cat Litter
Oozing the luscious scent of lemongrass, you can say goodbye to stinky litter trays once and for all with this natural clay cat litter. Presented in a recyclable box (which is great for eco-conscious households), this cat litter is a one-and-done solution to your kitty litter needs.
Boasting 12-day odor-control and dust-free properties, this natural cat litter keeps the tray area smelling fresher for longer, and skips those pesky dust clouds on refresh day.
Great Choice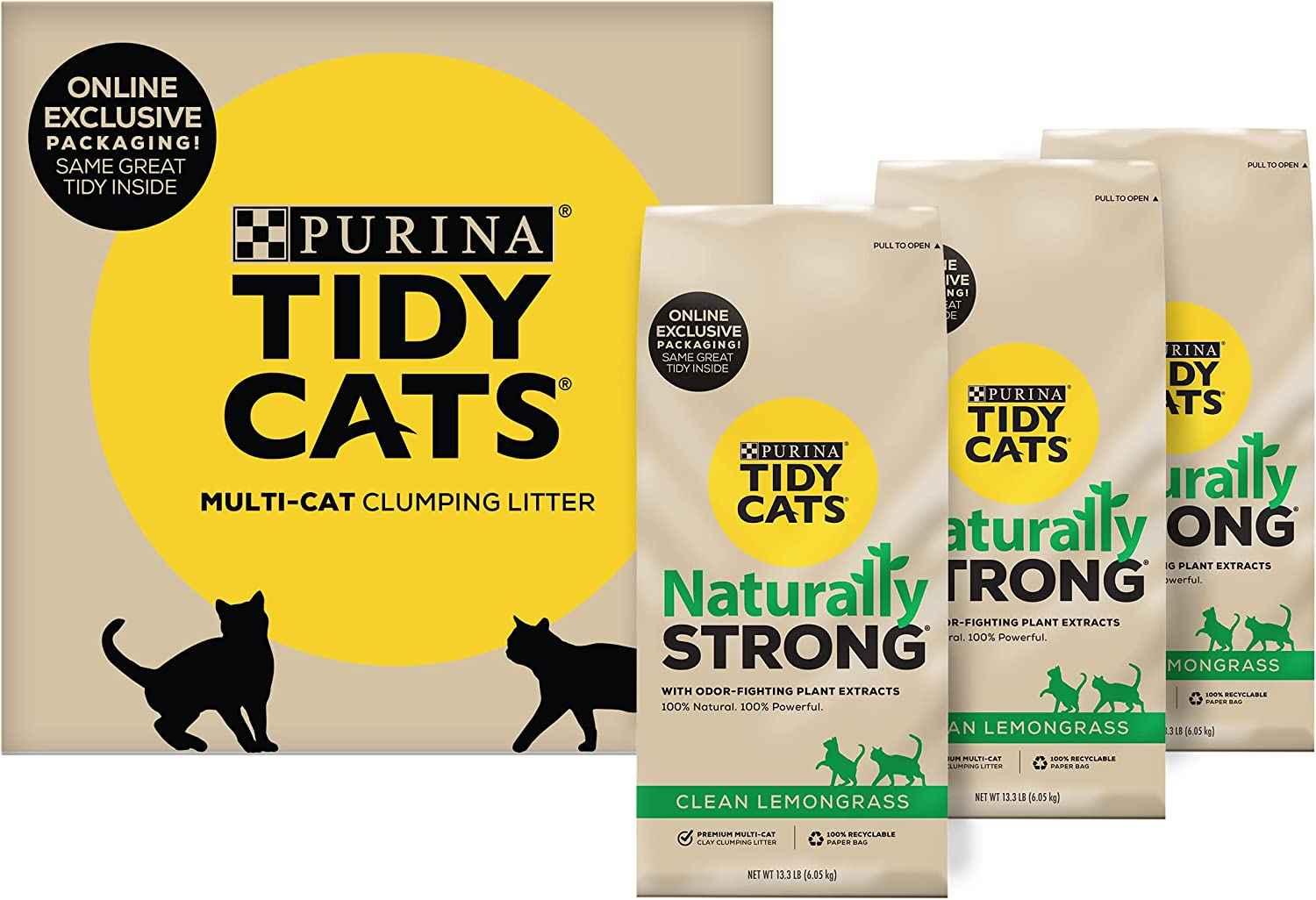 Purina Tidy Cats Natural Cat Litter, Naturally Strong Clean Lemongrass Scent Clay Cat Litter, Recyclable Box - (3) 13.33 lb. Bags
$53.00
Pros:
12-day odor-control
Virtually dust-free formula
Recyclable packaging
Natural lemongrass scent blend
Highly absorbent
Cons:
Again, this one can leave a little tracking
ökocat Natural Wood Cat Litter
Almost entirely dust-free, made with natural wood, and serving up brilliant clumping when wet, this wood cat litter is an eco-friendly choice. Pair it with an odor-control litter tray and you're golden.
It's plant-based, and free of dyes, artificial fragrance, GMOs, and chemicals, so it's a brilliant option for families looking to cut down on unnecessary chemicals, too. We love that this one's biodegradable and compostable, so you can pop it in the compost bit ready for the plants when cleaning day comes around, too.
Top Pick
Pros:
Wood fibers are excellent for odor-control
Good clumping qualities
No dyes, fragrance, GMOs, or chemicals
Natural, eco-friendly choice
Less-Mess, Soft, and Original options available
Cons:
Not quite as budget-friendly as some of our other favorites
Dr. Elsey's Premium Clumping Cat Litter
If those pesky odors are making your home a little too stinky for comfort, opt for Dr. Elsey's natural cat litter, offering up exceptional odor-control to keep your space smelling fresh and clean.
Boasting all the properties we're looking for in a natural cat litter, this option is almost entirely dust-free, leaves no tracking, and will clump up like a charm. It's hypoallergenic, too, so it shouldn't irritate your cat's respiratory system or skin. Coming in a 40lb pack, this one's incredible value, too.
Also Consider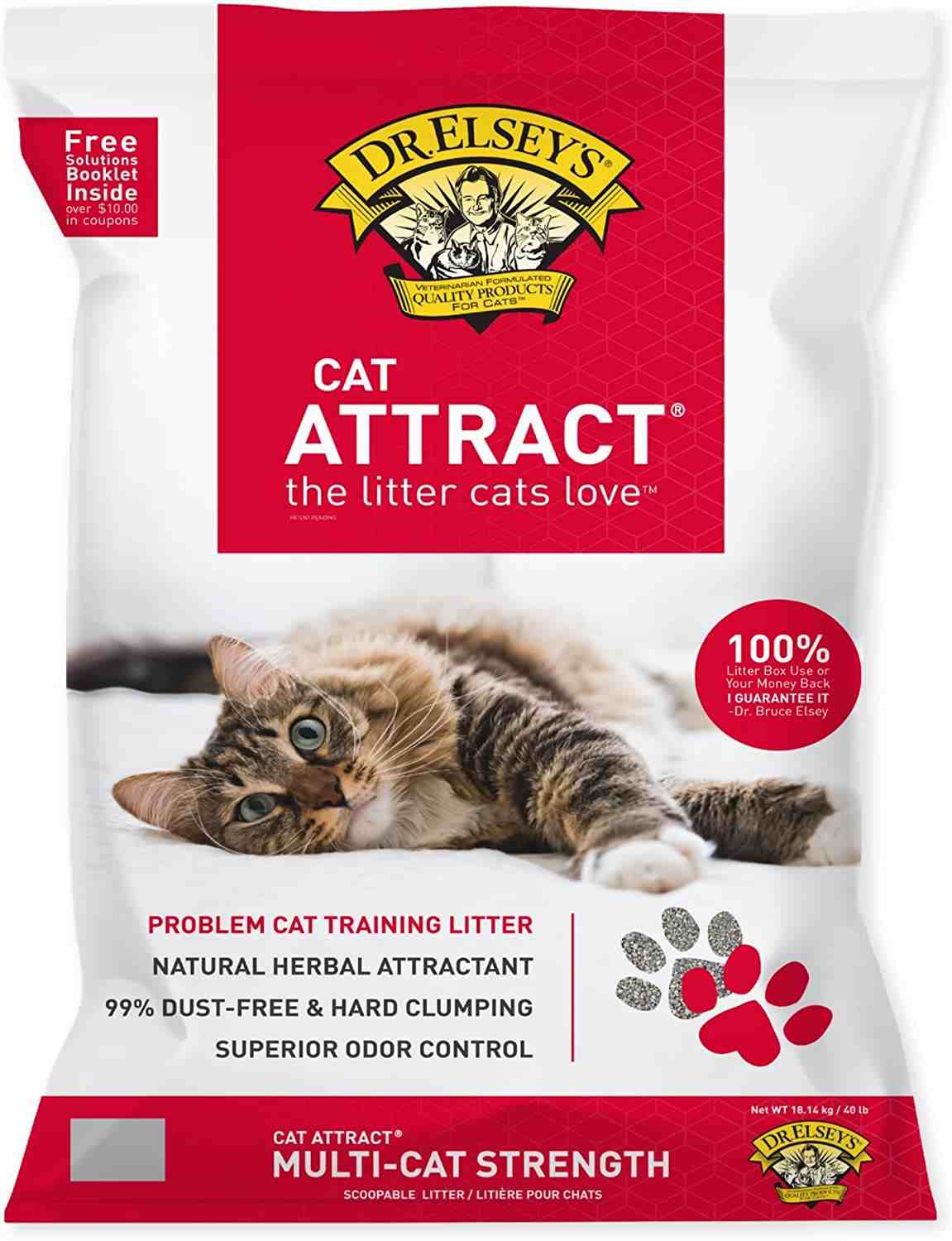 Dr. Elsey's Premium Clumping Cat Litter - Cat Attract - 99% Dust-Free, Low Tracking, Hard Clumping, Superior Odor Control, Natural Herbal Attractant, Unscented & Natural Ingredients, 40 lb
$29.48
Pros:
40lb pack is great value
Exceptionally good odor-control
No tracking
Dust-free formula
Hypoallergenic
Cons:
If you're looking for scented cat litter, this one's not for you
Frequently Asked Questions
How often do you change natural litter?
Natural litter typically needs to be changed every 7-10 days or when the box becomes soiled. Of course, if your cat is a frequent pooper, you may need to change it more often.
What are the benefits of natural litter?
The benefits of natural litter are that it's generally easier on your cat's paw pads, it's adept at odor control through absorption and clumping, it's biodegradable, and it's compostable. Natural litter is also generally better for the environment, as it's not made from synthetic materials that are not biodegradable. Additionally, natural litter typically does not contain any harsh chemicals or perfumes, which can be irritating to a cat's sensitive respiratory system.
Do cats prefer natural litter?
Natural litter seems to be a top choice for cats, since it's (usually) unscented, which cats have been shown to prefer. So, natural cat litter offers up plenty of benefits to us humans, from less dust to odor-control and low-tracking—as well as being a more attractive option for your kitties.
How can I make my litter smell better naturally?
If you find your cat's litter tray is permeating your home, don't worry—it's an easy fix. Simply head to your pantry and grab some baking soda. A few sprinkles of this household staple in your kitty's litter tray, and you'll find those unpleasant scents quickly dissipate. You can also snap up a great urine
WHY TRUST US
Since 2008, Cattime has served as a leading resource for millions of cat owners and pet lovers alike. Our goal is to give every cat and pet a happy, healthy home by providing owners with all information they need to be the best pet parents possible. Our experts share their insights and recommendations to make caring for your beloved pet a breeze.