Opting for dust-free cat litter serves up a variety of benefits to both cats and their owners. Doing what it says on the tin, the litters are designed to be low-tracking and low-dust, which means less mess for you and your cat. The reduced dust levels make it easier to clean up after them while also helping to create a healthier environment in your home.
The litter is also designed to be low-odor, which means your home won't suffer that all-too-familiar, lingering smell from the litter box. The reduced dust levels also help reduce the risk of respiratory problems for cats, which is great news for your peace of mind (and your vet bills!). So, looking to jump on the bandwagon? Snap up the best dust-free cat litter today from our guide here.
Top Pick Dr. Elsey's Premium Clumping Cat Litter
Dr. Elsey's Premium Clumping Cat Litter - Ultra - 99.9% Dust-Free, Low Tracking, Hard Clumping, Superior Odor Control, Unscented & Natural Ingredients
Best Dust-Free Cat Litter to Consider
Great question, but where do we start? To begin with, dust-free cat litter is better because it releases less dust into the air when it is scooped or poured, helping to prevent the spread of allergens and bacteria. Also, less dust means that the litter is less likely to stick to your cat's fur or be tracked around the house. Finally, dust-free cat litter is generally more absorbent than regular litter, which helps to keep your cat's living area clean and free from pesky odors. So, fill up your litter box with the best dust-free cat litter to start enjoying a cleaner, healthier home ASAP.
Dr. Elsey's Premium Clumping Cat Litter
99.9% dust-free, Dr. Elsey's Premium Clumping Cat Litter is a great choice if you're looking to de-cloud your home. The low-tracking formula means your cat is less likely to tread spare litter all over the floor, and the odor-control qualities keep those nasty smells to a minimum.
It clumps up like a charm (thanks to the bentonite clay formula), making it far easier to scoop out soiled litter without having to rifle through to the bottom of your litter tray. Plus, the litter itself is unscented, so you won't fill your home with any potent fragrances with this one, either.
Top Pick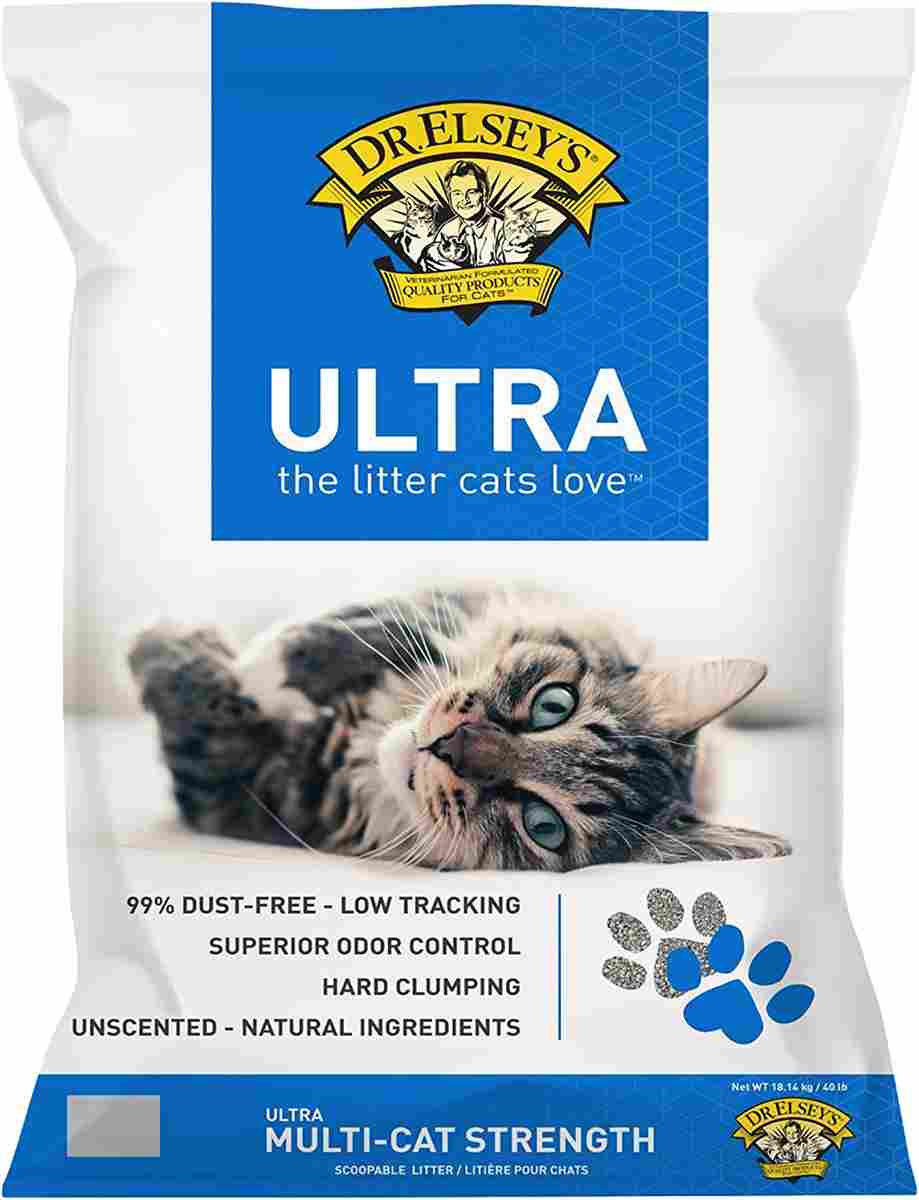 Dr. Elsey's Premium Clumping Cat Litter - Ultra - 99.9% Dust-Free, Low Tracking, Hard Clumping, Superior Odor Control, Unscented & Natural Ingredients
$23.99
Pros:
Unscented
Effective odor-control
99.9% dust-free
High-clump formula ensures low tracking
Hypoallergenic
Cons:
Grain size can vary, but this doesn't change its efficacy
Dr. Elsey's Premium Clumping Cat Litter
Similar to our favorite option and also by Dr. Elsey's, this dust-free cat litter carries many of the same properties, with the primary difference being that it comes with a moisture-activated scent. Yep, that means when your kitty does their "business", the litter will automatically give off a fragrance to mask those smelly odors.
Aside from the scented qualities, you'll get good clumps from this one, as well effective odor-control, low-tracking (yay for your floors and furniture), and natural ingredients. Healthy for your cat and your home, this dust-free cat litter is a great choice all-around.
Runner Up
Pros:
99.9% dust-free
Clumping formula
Moisture-activated scent (which is quite strong)
Low-tracking for a cleaner home
Good value
Cons:
You may stop noticing the moisture-activated scent after long-term use
World's Best Cat Litter
Cross kitty litter off of your shopping list for weeks thanks to this whopping 32lb pack. Made by the self-proclaimed World's Best Cat Litter, this cat litter is indeed one of the most top-quality choices on the market today. Let's take a look at the great features:
Made from whole-kernel corn, this cat litter is natural, clean, and safe for your home and the environment. It's even flushable, so you won't damage your sewer system if you pop the soiled bits down the toilet. The dust-control formula ensures no pesky clouds when you're filling up and emptying, and the low tracking means your floor will stay pawprint-free.
Best Bulk-Buy
Pros:
Low-tracking formula due to larger grains
Eco-friendly and safe for humans and cats
Dust-controlled
Flushable and septic-safe
No harmful chemicals
Great absorption
Cons:
While unscented, it does carry a natural hay smell
Dr. Elsey's Premium Clumping Cat Litter - Classic
Eek, we do love a bit of Dr. Elsey. After all, they make the best cat litter in town, no matter what features you're looking for. This premium option comes with all the properties cat owners are looking for, from great odor-control to natural ingredients and a low-tracking formula.
Low-tracking is super important because, without it, you're likely to find little paw prints dotted around your home, floor, and furniture—even if you've got the best cat litter tray mat in our repertoire. So, snap up this low-tracking dust-free cat litter and eliminate those messy paw prints; the medium-grain clay ensures the litter stays where it should—inside the tray.
Best Low-Tracking
Pros:
High-performing clumping for low-tracking effects
Exceptional odor control
Natural formula
Great value
Cons:
Grains can be a bit large for automatic litter trays
Cat's Pride Dust-Free Cat Litter
For cat litter than ensures no nasty smells permeate throughout your home, the Cat's Pride Max Power Litter is the way forward. Made with a dual-clay blend, this cat litter is 99% dust-free and reduces the risk of tracks around your home.
It offers an impressive 10-day odor-control (tested in a lab, no less) which means the formula will trap, then eliminate, odors caused by your kitty's business. It'll clump up like a dream, so you can easily scoop up those soiled bits, too.
Also Consider
Pros:
Clumps up well for low-tracking risk
10-day odor-control
Made with clay
Unscented
Light and airy feel
Cons:
One of the cheaper options, so don't expect miracles
Frequently Asked Questions
Why Use Dust-Free Cat Litter?
Dust-free cat litter is ideal for helping to keep the air in your living space healthier and cleaner, reducing exposure to allergens and dust—this applies to both you and your feline! Plus, dust-free cat litter is designed to be softer, less dusty (obviously), and more absorbent than traditional clumping clay litter. This type of litter also has added plant-based ingredients, such as corn and wheat, that create a natural scent and help lock in odors.
What Are The Side Effects Of Cat Litter Dust?
The most common side effect of cat litter dust is irritation of their eyes, nose, and throat. Not to mention, it can also cause coughing and sneezing, as well as difficulty breathing. In fact, long-term exposure to cat litter dust can lead to more serious health issues such as asthma and lung disease.
Can Dusty Cat Litter Cause Allergies?
Depending on the ingredients, dust clouds from your cat litter can be significantly harmful. Avoid cat litter that contains silica, which is an irritant known to cause allergies in both humans and cats. It's far safer to opt for a more natural cat litter, especially if you've experienced allergic reactions before.
WHY TRUST US
Since 2008, Cattime has served as a leading resource for millions of cat owners and pet lovers alike. Our goal is to give every cat and pet a happy, healthy home by providing owners with all information they need to be the best pet parents possible. Our experts share their insights and recommendations to make caring for your beloved pet a breeze.