Looking for a new cat litter for your beloved feline? Crystal cat litter is the way to go. But why? Well, these litters are an excellent choice because they are more absorbent than regular clumping litter, trap odors more effectively, and are one of the rare litter types that are actually dust-free. Additionally, they are lightweight, highly biodegradable, and longer lasting than traditional natural litter.
They also won't track like clay litter, and a little bit goes a long way. Of course, you may be concerned about safety, too, which we totally understand. However, the cat litter is non-toxic, and completely safe for both humans and cats. So, go ahead and snap up some of the best crystal cat litter from our ultimate selection below.
Top Pick PetSafe Scoop-Free Crystal Cat Litter
PetSafe ScoopFree Premium Crystal Cat Litter - 5x Better Odor Control Than Clay Litter - Less Tracking & Dust For A Fresh Home - Non-Clumping - Two 4.3 lb Bags Of Litter (8.6 lb Total) - Original Blue
Best Crystal Cat Litter to Consider
If you're still unsure about whether crystal cat litter is right for you, let's take a look at some of the main benefits to ensure you're in the know before you splash out:
Dust-Free
Unlike most other litter types, crystal cat litter is happily dust-free. That means no dust clouds when you're filling up or emptying, and fewer particles that could potentially cause respiratory or allergy issues in your feline—or you, for that matter.
Odor-Neutralizing
Odor neutralization is key when it comes to any good cat litter, and crystal formulas do their job with finesse. Working to quickly neutralize any offending scents, this cat litter goes a long way in leaving your home free of unpleasant odors. Pair it with an odor-controlling litter box, and you can fight those fragrances once and for all.
Affordability
Having pets can be expensive, so cutting costs where you can is always a good idea. Crystal cat litter is usually very reasonably priced, and you can often pick up bulk-buy deals to stock up with, too.
Absorption
Absorbing up to 5 times more liquid than other litter types, crystal cat litter soaks up wee and poop like a charm. It'll easily clump up, so you can grab that scoop and get gone of the waste with no hassle.
PetSafe Scoop-Free Crystal Cat Litter
By far the best crystal cat litter in town at the moment, the PetSafe Scoop-Free Crystal Cat Litter offers countless benefits. For starters, this litter serves up 5 times better odor-control than other litter types, making it a fantastic choice if you prefer a fresh-smelling home (and we assume you do!). Next, you should get about 30 days of use from one bag in a single-cat household, which means you won't find yourself constantly lugging cat litter packs home from the supermarket. Low-tracking and 99% dust-free, you can skip the dusty pawprints all over your floor, too.
Top Pick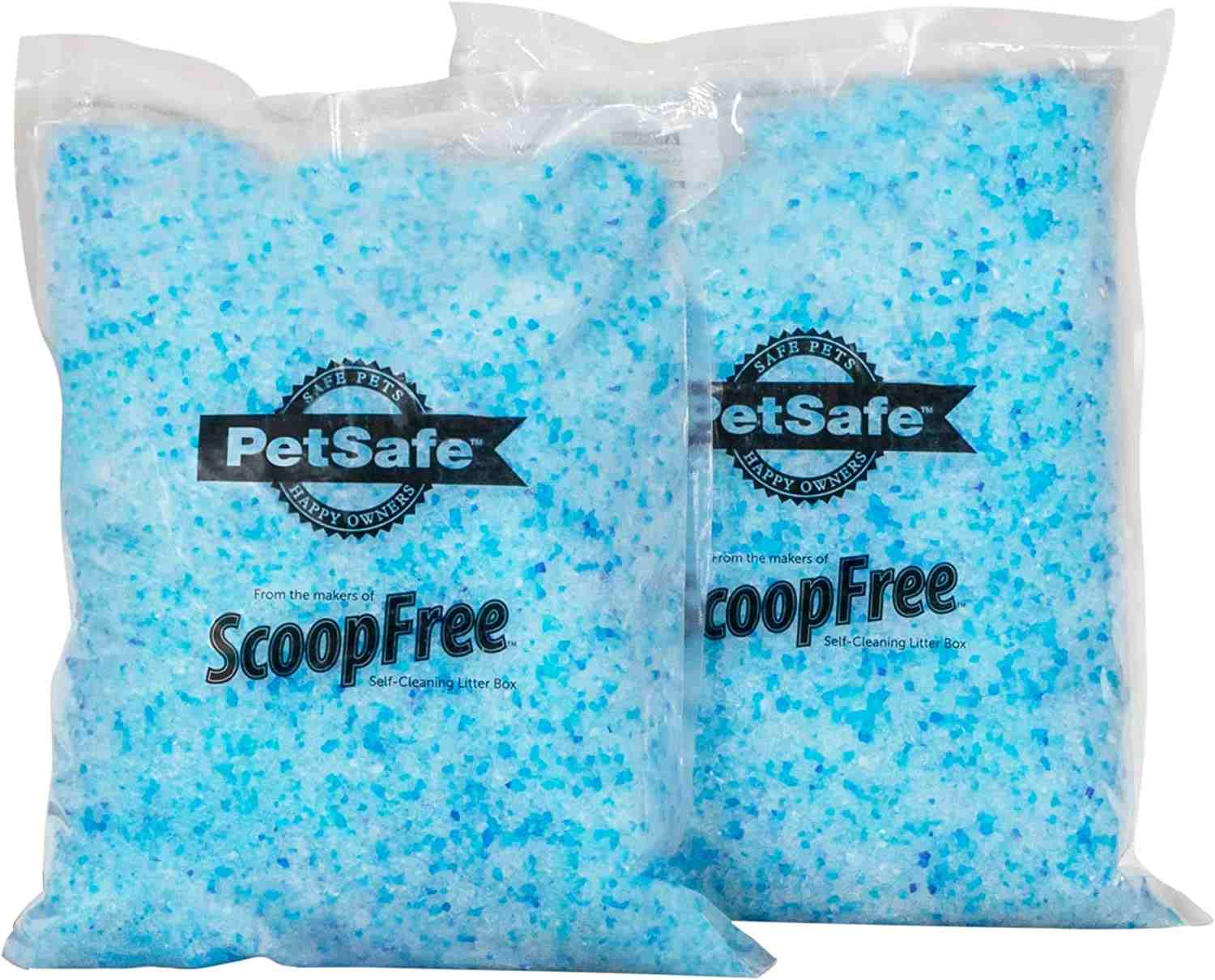 PetSafe ScoopFree Premium Crystal Cat Litter - 5x Better Odor Control Than Clay Litter - Less Tracking & Dust For A Fresh Home - Non-Clumping - Two 4.3 lb Bags Of Litter (8.6 lb Total) - Original Blue
$23.99
Pros:
99% dust-free
Low-tracking formula
1 bag should last a month
Effective odor-control
Cons:
We'd like larger size options
Silica Gel Crystal Cat Litter
Made with fresh micro crystals and offering up stellar odor-control, this crystal cat litter is a great choice. It's slightly scented, too, which works to mask any permeating smells that may be exuding from your litter tray area, too. We like how soft this one is, which will help to encourage your kitty to use their cat litter tray as it's pleasant on their paws and comfortable to tread on. Just add a comfy litter mat, and their bathroom will be 5-star. This pack should last about a month for a single-cat household, making it excellent value for money, too.
Runner Up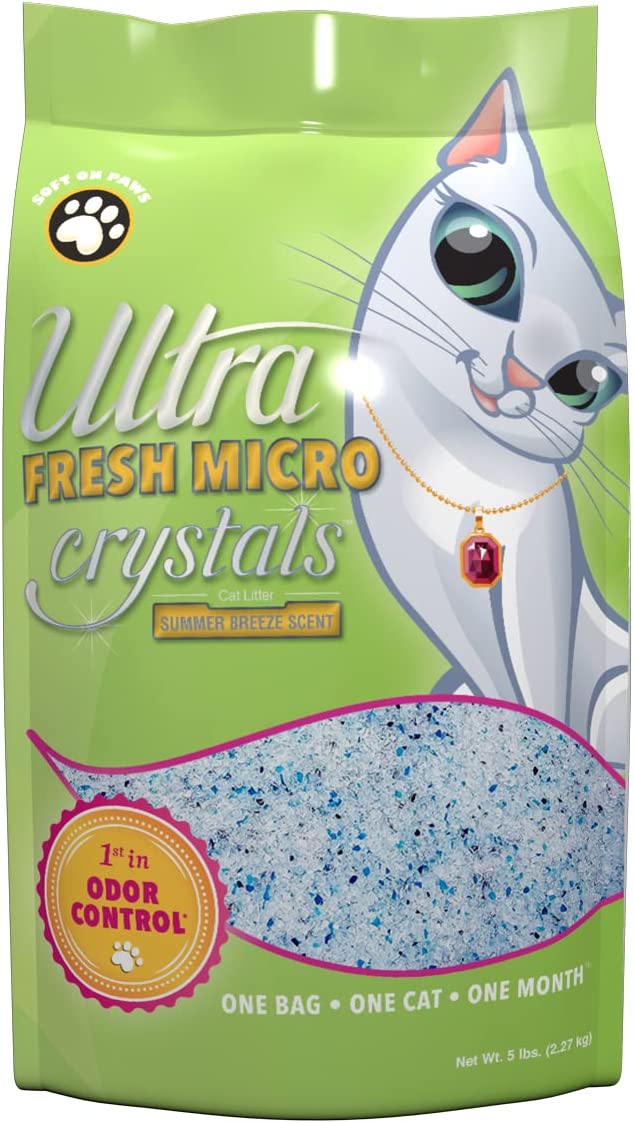 Ultra Pet Silica Gel Crystal Cat Litter- Soft-On-Paws, Superior Odor Control, Low Dust, Fresh Micro Crystals
$16.99
Pros:
Made with fresh micro crystals
Scented with Summer Breeze
Soft feel for paws
1 month's worth of litter per pack
Cons:
Scent is definitely on the stronger side
Fresh Step Crystal Cat Litter
By Fresh Step, this blue crystal cat litter is a highly-absorbing, odor-controlling litter option that's ideal for keeping your litter tray area fresh and free of unpleasant smells. In fact, the brand is so confident with the odor-control properties, that this cat litter comes with a 30-day odor-control guarantee. You can't argue with that. Quick to absorb moisture and with very little dust to speak of, this crystal cat litter is a winner for us. Pick it up in 2 x 4lb packs to see you through for a while yet.
Great Choice
Pros:
Fast-absorbing
30day odor-control guarantee
Super lightweight
Good price tag
Cons:
Includes artificial colors
Little Pearls Ultra-Clump Crystal Cat Litter
Unlike many crystal cat litters, the Little Pearls option offers a clumping formula, making life much easier when it comes to scooping out that poop. Despite being fragrance-free, it'll still work to neutralize any nasty and unpleasant scents emanating from the tray. It'll absorb liquids in no time and works to dry out solid waste making it super easy to scoop out when the time comes. The silica gel formula makes a soft surface for your kitties to tread on, helping to encourage more reluctant litter tray users to create the habit.
Best Clumping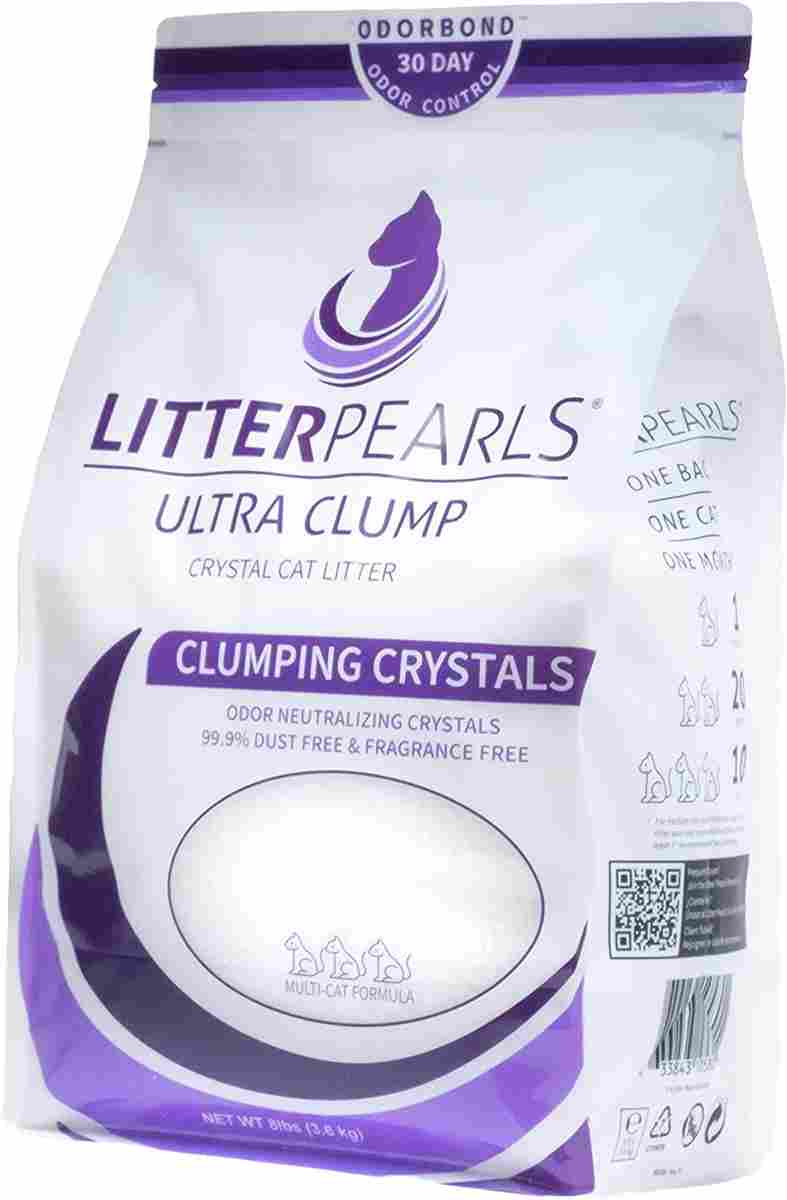 Litter Pearls Ultra Clump Unscented Crystal Clumping Cat Litter 8lb,White and Clear Crystals,10580
$33.02
Pros:
Quick to absorb liquids and dry out solid waste
Silica gel is soft on paws
Fragrance-free
Odor-neutralizing
Cons:
A bit pricier than the rest
ZenKitty Crystal Cat Litter
Banish that smelly litter tray with ZenKitty Crystal Cat Litter, you have a litter box solution that brings together fantastic odor-control, is soft-on-paws, low-dust and non-clumping all-in-one. Your cat will thank you for making this litter switch, and honestly, so will your nose. Try ZenKitty Crystal Cat Litter today and experience what a super easy cleanup really feels like. We love the fragrance of this one, making a real difference in your litter tray area.
Also Consider
Pros:
Soft for their little paws
Low-dust and non-clumping formula
Noticeable odor-control
Lightweight
Cons:
Frequently Asked Questions
Is all crystal litter the same?
Each crystal cat litter brand will vary slightly in formula and quality. So, when you're browsing the market, look for excellent clumping, dust-free formulas, and effective odor-control. You may need to experiment with a few brands before you find the one that's right for your household.
What are the disadvantages of crystal cat litter?
Unfortunately, crystal cat litter isn't always biodegradable, which can make it a less-than-ideal choice for eco-conscious households. However, some brands have developed biodegradable crystal cat litters (made with silica) that can biodegrade. Of course, the price will vary slightly, but it's up to you to decide what properties you value most and whether they're worth paying a bit extra for.
What type of litter is healthiest for cats?
In general, you should opt for an unscented, clumping cat litter. This type of litter is more appealing to your cats (as studies have suggested), so they're more like to use their litter tray. In terms of healthy options, silica crystal cat litter and natural formulas come top trumps, since they absorb liquids fast which in turn prevents any bacteria growth. This results in a cleaner litter box, a cleaner home, and a healthier feline.
How often should you change crystal litter?
It's best to change your crystal cat litter once a week, though you may find yourself replacing it more often if your cat is a frequent pooper. Replacing your cat litter regularly ensures your home stays nicely odor-free and hygienic.
How often should you scoop crystal litter?
You'll want to be scooping at least once a day, ideally very shortly after your cat has done their business. The best way to minimize odors and potential bacteria growth is to scoop that poop straight after your kitty has finished.
WHY TRUST US
Since 2008, Cattime has served as a leading resource for millions of cat owners and pet lovers alike. Our goal is to give every cat and pet a happy, healthy home by providing owners with all information they need to be the best pet parents possible. Our experts share their insights and recommendations to make caring for your beloved pet a breeze.