Gone are the days we had to empty our cat's little tray every time our cat finished their business. Yep—thanks to these litter boxes for odor control, you needn't rush straight over to tackle those bad smells; the covered designs of these litter boxes keep those odors nice and contained until you get around to emptying it. Far more hygienic and a no-brainer if you've got young (and curious) kids in the house, investing in one of these closed litter boxes, is one of the best things you can do as an indoor-cat owner. Pair it with a great litter mat and some emergency urine and stain remover, and you're all set.
More straightforward and far more affordable than self-cleaning litter boxes, you'll still need to manually empty these. That said, you can also pick up best litter boxes with self-cleaning designs if you're willing to spend a little more. And if not? The enclosed shapes, doors, and odor-containing designs of self cleaning litter box mean those less-than-fragrant scents won't permeate through your home, regardless. So, pick up one of the best cat litter boxes for odor-control today and reap the rewards.
Top Pick Tucker Murphy Cat Litter Box for Odor-Control
Tucker Murphy Pet™ Space Capsule Jumbo Hooded Cat Litter Box With Lid - Extra Large, High Sided, With Odor Control, Grey
Best Cat Litter Boxes for Odor-Control to Consider
When you're on the market for an odor-controlling cat litter box, there are a few key factors to consider. Let's take a look:
Does your cat respond well to doors and flaps top entry litter boxes? Some don't, and if that's the case, consider a doorless design to encourage your cat to use their new litter box. If you opt for doorless, make sure your litter box has a charcoal filter or purifier to help keep those smells at bay.
How much do you want to spend on the best cat litter box? You can splash out on a self-cleaning, odor-control cat litter box that'll save older cats and you heaps of effort, but will certainly cost more.
How large is best litter box for your cat? You'll need to ensure that right litter box or your chosen litter box offers enough space for your cat to do their business in comfort, privacy, and with plenty of space.
You can also help to minimize nasty smells from cat waste by ensuring you regularly clean out your cat litter tray, while also opting for odor-control litter—crystal cat litter and natural options are best. You can also a few sprinkles of baking soda into the cat's litter box to help neutralize unpleasant smells even further. And, if you're really struggling, there are specifically formulated cat litter odor-control sprays out there which will further mask those scents, so consider picking up one of these.
Tucker Murphy Cat Litter Box for Odor-Control
The Tucker Murphy Cat Litter Box for Odor-Control is our favorite pick. Why? Because it features everything we're looking for in good litter box, from its clever odor control to its low-entry design, which makes it suitable for old and wise kitties to clamber in.
Thanks to the rounded bottom, you won't need to get your hands dirty with this cat litter box. Scooping has never been easier with this one, so you can get the job over and done with quickly.
We like that it's made with thick PP plastic working up to four cats to keep those stinks at bay, and the hooded shape supports this. So, no more smelly home. You can use your preferred litter type with this box, whether that's dust-free, crystal, clay, or pellet cat litter.
Top Pick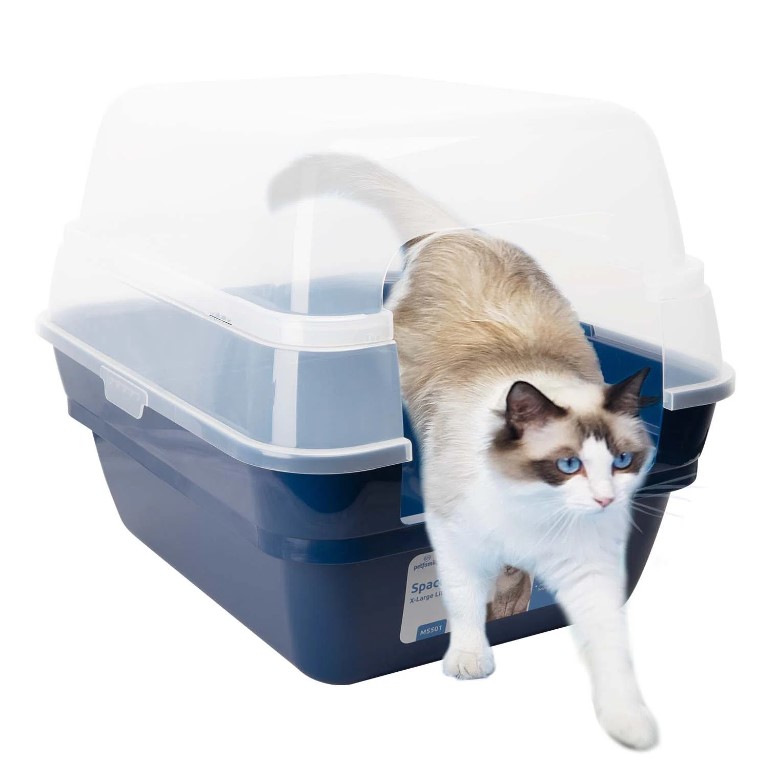 Tucker Murphy Pet™ Space Capsule Jumbo Hooded Cat Litter Box With Lid - Extra Large, High Sided, With Odor Control, Grey
$51.99
Pros:
Keeps odor contained
Made from thick PP plastic
Compatible with all litter types
Easy-scoop design
Great value
Cons:
We'd love to see a top handle for easy transportation
PetSafe Self-Cleaning Cat Litter Box
By PetSafe, the Self-Cleaning Cat Litter Box is on hand to help you keep your home odor-free and your litter area neat and tidy. Oh, and did we mention it's scoop-free? Which is exactly what it sounds like: no more scooping that poop. Instead of clumping litter up, the built-in rake will scoop solid waste beneath the waste trap, keeping it out of sight and mind until you empty it.
There's even a handy counter that tracks how often your kitty is using their tray, so you can stay on top of any weird habit changes, too. The box comes with a hood for privacy, so your feline can feel safe and undisturbed while they do their business.
Runner Up
Pros:
Automatically removes waste; no scooping necessary
Hooded for privacy
Leak protection
Health counter to track use
Cons:
On the steeper side price-wise
KungFuPets Odor-Control Litter Box
This stylish little gem is a great choice when it comes to odor-controlling your kitty's traditional litter box too. Sure, odors are an inevitable part of having a cat. But, with this litter box, suffering them is not. This litter box comes fully assembled, meaning you can put it out and ready for your kitty straight away. Featuring a fully enclosed design to give your cat privacy (as well as containing that stench) plus an easy-access flap for entry, this litter box is simplicity at its most effective. Free of bells and whistles (bar the cool aesthetic), this easy-to-use option is a good choice to keep your home smelling lovely.
Best Premium
Pros:
Cool globe style
Fully enclosed
Use it as a litter box enclosure, cat bed, or hideaway
Reasonable price tag
Cons:
IRIS USA Hooded Odor-Control Litter Box
The IRIS USA Odor-Control Cat Litter Box with Lid is a welcome addition to any feline-friendly home. Simple in design but super effective in minimizing those whiffy odors, this best cat litter box for odor control, comes with an enclosed lid, front door flap, and handle for easy portability. You'll get a scoop thrown in to make cleaning easier, too.
Providing plenty of privacy for your cat as well as keeping odors under control, this cat litter box keeps their waste safely inside, ready for you to empty when the time comes. There's a helpful hook for your scoop, too, so you'll always have it handy when you need it. We'll admit this one's a little no-frills; however, it's made with a solid, thoughtful design and comes in at a bargain price, so it's a great solution to your kitty and litter box odors' troubles.
Best Value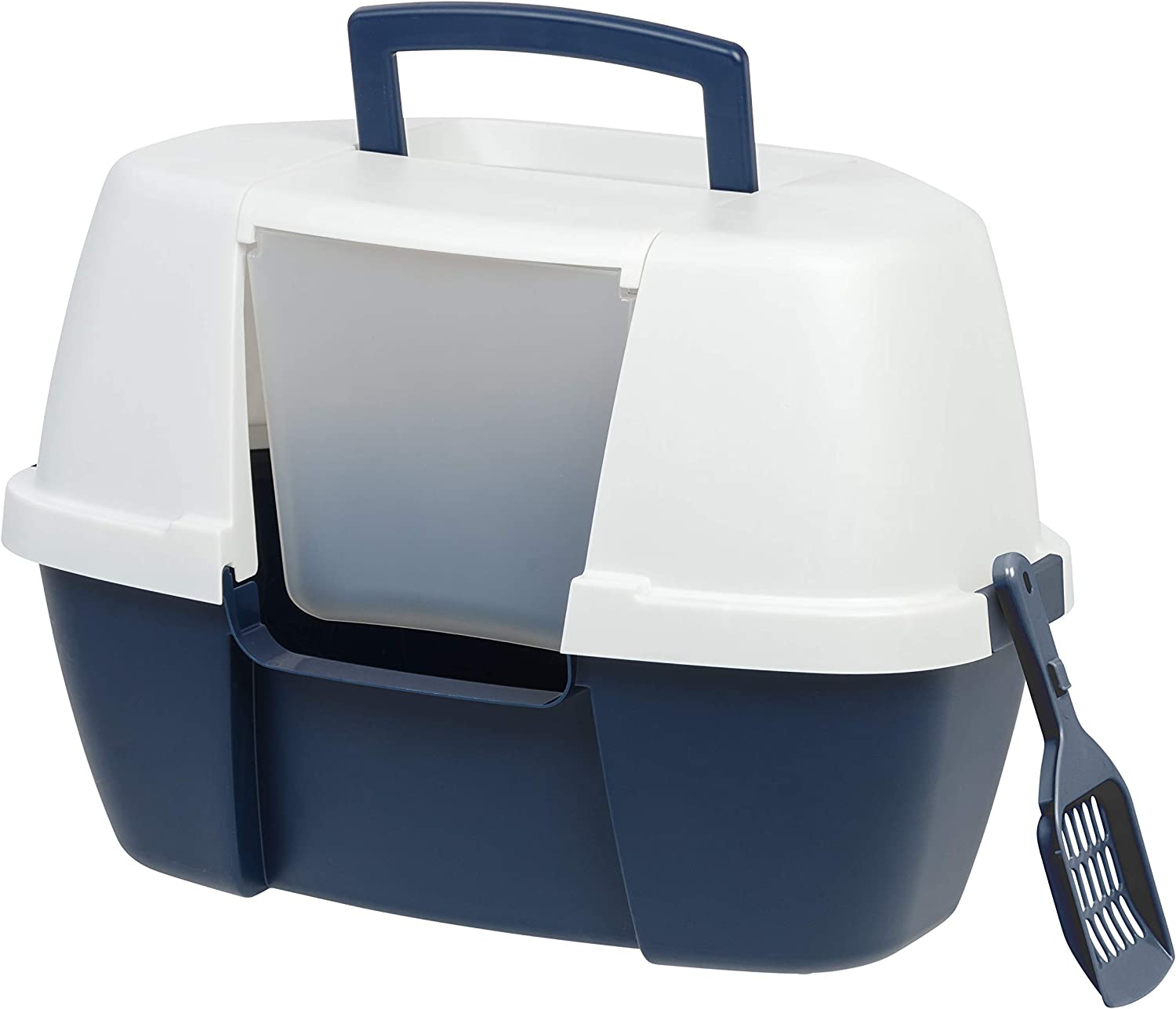 IRIS USA Large Enclosed Corner Cat Litter Box with Front Door Flap and Scoop, Hooded Kitty Litter Tray with Easy Access Lift Top Handle and Buckles for Portability and Privacy, Navy/White
$27.99
Pros:
Excellent value for money
Designed with lid and front door flap
Scoop included
Simple and easy to use
Spacious size for your kitty
Great-quality materials and solid feel
Cons:
Not self-cleaning
We'd prefer a slightly larger scoop
Maru Standard Litter Box
This next (and final) cat litter box for odor-control is from, you guessed it, Tucker Murphy. What can we say? They're just great at what they do. So, this litter box comes in a simplistic style, and is super easy to integrate into your cat's routine. Boasting a large-capacity filter to minimize odors (after all, that's what we're all about), a spacious entry, and an enclosed, private space for your feline, this option offers a lot for a rather small price tag. You can replace the filter in a jiffy, and you'll have less cleanup around the litter box odor since this one works to prevent litter scatter. That said, a litter mat is always a good choice if you really want to keep your floors track-free!
Also Consider
Pros:
Easily replaceable filter
Dome-shaped design contains odors
Modern aesthetic
Minimizes litter tracking
Cons:
Not for you if you're set on a door flap
Frequently asked Questions
Where should you put a cat litter box?
Ideally, you'll find a well-ventilated space somewhere away from your pet's food area. It should be quiet, unlikely to be disturbed, and not be frequented too often by human members of your household. A quiet corner in a study area would be absolutely optimal, but you may have to experiment to see what works for your home.
Do covered litter boxes reduce odor?
Enclosed cat litter boxes are wonderful at minimizing those pesky—and inevitable—odors that come with having a feline at home. An enclosed box with a flap door is the best style to choose if you're set on eliminating odors (almost) completely, while the addition of a charcoal filter will add to the odor-control effects of most litter boxes, too. You can also pick up some crystal cat litter, known for its odor-reducing properties.
Can a litter box make the whole house smell?
If you have an old-school, open-tray litter box at home, the answer is yes. Cats have notoriously bad-smelling waste, but they can't help that. You can help to minimize the smells by opting for an odor-control cat litter box; check out the options in our automatic litter box guide. You should invest in a new cat litter box every year or so to keep on top of household hygiene, too.
WHY TRUST US
Since 2008, Cattime has served as a leading resource for millions of cat owners and pet lovers alike. Our goal is to give every cat and pet a happy, healthy home by providing owners with all information they need to be the best pet parents possible. Our experts share their insights and recommendations to make caring for your beloved pet a breeze.