Why do you need a cat litter mat? Well, if you're a cat owner who's looking to keep your home tidy, snapping up one of these mats is a game-changer. And the best part? They don't cost the Earth.
The primary benefit of a cat litter mat is to help keep a cat's living area clean and free of dust and litter pieces. The mats can be placed near the litter box and can help catch stray pieces of litter that your cat might kick or drag out of the box when they use it.
They can also help reduce odors by trapping small pieces of soiled litter that aren't immediately visible. Additionally, some cat litter mats have a water-resistant backing to provide extra protection for floors or carpets from extra mess. Last of all, the mats come in heaps of attractive colors and designs, so you can easily find one that suits the rest of your cat's accessories and your interiors. We've handpicked our favorites in the guide below to help you shop.
Top Pick Dawna Jumbo Premium Cat Litter Mat
Dawna Jumbo Premium Cat Litter Trapping Mat for Litter Box - Absorbent, Waterproof, Machine Washable
Best Cat Litter Mats to Consider
When shopping for a cat litter mat, look for a mat that is easy to clean, made from non-toxic materials, has a non-slip backing, and is large enough to cover the area around your litter box. You can spend more or less depending on your budget, but the general ballpark of a quality cat litter mat is between $15 and $40.
So, how well do they work? Our community of cat owners considers cat litter mats an absolute game-changer. Sure, it's a simple concept, but the addition of a "doormat" for your cat's post-litter tray use means you'll spend far less collecting litter pieces from across the floor of your home.
Dawna Jumbo Premium Cat Litter Mat
We love Archie & Oscar when it comes to affordable home essentials, and their kitty range is definitely something to write home about. This Dawna Jumbo Premium Cat Litter Mat comes in at a bargain price tag, and, measuring up at 36 x 47 inches, should fit under most litter trays, leaving a nice border.
The carpet-style finish not only looks sleek, but also works cleverly to trap any rogue bits of litter that may have become stuck to your kitty's paws. So, this saves clearing pawprint tracks from the floor later on! Soft and comfy on your cat's paws, this is an excellent choice.
Top Pick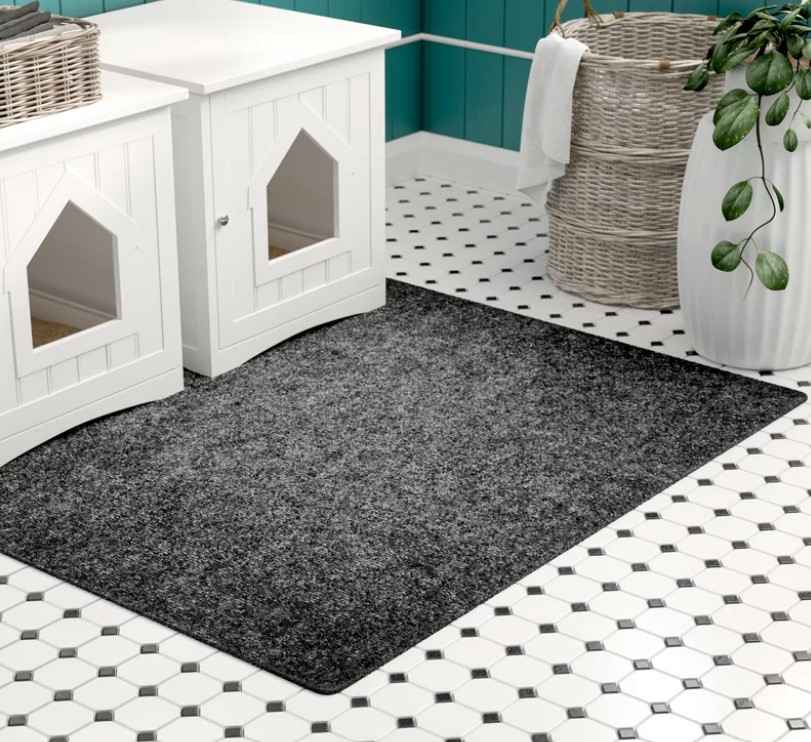 Dawna Jumbo Premium Cat Litter Trapping Mat for Litter Box - Absorbent, Waterproof, Machine Washable
$27.99
Pros:
Easy to clean (we've gone for the vacuum approach)
Comfortable for your cat's delicate paws
Traps litter pieces
Large size
Cons:
Not as thick as we expected
Large Cat Litter Mat
If you've got a super-sized cat litter tray at home, you'll need a mat to match. This one measures up at 29 x 36 inches, which is bigger than most and should leave a nice border for your cat to tread over after their litter box session.
We like that this one's super soft, encouraging your kitty to spend a little time walking over it—thus maximizing the chances of collecting litter. Featuring the patented Zorb-Tech anti-flow technology, this mat goes a long way in keeping the rest of your floor and home litter and urine-free.
Runner Up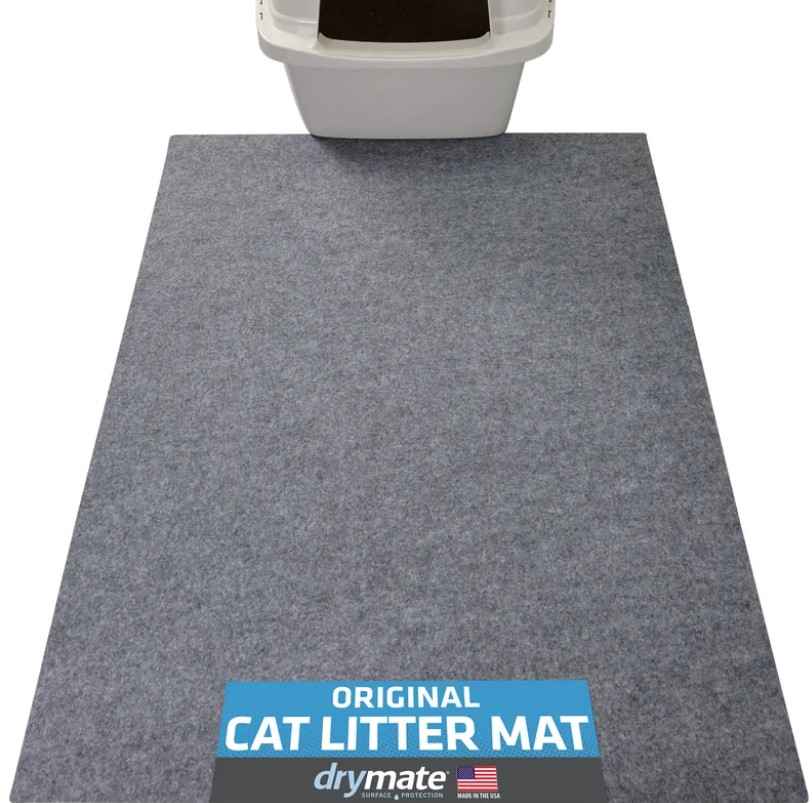 XL Cat Litter Mat for Litter Box, Reduces Litter Tracking - Absorbent, Waterproof, Machine Washable
$19.99
Pros:
Extra-large size
Vacuum-friendly
Machine-washable
Super-soft feel
Cons:
Honeycomb Cat Litter Mat
Buying a cat litter mat is supposed to reduce your chores, not add to them. So, you need a design that's super easy to clean, right? This option is made with waterproof material for easy cleaning, while the perforated holes work to collect up those litter grains ready for quick emptying.
When cleaning day comes around, simply open up the mat and empty the contents into the bin. That's it. Finally, the honeycomb design helps to gather litter from your cat's paws, and the waterproof layer helps to protect your floors so you needn't suffer any wet patches on those carpets.
Best Easy-Clean
Pros:
Litter-trapping design
Super easy to clean and empty
Honeycomb design to catch litter
Cons:
Not the largest at 30 x 23 inches, but fine for one standard-sized litter tray
Waterproof Cat Litter Mat
Seeking a waterproof cat litter mat? Wise choice. Waterproof mats minimize potential stains, smells, and mess, and make life far easier when cleaning day swings around. This waterproof cat litter mat by PAWBEE features a double-layered, honeycomb design, which serves to gather up rogue litter pieces while trapping them inside the mat. So, you just need to shake it out when it gets a bit full. And, if your cat has any accidents (from either end), you can simply wipe down this mat with warm water and some antibacterial solution. You can use a pet hair vacuum cleaner if you just want a quick clean-up, too.
Best Waterproof
Pros:
Totally waterproof design
Double-layered to catch and trap debris
Slip-resistant bottom layer
Suitable for all sorts of litter
Cons:
Drymate Cat Litter Mat
Functional doesn't have to mean boring, right? This stylish cat litter mat by Drymate proves it, coming in a cute design that'll only serve to elevate your interiors:
The non-slip bottom means it'll stay strong under your cat litter tray, while the soft design makes it comfy and cloud-like for your kitty to trot on. Made from high-quality absorbent fabric, this one's easy to clean, whether you opt for the laundry method or you prefer the vacuum.
Also Consider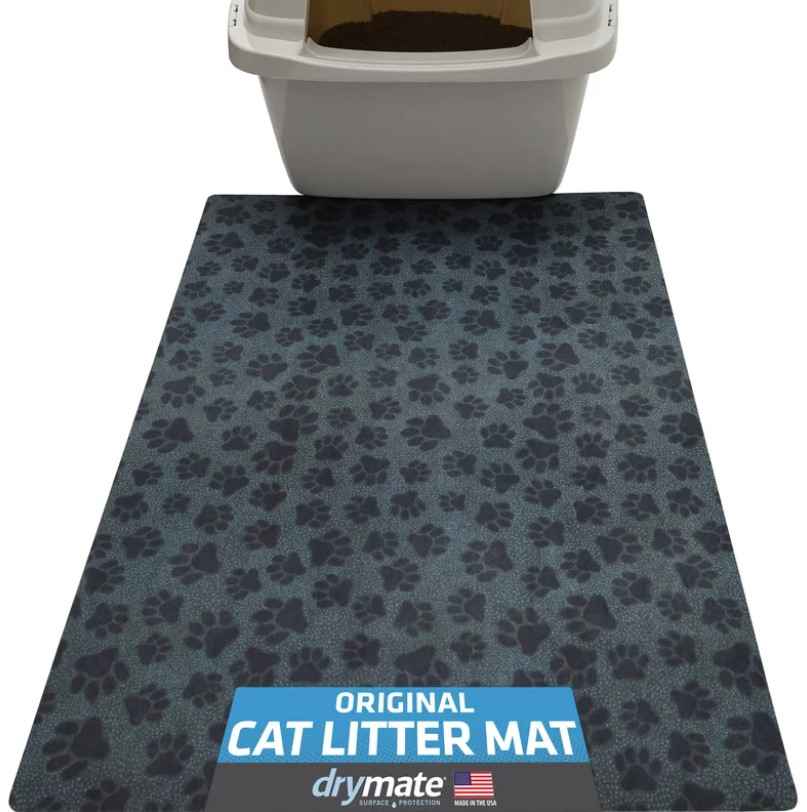 Cat Litter Mat for Litter Box, Reduces Litter Tracking - Absorbent, Waterproof, Machine Washable Pad
$17.20
Pros:
Easy to clean
Effectively traps litter
Unique texture traps litter
Lots of colors on offer
Cons:
Frequently Asked Questions
How do I choose a cat litter mat?
The main things to consider when choosing a cat litter mat are size and convenience. You'll want a mat larger than your litter tray so it can serve as a "doormat" when your cat exits their tray, and it should be easy to clean. Some mats are machine-washable while others are simply wipe-clean, so consider which is best for your household.
How well do litter mats work?
Litter mats collect any rogue litter and debris from your cat's paws or fur when they exit their litter tray, saving it from being spread around your house. Add this to a great low-tracking cat litter, and you should see a significant difference.
How often should you replace a cat litter mat?
So long as you keep it clean, your cat litter mat should last around a year or so. It's best to replace it every time you replace your cat litter tray, which should be every 12 months.
WHY TRUST US
Since 2008, Cattime has served as a leading resource for millions of cat owners and pet lovers alike. Our goal is to give every cat and pet a happy, healthy home by providing owners with all information they need to be the best pet parents possible. Our experts share their insights and recommendations to make caring for your beloved pet a breeze.