Does your cat love nothing more than gazing out at the world? Treat them to a window cat perch, creating a safe, cozy, and comfortable spot from which to observe their surroundings. Whether they love watching those birds, spying on the neighbors, or simply bathing in sunlight, a window perch creates the perfect resting spot to kick back and relax.
Since they're very easy to install (and often require no tools), the perches are a great choice for those who aren't so hot on DIY. Typically using suction cups to keep them secure, they will stand strong against the window, supporting your cat's weight with ease.
We've found the best window cat perches across Amazon to help you find the comfiest, most stable option. All of our picks are well-priced, sturdy, and offer plenty of space for your feline. Read on and check them out now.
Top Pick K&H Cat Window Perch
Heated Oval Cat Bed Heated Oval Cat Bed Heated Oval Cat Bed Heated Oval Cat Bed Heated Oval Cat Bed Heated Oval Cat Bed Heated Oval Cat Bed
Best Window Cat Perch to Consider
Stable Design
It's of paramount importance that your window cat perch stays safe, secure, and stable on your window. Most options are made with strong suction cups (some are even industrial-strength), which will stick to your glass pane and support your cat's weight. Make sure your suction cups are clean and dry before attempting to install them, as this will make a huge difference in their sticking strength.
Comfortable Padding
Of course, stability is key. However, you need to make sure your chosen window cat perch offers heaps of comfort for your kitty, too. After all, without nice padding and a cozy spot to tempt them, your cat may just walk on by. Look for thick cushioning and fleecy fabrics, which you can always bulk up with your own cushions if you want to add more luxury to their cat bed, too.
Easy Cleaning
Make sure any fabrics are removable and machine-washable. After all, cat owners know the perils of shedding hair, so a quick laundry cycle will be necessary from time to time. Not to mention, your cat will appreciate a clean relaxation area.
Aesthetic
You'll want your window cat perch to meld seamlessly with your interiors, so be sure to match up shades and palettes with the rest of the room. We've found lots of style choices, so you can easily find a design that fits your interiors.
K&H Cat Window Perch
This soft window cat perch is just the ticket if your cat is pining for a new relaxation spot. By K&H Manufacturing, this window cat perch sits securely on your windowsill, using sturdy supports on the underside to keep it stable. The frame design trumps most suction cup-style perches as it doesn't rely on strong suction; it'll sit safely on the windowsill with no risk of coming unstuck.
The padding is made from cushty orthopedic foam (only the best for your cat, right?) and comes covered in faux sheepskin. So, your feline will truly have the cream with this window cat perch.
Top Pick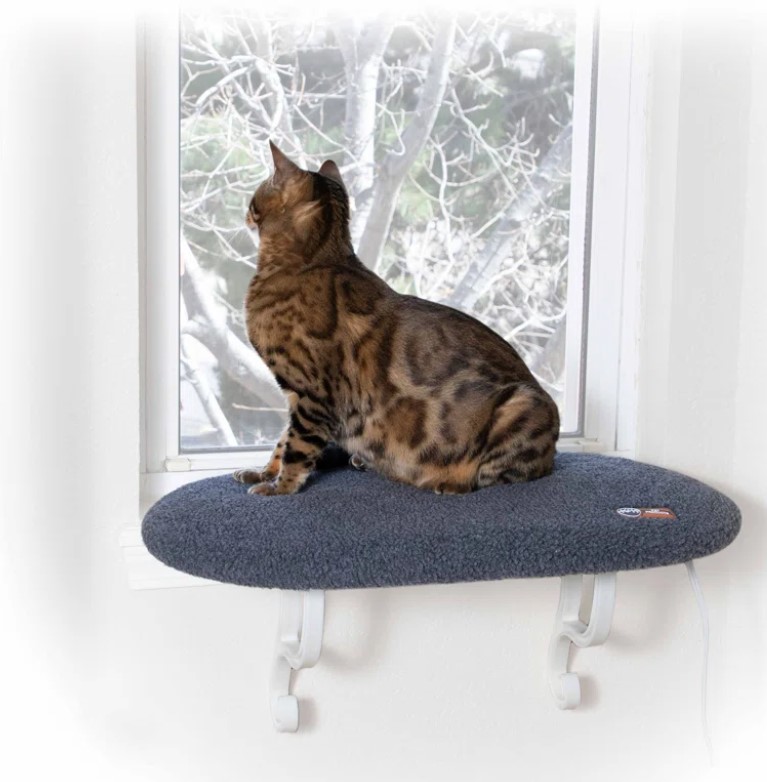 Heated Oval Cat Bed Heated Oval Cat Bed Heated Oval Cat Bed Heated Oval Cat Bed Heated Oval Cat Bed Heated Oval Cat Bed Heated Oval Cat Bed
$75.99
Pros:
No suction cups for sturdier support
Orthopedic foam padding and faux sheepskin cover
Highly comfortable
Stylish aesthetic
Holds up to 40lb
Cons:
Consider using felt pads between the leg supports to avoid scratches on your wall
Turk Cat Window Perch
Spacious and soft, this window cat perch has it all. Featuring a sturdy frame and no need for suction cups, you can place this perch on any free window space, and watch as your cat basks in the glory if their new chill-out spot. We love that this one won't wobble, even when your cat launches herself onto its soft bedding.
Taking just a minute or two to put together and coming in a style that'll fit effortlessly with all sorts of interiors, this window perch also comes in at a reasonable price that won't break the bank.
Runner Up
Pros:
Sturdy design
No wobbling and tip-resistant
Easy to access for your cat
Reasonable price tag
Machine-washable bedding
Cons:
You may prefer to add a cushion for even more comfort
Cat Window Perch
On sunny days, your cat will adore laying out on this window cat perch soaking up those warm rays. Coming in a versatile, pared-back style, this window cat perch can match with your existing interiors, without being an eyesore. It can hold up 44lb, which is enough for even the heftiest of felines, with the strong suction cups working to keep it stable and secure on that window pane.
You can easily remove and machine-wash the mat, so it's super simple to give it a quick refresher whenever you find rogue kitty litter or pawprint tracks; simply throw it in the laundry with similar colors, and voila, good as new. On the lower end of the price spectrum, this one's easy on the pursestrings, too.
Great Choice
Pros:
Cheap price tag
Strong suction cups
Machine-washable mat
Ideal for sunbathing
Cons:
Doesn't look too sturdy, but performs fantastically
Cat Window Perch
Doubling as a scratching surface thanks to the talon-friendly cardboard surface, this cat perch saves your couch while offering up a cool spot for your cat to chill out to the max.
It'll hold up to 50lb, which is plenty for even the largest of kitty-cats. Plus, the secure suction cups are strong, reliable, and will stay put even when your cat is jumping on and off her new bed. If style and functionality are on your criteria (which, of course, they are), this sleek-style window cat perch is the best choice.
Best Hammock-Style
Pros:
Strong suction cups
Holds up to 50lb
Doubles as a scratching surface
Minimalist style
Cons:
Cat Window Perch
A fantastic choice for larger cats, the Tucker Murphy cat bed offers plenty of space to stretch out and relax. Supported by a metal frame, this perch will stay sturdy against your window pane, so you can set it up confident you won't be picking up pieces from the floor anytime soon.
The fluffy flannelette cover makes for excellent bedding, and you can whip it off and throw it in the laundry whenever it gets a little on the stale side. So, give your cat the gift of a 360-degree view with this expertly-designed window perch, where they can observe the outside world and take glorious naps in the sunlight.
Also Consider
Pros:
Machine-washable cover
Metal frame and sturdy feel
Ideal for sunbathing and naps
Understated style
Cons:
Not as cozy as other options, but great for warmer climates
Frequently Asked Questions
How do you get a cat window perch to stay?
If you find your window perch isn't sticking effectively, this is easily remedied. Before sticking your suction cups to the window, make sure both cups and glass pane are spotlessly clean and bone-dry; this will make a huge difference in the sticking strength.
Do cats like window perches?
Cats absolutely love window perches. Not only does it offer them comfort and height (to some extent), but also gives them direct access to streaming sunlight, a great view of the world outside, and their own personal space to stretch out and relax. Indoor cats in particular, will benefit from a window perch, as it gives them views of nature that they'll otherwise miss out on.
Why do cats perch on windows?
Cats are exceptionally curious creatures, and they love to watch and observe, as we're sure you've noticed. A window cat perch provides cats with a personal spot that's just for them, space to lounge around, lots of sunlight, and plenty of views of the street or garden outside.
Why do cats need perches?
Indoor cats need to be provided with lots of places to climb, sit, and observe the room. While indoor/outdoor cats love perches too, it's far more important for indoor cats to have this equipment available to them. Consider picking up a window perch, a cat tree, or a cat condo, so they have their very own spaces to climb, scratch, and relax.
Why do cats perch in high places?
Cats like to sit and lie down in places with good views of their surroundings. This is largely so they can spot any potential threats in their vicinity, which is ingrained into their animal instincts. While there may not be any real threats in your house (we hope not, anyway), your cat will still gravitate towards higher spots like the back of the couch, high cupboards, and window perches.
WHY TRUST US
Since 2008, Cattime has served as a leading resource for millions of cat owners and pet lovers alike. Our goal is to give every cat and pet a happy, healthy home by providing owners with all information they need to be the best pet parents possible. Our experts share their insights and recommendations to make caring for your beloved pet a breeze.