A cat crate is a great way—and arguably, the only appropriate way— to safely and securely transport your furry friend. While cats aren't known for their love of travel, sometimes a trip to the vet or a new home is necessary. A cat carrier will help to reduce their stress on the voyage; cats naturally feel more secure when they're kept in a smaller, enclosed area (short-term, of course).
Another clever use of the cat crate is less obvious, but no less useful: it can serve to help you potty-train your cat by providing a designated area for them to go to the bathroom. It's safe, dark, and solitary—everything your kitty is looking for in a bathroom.
So, if you're on the market for a brand-new crate, we're on hand to help you shop. Check out our guide for the top picks below.
Top Pick Amazon Basics Cat Crate
Amazon Basics 2-Door Top Load Hard-Sided Dog and Cat Kennel Travel Carrier, 23-Inch
Best Cat Crates and What to Consider
Size
Your chosen cat crate should be roomy enough for your cat to stand up, lie down, and do a full 360-degree turn. This typically means the crate should be 1.5 times the size of your kitty-cat. For longer journeys, ensure there's enough room for their cat food bowl, too.
Materials
Most good cat crates are crafted from thick plastic, strong fabric, or high-quality metal. Make sure yours has sturdy handles so you can carry it with confidence, and a solid bottom panel so you can be sure it'll take your cat's weight. Most cat crates will detail the maximum weight they can hold safely, so do check this before buying.
Ventilation
Any cat crate you select must have proper ventilation so your cat can breathe easily. This is absolutely paramount. Check if your cat carrier has breathable mesh panels (if fabric) or a grated front door with side slits (if plastic or metal).
Amazon Basics Cat Crate
This traditional cat crate is our number one choice when it comes to transporting our feline. Crafted from sturdy plastic and featuring a steel wire door (which works for good ventilation while making sure your kitty can see what's going on around them), this cat crate is a stellar choice.
We like that you can top-load if your cat is reluctant to step through the front entrance, making the experience far less stressful for everyone involved. Finished with lots of ventilation so your feline can breathe easy, this cat crate features pretty much everything we're looking for. Use it for vet trips, cattery stays, and moving house.
Top Pick
Pros:
Great value
Strong plastic and wire design
Top or front-loading
Spring latches for one-handed opening and closing
Holds cats weighing up to 20lb
Cons:
Pad it out with blankets to make it more comfortable
MidWest Homes for Pets Cat Crate
Ideally-sized for cats and kittens, this compact but roomy cat crate is perfect for taking your kitty to the vet. Though budget-friendly, this cat crate is sturdy, offers a strong feel, and comes with plenty of ventilation for your feline pal.
It's not the largest, but it's absolutely fine for shorter car journeys; we'd recommend it if your cat is receiving medical care and has to go in and out of the vet's on the regular. Easy to assemble and with a spacious front grate for easy entry, this cat crate is a brilliant bargain choice.
Runner Up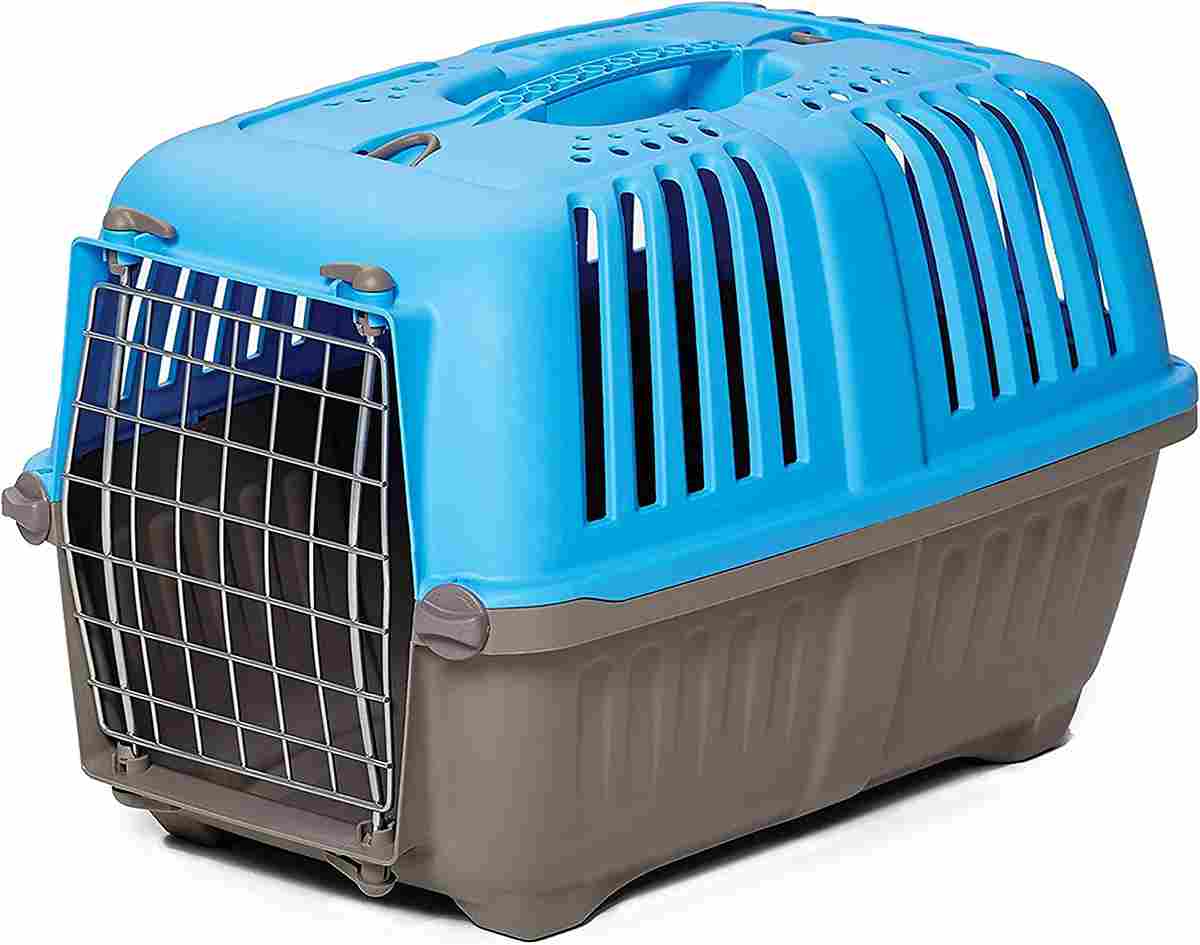 Pet Carrier: Hard-Sided Dog Carrier, Cat Carrier, Small Animal Carrier in Blue, Inside Dims 17.91 L x 11.5 W x 12 H & Suitable for Tiny Dog Breeds, Perfect Dog Kennel Travel Carrier for Quick Trips
$28.99
Pros:
Bargain price tag
Strong plastic crate with wire front door
Easy to clean
Lots of ventilation
Cons:
Best for smaller cats due to the compact size
Soft-Sided Cat Crate
If you're heading off on a longer journey and your furry friend is joining, they'll need something soft, secure, and comfortable for the trip. The Vceoa Soft-Sided Cat Crate is a wonderful choice, serving up a safe and cozy spot for your cat to chill while in transit.
Featuring lots of ventilation, carry handles, a shoulder strap that doubles as a seatbelt, and a removable (and washable) fleece bed on the inside, this cat crate does the job and then some. We also like the zipped pocket at the back, which is perfect for storing cat treats to make the journey a little more enjoyable for them, too.
Best for Travel
Pros:
Soft-sided design; great for longer car journeys
Carry handles and shoulder strap/seatbelt
Plenty of ventilation
Washable fleece bed inside
Zipped pocket at the back for extra kit
Cons:
Bottom may bend slightly if it's weighed down too much
SportPet Cat Crate
Whether you've got a large cat breed or you're planning to transport a few kittens, this large cat crate is ideal. It'll easily carry up to 50lb in total, which is ample even for the cat who's had an extra can of cat food.
Finished with large mesh windows for proper ventilation plus a removable waterproof pad on the inside, your cat will breathe easy and enjoy the utmost comfort tucked into this crate. It comes with a cute little drawstring bag to pack it away when not in use, too.
Best Large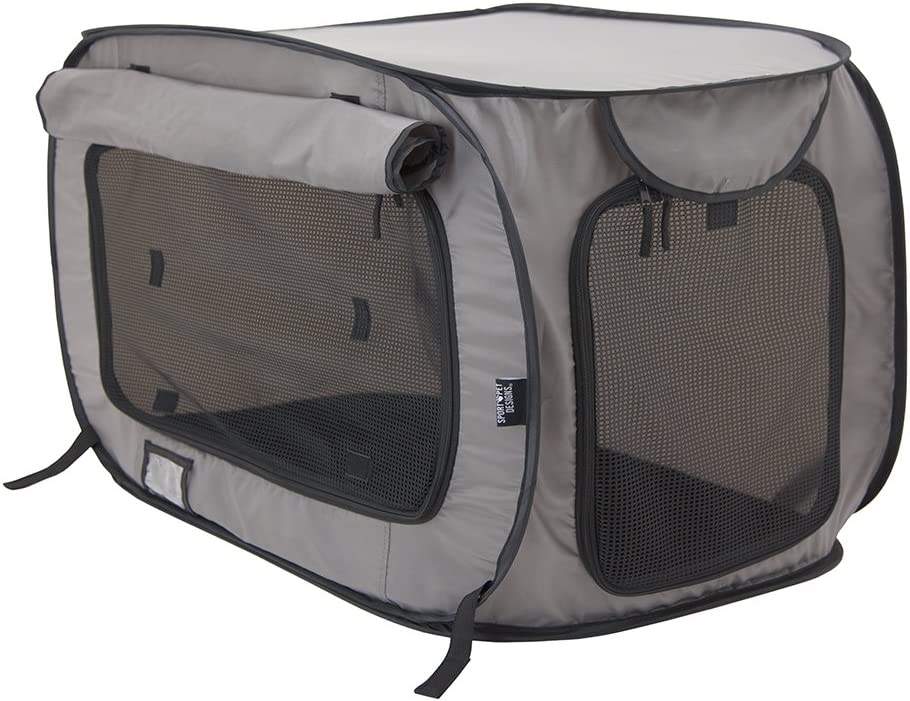 SportPet Designs Large Pop Open Kennel, Portable Cat Cage Kennel, Waterproof Pet bed, Carrier Collection
$33.99
Pros:
Packs away when not in use
Strong enough to carry 50lb
Ideal for large cats or a few kittens
Large mesh windows with roll-up covers
Removable waterproof inner pad for comfort
Cons:
Made mostly from fabric, so doesn't offer the same sturdy feel as plastic options
BurgeonNest Cat Crate
Cozy and well-made, this nifty little cat crate is the perfect spot for your feline to chill out while they're traveling. Designed with four escape-proof windows (because you never know!), which also double as ventilation, your cat will enjoy good airflow and a comfy spot with this one.
Cleverly-designed with a sturdy metal frame but lots of soft padding, this cat crate won't collapse down—instead, standing strong and sturdy to protect your cat and help them feel secure. Though on the smaller side, this cat crate can easily handle kitties up to 20lb, which will work for most average-sized cats.
Best Soft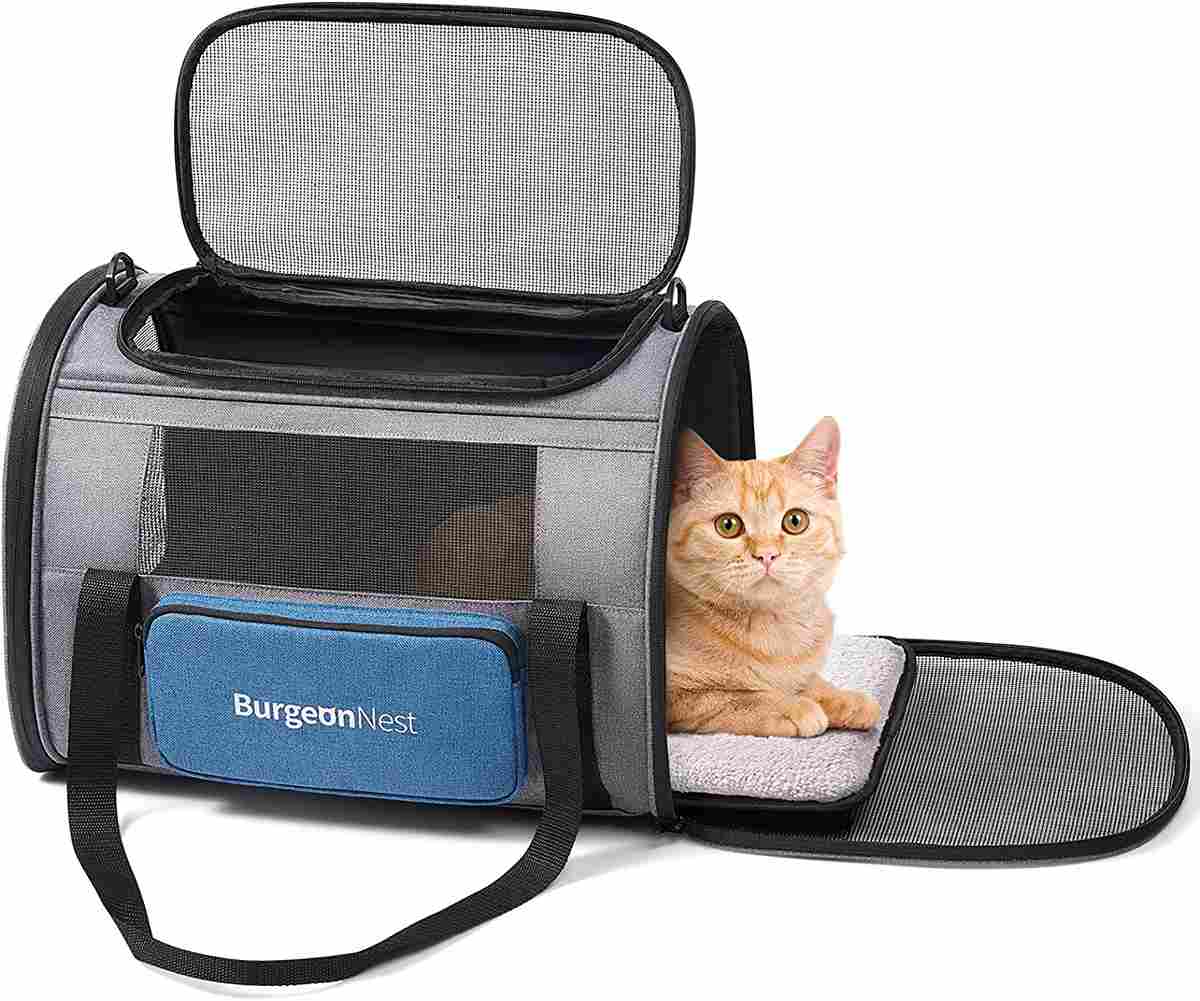 BurgeonNest Cat Carrier for Large Cats 20 lbs,Medium Cats Under 25 lbs,2 Cats and Small Dogs with Unique Side Bag,Top Load Pet Carrier Soft-Sided Escape Proof with 4 Ventilated Windows
$39.99
Pros:
Super secure and comfy
Escape-proof design
Holds up to 20lb
Strong and stable
Cons:
Frequently Asked Questions
How long can a cat stay in a crate?
Your cat shouldn't be kept in a crate or cat car carrier for any longer than absolutely necessary. While it may not be an unpleasant space for your cat, they'll certainly not appreciate being cooped up for too long. So, let them out as soon as possible after your journey.
How long can a cat stay in a crate without going to the bathroom?
A cat can stay in a crate for up to 2 to 4 hours without needing to go to the bathroom. However, they shouldn't stay in a crate for longer than this without being let out to use the litter box.
How do I choose a cat crate?
Consider the size of the crate: The crate should be large enough to accommodate your cat comfortably (usually, this equates to 1.5 times your cat's size) and allow it to move around freely. Opt for strong materials like plastic or metal and well-built handles so you can carry it with confidence.
WHY TRUST US
Since 2008, Cattime has served as a leading resource for millions of cat owners and pet lovers alike. Our goal is to give every cat and pet a happy, healthy home by providing owners with all information they need to be the best pet parents possible. Our experts share their insights and recommendations to make caring for your beloved pet a breeze.