If you've got a cat at home, chances are you're thinking about what the best toys are to keep them healthy, active, and entertained. Enter: toy mice. Mice tap into cats' natural instincts, and are exactly the kind of small mammal they're likely to hunt in the wild. Chasing and catching helps to fine-tune your cat's hunting instincts, which they still need—despite having dinner prepared and served to them by yours truly.
It's important to keep your cat's instincts sharp, and mice toys are one of the best ways to do that. Not to mention, playing with your cat helps to forge a solid bond and is super fun for both you and your feline! And of course, with mice toys costing very little, you won't burn a hole in your pocket, either. So, pick up the best toy mice for cats from our ultimate guide, and you can watch your cat go all Itchy and Scratchy for hours on end.
Top Pick SPOT Ethical Pets Frankie Mouse Toy for Cats
SPOT Ethical Pets 52083 Flat Mouse Frankie Catnip Toys, All Breed Sizes
Best Toy Mice for Cats to Consider
Materials
It's important you choose safe, non-toxic materials for your cat toys. After all, they're almost certainly going to be biting, chewing, and licking their new toy (especially if you spray it with a dab of catnip!). So, natural materials are always your best bet, from wood to cork on the harder side to hemp and wool on the softer front. While cheap and cheerful cat toys might be made from less healthy materials, you won't be doing your kitty any favors as they could be exposed to harmful chemicals or even choke hazards.
Choking Hazards
Be wary of toy mice with add-ons like bells or bows, since these extra bits have a habit of coming off. Just like with young children, any small, detachable pieces present a choking risk, which we're sure you don't want for your beloved kitty. So, look for toys without add-ons or toys with very secure stitching to keep your cats safe during play.
Benefits of Mice Toys for Cats
While there are plenty of toy types to go for when it comes to updating your cat's toy box, mice toys are the go-to classic. Why? Because mice are a cat's natural prey, and they'll be able to tap into their predatorial instincts to chase, stalk, and pounce on that furry little mouse. While we advise against bringing real mice into the equation (cruel and unnecessary), the best toy mice for cats provide a happy alternative that'll hone your cat's hunting skills while keeping the bloodshed at bay.
SPOT Ethical Pets Frankie Mouse Toy for Cats
Impressively realistic and made with the all-important dab of catnip to encourage play, this toy mouse for cats is an excellent addition to their indoor toy collection. The versatile design means there's ample scope for different types of play; throw it around the room and watch your kitty dive after it, use the tail to make a chase game, or simply leave it somewhere for your cat to use as as they see fit.  Soft, well-made, and coming in at a great price, this mouse toy is a winner for us.
Top Pick
Pros:
Beautifully rustic design
Soft and ergonomic
Lots of scope for different games
Good price tag
Cons:
Tail could be longer to make a good chaser toy
Fur Mice Toys for Cats
Packed with 12 little mice for your cat to hunt, tease, and pounce on, this set of mice toys is worth your bucks. Not only are they soft and oh-so-tempting for your cats, but they also make a gentle rattling sound your cats will love. Your cats will love playing with these mice toys, and they'll certainly be distracting from scratching your furniture, which is great news for you.
We like that the mice are made to resemble the real deal, measuring up at a lifelike size. So, you'll be hoodwinking your kitties into thinking a real-life mouse family has moved in. Packed with black, grey, and white mice, there's plenty of variety, too.
Runner Up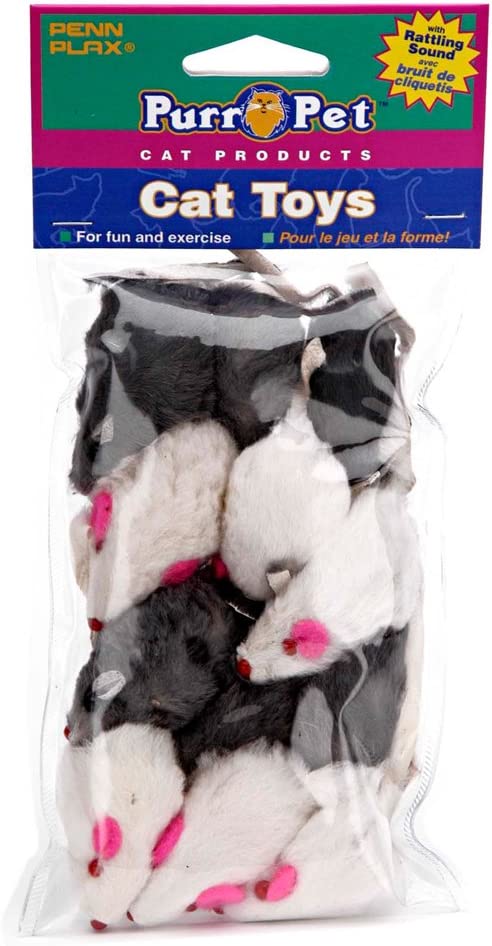 Penn-Plax Play Fur Mice Cat Toys | Mixed Bag of 12 Play Mice with Rattling Sounds | 3 Color Variety Pack - CAT531, Black and White
$9.99
Pros:
12 mice in every pack
3 colors
Soft and safe
Rattling sounds
Cons:
Not the most sophisticated toy, but cats love them
OurPets Play-N-Squeak Twice the Mice Cat Toys
We'd forgive you for thinking these toy mice were the real thing; just look at that realistic craftsmanship! We're pretty sure your cats will be easily convinced, too. Boasting added catnip to enhance your cat's interest plus a realistic squeaking mouse sound, these mice toys will have your felines hightailing over for a pounce and play.
Add these mice to your cat's toy collection and encourage healthy play, nurture their hunting instincts, and relieve boredom—which is especially important for keeping indoor cats active, particularly if you're at work all day.
Most Realistic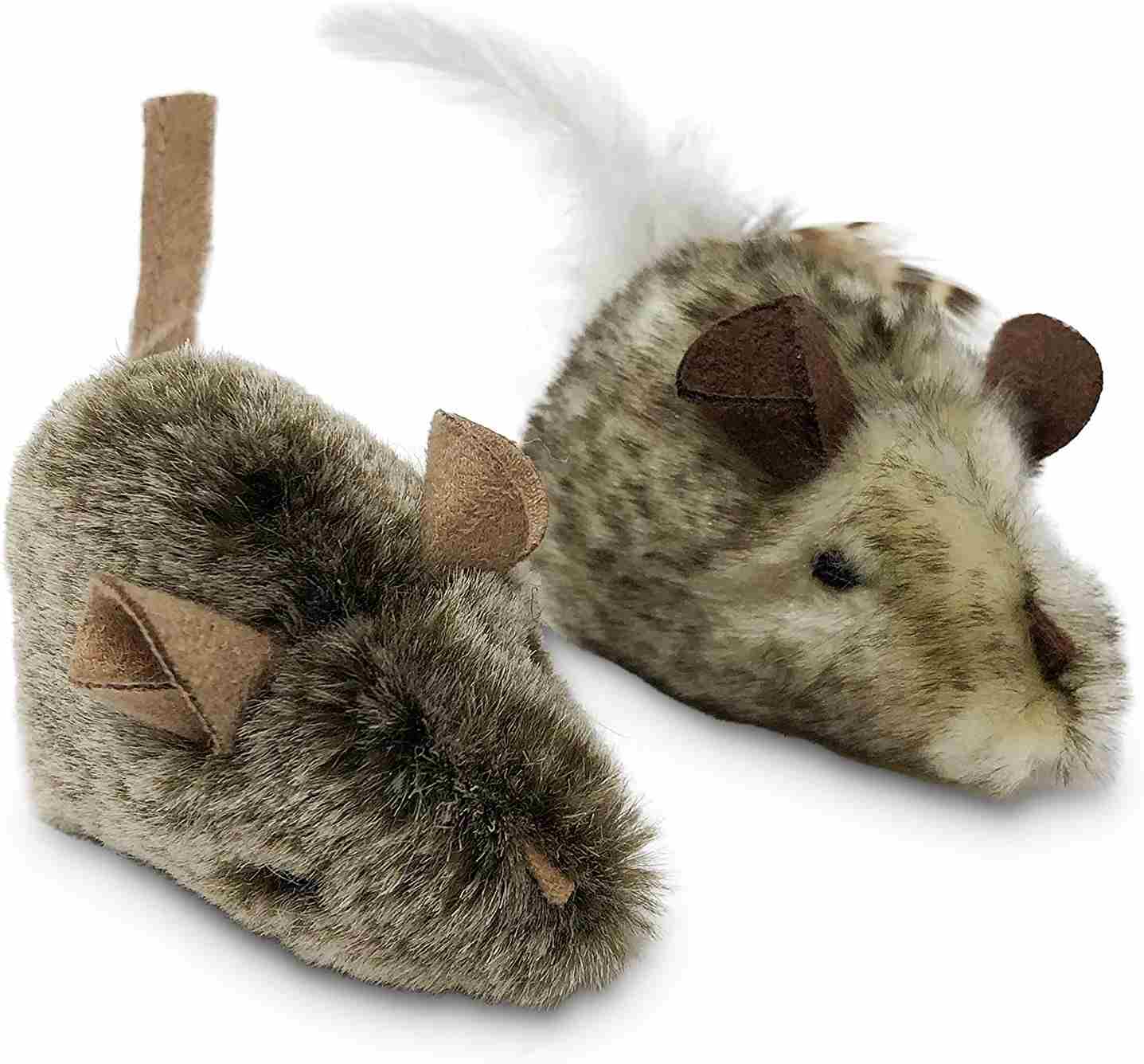 OurPets Play-N-Squeak Twice the Mice Cat Toy, 2pc (Interactive Cat Toy, Catnip Toy, Catnip Toys for Cats, Real Mouse Electronic Sound, Catnip, Cat Toys)
$13.73
Pros:
Super realistic aesthetic
Electronic mouse sound
Made with catnip scent
Great value
Cons:
Mouse sound is rather loud
CHIWAVA Mice Toys for Cats
Boasting a whopping 36 little mice toys in every pack, you'll have enough to keep your cats occupied for years to come. Tiny, cute, and colorful, these mice toys make lovely, engaging entertainment for your felines. Complete with catnip and a rattling sound, these multi-sensory cat toys will captivate your kitty's senses and have them raring to go. You can join in the fun with these enrichment toys, or simply leave them out and about in your home for your cats to create their own hunting games.
Top Pick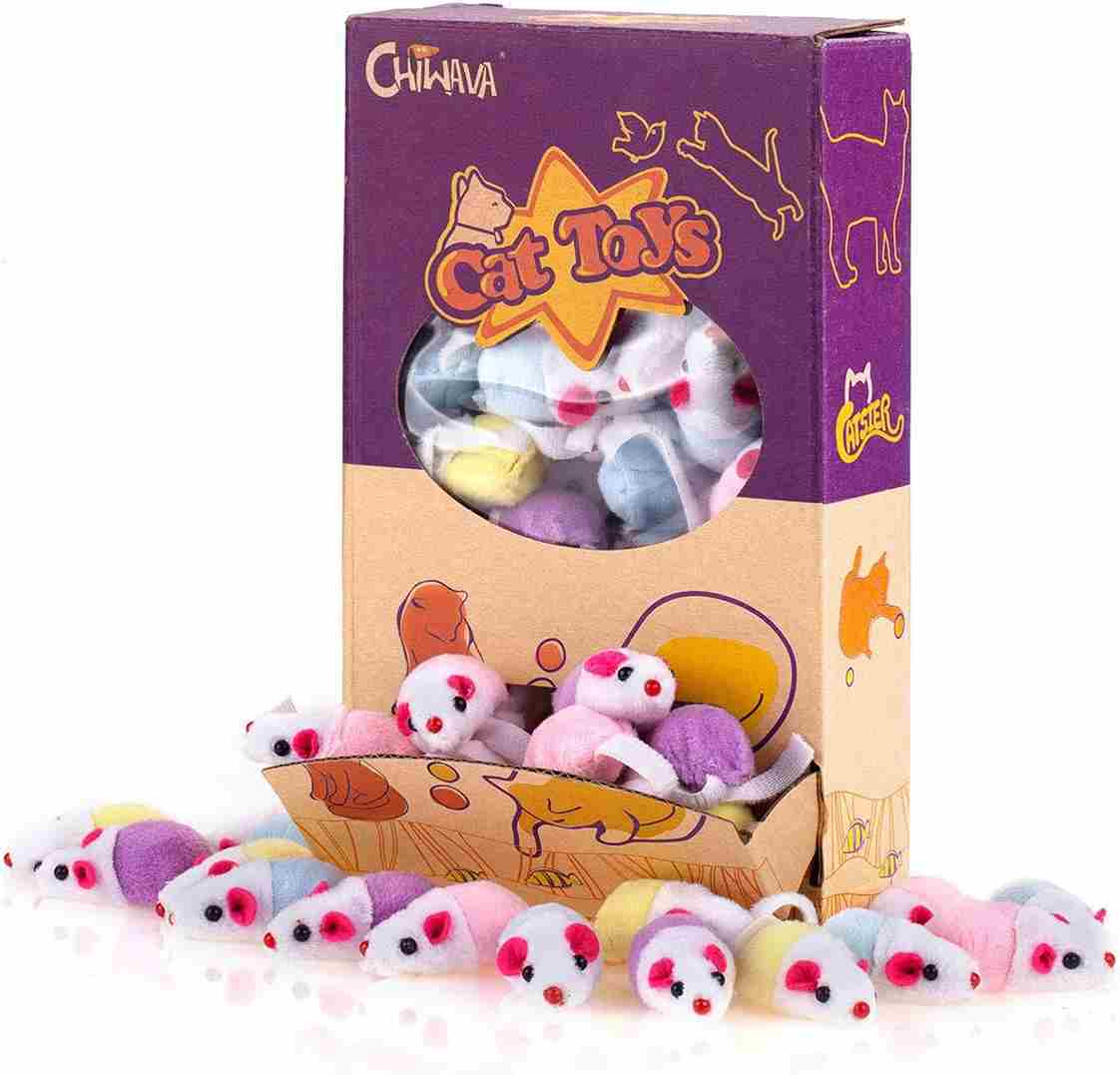 CHIWAVA 36 Pack 1.8 Inch Small Interactive Cat Toys Mice with Catnip Rattle Sound Mouse for Indoor Cats Kitten Play
$11.98
Pros:
36 tiny mice per pack
Cute bright colors
Made with catnip
Rattle sound to engage the senses
Cons:
Kissmi Furry Mice Toys for Cats
These furry little beauties are on hand to keep your kitty entertained come day or night. Coming in a pack of 20, these mice toys for cats will tease out your feline's natural hunting instincts, letting them run riot with their new prey until the cows come home. We love the assortment of rainbow colors, adding an extra element of fun to these mice toys. There's a gentle rattling sound to captivate your cats even more, too. Don't worry, it's not too loud; you'll still be able to get a good sleep even while your cat is getting some early-hours playtime in.
Also Consider
Pros:
20 toys per pack
Bright colors
Rattling sound
Great size for chasing and batting
Cheap price tag
Cons:
Eyes and noses can be a little loose
Frequently Asked Questions
Are mouse toys good for cats?
All cat toys, including mouse toys ,are a great way to engage your cat in physical activity; this is especially important if they're indoor cats who don't have so much nature to run about in. Your cat will naturally gravitate towards their new mouse toy since it'll play into their natural instincts and encourage them to scout, pounce, and catch. Adding mouse toys into the equation will also build your bond with them, sharpen their motor skills, and fine-tune their instincts. So, all in all, mouse toys are great for cats.
Is it safe for cats to eat mice?
It's not ideal for your cat to chow down on a mouse, no. However, it's very rare that it'll cause them actual harm. Mice are known to carry parasites and bacteria that can cause your kitty to experience nausea and other negative symptoms if ingested,
Do cats play with mice?
True to their reputation, cats do indeed love to play with mice. If a mouse enters your house and your cat spots it, it'll likely hunt, chase, and pounce on the litter creature.
Are female cats better mousers?
Female cats tend to be better at catching mice than their male counterparts. This is partly because in the wild, female cats would've had to hunt for not just themselves, but also for their litters, which meant they became highly skilled hunters with an eye for catching prey and the sharp instincts to match.
WHY TRUST US
Since 2008, Cattime has served as a leading resource for millions of cat owners and pet lovers alike. Our goal is to give every cat and pet a happy, healthy home by providing owners with all information they need to be the best pet parents possible. Our experts share their insights and recommendations to make caring for your beloved pet a breeze.