Just like humans, cats need a proper dental care routine to avoid the build-up of pesky plaque and tartar. Naturally, prevention of dental disease is better than cure, so it's important to integrate a cat toothpaste into your kitty's routine early on to avoid more severe dental issues later in life.
Cat toothpaste is specifically formulated to be kind to your cat's teeth, and be warned: attempting to use human toothpaste on them is an absolute no-go. The high levels of fluoride present in human toothpaste formulas will cause havoc for your cat should they swallow some—which, of course, is a real possibility. So, take proper care and invest in a for-purpose cat toothpaste so your kitty can enjoy healthy teeth and great oral health.
So, whether you're already a convert or you'd like to introduce a cat-friendly toothpaste to your feline's dental routine, you're in the right place. Read on for our comprehensive guide.
Top Pick Virbac Enzymatic Cat Toothpaste
Virbac CET Enzymatic Toothpaste| Eliminates Bad Breath by Removing Plaque & Tartar Buildup | Best Pet Dental Care Toothpaste | Poultry Flavor, 2.5 oz tube
Best Cat Toothpaste To Consider
If the world of cat dental care is an entirely new language for you, don't worry—we get it. To help demystify, we've put together a few things to look out for—and what to avoid—when you're shopping for the best cat toothpaste.
What To Look For:
Antibacterial Ingredients
These are necessary to neutralize bad breath and combat plaque—look for an enzymatic formula or chlorine dioxide in the ingredients list. Either of these will work wonders in reducing plaque and tartar while being totally safe for your feline.
Veterinarian-Recommended Formulas
If in doubt, always ask your veterinarian for recommendations. After all, they're professionals. If you can't make it to an appointment, look for a cat toothpaste which is approved by the Veterinary Oral Health Council, as these will have been cleared for safe ingredients and proper efficacy.
What To Avoid:
Specific Ingredients
Sodium Laureth Sulfate—a common ingredient in human toothpaste, SLS can cause indigestion if consumed by your cat. Baking soda—regularly used in DIY human toothpaste recipes, baking soda's high alkaline content can easily upset your cat's stomach. So, it's best to check for low amounts or steer clear entirely.
Flavored Cat Toothpaste
While flavored cat toothpaste is technically an option, it's not the best choice for your pet. Not only do the flavors themselves often come from questionable ingredients, but you may find your cat doesn't like a particular flavor, which can make finding the right one expensive and frustrating. Thankfully, there are heaps of flavored and flavor-free options out there, so you can pick one that's right for your kitty.
Virbac Enzymatic Cat Toothpaste
Using a clever enzyme system to tackle all sorts of common dental issues, from bad breath to pesky plaque, the Virbac Enzymatic Cat Toothpaste is worth your pennies. Mildly flavored with a touch of poultry, this toothpaste shouldn't taste too different from their usual cat food. So, easing them into the toothbrushing routine should be relatively seamless. Even better: this cat toothpaste is specifically formulated to be safe for your feline, even if it's swallowed. Combine this toothpaste with some tasty cat dental treats to complete your kitty's oral healthcare routine.
Made in the US, the Virbac cat toothpaste comes veterinarian-recommended, so you can go ahead safe in the knowledge your choice is approved by the pros. It's best applied using a soft-bristled toothbrush, which you'll have to pick up separately.
Top Pick

Virbac CET Enzymatic Toothpaste| Eliminates Bad Breath by Removing Plaque & Tartar Buildup | Best Pet Dental Care Toothpaste | Poultry Flavor, 2.5 oz tube
$10.92
Pros:
No foaming agents (SLS), so it's safe if swallowed
Poultry flavor
Uses the power of enzymes for a proper clean
Veterinarian-recommended
Tackles bad breath, plaque, and tartar build-up
Cons:
More expensive option
No toothbrush included
Cat Toothpaste
Cat toothpaste gels are an excellent choice, since they can be used effectively with or without a toothbrush. The Brushless Toothpaste Gel for Cats is designed with cats in mind, harnessing a complex system of enzymes to combat bad bacteria head-on.
Made with a surfactant to ensure the active ingredients cling to the pet's teeth and gums, this cat toothpaste is one of the most effective on the market. If your cat doesn't take too kindly to having their teeth brushed, no fear: you can even apply this toothpaste gel to their paws, which they'll lick off later on.
Runner Up
Pros:
Fine to use with or without a toothbrush
Gels onto their teeth and gums easily
Apply directly to teeth or to paws
Effective enzyme formula
Suitable for dogs and cats
Cons:
Not particularly budget-friendly
Oxyfresh Premium Cat Toothpaste
The OxyFresh Toothpaste for Cats comes unflavored, which is ideal if you've got a picky pet at home. This way, you don't have to waste money on toothpaste with flavors they may turn their nose up at.
Working to remove plaque and prevent tartar while leaving freshening their breath in its wake, this cat toothpaste is another beauty that works with or without brushing. You can gently rub it into their teeth and gums with a clean finger, or dab a little on their paws for them to lick off themselves. With a few avenues to explore, you're sure to find the best way to get your kitty on board.
Best Flavor-Free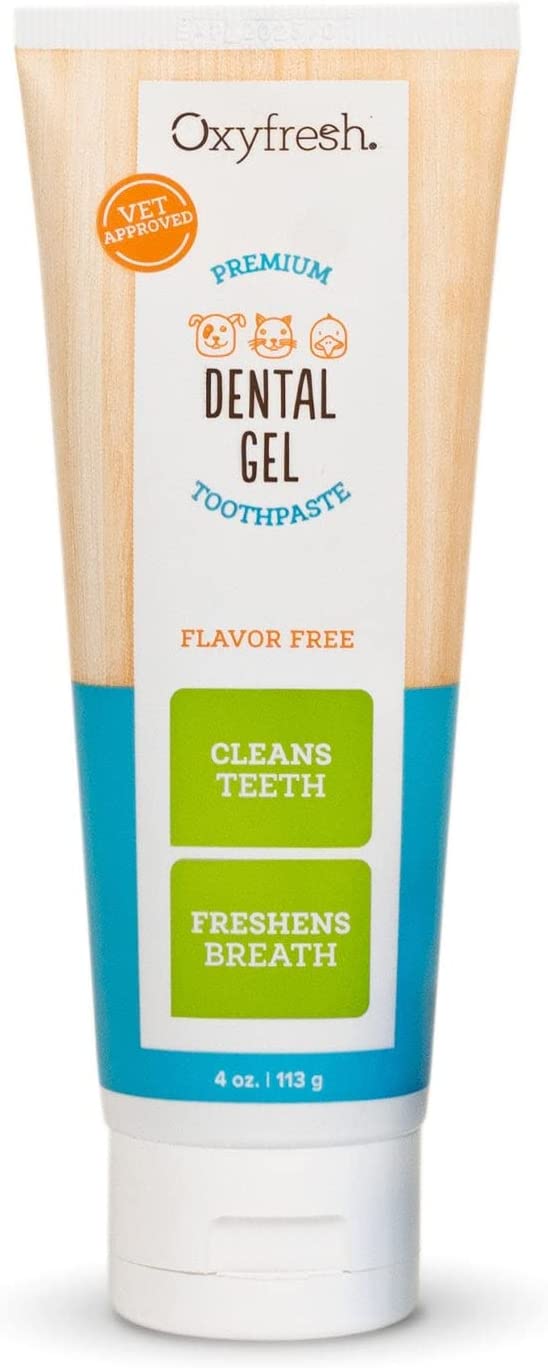 Oxyfresh Premium Dog Toothpaste – Best Dog Teeth Cleaning & Dog Plaque and Tartar Fighter – Safe for Cat Toothpaste Too – Vet Formulated Pet Toothpaste, 4oz
$10.95
Pros:
Removes plaque and tartar build-up
Leaves them with fresher breath
Suitable for use with or without a brush
Maintains good overall dental health
Reasonably priced
Cons:
Arm & Hammer Cat Toothpaste
Arm & Hammer don't just shine with their human toothpaste; their Cat Toothpaste and Brush Kit extends its dental care to your felines, too. Coming in at an affordable price, you'll get everything you need to integrate a proper oral care routine into your pet's day-to-day life, from the toothpaste itself to the all-important toothbrush.
Using an enzymatic formula to hit plaque buildup and bacteria where it hurts, this toothpaste for cats is also super efficient in eliminating bad breath. Yep, while it's flavored with tuna, the lingering scent is actually minty, so you can still enjoy those in-your-face purrs and kisses from your feline.
Best with Baking Soda

Arm & Hammer Fresh Breath Dental Kit for Kittens Cat Toothbrush and Toothpaste with Baking Soda Cat Oral Care Cat Dental Kit for Kittens in Tuna Flavor & Fresh Mint Scent for Cat Teeth Cleaning
$10.99
Pros:
Tuna flavor, minty fragrance
Reasonable price tag
Enzymatic formula to tackle dental issues
Toothbrush included
Trusted brand
Cons:
Includes baking soda, which can upset your cat's stomach
PetSmile Cat Toothpaste
Um, cheese-flavored toothpaste, anyone? While not so tasty for us humans, the PetSmile Cat Toothpaste in "Say Cheese" is a yummy choice for your feline. Not only will they love the taste, but the formula is highly adept at tackling everyday dental health issues, from preventing plaque build-up to inhibiting gingivitis.
Made with pet-safe, human-grade ingredients, this carefully-formulated cat toothpaste is full of the good stuff, with none of the nasties—you won't find any parabens, sulfates, or BPA in this one. Again, you won't need a brush for this toothpaste; simply apply it to your cat's teeth and gums with your finger and let it work its magic.
Also Consider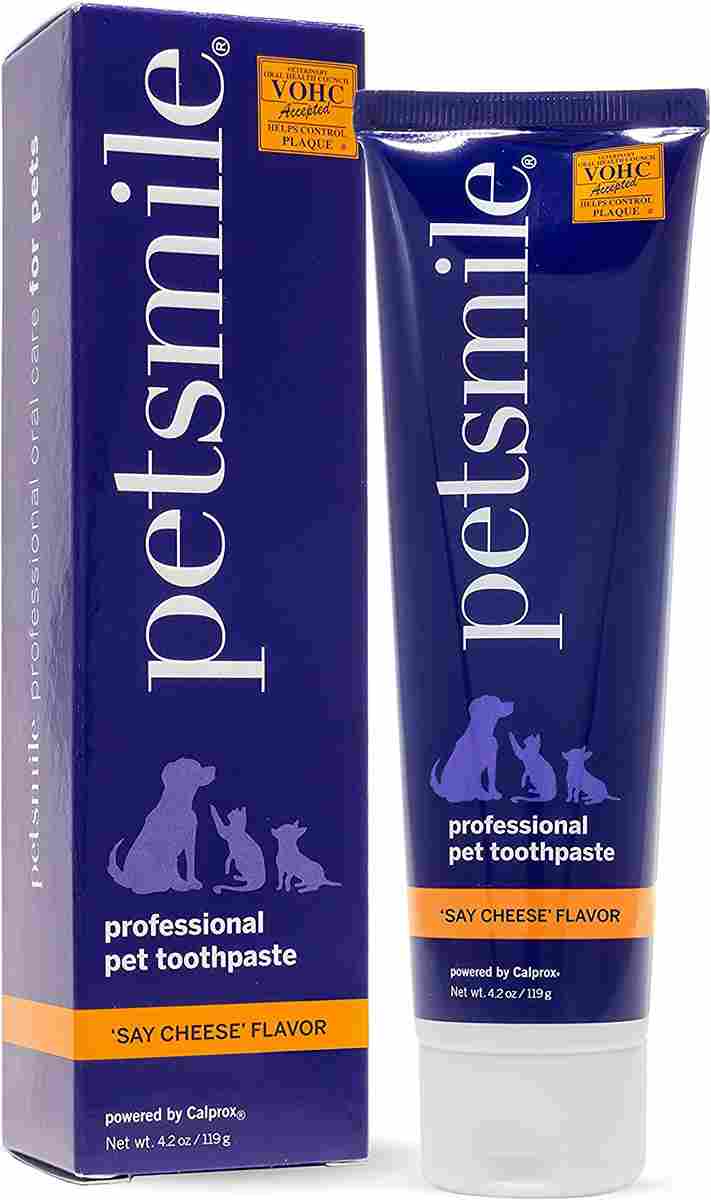 Petsmile Professional Pet Toothpaste | Cat & Dog Dental Care | Controls Plaque, Tartar, & Bad Breathe | Only VOHC Accepted Toothpaste | Teeth Cleaning Pet Supplies (Say Cheese, 4.2 Oz)
$25.00
Pros:
Cats love the cheesy flavor
Prevents plaque build-up, bad breath, and gingivitis
Veterinary Oral Health Council-approved
Removes stains
No brushing required
Made with pet-safe ingredients
Cons:
Better quality = higher price tag
Frequently Asked Questions
What happens if you give a cat toothpaste?
Never give your cat toothpaste designed for humans. The high fluoride content can wreak havoc with your cat's digestive system if swallowed, not to mention it contains many other ingredients which are deemed highly unsafe for cats. Instead, opt for a cat toothpaste formulated with our feline friends in mind.
Does cat toothpaste work without brushing?
Some cat toothpaste is effective without the need for teeth brushing too, but you need to check each specific brand's guidelines. Often, a no-brush formula will be more effective since it's less invasive and easier for your cat to become accustomed to. Some formulas can even be smeared on your cat's paws, ready for them to lick off and "self-administer" later on.
Is it OK for cats to eat cat toothpaste?
Toothpaste formulated specifically for cats is generally safe for them to swallow. A good cat toothpaste will not contain fluoride (unlike human toothpaste), which can cause nasty stomach upsets in your feline.
How often should you brush your cat's teeth?
Most cat toothpastes experts recommend around three times a week, after their evening meal of healthy cat food. Some cat toothpaste brands will advise more or less frequency, however, so it's always best to check for specific guidelines.
What ingredients should I avoid in cat toothpaste?
Fluoride, SLS (Sodium Laureth Sulfate), and alcohol are all no-nos when it comes to cat toothpaste. Cats cannot process the same chemicals as us humans, and ingesting any of these ingredients can cause sickness, stomach upsets, and general bad health.
WHY TRUST US
Since 2008, Cattime has served as a leading resource for millions of cat owners and pet lovers alike. Our goal is to give every cat and pet a happy, healthy home by providing owners with all information they need to be the best pet parents possible. Our experts share their insights and recommendations to make caring for your beloved pet a breeze.