The Best Stimulating Dog Toys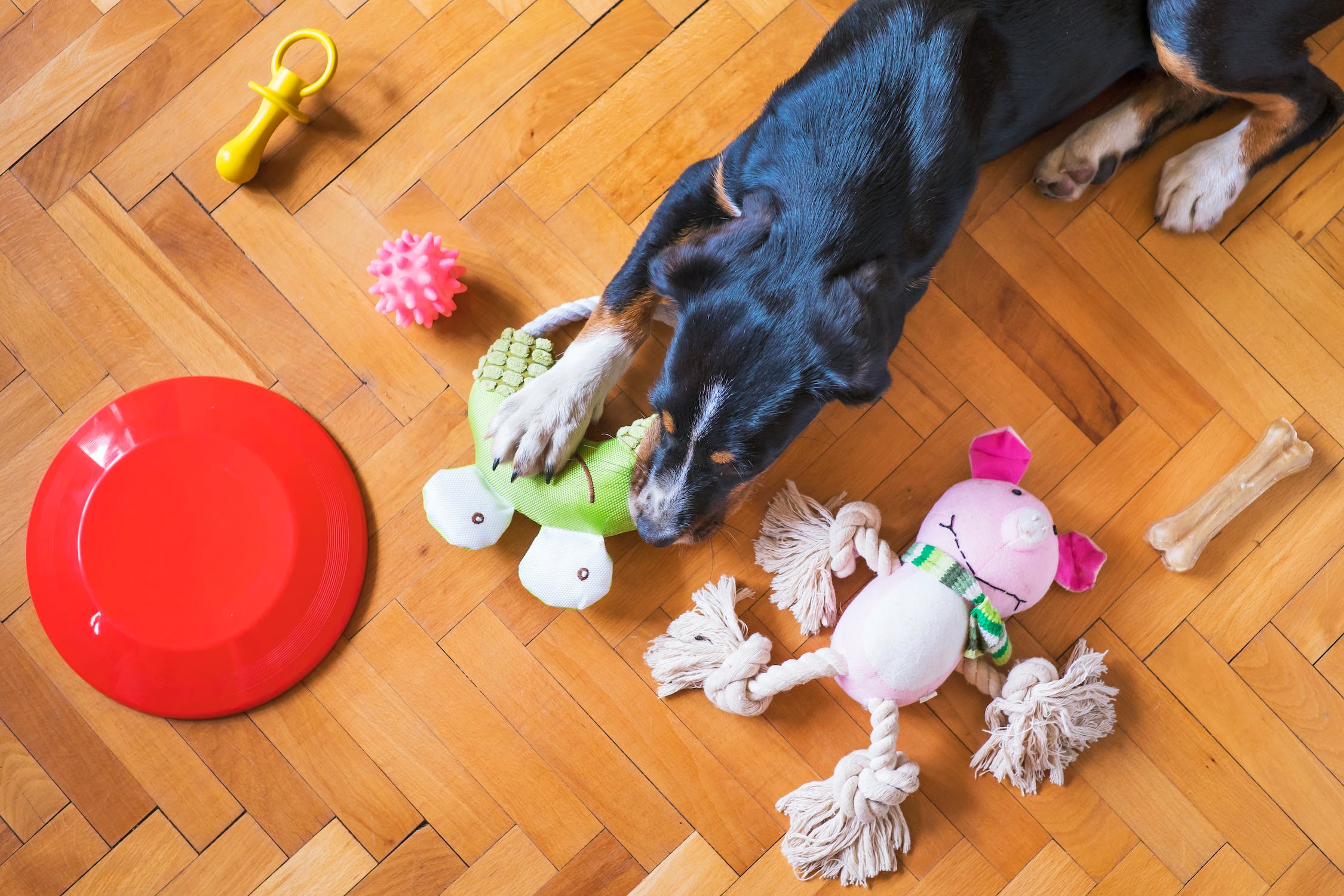 Whether your pup is anxious or an aggressive chewer, this toy from Kong can help keep them mentally stimulated for long periods. You can stuff this toy with all types of goodies, and the more your furry friend chews, the more treats they'll get. The toy's bouncing movements will keep your pup moving as they pursue their goal of dislodging the goodies stored inside. That's not all; this toy is incredibly durable, so it'll stand up to the chewing of almost any dog.
Pros:
Made of durable, non-toxic rubber

Suitable for dogs of any size

Available in multiple sizes
Can be used as a chew toy or to play fetch
Cons:
Can be difficult to clean depending on the types of treats you put inside the toy
Outward Hound Plush Stimulating Dog Toy
This toy from Outward Hound combines two things dogs love: hunting and stuffed animals. The toy comes with three squeaky stuffed squirrels and a plush tree trunk. All you have to do is place the squirrels inside the tree trunk and watch as your pup plays and tries to find them and pull them out of their hiding place. You can repeat the game as often as you want, and your dog will almost certainly want to keep playing. It's an excellent way to help your pup get some much-needed exercise.
Pros:
Comes in four different sizes

Gentle on teeth and gums

Encourages positive play
Helps eliminate boredom
Cons:
The squeakers don't last very long
Wobble Wag Giggle Sound Stimulating Dog Toy
Balls are the go-to toy for many pet owners when it comes to keeping their dogs happy and engaged. This toy from Wobble Wag puts a new spin on this classic with an interactive ball that wobbles, bounces, and giggles. Your pup will perk up when they see this toy's unique sounds and motions, which play on dogs' natural instincts. Furthermore, it encourages activity, helping your pup work off excess energy.
Pros:
Suitable for indoor and outdoor use

Durable enough to hold up to all but the heaviest chewers

Works without batteries
Exterior has several holes, making it easy for dogs to pick up the toy
Cons:
Aggressive chewers may be able to destroy it
Mighty Paw Boredom Relief Stimulating Dog Toy
Lick pads are an excellent way to keep pups engaged, slow down fast eaters, and calm anxiety. This lick mat from Mighty Paw has four quadrants, each with a unique pattern designed to offer various levels of engagement for your dog. There's a distraction quadrant to entertain bored dogs and an anxiety relief quadrant designed to alleviate stress. If you want to give your pup a quick reward, you can use the easy quadrant. Finally, the fun quadrant encourages your dog to eat slowly. Spreadable treats work best with this toy, and your pup will love licking to get the reward.
Pros:
Four-in-one style with unique quadrants

Made with BPA-free silicone

Strong suction cups on bottom of the mat keep it in place
Dishwasher safe and easy to clean
Cons:
May be too small for larger dogs
Outward Hound Puzzle Stimulating Dog Toy
Put your pup's problem-solving skills to the test with this interactive dog toy from Outward Hound. This toy is designed to train your dog while keeping them entertained. It features red and white boxes that your furry friend must manipulate in various ways to find the treats you've hidden inside. The puzzle isn't easy, so it may take your pup a while to master it, but that's part of the fun. It'll keep them mentally stimulated for hours as they learn the ropes and try to figure out how it works.
Pros:
The game is different each time your dog plays

Easy to wipe the compartments clean
20 treat compartments for storing goodies
Options to increase the challenge as dogs get better at the game
Cons:
Some dogs may find it too challenging and become discouraged
Frequently Asked Questions
Why do dogs need toys?
Toys are necessary for your dog's well-being. They can help dog owners in many ways, including keeping pups mentally occupied, helping to modify unwanted and destructive behaviors, and ensuring they get the exercise they need during the day. If your dog is engaged, they're much less likely to chew up your favorite pair of shoes or engage in nuisance barking. Playing with stimulating toys can also help improve your pup's mood and reduce boredom.
What precautions should I take when giving my dog a toy?
Most dog toys are designed to be safe for dogs. However, if you have a pup that's an aggressive chewer or destructive in some way, you'll want to choose toys that are highly durable in addition to being mentally stimulating. Large dogs can often destroy toys that appear indestructible, so always supervise them while they're playing. You should throw out your furry friend's toy when it begins to show signs of wear and tear or if it's broken.
About the Author
Why Trust Us
Since 2008, CatTime has provided millions of cat owners with all the information they need to keep their pets happy and healthy. Our experts know exactly what it takes to raise our furry friends and our goal is to help all owners, new or experienced, care for their cats with all the right food, toys, equipment, and accessories.